Quote:
Originally Posted by
jeff4946
No problem... In fact, I wasn't questioning the numbers ran on your dyno, at all. I'm wondering more about the list on this thread so far. It does really baffle me on the top Rpms , how I slide off a bit. And I pulled that ported intake OFF the day before we ran it, and haven't put it back on yet. I sent the Data to Vince, and he replied saying it.looked strong, with no adjustments.
That is interesting.. I wonder what the BBK headers are actually making over the stock manifolds or the ARH system...
Quote:
Originally Posted by
jeff4946
And now I'm starting to wonder if the computer was maybe still adjusting from the change. What do you think? I was more worried about getting the long tubes on the dyno, and i think I told you, that I had datalogged them, and Vince had told me I had a exhaust leak, from looking at the logs. So, I rewrenced all the bolts, and pulled the intake, before we put it on. I thought I had told you, but I don't remember the conversation. I might have been distracted by your car. I also wanted to help BSR(john) vindicate himself, alittle, if I could get it back on, and prove his work, but i just haven't had any time. He kinda got beat up alittle, and i wasn't digging that to much. So that will also be on, if i can get down there again.
I don't think the relearning process should have affected anything but next time we'll have to disconnect the battery for a few minutes to see. I'd be interested to see what that intake does HP wise, I know the LLT is very sensitive to velocity.. Just keep me posted, we can get you back in when you have time.

Quote:
Originally Posted by
badgebunny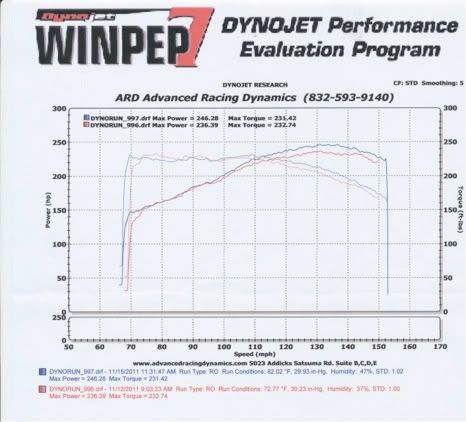 Airaid V2, MRT V2, BBK LTs w/ high flows, no tune. Only gained 10 hp and no torque. Weird?
You basically made 4 RWHP more than and Airaid CAI only auto we had here. Was that a comparison from no headers to headers? With that said every car is different but our dyno's numbers should be very close to ARD's as DynoJet's seem to be very consistent based on what I've seen.
Run 10 was a V6 with an Airaid, ARH LT's w/cats, Magnaflow axle-back and a Trifecta Tune. The tune didn't add a lot of HP (4 RWHP) but it did add (12 RWTQ) if I remember correctly..
That is interesting though... I haven't used the BBK headers so I don't have any good data there.
Kind regards,
Jordan Priestley
888.308.6007