Quote:
Originally Posted by
CyberPunk223

beam cutoff is just another word for adjusting your headlights.
not quite..
a) It doesn't matter if you have your mega bright xenon bulbs "aimed properly", or even aimed lower at the ground OR aimed directly to the ground for that matter, nor does it matter if you "tested" your xenon/hid kit while driving in another car to make sure you're not blinding someone, you will see what you want to see, everyone else will see, well, nothing depending where they're situated from you, cause you'll still be blinding them. The focal points of actual xenon bulbs most certainly will not be designed for the stock reflector housing or will be of poor rebased bulb quality resulting in
light scatter
, when the focal point is blocked, placed too far forwards or backwards ( talking millimeters or even less), or sitting in a spot where it's not designed to be placed then what tends to happen is excessive and infinite light trajectory paths, see below :
Notice anything about how this talon is driving parallel by this honda? Which one has HID bulbs in stock halogen housings I wonder? Oh yes.. the talon's "properly aimed" HID lights are beaming at the camera, the honda's halogens are not, both facing the same direction away from the camera. A motorist's iris' are more sensitive then the camera's iris, the camera is only picking up what it can see and regulate to record, but trust me there's way more of those excess beam patterns then what a human eye or a camera can see, and it hurts.. some more then others. It's like looking at the stars, you can see a star somewhere in your peripheral vision, but when you look there that star disappears, its the same idea, it's hidden light. Here is another example picture of this "aimed" kit:
Supposedly these headlamps and fog lamps have been "aimed properly". How can you aim a light properly if it's not used for it's proper designed application? The simple answer is you can not, that is not how this stuff is engineered. You will see this exact same thing above if he were driving in the fog on the highway, one beam pattern aimed as close as correctly possible down and forwards, and then multiple maybe countless others (depending on POV) pointed straight sideways and even up to the sky. From the same distance with a halogen or a projector you should only be able to see a beam patten angling towards the ground without blowing out the camera, not light aiming everywhere else and then at the ground. If this guy has aimed these properly, how is possible that the camera is photographing blue light ABOVE the car, all the while the POV is above the car? Does this look as cool as you think? Well it looks like ****. Bright ****. Really bright ****.
b) An HID bulb needs to be fit in to a proper projection housing with proper cut off shields (built for D*S or D*R bulbs) or else it will
glare/haze
out at other drivers and blind them, same as light scatter, it does not matter how you have them aimed, you cannot control the glare. Most would think glare is a reflection of light off of a shiny object or wet ground, but when it comes to HID's or xenon bulbs being installed into unsuitable headlamps, glare is a nasty by-product of an improper set-up because the beam pattern of an arc bulb is sending light EVERYWHERE, the light produced refracts off the lenses, shrouds, chrome and reflectors in the stock halogen housings, even when "properly aimed". One way to tell if you're HID's are glaring (and consequently blinding other motorists) is simply looking at your headlamp. If the whole assembly is blown out with light (like so) then your answer is yes, you are totally glaring, and it is not cool to glare.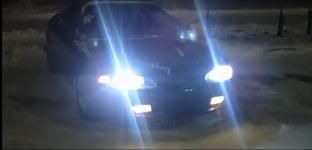 Here is what this looks like at a distance: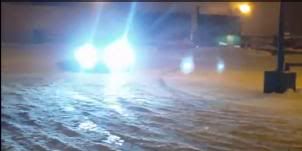 Mmmm attractive, so cool and blue looking.. and a disorganized mess of light that is hard to look at even momentarily.. this owner was courteous enough to aim them lower towards the ground to compensate for using xenon's in halogen housing. Granted all these shots are taken above the height of the talon. Looks like that worked out well.
Here's what that "properly lower aimed" glare and light scatter look like when they're combined facing head on, and even from an elevated POV.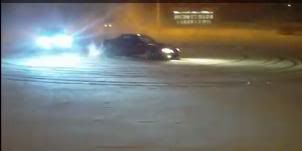 Would the del sol's head lamps look just like this at the same angle? The answer is a definite no. Why? Because the honda has the correct bulbs in the correct housings that are designed for one another, the beam pattern is going to spread towards more where it has to and less of where it doesn't. The camera may catch a little bit of glare but it's not enough to compare to that awesomely blue brightness..
To summarize, while thinking of another members recent post, yes, only asshats put HID bulbs in stock halogen reflector housings (poll option lol) especially in trucks and SUVS that have headlamps situated higher up. They will blind in ways that you cannot see, you can aim the main beams forwards and down, but that doesn't stop these intense light bulbs from aiming visible or non visible light absolutely everywhere else at the same time. Using an HID kit in an aftermarket projector housing or stock projector housing will still scatter light and glare (unless they are designed for use with D*S or D*R bulbs), but not as bad as a normal halogen reflector housing.
Sure, you've driven with these kits for months, years, or half a decade+ without ever getting pulled over or ticketed. This may be because almost everyone is chasing after that "hid blue look" (which is, in fact a by-product of a legit HID system's light cut off), it's too popular to go 'xenon blue and blind', so there's no point in police trying to get people on this anymore.
There is a reason why certain housings and bulbs are specifically designed for use with one another, there is a reason why cars today with HID equipped lighting are required to have self leveling computer/mechanical systems (2.5 degree drop per X distance < theoretical ex), there is a reason why arc bulbs are a completely different design than halogen bulbs, there is a reason why OEM HID's appear lightly colored in a distance and white when near and it cannot be replicated with a xenon/HID retrofit kit or by any halogen housing.
http://www.danielsternlighting.com/t...nversions.html
http://www.youtube.com/watch?feature=player_embedded&v=Y5n38wDe684#!