Just thought I would pass along some exciting news.
We are always looking for ways to improve our 9" kits and since we came out with them we've been making changes along the way to make sure you are getting the best product available.
If you are not familiar with our 9" kits, I'll give you a quick run down.
Lets start with the housings.
We fabricate the entire housing here in house using all laser cut and cnc machined parts.
Everything is jig located in our weld up fixture and then tig welded.
We use 3/8" thick face plates and 1.25" thick axle blocks to make sure you get zero deflection from the housing.
You will also notice we only use BMR heavy duty bushings in our 9" kits. No cheap stuff here.
All the mounting ears and brackets are also jig located and tig welded ensuring you get a perfect fit with no grinding or hammering required.
[IMG]http://i25.photobucket.com/albums/c91/nicholscl/Camaro%20-%20G8/BullF-16%209%20Inch%20IRS%20Install/DS****91.jpg[/IMG]
Why do we build it so overkill you ask?
In an IRS car the center section is bolted directly to the cradle, if the housing isn't strong then you get flex and distortion.
We've talked with Strange Engineering about this at great length and that is the reason we offer what some call an "overkill" package.
We use the Strange Pro-Iron pumpkin for strength. Strange doesn't recommend the street case for anything making much more then 500 rwhp and we wont even sell you a Street pumpkin in our kits because of this, it's called a street case for a reason.
We also only sell pumpkins built at the Strange Engineering facility by the Strange techs. The way we look at it, it might cost more but if we're going to provide you with the best 9" kit and best warranty on the market then we should have the professionals build the pumpkins.
Strange builds the pumpkins to the specs you want in your 9". Gear ratio and posi selection to name a few.
Our kit comes standard with the 35 spline Strange S-Trac posi unit. This is the top of the line when it comes to posi units and it also comes with a Lifetime warranty from Strange.
We also offer our 9" kits in a 31 spline Eaton True-trac pumpkin but don't recommend it if your making 600+ rwhp. it also does not come with the Lifetime warranty like the S-Trac does.
We've never had a problem with a bad pumpkin built by Strange and we (and Strange) feel the reason is because of the heavy duty components we offer and the fact that the pumpkins are built in house by Strange.
We also offer Moser pumpkins built by Moser, they also have a 35 spline posi called the Wavetrac that is also covered by a Lifetime warranty.
[IMG]http://i25.photobucket.com/albums/c91/nicholscl/Camaro%20-%20G8/BullF-16%209%20Inch%20IRS%20Install/DS****41.jpg[/IMG]
One of the latest improvements we've made to our 9" kit is the use of a larger OEM style bearing with OEM sealing so you get a leak free and long life out of your 9".
These bearings are also readily available at any parts store if you ever get in a pinch and need one.
The new larger bearings also allow us to go up an even larger 40 spline axle stub that we now offer with our custom Outlaw kits.
The outlaw 9" kits use larger custom built cv joints and huge 33 spline axles and can be ordered with either 35 spline stubs for the Strange S-Trac, 35 spline spool or even a 40 spline spool.
If you want to see what kind of car needs an Outlaw 9" kit, take a look at Speedster's build.
We also have another change we are making, we are now using a one piece billet inner stub instead of a bolt together stub.
The bolt together stub was a very innovative design allowing you to just swap out the inner portion if you ever broke one or decided to up-grade.
Problem was nobody ever up-grades it seems and we have only had 1 person have an issue with one of the stubs and it was an issue with the bolts and not the stub itself.
So we decided to just go with a 1 piece billet stub to reduce the amount of parts we have to make.
Here is a photo of the new 35 spline 1 piece stubs just before they get splined.
If you wonder why we use a 35 spline stub, here is the reason.
The stock Camaro inner stub is a 32 spline, not small by any means but if you're going to improve the rear in your car then why go with a smaller 31 spline stub?
Here is a side by side comparison photo showing the 35 spline stub on the left, the 32 spline stock Camaro/G8 stubs in the middle and a 31 spline stub on the right.
You can see the 35 spline is a vast improvement.
We also have a new option on our pumpkins.
Strange has a new heavy duty aluminum case out, it's called the Strang HD Pro-Aluminum case.
You can get your 9" with this pumpkin as well, we have to do a little machine work to the pinion support to fit our front mount but it sure is a nice unit.
Saves about 15 lbs over the steel units.
Here is the BMR car with the same Strange HD Pro-Aluminum case installed at last years PRI show. BMR got one of the first few that Strange made and did a great job of displaying.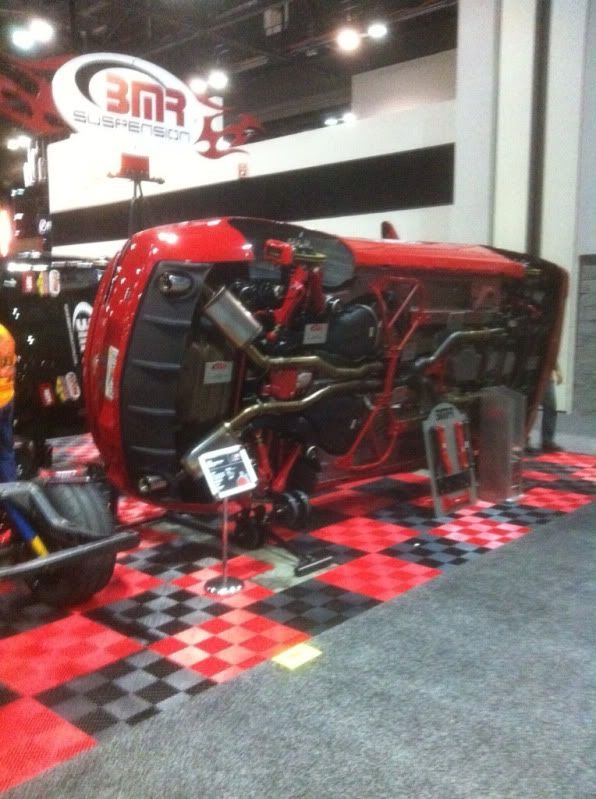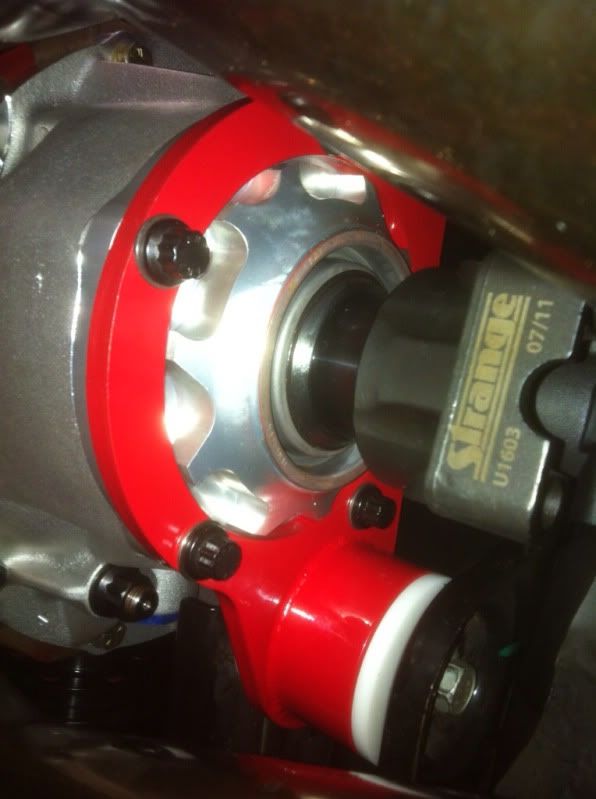 We make it a point to test our products every chance we get, we test our 9" kit in our shop car just about every weekend. It's a 2005 GTO with a GTO 9" kit, very similar to the Camaro 9" kit.
Our shop car runs 9.90's at 138 mph all motor and pulls 1.39 - 1.40 60ft times.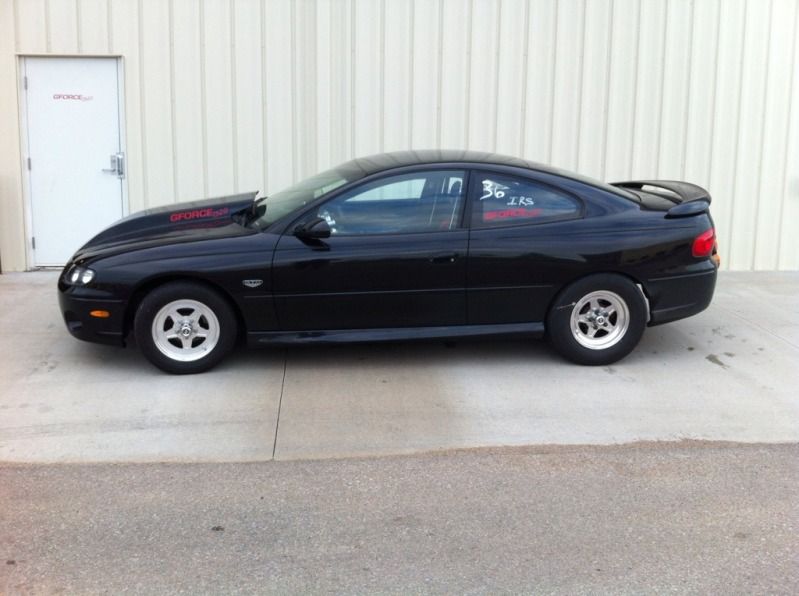 Here is under the car shot of our GTO, it sports a full line of Gforce goodies.
Another important factor in our 9" kits is the fact that we machine almost all the components right here in our shop.
This allows us to make design changes on the fly and make custom kits when needed.
We also only use US steel for all of our products, no foreign stuff.
If your ever in the area, stop by for a tour.
And one more piece of exciting news,
We are about ready to start machining our first billet aluminum 9" housing.
The new billet aluminum cnc machined housing will get the weight down comparable to the stock rear.
So for you guys concerned about weight, this is the way to go.
More details on this later.
And here is our 9" kit all laid out.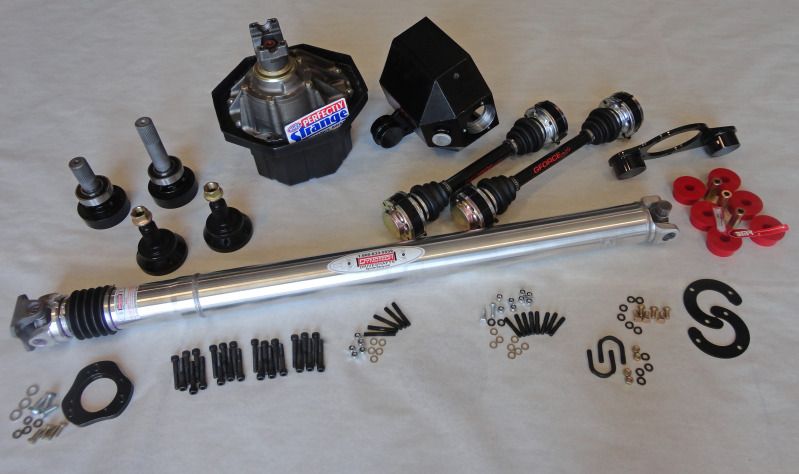 [IMG]http://i25.photobucket.com/albums/c91/nicholscl/Camaro%20-%20G8/DS****14.jpg[/IMG]
[IMG]http://i25.photobucket.com/albums/c91/nicholscl/Camaro%20-%20G8/DS****15.jpg[/IMG]
[IMG]http://i25.photobucket.com/albums/c91/nicholscl/Camaro%20-%20G8/DS****18.jpg[/IMG]