I'm not huge on build threads, however this has been a very fun ride from picking the car up to the point it has become today. I'm hoping that by creating this thread I might be able to help others who are considering doing a similar build.
Backstory:
I moved from Chicago to the San Francisco Bay Area in July. Living in the city we didn't have a need for 2 cars, not to mention any daily driver in Chicago would take a ton of abuse (that and parking spots started at $35k...). So when we got here I needed a car for myself, but mid Janurary thru November I travel 95% so I wanted something fun to enjoy the weekends when I'm home. Enter my 2SS 45th M6 Convertible on August 26th 2011. I won't lie, I didn't care that it was a 45th, it was all for the Carbon Flash paint~
Name:
"The Nameless" is simply a result of me being unable to come up with a good name... Maybe I'll do a poll one day~

Research:
After spending too much time absorbing all of the information on this site I went to visit all of the shops in the Bay Area. Ultimately I settled on
Luke
at
Blu808
for his shop's sterling reputation and great service. I explained what I wanted to do and he steered me in the right direction for my budget. With a quick call to
Anthony
at
LG Motorsports
, Luke and Anthony began working on a solid package to begin the transformation of my car.
Goals:
The initial goal was to bring the car to the performance levels just before requiring a full cage on the strip/track. This equates to 11.5 ET on the strip, and so far all track events I have seen only require a roll bar. I also wanted to keep the car as reliable as possible as I want a car to have a blast in street and track. The end goal has become a strong balance of street and track so that the car can perform well in all scenarios
Stock Impressions:
From the dealer the car was a ton of fun, however acceleration was not anywhere close to what I was expecting from an advertised 426hp beast, and you could REALLY feel the weight of the car compared to a coupe on turns. The suspension is tighter than a coupe thanks to the additional reinforcement on the 2012 model (Undercarrage cross bracing, improved subframe bushings, strut brace), however still more of a Buick than a sports car.
Since I'm a 'have your cake and eat it too' kinda guy I knew mods were in the works for this vert~
Step by Step Impressions:
1 - CAI
A CAI is the first obvious step for this car. The honest truth is you will feel a difference, but the weight of the car hinders the butt dyno compared to the coupe. So all in all it is obviously a cost efficient mod, but just the start.
2 - VMAX
Most people I have talked to in coupes swear they noticed throttle response. I honestly noticed no improvement at all. My personal opinion is this was a waste of money and do not advise.
3 - Borla S-Type Catback
Wow the car sounded awesome after this swap, however I did pick up some drone, but manageable. If I gained any power it was negligible since I still had the stock pipes on it. The largest benefit I gained was shaving off a ton of weight ditching the stock exhaust.
4 - LG G6X3 Cam Package, Hurst Short Throw Shifter, ADM Race Scoop, LG Super Pro LTs, Tune
What I picked up from Blu808 was NOT the same car I left them. Shedding even more weight and picking up a ton of power completely changed the car. Before I would tell you the car doesn't 'pull', it accelerates. Now when you go WoT you are thrown back in your seat, the exhaust roars to life, and it feels like you are on a rocket. Even handling was improved due to the weight loss.
One of the things I enjoy the most is that the non cam power is sufficient enough to propel the car through the lower rpms so you get to the cam's power band quicker. I was considering a gear change prior to this, but it's solid as it is now with the stock gears.
5 - Suspension
This is my first car where I have modified the suspension, or even had a good one for that matter. So you can imagine how impressed I am at such a small investment in suspension changed the car. Before on hard turns I would feel heavy body roll and the rear step out even at lower speeds. Now I am taking hard turns at high speeds and it is firmly planted. Steering is pinpoint accurate and solid. I cannot wait to see the change once I get my Pedders coilovers!
Mods:
Power Adders - 7/9 Complete
LG G6X3 Cam Package -
Installed 12/2/2011
-G6X3 Cam
-Katech Chain
-Comp Pushrods
-Cam Gear and Tensioner
-GM Water Pump Gasket Kit
-Comp Cams Valve Spring kit with Titanium Retainers
-Spring Seats/Seals
-NGK TR6 Plugs
ASP Underdrive Pulley -
Installed 1/2/2012
LG Super Pro Long Tube Headers -
Installed 12/2/2011
Borla S-Type Catback -
Installed 11/26/2011
C.A.I. Cold Air Intake -
Installed 10/21/2011
ADM Race Scoop -
Installed 12/2/2011
Solo High Flow Cats -
Installed 12/2/2011
LG CNC Ported LS3 Heads -
Pending
OZMO Engineering Carbon Fiber Intake Manifold
-
Pending
Suspension - 5/6 Complete
LG 35mm Front and Rear Sways with Endlinks -
Installed 1/2/2012
Pedders Front Radius Bushing Inserts -
Installed 1/2/2012
Pedders Subframe Bushing Inserts -
Installed 1/2/2012
Pedders xA Street Coilovers -
Pending
Granatelli Adjustable Toe Rods -
Installed 1/2/2012
Granatelli Trailing Arms -
Installed 1/2/2012
Wheels & Tires - 0/2 Complete
19x9.5 Front - 19x11 Rear Wheels - Brand TBA -
Pending
275/30-19 Front - 305/30-19 Rear - Bridgestone Potenza RE-11
Pending
Misc Functional - 3/3 Complete
Hurst Short Throw Shifter -
Installed 12/2/2011
Washer Bottle Relocate Kit -
Installed 12/2/2011
VMAX Ported Throttle Body -
Installed 10/31/2011
Misc Cosmetic - 0/2 Complete
AAC Halos w/Foglight Halos (Color TBA) -
Pending
AAC Side Markers -
Pending
Photos:
Mix of shots from when she was brought home, and my first detailing.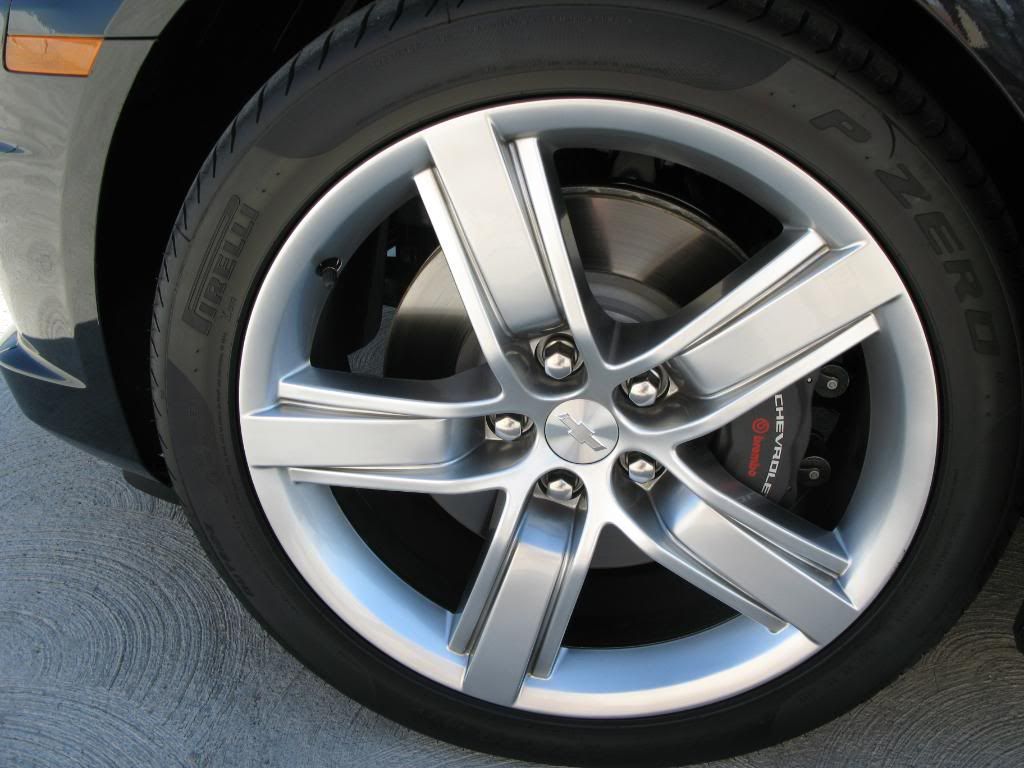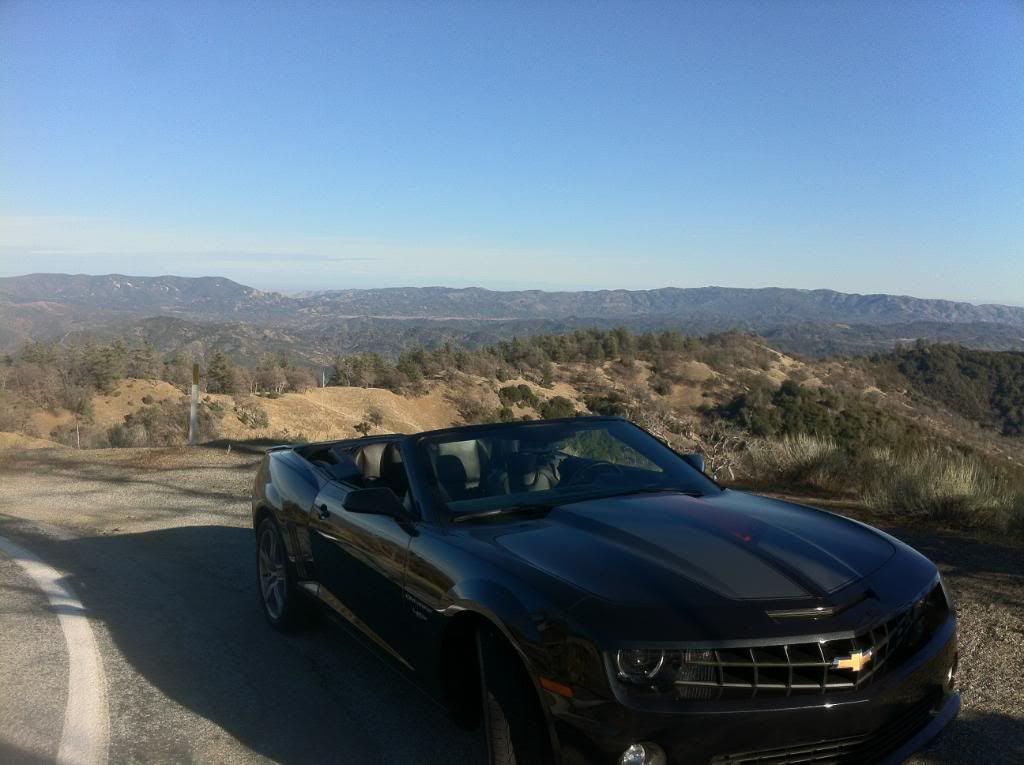 Love the paint.
Videos:
Casual Start of Mines Rd After Cam Install
Stock Dyno
Dyno as of 1/21/2011
The "Dublin Wake Up Call" - I live in an apartment complex with a concrete parking structure. Cold starts can be loud...
Inside displaying "cold" start volume and choppy idle
Warmed Up Idle and Rev