How to install AAC HID Bi-Xenon headlight on a non-RS Camaro – No Halos
---
When I purchased my car I preferred the look of the Halogen light vs the Halos. Plus I didn't see the need to pay another $1,200 for the option. However….I did want HID headlights. I did not want Halos….not even aftermarket. After watching the threads I decided to buy the Bi-Xenon (8000k) headlights, 5202 bulbs for the fog lights, and a 1 chip license plate light ($360 to my door).

This is supposed to be a plug and play system so I decided to try to find some "How To" or "DIY" or just some basic instructions. Unfortunately I never could find them. No real instructions came with the system. Yes…there was some kind of real basic wiring diagram but it was basically useless to me. Called to talk to one of their Tech persons and I was only able to pick up some real basic info. One thing he did suggest was that I lay the wires out on the car instead of just the floor. At least that suggestion actually helped me out. I also found a pick from BFxenon's setup and that helped as well but still not what I needed. Looking back now it's a real straight forward install but when you've never done or seen one installed it's a bit intimidating. The 5202 bulbs are backordered at the moment but they supposed to be here in another week or so.

So….I tried to take pictures along the way with my install so at least there is something out there for those that want to install an HID setup.

Here is what you get in the packaging. Two ballasts, a relay, and two bulbs. The basic premise of the install is to lay out the relay and its wires, replace both bulbs with the HID ones, find a negative ground for each ballast, supply a constant hot, and the input of the driver's side headlight plugs into the input of the AAC supplied relay (passenger side headlight input is not used). My plan was to use Positive junction under the hood for the power source and use a self-tapping screw into the side of the fender for the ballasts.
__________________
-2010 Camaro
2SS | M6 | VR w/White Stripes | 1 3/4" KOOKS - 3" Magnaflow | LPE 3.91 gears | ADM tuned | Halltech w/ADM Scoop | Spohn/BMR Trailing Arm/Toe Rod | BC Coilovers| Pedders FE4 ZL1 swaybars | Cradle/Diff/Radius Rod bushings | VMax TB | Morimoto Projectors | MGW shifter | Red Calipers
Build Journal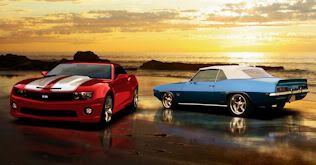 ---
Last edited by caverman; 03-09-2010 at

08:09 AM

.