a friend of mine offered me his cat back system (4th gen) years ago if I helped him swap from shorties to LT's. well, when I cut the tube right before it goes over the axle... I cut it on the bend.
so when I later tried to install my cutout, the clamp wouldnt hold quite right. so I sold the electric motor and basically, when I wanted the "cutout", I'd mash the gas and the torque twist of the car would pull the exhaust clamp loose from the part going to the muffler...
I've got a vid somewhere of it...lol
edit...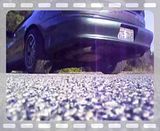 I've got another one...somewhere... its not showing in my photobucket, so it may be elsewhere... I'll look for it
I think this is the flame throwing one... out the rear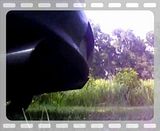 found another from the first time I seafoamed the car...
http://www.myspace.com/camarospike23...rnout/10631047
btw... I figured out a way for you do run water/meth with a maggie