Hi, my name is Ben Parker I've read through many of these car journals and I'm finally getting around to doing mine. I wish I had more pictures of my build but I will add to the along the way.
I am a Staff Sergeant in the US Army. I am an Explosive Ordnance Disposal (EOD) Platoon Sergeant.
I bought my 1SS Imperial Blue Metallic in June 2010 after my first tour in eastern Afghanistan. The only options I added were the RS package and the Boston Acoustic sound system.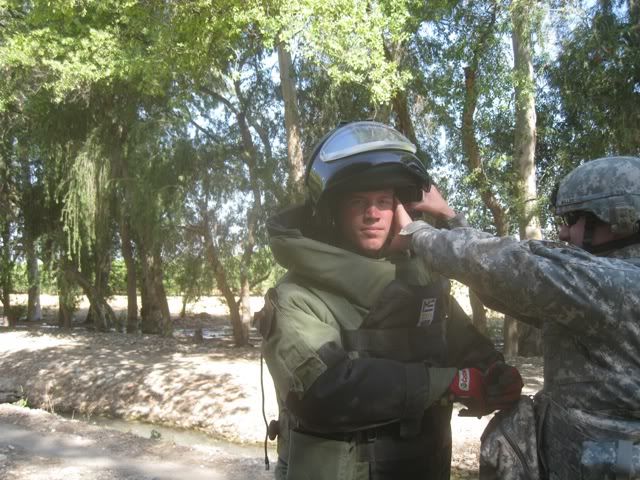 Myself preparing to walk down and render safe an IED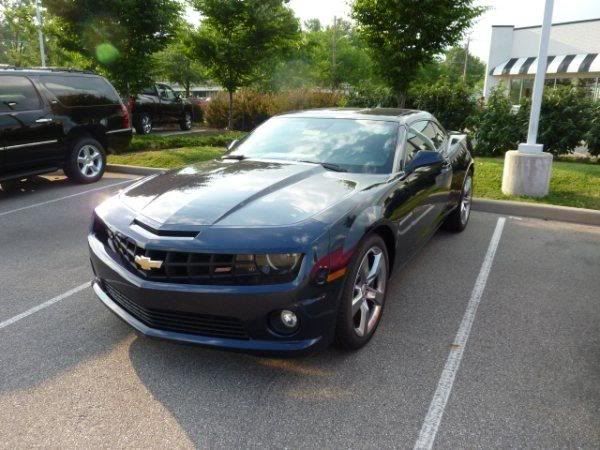 My new toy awaiting my arrival. Thank you American tax payers
My dad works as a salesman/manager at Columbia Chevrolet in Cincinnati Ohio. This was the first IBM Camaro they received and he hide the car way back in the service department for a month before I arrived. He said to many people were touching it on the show room floor for his comfort.
The first Mod that I did to the car was add the steering wheel mounted audio controls, thank you Camaro5 for that easy how too.
My then girl friend and my dad drove my truck plus trailer and the Camaro from Cincinnati Ohio to Ft Irwin California. On the road trip I mostly drove the truck with my dad cruising in the Camaro. He is a magician because following me averaging 75mph cross country he got 25.5 MPG. How a man can drive 31 hours not using the cruise control is a wonder to me. I never got more then 24 after that.
My next mod was a MGW short throw shifter. I installed the shifter myself and following the videos it was extremely easy. If anyone is looking for a short shifter the $350 cost is very attractive seeing how it replaces the entire shifter assembly not just the shifter lever.
http://www.mgwltd.com/camaro2010_short_throw_shifter.shtml
Unfortunately I don't have any pictures of the MWG shifter install or the cross country road trip.
Next mod was an ARK performance DT-S cat back exhaust system. ARK was doing a special where for 500 dollars you could help them finish their production version of the exhaust. So after a brief PM to ARK the car was on its way. This exhaust is an absolute work of art. It made my car sound like no big displacement American V8 I've ever heard. The best way to describe the sound to you would be a large European V8 with an American twist. Absolutely awesome!! The best part, no drone on the highway.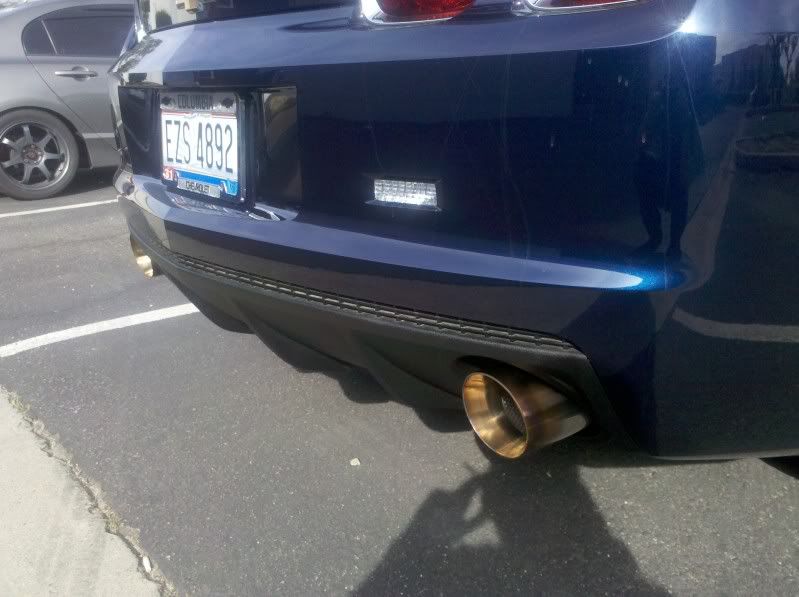 The car stayed in this configuration for about a year after this. In Febuary of 2011 I volenteered to return to Afghanistan. This tour would take me to southern Afghanistan.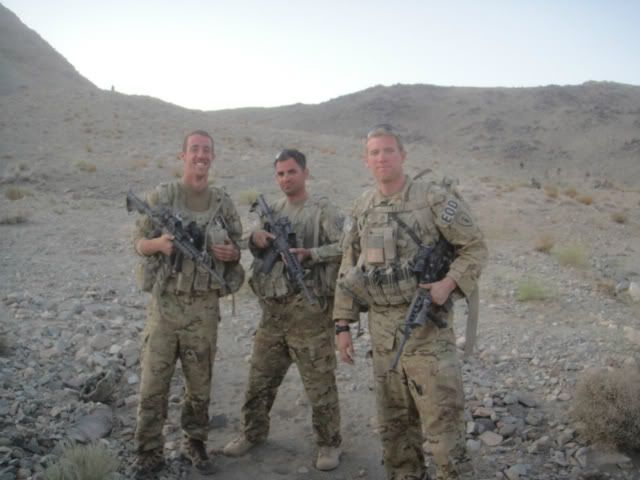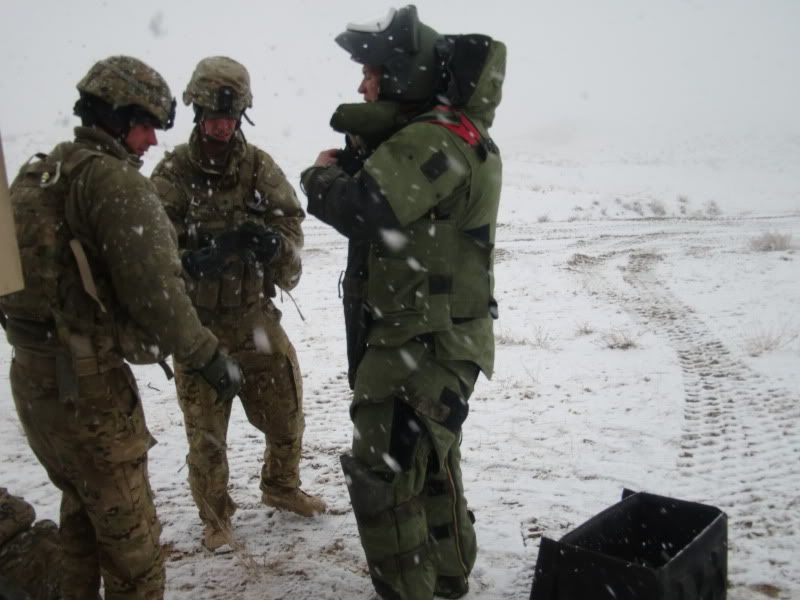 During the tour I knew that it was time to really put the Camaro on track for what I had been wanting to do since I bought the car. BOOST IT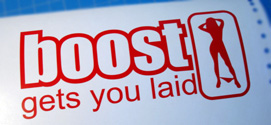 Turbos are the standard. When I was in high school me and my buddies turned my 02 Sentra SE-R Spec V into a turbo monster (in our eyes) making 265whp and 270Wtq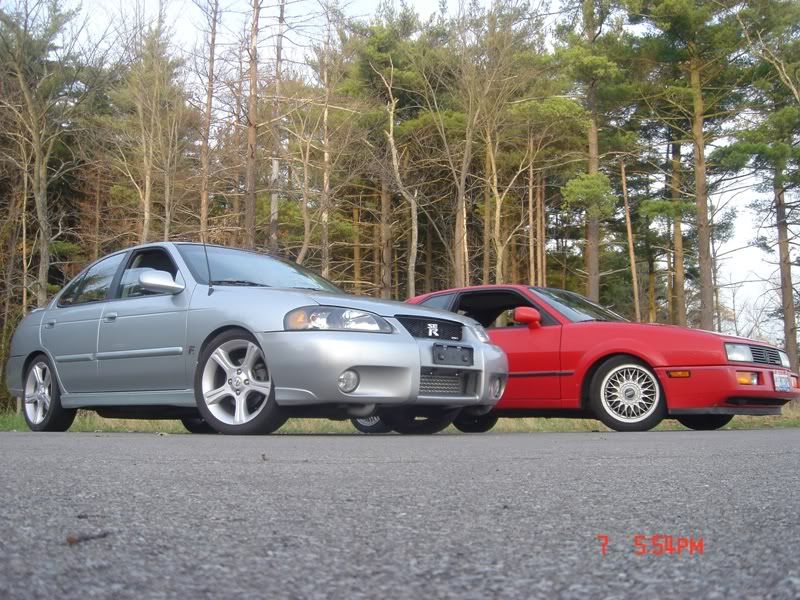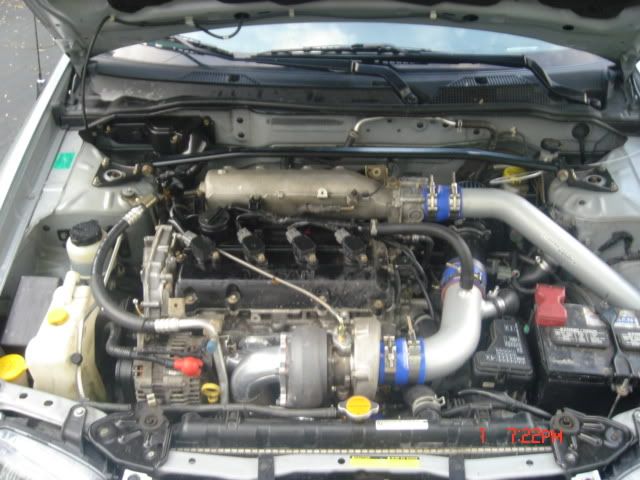 So when I discovered Turbonetics made a single turbo 50 state legal kit I was sold. Now throughout the year I was overseas I contacted several venders. This build is what I focused on when things got really tough over there. It kept me sane in other wise chaotic times.
I want to thank those venders for taking the time to talk to me. Most noteably Steve at RDP Motorsports in northern Ohio. I must have talked to steve a helf dozen times about his car and all the options that I could do.
Due to a variety of reasons I ended up purchasing the kit directly from Turbonetics. Reggie took great care of me and just like Steve didnt mind my frequent calls and PMs.
So I have the kit purchased; now it's time for supporting mods. I knew I wanted to take the car on the road course so I began researching suspension companies. I narrowed it to PFADT, BMR, and Pedders. The BMR stage 3 kit seemed most cost effective. When I called BMR and PFADT they were very helpful and answered my questions.
When I called Pedders it was a different story. A guy named Pete answered the phone and I stated that I was looking for a suspension setup for my Camaro. Pete and I then launched into a 20 min conversation about what my power goals were and how I was hoping to drive the car. It was very important he said that I knew the required differences between a street setup, drag setup and road race setup. He explained all of these setups to me and helped me decide what I really wanted to do, and EXPECTED out of the car. Pete then asked what I did for a living; I explained I was Army EOD currently in Afghanistan, that then launched into another 20 min conversation of Pete and I just getting to know each other. So Pete advised that I go with the ZL1 pace car package. He stated that it was more than I wanted to spend but for my desired goals it would be perfect and wouldn't require upgrading for some time.
Pete then blew me away even more when he added the EOD wounded memorial to his signature block at the bottom of his user name. When I first started talking to Pete I had no idea I was talking to the owner of the company. You are a great man my friend, and I'm proud to be able to call you my friend. Pete and I kept up through the rest of my tour.
I then sourced a CTS-V brake upgrade from Jordan at JDP motorsports. Jordan and I had several great talks about the setup and I ordered several more part threw them.
To monitor everything I ordered PLX devices DM-100 OBDII gauge with A/F module and a DM-6 gauge with Vac/Boost module now all the vital signals from the engine can be read on two gauges.
The final piece to the puzzle was wheels and tires. Once again I started contacting several venders about wheel and tire setups. I quickly decided on the TSW Nurburgring matted bronze finish. The tires and vender to purchase from was the tough choice. After talking to several great and very helpful people I came across Jon at
www.bestwheeldeals.com
. After talking to Jon he set me up with Nitto NT-05 275 fronts with NT-05 315 rears. With the lowered profile the wheels and tires fit the wheel wells perfectly and it's a mean as hell setup.
Heres a list of additional parts I ordered.
Hurst Line Lock
Greddy Turbo Timer
BMR Tunnel Brace
Ok so enough talking lets get to pics of the build.
Everything laid out in my uncles garage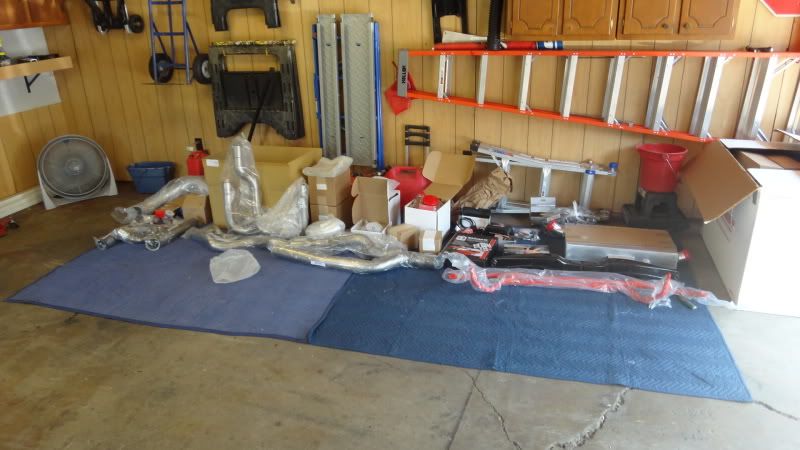 Last 15 feet driven NA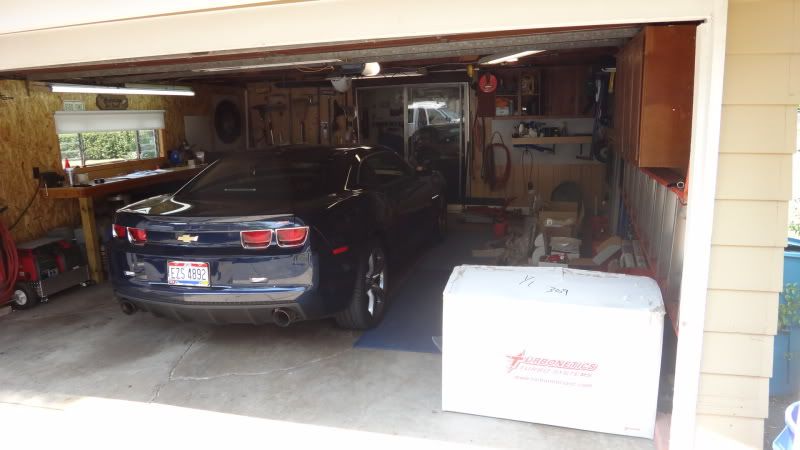 Hood pulled off, car jacked up. I not sure how many of you know this but the stock hood weights nothing. I can one finger lift it. When my uncle and I had it unbolted it from the car and were ready to lift it up we did a three count. After three we dammed near threw it through the ceiling because we weren't expecting it to be that light.
Front bumper pulled off, all the parts that need to come off are, now to start adding stuff
Hole in oil pan drilled, oil return line run, parts an pieces heat wrapped and up pipe beging to take shape.
Turbo mounted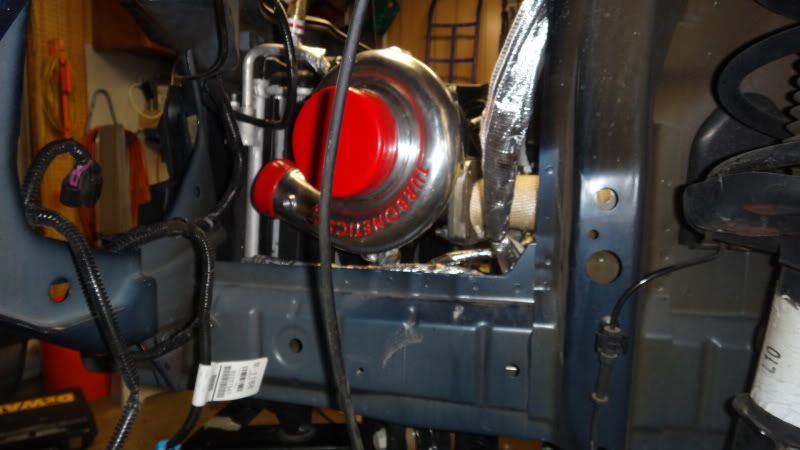 Turbo mounted, up pipe and down pipe mounted, water lines spliced and run to the turbo, oil feed line ran to the turbo, more items heat wrapped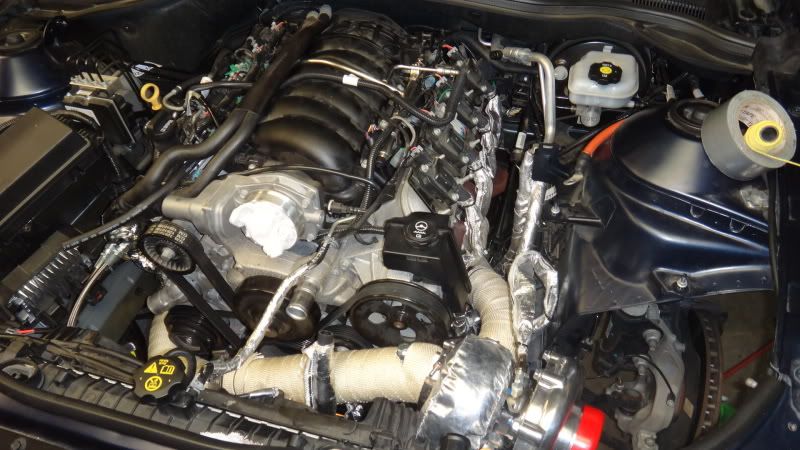 setting up the waste gates before bolting up the under car plumbing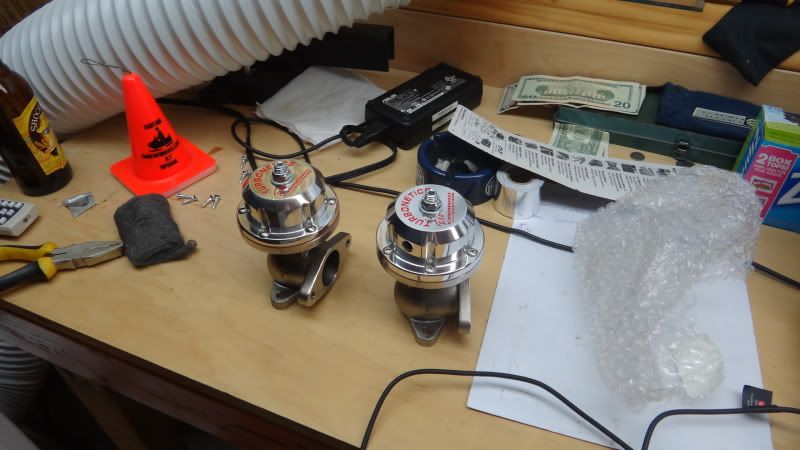 Up loading the Turbonetics tune, car turned right over and settled down to a nice idel right away.
Finished engine bay, topping off the coolent as the engine cycles through the radiator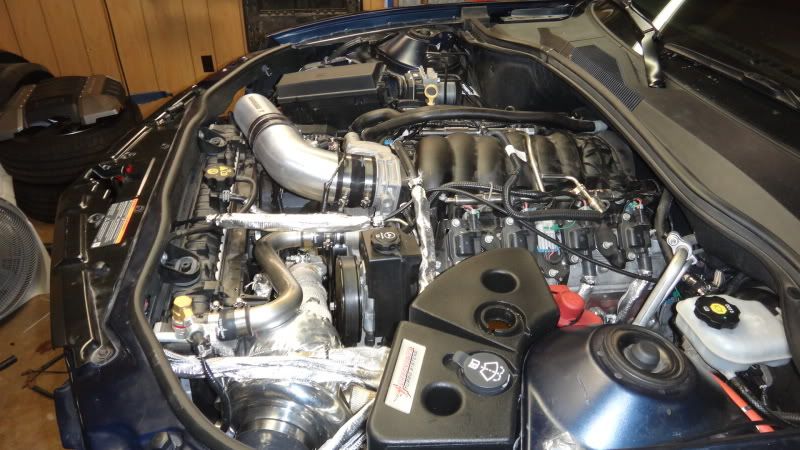 View from font of car, check out that small intercooler
My uncle and I, thanks uncle Ed for the help and tools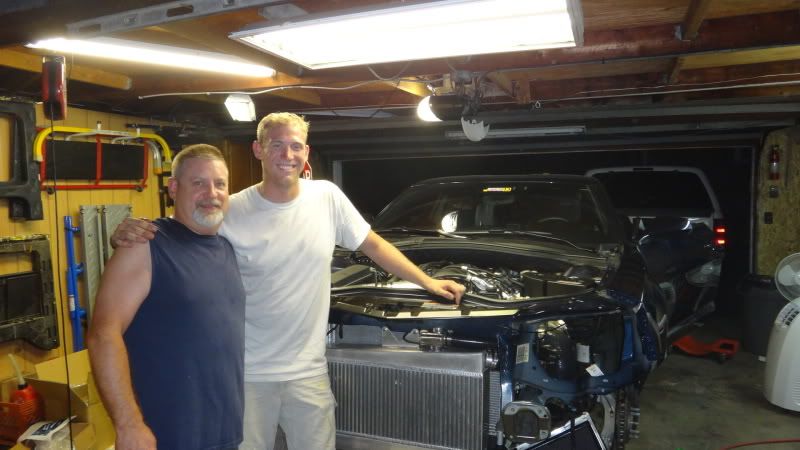 CTS-V front brakes going on, this was a simple job. It took me under and hour to install the JDP kit. Only issue I had was forgetting that there were two bleeders on the brakes.
Wiring up the PITA PLX gauges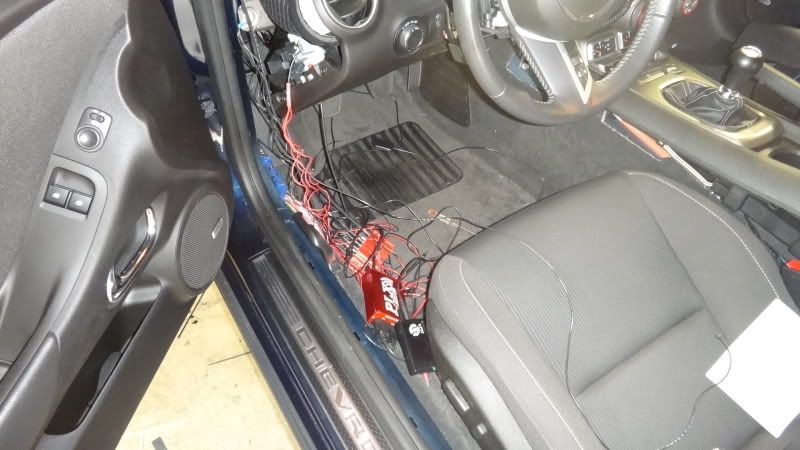 The end all result of the turbo install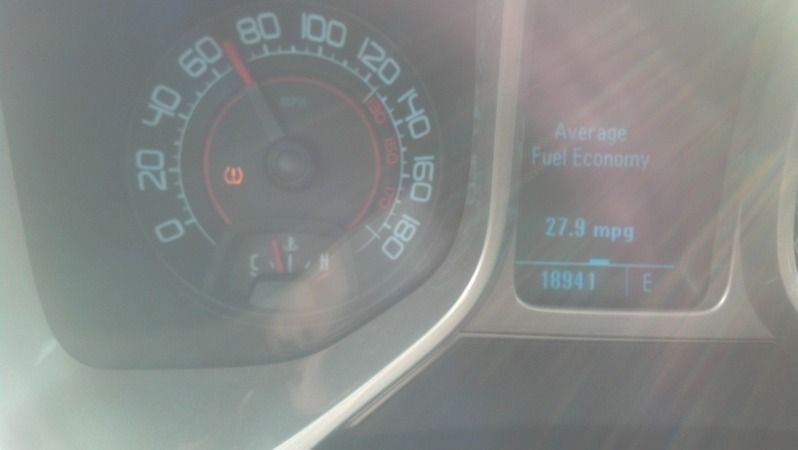 And helping the other side out. This is the only current pic I have of the HEX vents. I went with the Carbon Fiber dipped vents and they are beautiful. Steve is an amazing man who did the install at the Camaro fest.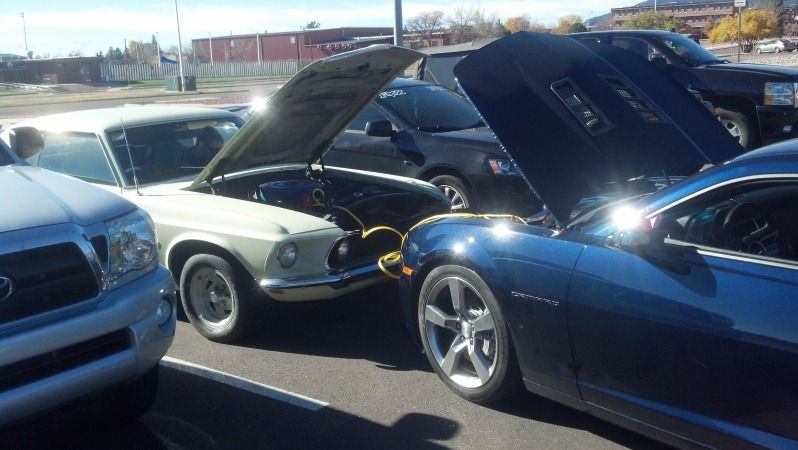 This is what the car looks like with the Nurburgring. I have taken them off the car for the winter so no updated pics until the spring.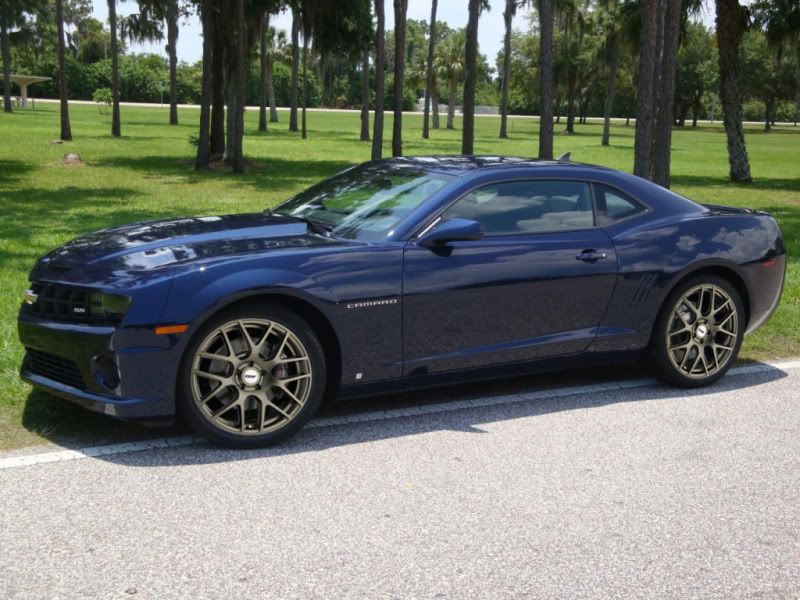 Well guys and gals that's it for now. I need to take alot more pics to show you guys the car with Pedders suspension and the TSW wheels. Life's crazy right now going through a divorce and some medical issues. But I'm still breathing, I have all my fingers and toes, there were several times over there that I came out of situations unscathed when really I shouldn't even be here typing this now. Remember the fallen who didn't come home, who paid for our everyday freedoms.
We have one life to live and you can't waste it. Life is too short to live in fear, go out and face life, own it, and you will be as happy as I am today.
Ben