29 Feb 2012
Well, It is now 2012 and time to start installing Modifications. The first thing that I just had to install was my new Lighted Wind Restrictor with Brake Module.
Here are all the components as I received them
All bundled up, once I removed it from the box
All Items laid out ready to go
Testing the battery feature of the Brake Module before installation **Battery not included**
Before Install
After Install - View 1
After Install - View 2
After Install - View 3
ABL Brightness
Brake Brightness
Going through the modes and playing with the ABL Dimmer!
There is still ice outside my garage door, so I didn't want to open it. I apologize for the off-angle photo's and video, better ones will come in the future!
This is as viewed through my 20% Tint on the Rear Window! Bull Brightness Red when I press the brake.
16 Mar 2012
The next thing that I installed are my JWM Tag LED's, this make a huge impact on the rear of the vehicle and brighten not only your license plate, but even the ground near them.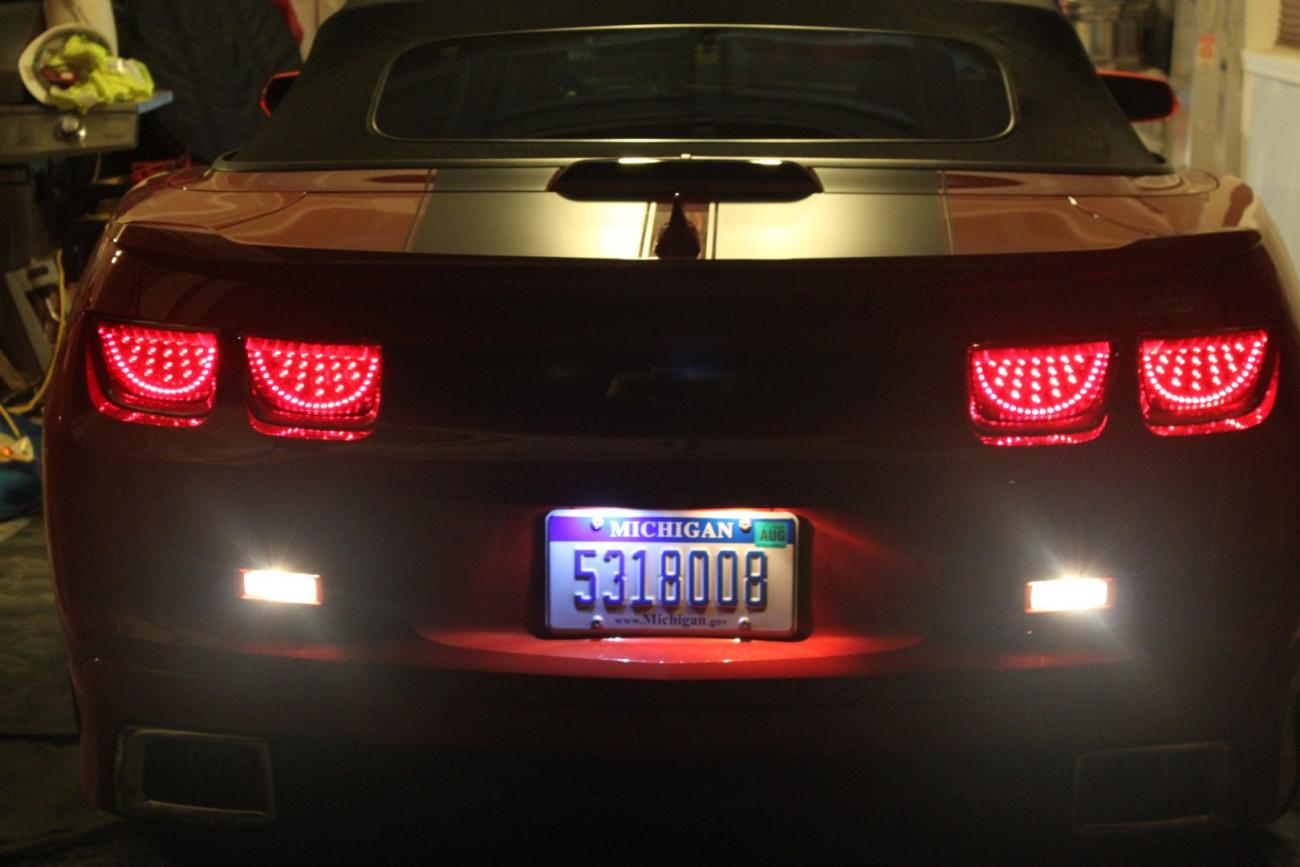 Stock on the Right, LED on the Left
Both Sides LED
Close-up with both sides LED - Very Clear!!
17 Mar 2012
It was a busy weekend, and the next item up was my Stealth Bulbs for the front turn signals, this is a small modification, but it makes a lot of difference in accenting the front of the car, and would be especially important on a darker color car than my own, but I felt it was necessary.
Stock
Retail Package Front
Retail Package Rear
Stealth on the Left, Stock on the Right
Both as Stealth
Four-Way Hazards on - they still light up bright Amber
17 Mar 2012
MAF Sensor
Thanks Becky and Maureen from Rodgers Chevrolet for coming through and getting me a Strong MAF Sensor which should help me out short term and for when I get my new Ram Air Intake next year!
Out with the W, in with the K19!
19 Mar 2012
Last but not least for this weekend (Monday counts, right?), are my new DRL's!!! We go to local car shows, and attend meetings for our local 5th Gen Camaro Club [Detroit], so we see what other people have and that helps us generate a list of what we do and don't like... We don't like the Stock DRL Color, at all! My wife said they have to go and we need something that matches at least somewhat, the Stock looks old and ugly to us. We saw some people have the second Gen AAC Plasma bulbs (with the LED Driver, without the 4W Front LED) and they are very very Blue. We wanted to add third Gen AAC Plasma bulbs (with the LED Driver and the 4W Front LED), but after what we saw from the last gen, we decided that we weren't going to buy those until we saw them in person. Then I stumbled upon V-Leds, who previously had the SMD-Style P13W LED Bulbs which I don't find aesthetically pleasing. They now carry a set of Plasma options, the set part there is very important. AAC claims that their Plasma's are 6000k-8000k equivalent and there are not batch promises, with the best of their Plasma's still easily visible as Blue. V-Leds offer two batches, one at 5000k, and another at 6000k. The Stock RS HID's are 4300k, and 5000k is much closer to it than 6000k (at best). So I took a plunge, and boy did it pay off!! To start, they are half the price of AAC's option, and to make things better they look GREAT!
Stock
Stock on Left, LED on Right
Both LED
After Self-Made Harness Install & Remounted Stock Bulb on Left for Reality Check Again, LOL, yes the new bulbs look that much better!!
All ON, and looking Great!
I can't lie, these do have a slight tinge of Blue to them when viewed at night, but it is very unnoticeable. The camera really exaggerates the effect, but they still look marvelous!
OMG We LOVE how close of a Color Match these are, we are glad we waited and stumbled upon such a great find!
02 Apr 2012
AAC Reverse LED's and LED SideMarkers Install, I completed this in two hours including the time it took to decide that the regular LED Reverse Lights needed to be tinted to look right on our car, then cutting and installing the tint also!
First I chose to remove the rear fascia, and here is my girl with her butt hanging out... Rear Fascia removed
Passenger Side Before [Off]
Passenger Side After [Off]
Close-up of a Reverse Light ON (Sorry she's soo dirty, I got caught in the rain a few days ago and hadn't gotten to cleaning her yet).
I think that is just about it for cosmetic mods this year. Maybe I'll change the dome light and trunk light, but that's about it.
Now, I have to figure out what I am doing about my missing underbody brace... stay tuned for further developments.
13 Apr 2012
Our new baby is getting closer, so here is a shot of our current family and a couple more of the car.
Our Current Family Photo
What you see coming at you
What you see once we've passed you, Her Upside-Down nametag!
We also now have a plan to replace my missing underbody brace. We cut metal on Monday!
02 May 2012
I just realized that I hadn't posted any pictures of the new custom brace yet, so here we go. I was in a rush to install it and leave work the day we finished it, I forgot to take pictures of it after we sprayed it with BedLiner.
Loose Metal waiting to be welded. Note how we accidentally drilled the wrong holes in one side and had to add a few more.
Still loose metal from another view. Good perk of working at an engineering house, full-size plots!
Welded together and Primered!
I'm not sure that it is evident in these pictures, but we welded end caps on the square tube as well. Total weight felt to be about 40 Lbs which I am sure is much heavier than stock, but boy can I feel the difference in the car.