How hard or soft is my paint?!
One of the most common questions on detailing forums or car forums with detailing sections is: "How hard or soft is my paint?" This question is most often, but not always, asked by new users who are trying to formulate a "
plan of attack
" in order to polish away paint blemishes such as swirl marks, scratches, and paint defects. Once you dial in an effective polishing process for the paint you are working on, things like hard and soft paint tend to have less importance. The trick is matching the right process to your technique to the car.
Surface Hardness-
The resistance of a surface to alteration by impact or abrasion.
There are two scales of hardness:
The Mohs Scale of Hardness
and the
Rockwell Scale
Mohs Scale- The Mohs Scale measures the scratch resistance of materials (manly minerals) through the ability of a harder material to scratch it.

Rockwell Scale- The Rockwell Scale is based on the indention hardness of a material. It measures the depth of penetration made by a big load.
Note: There are other hardness scales (Vickers for example), but these are two that I am familiar with and remember for my academia.

The Mohs Scale of Hardness, on the surface, seems the most directly comparable to how we would measure paint hardness. Typically the more resistant the paint is to scratching, the harder it is. An example of a hard surface would be a diamond. Diamonds are extremely resistant to scratching and given a rating of 10. In comparison glass would be around a 7 (which by automotive standards is extremely high), and gold would be a 2.5.
Gold may be a good comparison for paint since it is both easily scratched and polished. As an interesting side note, aluminum oxide (the abrasive found in most modern paint polishes) is an 8, and cerium oxide (used in glass polishes) is a 9.
Paint, however, is not a mineral, but instead an extremely flexible, and even compressible coating. If you have ever peeled paint off a kitchen wall, you may be surprised at how flexible and malleable it is. When polishing paint with abrasives, there is a tendency for the paint to compress (slightly) under the force of the abrasive which can make even a soft surface more difficult to correct.
In the real world, a good example of this would Jello. Jello is fairly "soft" (you can scratch it with your finger nail) but if you try to scratch it with a larger object (such as rock) it will tend to compress under the abrasive pressure and rebound. Polishing paint's that have a lot of flex-agent (such as on bumpers) can be frustrating for this reason. You can painstakingly remove the paint defects because of the surface's resistant to scratching then scratch it with a soft microfiber towel as you buff away the residues.
Ultimately there are no hard rules about paint hardness but in general:
Hard Paint Systems:
Tend to be
more scratch resistant
which require more aggressive techniques for removing defects. It also is easier to finish these systems to a swirl free finish as they resistant the faint polishing action of a finishing polish.
Soft Paint Systems:
Tend to more
scratch prone
. They generally require less aggressive techniques for removing defects, but since the paint is soft, the defects may penetrate further into the paint requiring more steps. It can be very difficult to finishing these paint systems as even the faint abrasion from a finishing polish or pad material can leave very fine scratches.
As noted above, these are just general guidelines. Some paint systems are extremely difficult to polish yet scratch with extreme ease; Other paint systems seem to polish themselves and never scratch! You will never know how your paint system will react until you head into the garage, take a polisher, and polish it!
So what does hard or soft paint really mean to you?
Knowledge that the paint you are going to polish may be hard or soft allows you to mentally prepare for the task at hand. If you are a professional detailer it could allow you to preemptively plan for amount of time you may need to correct a paint finish to polish the paint. Keep in mind that with harder paints the defects may not be as deep but will require aggressive polishing. With soft paint, the paint defects may penetrate deeper into the finish, negating any time savings.
The Test Spot: Take a Polisher and Polish It!!!!
Even identical cars from the same model year with the same paint code may have paint systems that react dramatically different. The best way to know exactly what you are working on it by dialing in a process using a Test Spot.
A Test Spot is a small area of paint, about 2 ft. squared, where you can experiment with different polishing processes to find that one that allows to achieve the results you desire. It also takes the focus off of an intangible (whether paint is hard/soft) and places it on the tangible (what process do I need to remove the paint defects in this paint system).
You can use painter's tape to mask off the test spot. This gives you the ability to directly compare your progress against the unpolished paint.
If you are new to machine paint polishing it is recommended to start with the least aggressive method first. Try to polish the area using a final polish and a finishing pad. After polishing inspect the area. If there are still paint defects present, then move to a more aggressive procedure. Use a more aggressive pad, polish, machine, technique, or combination of the previous.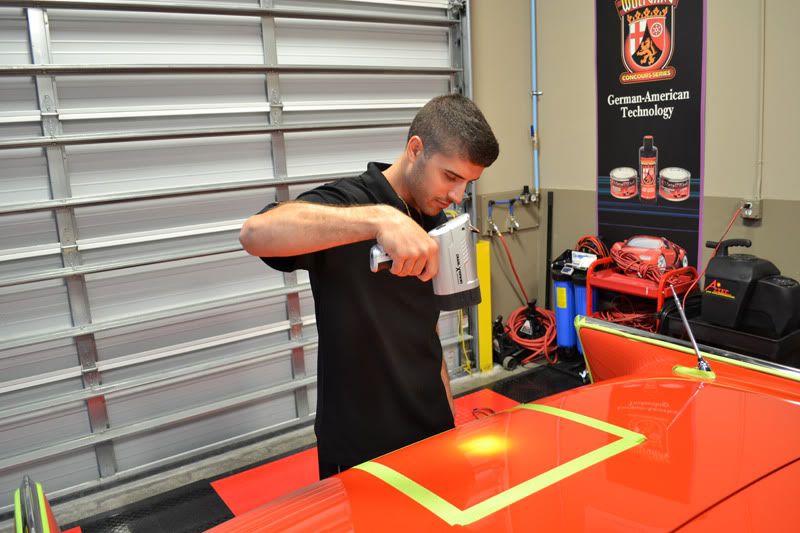 Polishing can be broken down into several functions: Correction, Refinement, and Finishing. Often these processes overlap (resulting in a 1 or 2 step correction) sometimes they don't (resulting in 3 or more separate polishing steps).
Correction- During this step the deepest defects you are removing are polished away.

Refinement- Heavy correction may require aggressive techniques. These techniques may leave fine scratches of there own in the paint. These are removed during the refinement stage.

Finishing- The finishing step is the last step, designed to remove any abrasion (from the first two steps) and leave a high-gloss, flawless finish).
Using the test spot, find the right procedure to remove the paint defects you are aiming to eliminate. Once that is complete, you most dial in the correct techniques to remove any marring from the correction step and leave the paint flawless.
Continue to inspect the test spot after each application to make sure you are moving the right direction.
Now Repeat!
Once you have the process dialed in, you simply have to repeat it as accurately over the paint as possible, almost like stamping the process on the rest of the paint.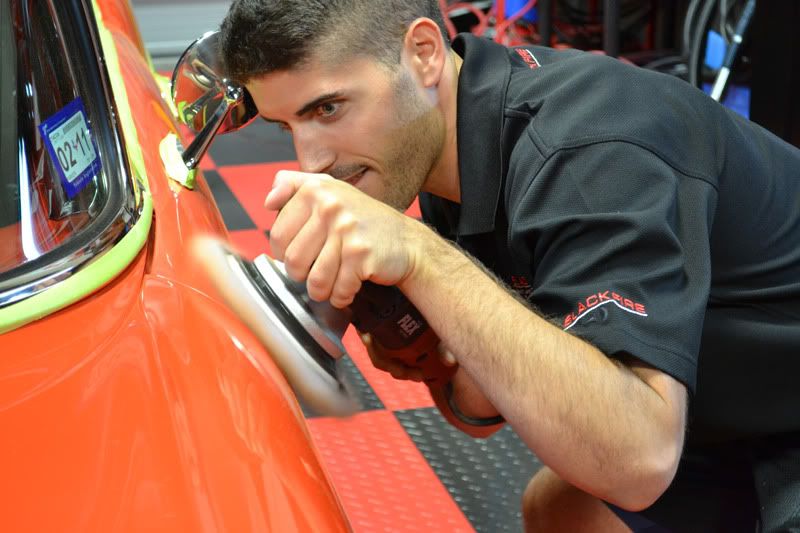 Conclusion
There are too many variables and variations in paint systems to give too much thought over surface hardness. The goal with polishing paint is to find the correct process (combination of machine, pads, polishes, technique) to remove the paint defects and create a high-gloss finish.
While knowledge of paint system hardness may help you mentally prepare for the work at hand, nothing will replicate heading into the garage, taking a polisher, and using a test spot to dial in the process needed to correct the paint defects in that paint system. Keep focused on the task and the results and the intangibles will be nothing more than a footnote. Take a polisher, and polish it!