Here begins my journey into the SS world...

3 weeks ago with a day off and a random feeling I went and traded in my '11 SW 1LT in for a '10 CGM 2SS/RS.
Equipped with a sunroof and all the other goodies I never had on the LT.
I loved my LT but it was almost modded out and still not enough power for me.
I felt it was time to step up to a bigger "weight class".
It will be fun to start building another car.
MODIFICATIONS
EXTERIOR:
MPD1 Z-Force Hood
SLP ZL exclusive Spoiler
ZL1 Grille
SLP Landing Pad with 4th Gen SS Emblem
GM GFX Diffuser
GM GFX Side Skirts
Revolution Syling Front Splitter
20" Giovanna Kilis Wheels
3d Carbon Side Fender Vents
GM Nickel Fuel Door Painted CGM
AAC LED Sidemarkers Ghost Painted CGM
AAC Plasma Blue Halos
Blue LED Daytime Running Lights
AAC Red LED Bowtie (wired as Brake light)
Painted Matte Black T3 Stripes on Hood, Trunk and Spoiler
Side Matte Black Hockey Stripe
Blue Pinstripe
Showstoppers Underhood Kit
Plastidip Tail light and GFX exhaust bezels
Concept Afterburner Tail Lights
INTERIOR:
Steering Wheel Bezel Painted CGM
Camaro SS Lloyd Mats
Carbon Fiber Remin Dash Kit
LED Interior Upgrade Kit
Blue LED Footwells
Defenderworx CAMARO Kick Plates
Plastidip 4-Pack Gauge console
PERFORMANCE:
VMAX Ported Throttle Body
CAI, Inc Intake fit for Ram Air
SLP Loudmouth II Axleback
MBRP Square Exhaust Tips
RX Catch Can
1.75" Lowering Springs




October 2010 - I got my first Camaro, 2010 Cyber Grey Metallic LS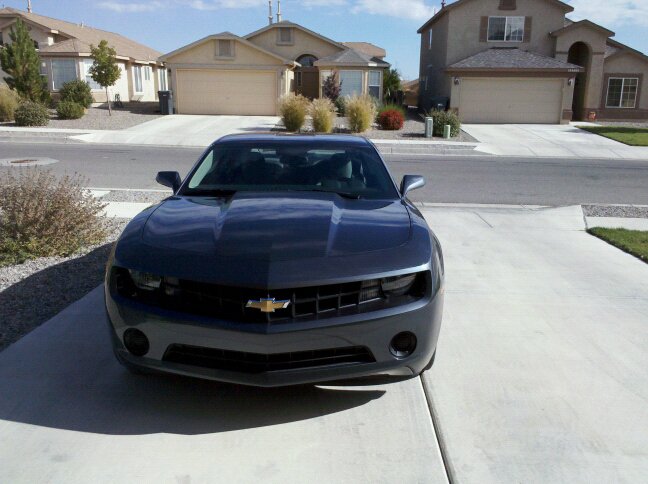 After 2 weeks ( 1 week of happiness and 1 week of total BS

) I decided to take the CGM LS back to the dealer. A week later thru a better dealer I was rolling in a 2011 Summit White w/ CGM Stripes 1LT.

I soon got the mod bug hardcore and brought that car to another level of awesomeness. A lot of money, time and hardwork was spent on that car, rewarded with a C5FII award and a COTW on 2/20/12.
http://www.camaro5.com/forums/showthread.php?t=175553
A BIG THANK YOU to Christa &
Ivan @ Southwest Speed
as I would not have been able to do it without them.
As much as I loved that car I just couldn't get enough power out of it. I always wanted the SS but had to settle for the V6. I tried many times to kick the feeling of wanting in the V8 but couldn't do it.