Ok,
Caps are for sale now in the satin finish. Not on the site yet, only here until tomorrow.
The chrome, and black chrome finishes will be a couple of weeks yet.
Mirror chrome with black etching
Black chrome with gold etching
Here are the Satin finish pictures.
Our caps will contour perfectly to your factory caps, and will not need electrical tape to be used as a shim to hold it on.
Brake Fluid Satin Finish
Radiator Satin Finish
Power Steering Satin Finish
Coolant Satin Finish
All caps Satin Finish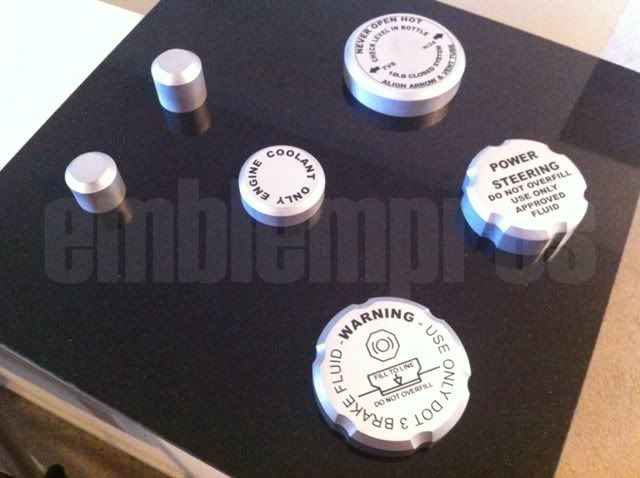 A/C caps Satin Finish
Satin finish may have small machining marks remaining. Chrome will not.
Prices:
Large Satin Caps $37.00 each
Large Satin Caps etched $40.00 each
Chrome Caps $45.00 each
Chrome etched caps in gold or black text $50.00.
Chrome prices may decrease, depending on actual cost.
We are also waiting for confirmation of black chrome pricing. We will be selling it, just want to nail down the cost.
A/C caps
Satin Finish $25.00
Chrome Finish $35.00
Thanks, Roger
GM logos will also be available for use on the caps.