Hey this is my first DIY write up so give me a little slack.
Before Pics
Items Necessary:
lift
something to cut off your muffler (a saw will work if you don't have anything fancy)
Muffler Dump tips
Welder
The wire mesh you want
Cardboard
Sharpie (marker that works on paint)
Tin snips/shears (big heavy duty sicissors)
Rough, medium and fine sand paper
Flat black rust proof paint (anycolor you want actually)
Weird Screw head and driver (see below picture)
Ratchet, and ratchet adapter to accept the weird screw head.
Plyers (something to grab and hold still the little screw piece while you screw it in)
Step 1: Delete your mufflers (this is simple enough to do yourself but you can pay a muffler shop and they'd do it for around 40 usd... don't pay more than that)
Cut and remove, Not difficult but I'd have someone there to help you hold it up while you cut.
Each one weighs about 18 lbs so that's 36lbs of weight loss.
Here's where to make the cuts (you can go closer to the cats if you want but I did it here to keep it simple:
Step 2: weld on some dump tips
Step 3: remove your outlets using one of these screw heads on the 4 screws located on the outlets. (I don't know what the screw head is called someone help me out here)
Step 4: Lay down your outlet on the cardboard and trace the inside opening for your cardboard template. Cut it out and place inside to see if it fits, you will more than likely have to trim certain spots to get it to fit. Also, the same template might not work for both so you should one for each outlet. They will be pretty close though.
Step 5: Trace the outline of your template on the wire mesh and then cut out with your tinsnips and sand the edges down with the rough grit till they fit flush inside your outlets. (NOTE: This is probably the most difficult part of this project,

you have to insert it at an angle then lay it flat and figure out which points aren't letting you press it down all the way then remove and sand down those points. I used the sharpie again to make marks where these pressure points were so I could sand those spots a little extra till it fit nice and snug) When you have the mesh inserts fitting nicely, sand the front and back faces with the medium grit sand paper
Step 6: Sand the Outlets (only where it will be visable on the GFX with medium then fine grit sand paper. (unless you don't want to paint them then skip this step).
(NOTE if you don't want to paint your outlets or inserts you will have to tape off your outlets where it will be visable with lots of masking tape or painters tape due to the specks of liquid metal from making the welds before doing the next step. OR you could do apoxy or JB weld, I wouldn't do that though)
Step 7: Weld mesh inserts in place then sand off any of the metal specs with the medium sand paper followed by the fine grit (if it's a big speck you can poke it off with a flat head and a hammer then sand)
Step 8: Paint, allow to dry, paint, and allow to dry (repeat till you feel good about it, 4 for me)
Step 9: Install outlets back on your GFX. This can be done from a driveway but your neck will be sore the next day (I did). Use your weird screw head tool and your plyers. (Note this part can be a little tricky since now you have wire mesh in the outlet the top screw to the outlet is a little harder to reach. I slid the weird screw tool through the wire mesh and ratcheted it in. If you make some scratches on your wire mesh you can just make some touchups with a q-tip and your paint)
Enjoy the awesome new look of your GFX (these pics were done b4 I did the touchups so you can see where I slid the weird tool in there)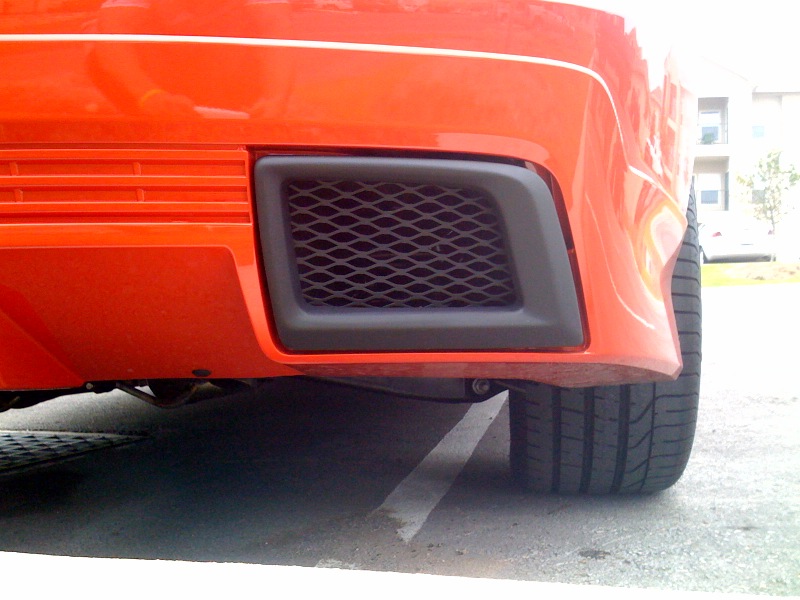 This took me about about 4 hours worth of work prior to painting. Then about another half our to reinstall and 2 minutes to do the touchup.
I hope this helps... PM me with any questions. I'd be glad to help you out.