xstuntman is correct. And here are the issues:
GDI engines are far higher compression ratio than old port injection, 11.5:1 and higher in some cases. You would need to run 100 octane in a port injection engine to run that CR.
GDI engines (again depending on which ones) introduce the fuel directly into the combustion chamber milliseconds prior to spark ignition, so 2,000-3,000 PSI plus is not unusual. This results in 8-12 times the raw fuel pushed past the rings compared to a port injection engine. Not only does this wash the cylinder walls and piston skirts, but also dilutes the engine oil, and unless an oil analysis sample is drawn immediately at shut-down through the dipstick tube such as this (there are several brands you can choose):
https://www.jglubricantservices.com/...lysis-kit.html
you will not get an accurate fuel dilution reading if taken when draining!!
Now, what else is occurring that stresses the oil? ALL GDI engines have intake valve coking issues as no fuel is sprayed onto the backsides of the valves keeping them cool and clean, so they operate at far higher operating temperatures and the deposits are NOT the "soft carbon" of the past that a Seafoam or similar could easily remove without damage to the engine. These deposits are baked into a hard abrasive crystalline structure so those solvent based cleaners cause damage in every case we have studied. While most is expelled out the exhaust, some is always forced between the pistons and cylinder walls and that contaminates the engine oil as well, further overwhelming an oils ability to protect. The premature timing chain and other internal parts wear was caused by GM using the cheap syn blend oils until recently (many dealers still use it for the "free" oil changes that you paid for up front in the price, so that is a gamble) as it results in much greater coking deposits building compared to a good full synthetic.
The other issue? LSPI. (Low Speed Pre Ignition). This is when fuel and oil is pushed behind the rings and if ANY amount of petroleum based oil is used as in a blend or the cheaper full synthetics and it ignites, the resulting explosion will break the ringland. This can be as simple as a broken land that stays in place so slight misfires and oil consumption to complete piston failure.
Now, the new oil mentioned will be a better option, but Amsoil and most other "premium" synthetics have already addressed much of this. One is the additives. Amsoil was one of the first, and others have followed suite in reformulating the oil so it is far less prone to ignition in these situations. That is part of the new spec for GDI engines (M1 also has this now).
So, this oil specification is specifically to address some of the problems inherent with GDI engines, but are not a "fix all".
Here is an example of one of our field testers with a GDI twin turbo engine making 20# of boost that is driven hard. With our E2-X air/oil separating crankcase evacuation system at 13,000 miles. Next sample will be drawn at 20,000 miles and we will share it as well. Note the comments by the lab technician: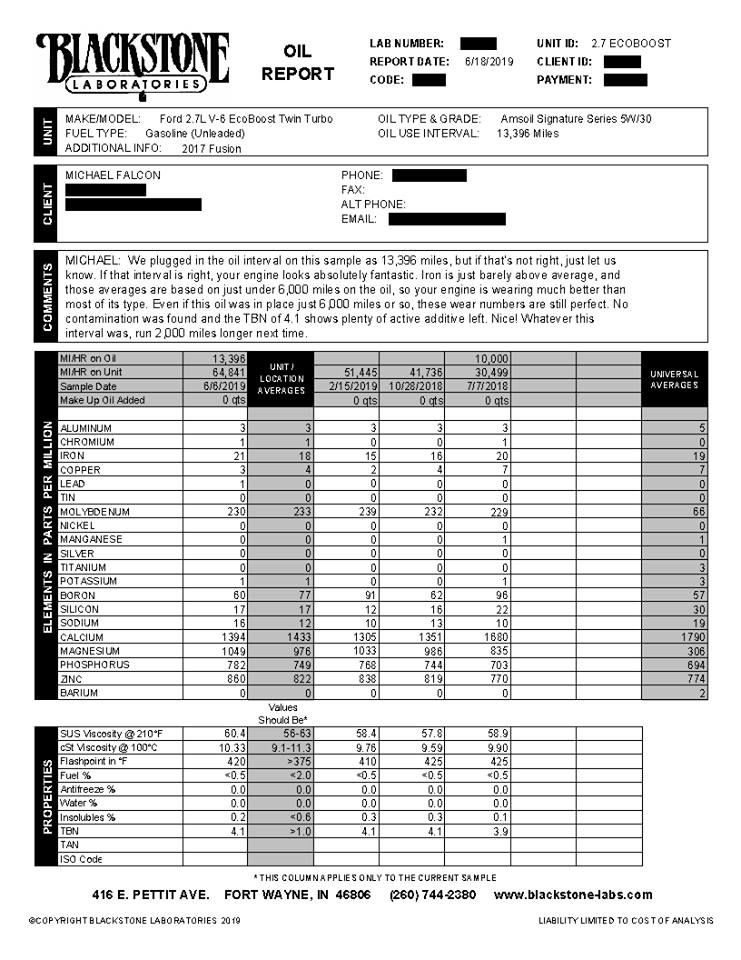 As our E2 and E2-X dual valve systems convert the factory PCV system to full time flushing and evacuation vs factory part time, and we separate app. 95% of all these substances, it keeps the oil clean far longer. Especially the fuel dilution. It is not unusual for a GDI engine to reach 5% fuel dilution in as little as 2-3k miles. 5% is where oil is considered "condemned" and no longer able to protect. Google: "GDI engine failure issues" and read how widespread this is.
So no, you can't compare the old engines to today's engines. And this is a main reason there are no longer 100,000 mile engine warranties as in the past. These are subject to so many issues that shorten engine life unless you the owner take the steps needed.
Questions? Please ask, and as always, email our Engineering and Technical support team direct at:
Tech@EliteEngineeringUSA.com