Hey guys, From the UK bought a Camaro, cus of how mint it looked in transformers basically. Posted a few pics of the car in the photo forum but have alot planned for it and thus was wanting to show what i have done this far. I bought it in August 2011 already over here with 4K on the clock.
One of the Transformer edition 6.2 V8 models.
Exterior Mods:
Vertical Doors
Front Splitter
Rear Spoiler
22" ISS Forged Wheels
Interior Mods:
Vinyl Wrap on Parts of Dash
Pioneer AVH-4400BT Touch 7" screen stereo
JL Audio Subwoofer Stealth Box
Engine Mods:
K&N CAI
So here he is a couple days after i bought him home with me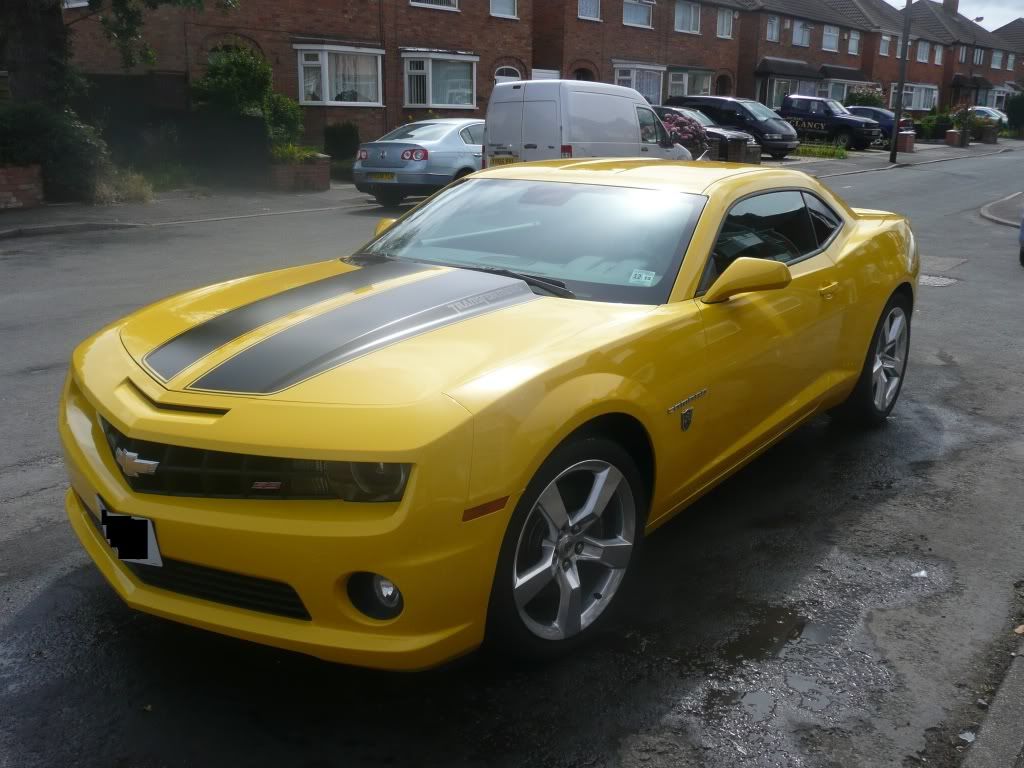 Speaker system already was installed (bonus
)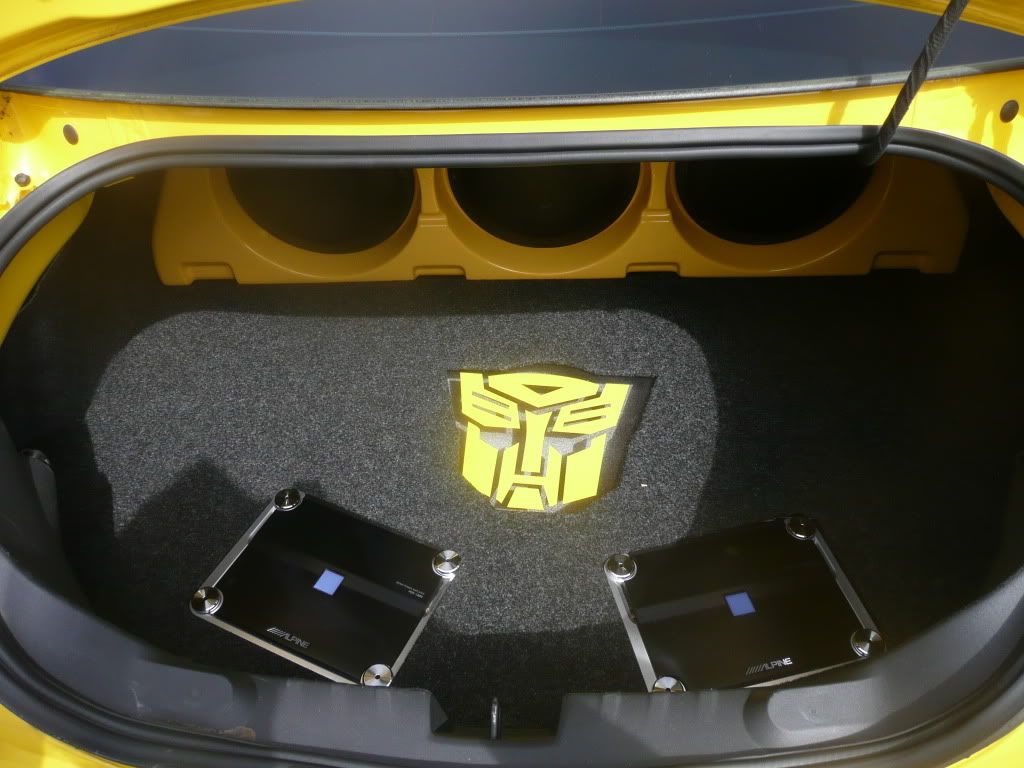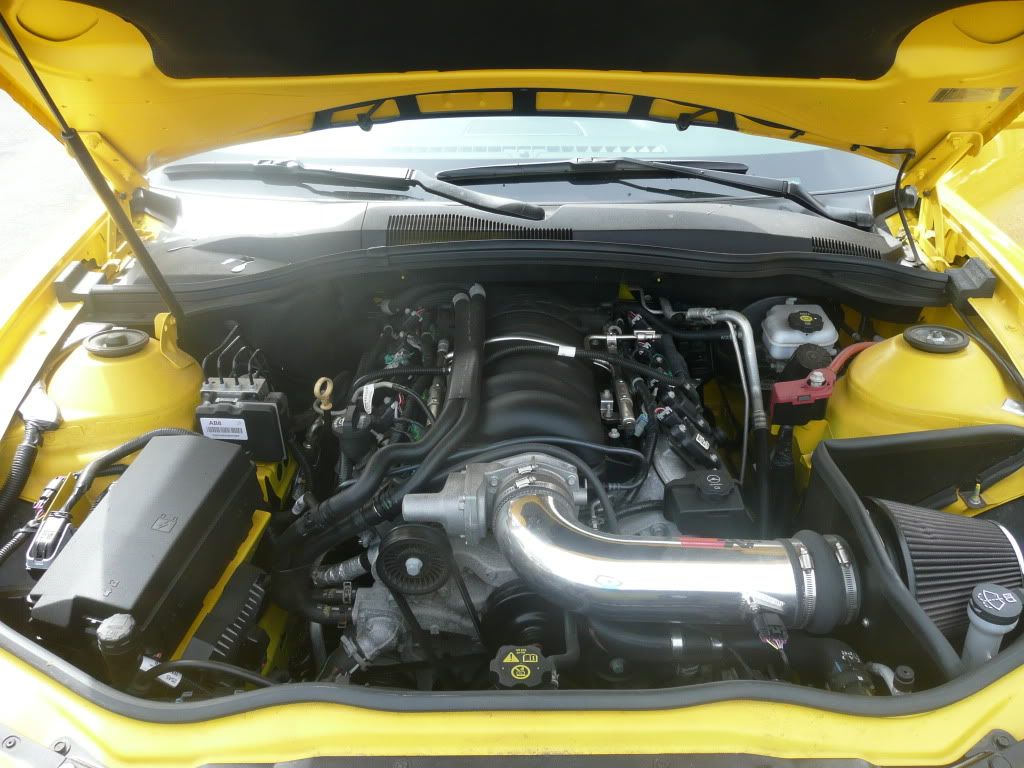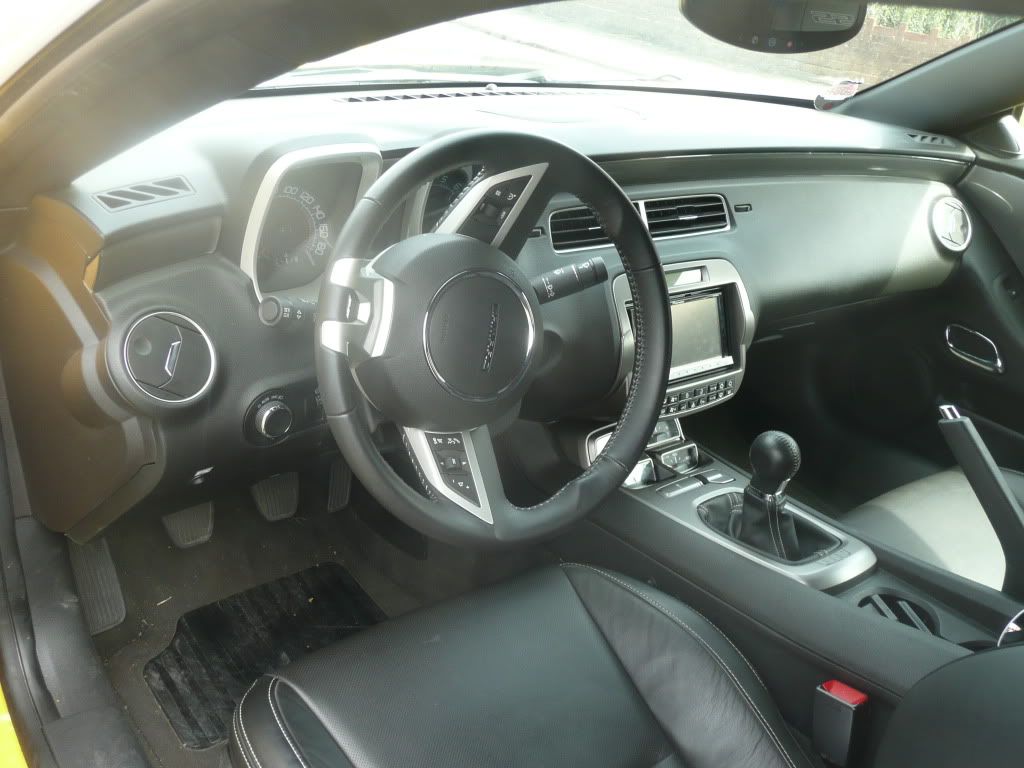 So yea basically he looked mint already, love him. First thing i noticed was no engine cover, so bought me one of them to make the engine bay look abit more tidy
So basically that was it for a while, My mates loved it (Not many american muscle cars over here especially not Camaros) Then my mate asked reckon you will do anything to it? At first i thought no need, but then that was it, curiously i looked on the web at other camaro's and that was it my brain went mental at all the amazing camaro's out there.
Now next what i did may not be a very popular move with everyone here, but everyone has there own likes and dislikes. My mate said, you should look to see if you can get Vertical doors for it, make it look more like it is transforming. I thought to myself MY GOD why did i not think of that?? Checked the web and to my delight they did kits for camaros, so i ordered it. 1 Month later it arrived (Shipping and UK like of taxing things)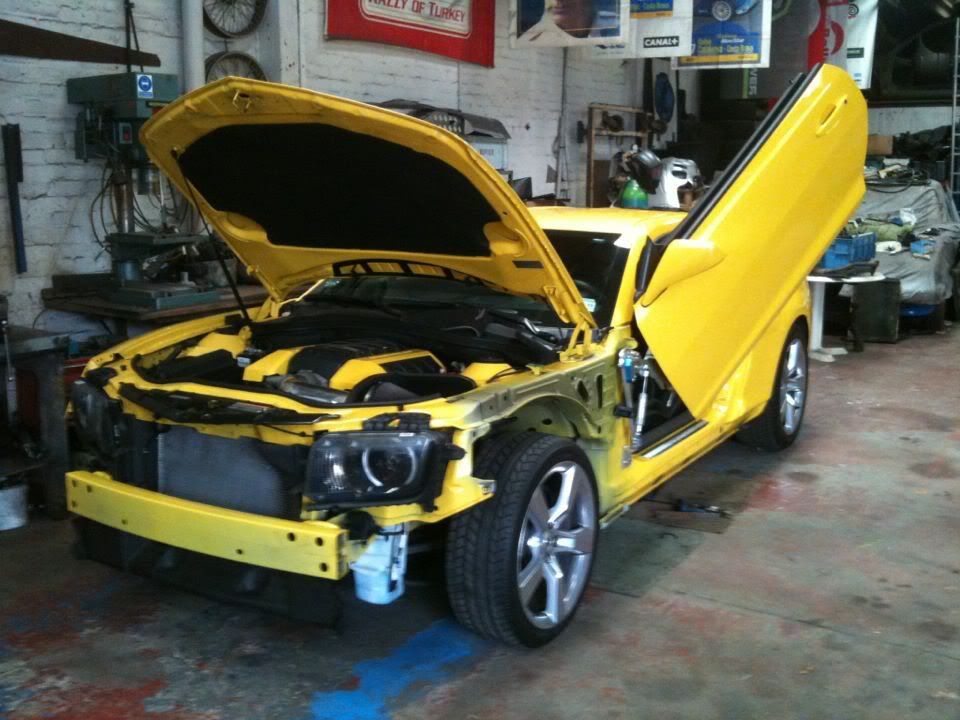 Here he is looking rather sorry for himself, wondering what he had let himself in for. One door attached.
A week later he was at (Fast Show) UK car show held at Santa Pod Raceway(Drag Strip) Getting some attention for his troubles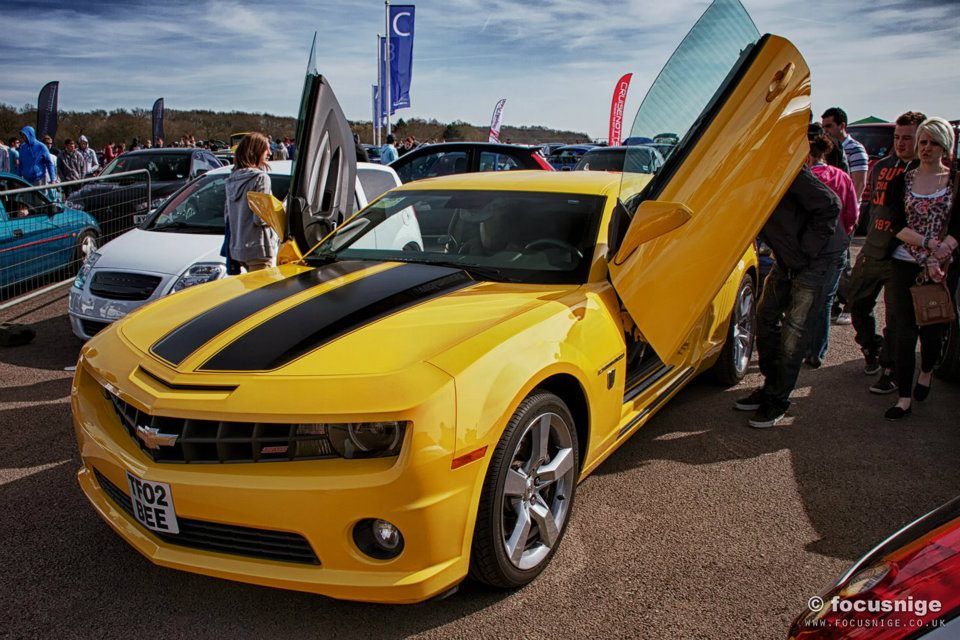 He also had a personal licence plate bought for him TF02 BEE, (Transforms 2 Bee)

And that was it for almost 5 months, But looking at the web polloutes the mind with idea's and wants
So next i Bought a front Splitter and a larger spoiler, give him a bigger sting in his tail
So i originally had the spoiler black, to break up the yellow, however i was not happy with the job done on the spoiler and changed my mind as you will see later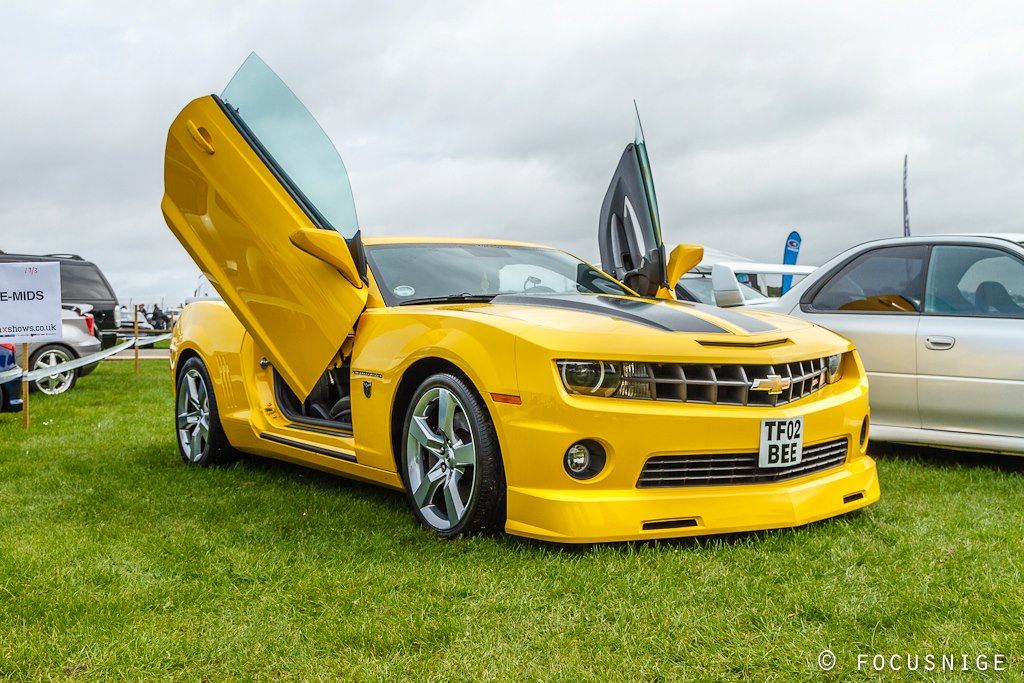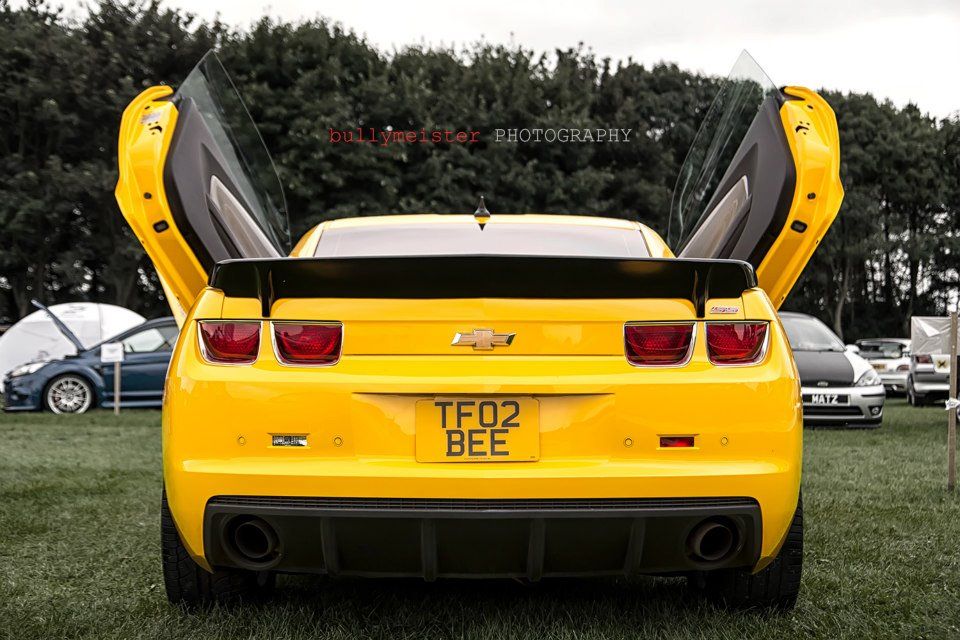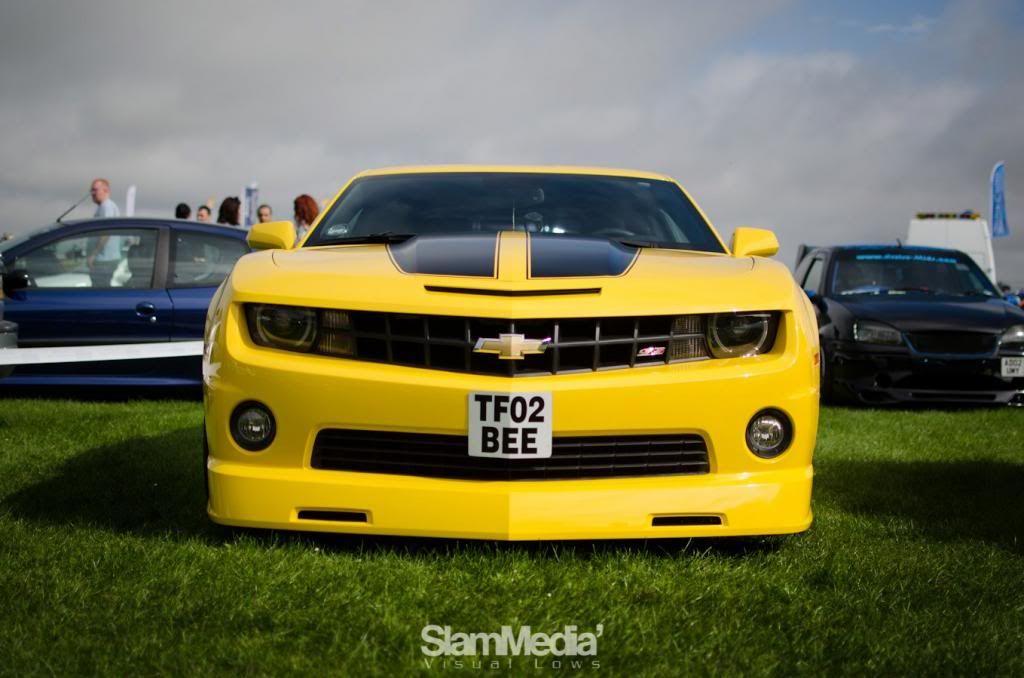 These was taken at the last Official UK car Show of the year "Trax" Silverstone Raceway.
Next on my list was New wheels. I ordered some Custom Built and Painted ISS Forged Complex 5 22"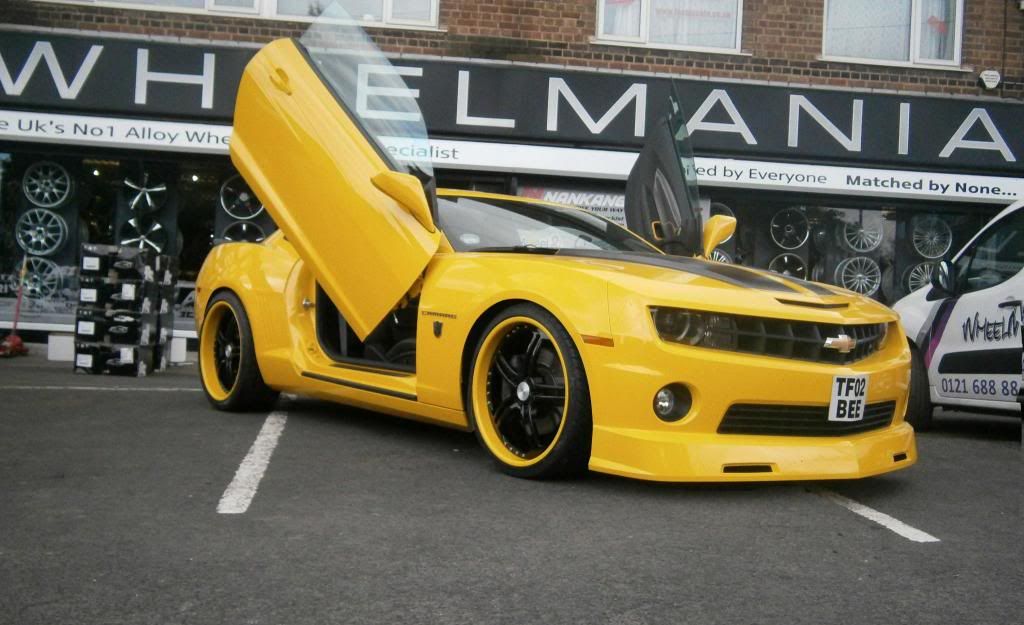 Now, i noticed that my front bumper had quite a few stone chips

so i went to a recommnded spray shop near me. I asked if they could respray the front and rear bumper, and also a few other jobs

which included: Calipers sprayed black, Brembo sprayed in yellow, Rear Diffuser a shiny black, rear light surrounds black, spoiler yellow with the racing stripes on, CAI gold and also a bit of damaged corrected on both side skirts.
So here it goes
Rear light surrounds, Front and rear Bumpers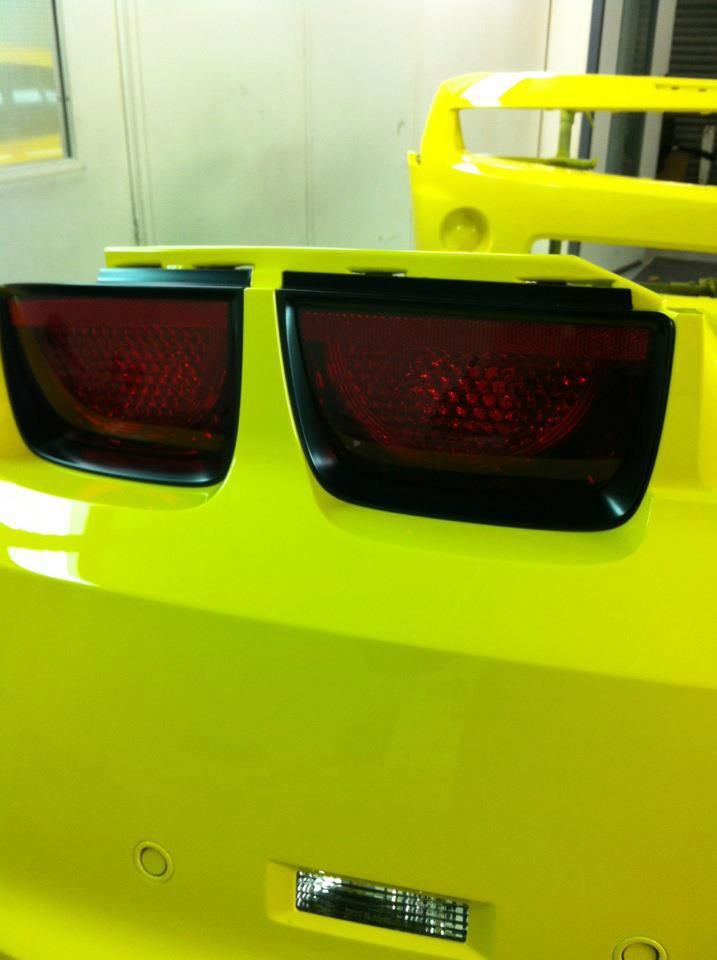 Rear diffuser, with side skirts in reflection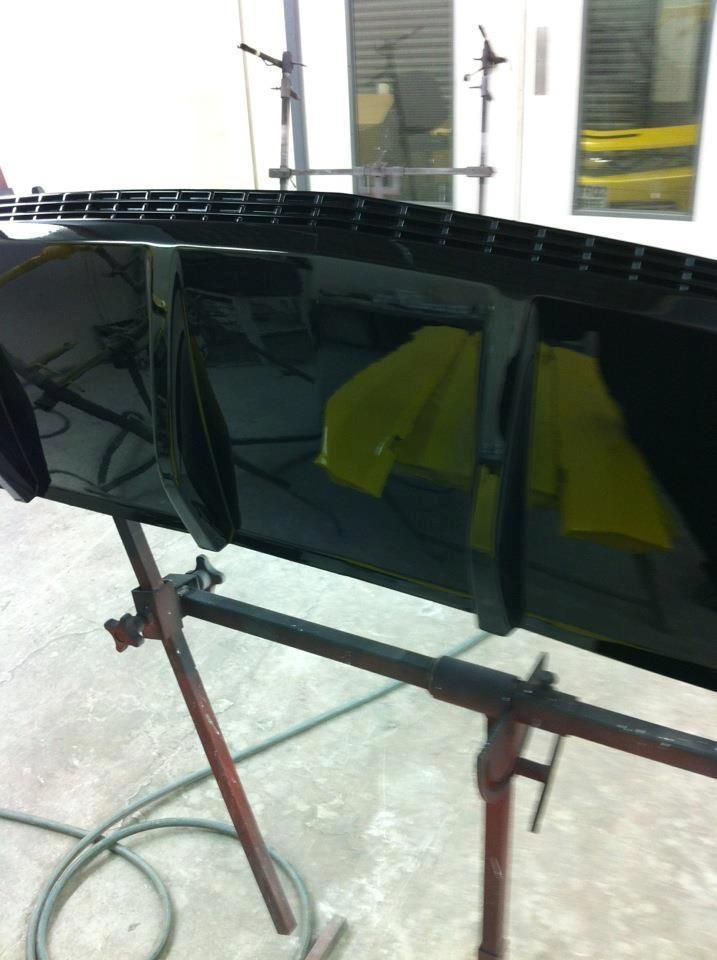 Brakes Cleaned and sanded down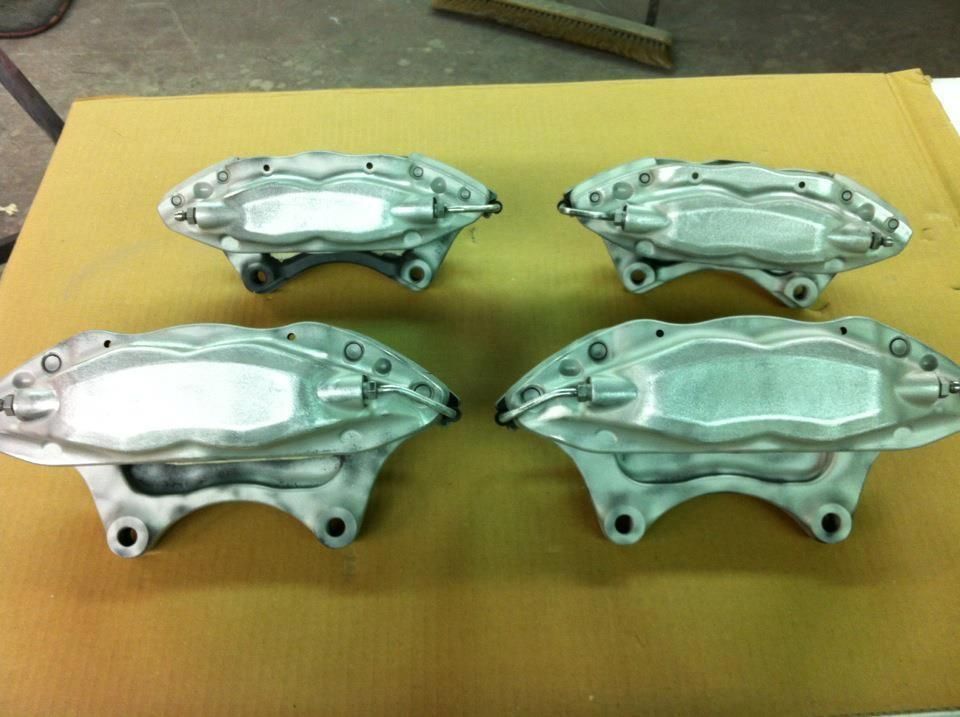 Primered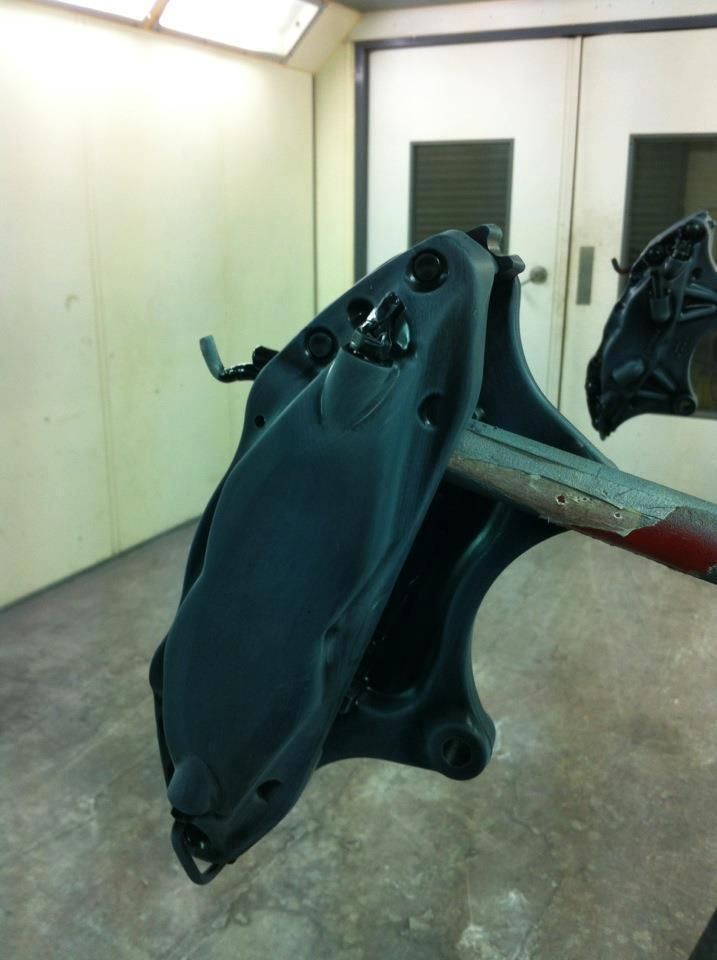 Finished article
Next the spoiler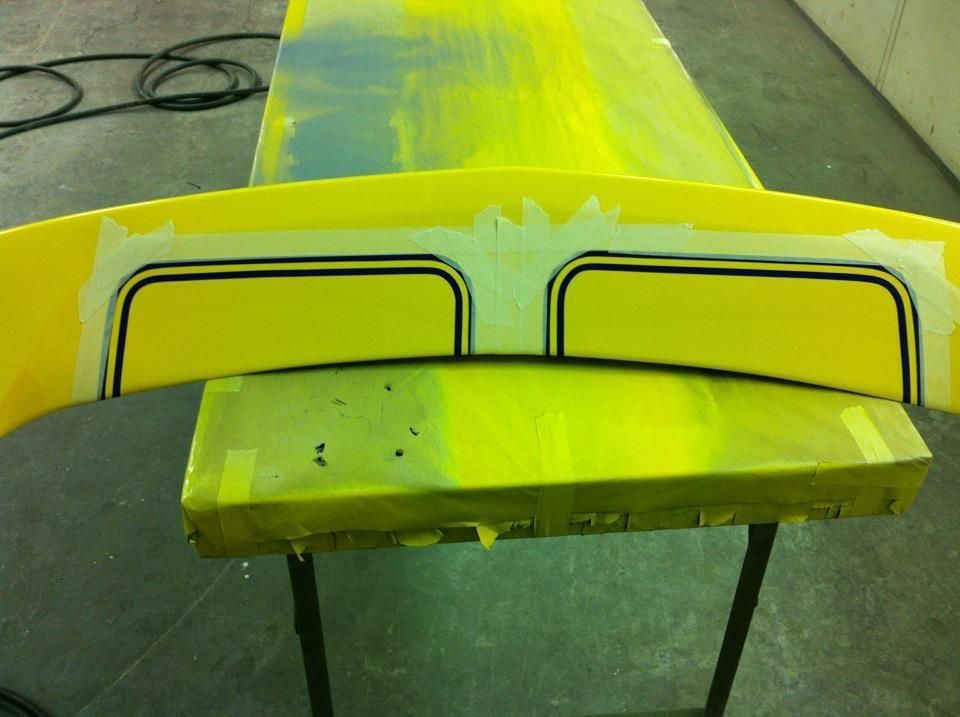 The Paint guy has some amazing skills, The racing stripes on the spoiler part is not vinyl but actually sprayed, matching the lines exactly right.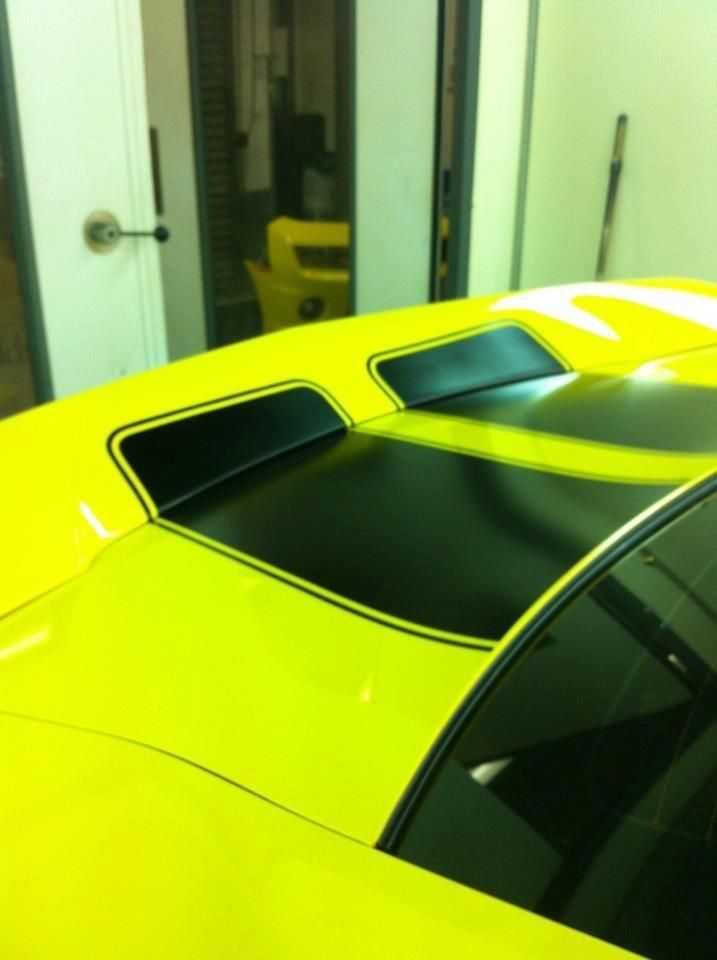 Here the Bumper, diffuser and spoiler is all back together, Cannot really see how shiny the diffuser is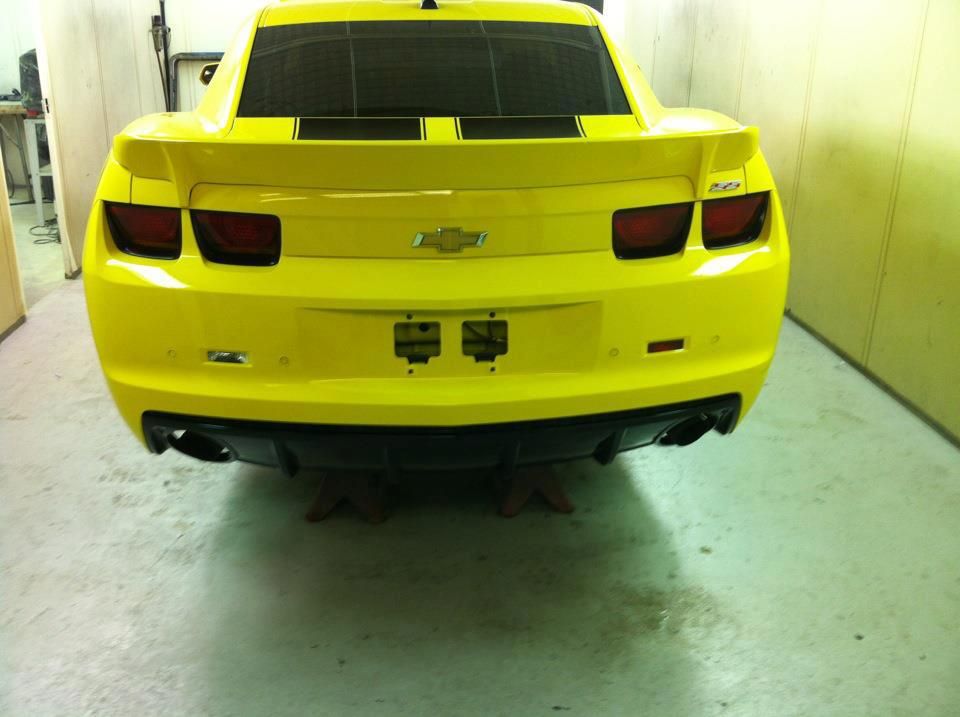 And now the CAI pipe in gold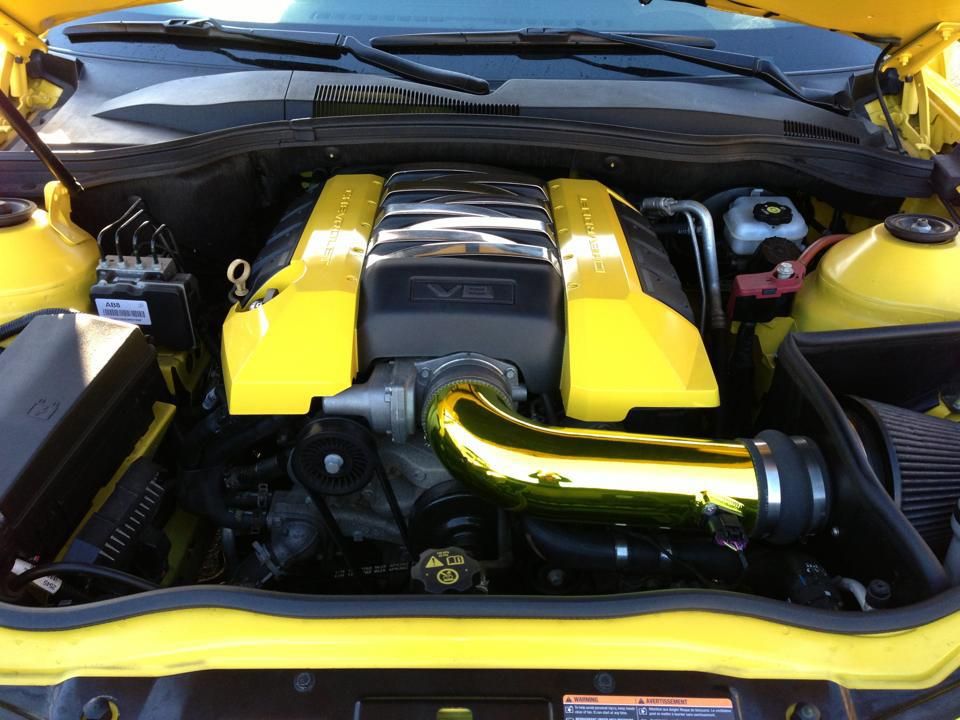 I have also hadded abit of vinyl wrap to the inside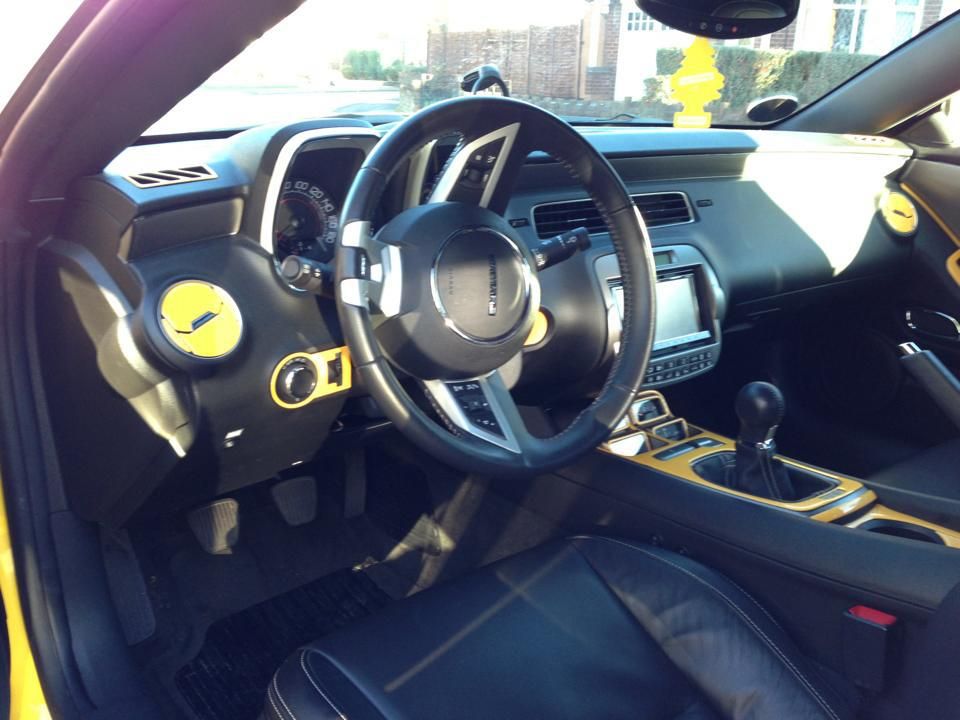 And that is as far as i have got, looking to colour code the inside some more, and do some bits to the engine. Also plan to get a new grill and possibly more aggressive side skirts, Will keep this updated