REVIEWED: FLEX PE14-2-150 Rotary Polisher
Backstory: Let me start, by confessing right off the bat, that I was a Makita man. I have used the Makita on 1000s of cars and have trusted that machine to earn a living, feed my son, and support my family. Like an artist with a favorite brush, best results are often achieved when the user is most comfortable.
I was first introduced to the
FLEX PE14-2-150
at the 2010 SEMA, and while I liked it (it was small and comfortable), it did not feel like my Makita and I did not did not (other than random usage) give it much of a chance. At this year's SEMA, I used the FLEX PE14-2-150 almost exclusively and my thoughts on this quality tool began to change. I just got back from a 13 day detailing stint, and after logging serious man hours behind the machine I came away so impressed that I couldn't wait to write a review.
Built to impress:
Besides being light weight (5.6 lbs vs. 7-9 lbs. for most full sized rotaries) the FLEX PE14-2-150 has many high quality features. A planetary gear-set in combination with beveled teeth provides extremely close tolerances which makes the FLEX very quit. In combination with the lightweight, the noise reduction almost eliminates fatigue. At the end of some very long days I still felt fresh.
As Bob Eichelberg from FLEX N.A. told me, "FLEX builds tools for a purpose. We don't remake other models and try to sell them for something else. We don't relabel a grinder as a polisher and we don't convert polisher's into grinders." This is extremely true of the next two features of the FLEX PE14-2-150. The cooling fans are overdriven and run high speeds at low-RPM. Many polishers do not generate adequet cooling at low speeds; the FLEX-PE14-2-150 runs cool at 600 RPM. The second feature is screens placed into the cooling channels to prevent wool and polish debris from limiting airflow.
To control the speed with the FLEX you have a sensitive trigger and a thumb dial. The trigger controls the speed relative to the maximum speed set on the thumb dial. The FLEX remains quite and smooth from a minimum of slightly under 600 rpm to a maximum unloaded speed of 2100 RPM.
The powerful (800 watt) motor generates enough torque to keep this little machine from bogging down, even when loaded with a saturated 8 inch wool pad. In fact the motor is more powerful then most machines that way 30%-100% more.
The FLEX PE-14-2-150 ships in a slender box and is packaged with a "stick" or side handle.
The head of the machine is covered in a comfortable soft-grip rubber which eliminates the need of a stick or bail-handle. I am more comfortable using a stick, but felt really good control when removing it and gripping the machine to polish tight spaces.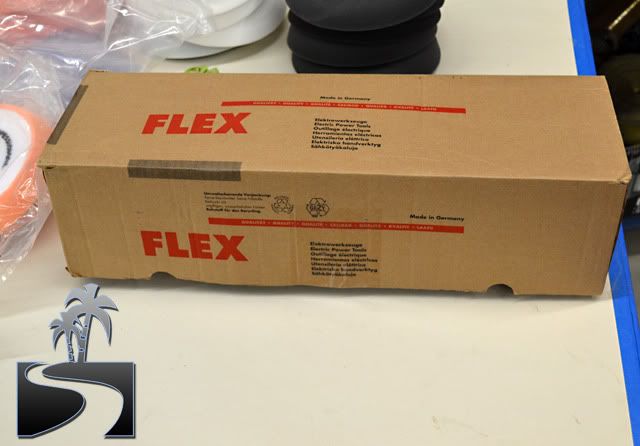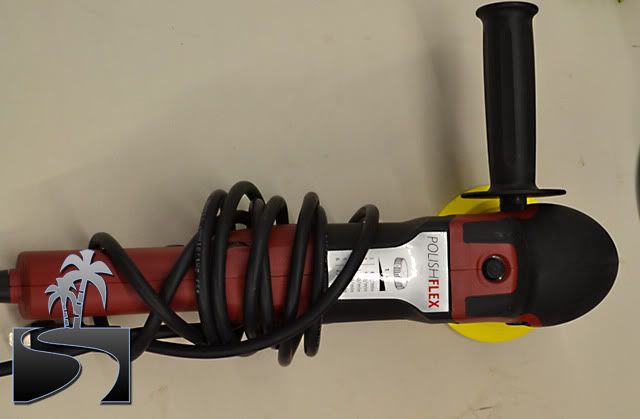 The FLEX PE14-2-150 Rotary Polisher has plenty of power to spin 6,7, or 8 inch wool pads at high speed for compounding will keeping fatigue to a minimum. The motor stays extremely quiet. (Pictured with a Lake Country 1Pad wool pad and backing plate).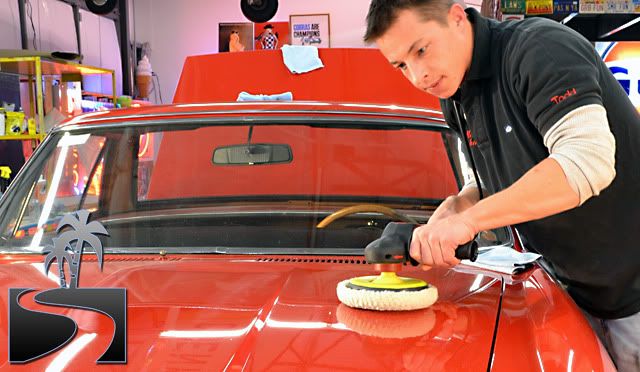 The FLEX also has great control and balance, something I have found other lightweight machines struggle with. Polishing small areas and tight curves (as well as sharp edges) requires the user be comfortable with the machine. The FLEX PE14-2-150 instills confidence. No other polisher has felt as easy to steer or control for me.
The ability to polish at just 600 rpm for long periods of time means it is more then capable of delivering a high gloss finish.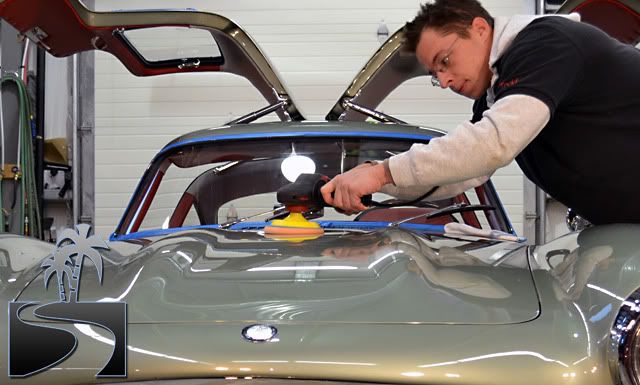 PROS: Powerful enough for any detailing task.
Light weight design that mimics the smooth polishing of heavier machines.
Motor never feels stressed and operates flawlessly at low speeds.
CONS: None at this time.
CONCLUSION: The FLEX PE14-2-150 for me is the polisher I never knew I needed, but can no longer live with out. I have tested almost every rotary on the market, and have my favorites (based on how they feel). Not only does the FLEX feel the best to me, but the loads of high-tech features and German build quality seal the deal. Expect to see a lot more pictures (in my detailing write-ups) with the FLEX.