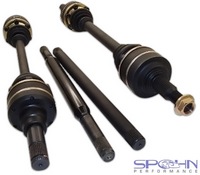 1,000 HP Extreme Duty Rear Axles and CV Joints Package
These Extreme-Duty axles for the 2010+ Chevrolet Camaro SS are designed to handle up to 1,000 HP! Using chrome moly center bars, 108mm Porsche style CV's and bolt on chrome moly inner and outer stubs, these are a direct bolt on that fit the stock hubs and come complete with all the necessary hardware. Not only will these axles handle the horsepower, they use different diameter chrome moly axle bars on each side which will eliminate wheel hop. Wheel hop at launch can be extremely damaging to the drivetrain and makes getting traction very difficult.
The factory Camaro axles are made with different diameter axle bars, but the spline diameter is the same on both sides and the large diameter axle bar tapers down to a spline that is half the diameter. This transition creates a weak point on the axle bar that cannot withstand increased horsepower. Our axles are made with 1-1/8" & 1-3/8" diameter bars that are splined on the full diameter of the bar, without being tapered down so drastically and creating a weak point (see the photo that shows our extreme duty axles: stock axle bar on left and extreme-duty axle bar on right).
These axles and CV joints are priced as a complete set and have a 1 year warranty.
For more information and online ordering
click here
.