For future searchers:
I finally got it out. I ended up removing the diff from the car so that I could deal with it on the workbench instead of on my 47 year old back on the concrete.
At that point, I could get a full swing on my BFH. I used the best thing I had on hand as a punch, that 1/2 inch drive extension. It fit through the divider between the side gears.
After bashing the living hell out of it, I noticed that it had moved far enough to expose the seal surface. A few more heavy handed whacks and it came out.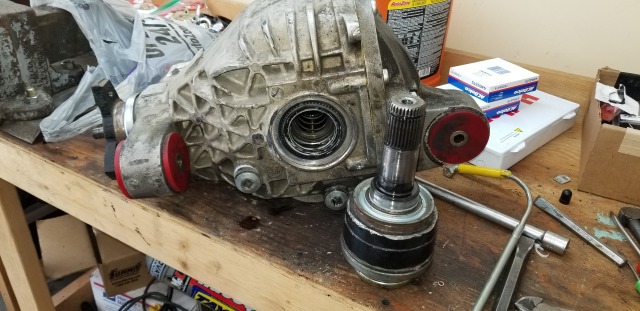 The circlip came out in 3 pieces. I expected it to be broked. You can see how it mashed the splines on the axle stub as it was squeezed between it and the side gear. The side gear is perfect, not distortion of the splines.
__________________
CAI Cold Air Intake; Comp Cams LSR Series; EE E2 catch can; SP 1 7/8" LT Headers w/ hfc; FM AT 3" cat-back; AEM Wideband; N2MB WOT Box;
Tuned by Throttle Works 467whp 419 wtq
McCleod RXT; MGW flat stick; Ram Clutch slave cylinder & hydraulic adjuster
BMR cradle & diff bushings, trailing arms, toe rods & upper control arm bushings
Hotchkis sub-frame brace
Stop Tech Z-23 brakes
4.10 gears, Eaton Truetrac, LPW diff cover
Best 1/4 mile 12.073 @ 115.68 mph 3,300 ft DA