I've been thinking about that, because that was the only way I could really think to mount a six-point harness without the hole in the seat, but I coming across warnings like this: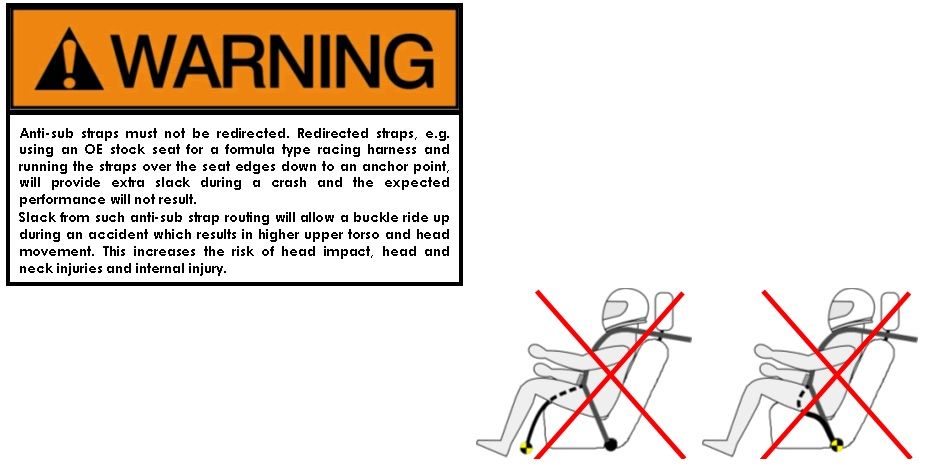 And instructions to mount like this:
I see where the harness makers are coming from, which is the sticking point for me. I hadn't considered a harness until it was recently suggested to me, and it complicates things. If I'm going to use a harness at all, I want it to be a six point, and to mount the two anti-submarine straps correctly. So far as I can tell, I either need to 1) get holes cut and sealed in the seat bottom, or 2) get different seats.
I'm trying to do this without losing the comfort/convenience of a the factory heated/power seat, at least on the passenger side. I don't really have a problem with getting rid of the rear seats, but I'd like to keep the fronts as nice as possible for whenever I'm subjecting my passenger to long rides, like the nine hour haul I'll be making to the beach in a few months, or on cold days. My girlfriend runs cold (lower than average body temp, jackets on warm days, she's looking into it as a legitimate medical issue right now, actually) and I'm usually very warm, so her having a seat heater allows us both to be comfortable. If this were my track car, then no question, the back seats would be gone, and we'd both be in fixed buckets with 6-points, at least a four point cage, and HANS devices. Unfortunately, since the car goes pretty well everywhere I do, and therefore she does, so that's not such an easy choice.
As much as I like the idea, it kind of looks like I should drop the harness idea and stick with an OEM Recaro for me and factory 3-points until I have a second car to dd.
__________________
2012 Camaro SS - Pedders XA coilovers, Moreno camber plates, Hyperco front springs, 1LE rear sway bar and toe links, JPSS caster locks and radius rod inserts,
BMR trailing arms w/ poly outer bushings and steering rack bushing, and square 19x10.5 Apex EC7 wheels with square 305/30R19 Bridgestone RE71Rs.