As featured on
Homepage
.
UPDATED WITH PICS 9/30/09:
UPDATE 10/5/09:
Alright guys, the moment you all have been waiting so patiently for has arrived.
Im only going to cover the audio section in this part of the forum, but once I get a writeup going for all the other stuff, ill link over to them from here.
Here is what all the fuss is about, and Im sure you have all seen the pics already, the double DIN.
The little screen by the cupholders is the AirRide Technologies E3 setup for the bags. We made a billet piece on the mill to hold it in place. And its easy to get to while you are driving.
The head unit is a Clarion VX709, with the 40GB HDD navigation under the passenger seat, and the Ipod cable coming out of the Glovebox. There is also 2- 5.8" headrest screens installed, and a second DVD player in the Glovebox for both the headrests and the dash unit. A front camera as well as a backup camera have been installed, and we built a 4-Source switcher for the Clarion. It switches between Ipod, DVD, Front Cam, and Rear Cam. That's the little knob by the keys that you guys have been asking about.
All the audio equipment is VIBE. We have 2 VIBE Black Air 12's in the trunk, 2 sets of VIBE Black Air 6.5's, 2 LITEBOX BASS 1 Sub Amps, 1000W each, and 1 LITEBOX 4 for the speakers. The back deck, trunk lid, and entire spare tire area were Dynamatted to keep down rattles, as well as keep the 2 air compressors in the tire well quite. This is what the trunk looks like assembled.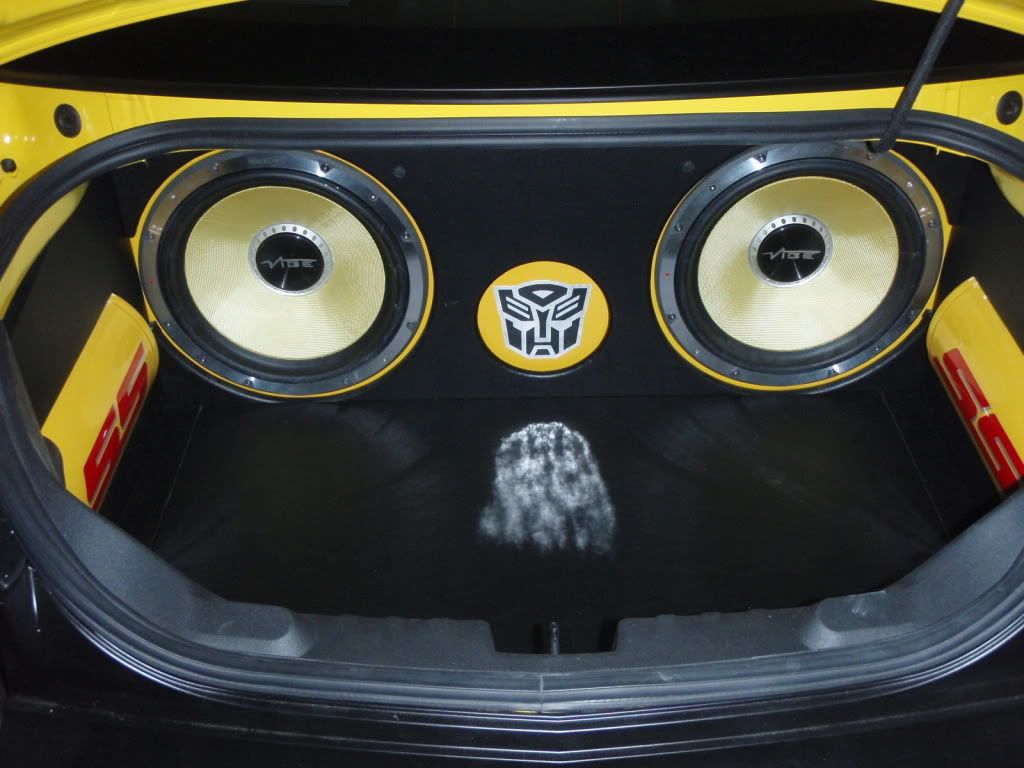 Here is the custom amp rack behind the back seat, holding all 3 amps. I don't have a finished pic of it yet, but ill post some up soon.
And the headrest screens
We also made projectors that go in the door panels, and projects a CAMARO SS logo onto the ground when the door is opened at night. The interior door panels have been painted from silver to yellow, and the lights have been changed to yellow as well. You can see it dimly in the picture.
That pretty much sums it up for the audio/video side. When I finish the other write-ups ill post up links here.