I personally would not recommend a califorina duster for your situation. They are effective at removing dust and leaving the paint clean but you greatly increase your risk of creating swirl marks. Cali Dusters are yarn that has been treated with parrifin wax, so you are dry wiping the dust against the paint.
A good option would be to team up a waterless wash product with some plush microfiber towels.
Waterless Washes are similar to a quick detailer but their job is provide an increased level of lubricity to safely remove moderate dirt, grit, and grime. Light dust will provide no problem.
Of the Waterless Wash products on the market, BLACKFIRE Wet Diamond Waterless Wash stands as a product that is really designed for the enthusiast, the guy who cares about maintaining a swirl free, high-gloss finish.
The secret of Wet Diamond Waterless Wash is that it uses the same polymers in as BLACKFIRE paint sealants. Everytime you mist Wet Diamond Waterless Wash onto the paint, thousands of Wet Diamond Polymers go to work. Some adhere to the grit and grime, others adhere to the paint, creating the barrier needed to avoid micro-scratching. As you lightly buff the finish with Wet Diamond Waterless Wash, the polymers on the paint begin to cure, adding a small layer of shine and protection to the paint.
Here is an excerpt from an article I wrote:
Quote:
CREATE WHIPLASH that has been years in the making!




BLACKFIRE Wet Diamond Waterless Wash is high lubricity waterless wash uses BLACKFIRE's proprietary Wet Diamond polymers to encapsulate dirt and dust so they wipe away with out scratching. The Wet Diamond polymers also bond to the paint to reinforce existing protection and create a whiplash inducing shine.

I should note that a lot of testing and development went into this product. A LOT! This uses the same BLACKFIRE propretiary polymers as Wet Diamond All Finish Paint Protection. Not only does the amazingly high slip (lubricity and resulting slickness) create BLACKFIRE Wet Diamond's famous "unique" shine but it also does an amazing job of creating a barrier on the paint's surface to prevent the dirt from scouring.

Waterless Wash products are limited. If you use them on a heavily soiled car you will likely overide the abillity of the product to remove dirt safely. BLACKFIRE Wet Diamond Waterless Spray is no exception, it does have it's limit. However, in my testing, its limit has been pushed higher and it handles moderate soiling (when used with a plush towel and proper technique) with no scratching. As a benefit you get to enjoy the same shine, slickness, and water beading characteristics as Wet Diamond All Finish Paint Protection!

Procedure:

Start with a light to moderately soiled vehicle. Heavy dirt, grime, or grit should be flushed away using more traditional wash methods.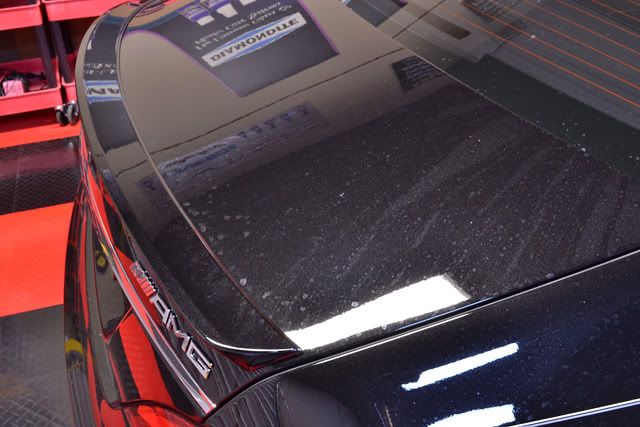 Mist BLACKFIRE Wet Diamond Waterless Wash onto the surface to be cleaned. The amount you use and the section you use it on will depend on on the amount of soiling present. The AMG was pretty soiled so I worked a smaller section ( 2' x 2') and sprayed about 4 squeezed worth of product on the paint.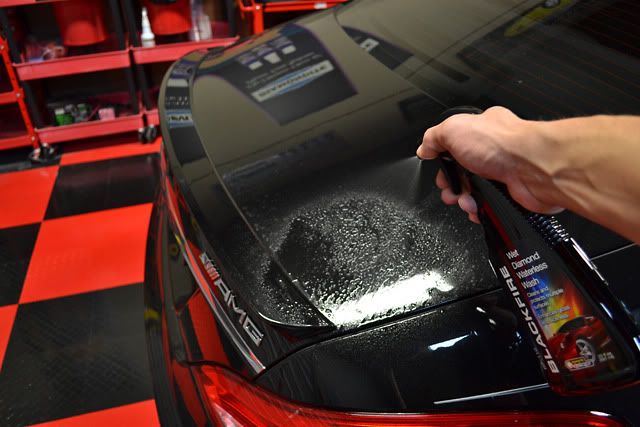 On heavily soiled paint allow to dwell 10 seconds (about long enough to set the bottle down and make sure your towel is folded properly). The Wet Diamond polymers are hyper reactive (the same reason you can wipe Wet Diamond Sealant off the paint immediately) so they immediately go to work encapsulating the grime and bonding. The same process is occurring on the paint as well.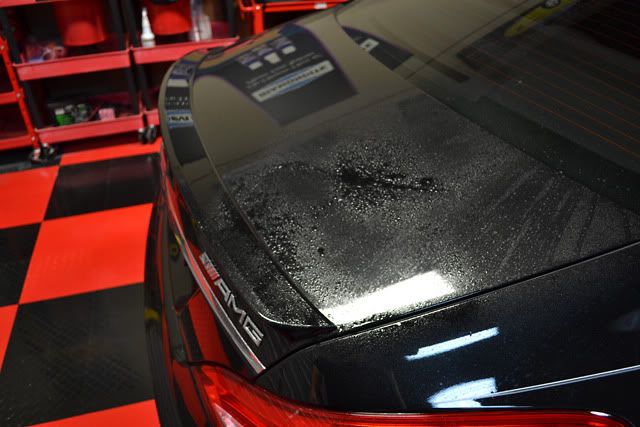 Now lightly agitate (no pressure!) the surface with a plush microfiber towel such as the Cobra Supreme 530.


You will notice that has you wipe the Wet Diamond Waterless Wash some of the dirt will seem to disappear. This is because it is being lifted into the microfiber (and in some ways bonding to the fiber to prevent scratching). You may also notice the product 'flashing off' on the surface, it can almost resemble steaming. Again this is normal and engineered to happen to allow you to use enough product to remove dirt with out running into steaking. That is the Wet Diamond polymers at work.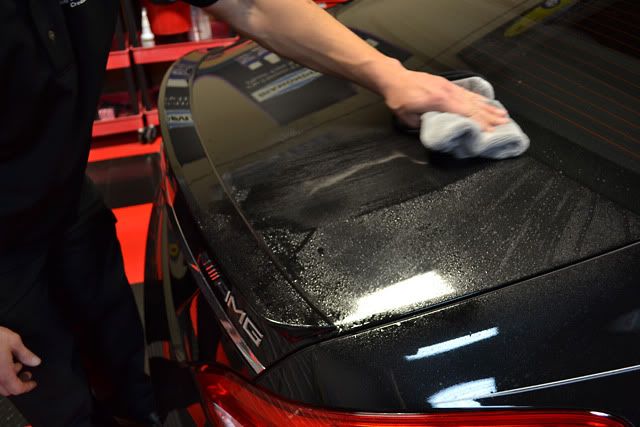 Now flip the towel over to a clean side and lightly buff the remaining residue to streak-free shine to create WHIPLASH!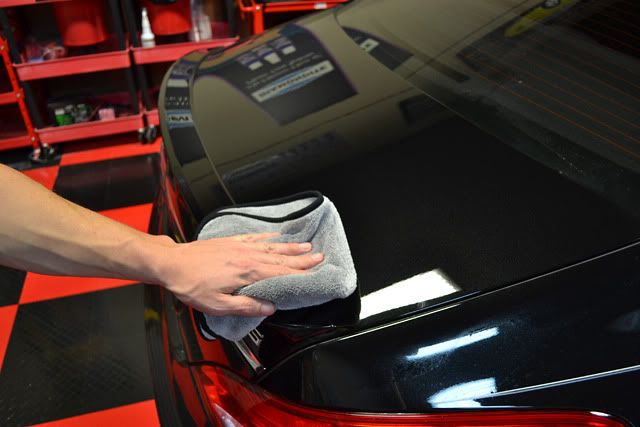 Depending on the size of the vehicle and the amount of soiling it may take 2-4 towels. The end result will be nothing short of spectacular.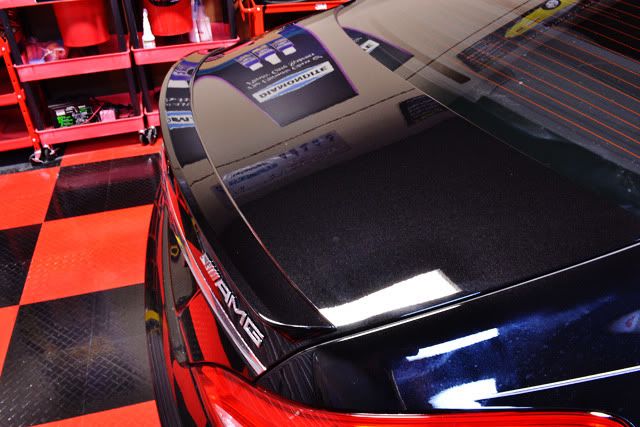 Our CEO was so impressed he had me do the rest of the AMG!