Had an absolutely brilliant day in the Z yesterday.

Whilst we all know straight line racing isn't the Z28's strong point or what it was built to do I fancied having a bash at this event as it was quite local to me, it often attracts extremely nice machinery and some quite extreme cars, and I'd never driven at these sorts of speeds before. Also present were McLaren 650S, 720S, MP412C, Lambo Aventador, lots of Nissan GTRs (winner & 3rd place) and a 2600bhp Toyota Supra (2nd place) and a host of tuned German cars. I was the only 'Americana'.
The event takes place at a current active military base, previously known as RAF Cottesmore when it was an Royal Airforce base, now Kendrew Barracks as the Army has taken it on. The runway is 2744 metres long (1.7 miles) and the brake marker was put out with 650 metres braking distance giving just over 1 mile flat out from a standing start.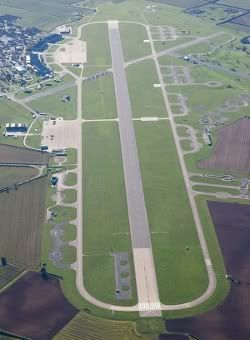 I'd been checking the weather for the past week before, and whilst the UK in in the middle of a heatwave/dry spell with wall-to-wall sunshine and temperatures up to 30*C (90+F) at the moment, there has also been a pretty consistent Easterly wind coming in. Annoyingly this ended up directly as a headwind down the runway, it was about 15-20mph all day and it never let up.
The event was very well organised with a group "sighting lap", then a single run for everyone to get their eye in, and then doubling up to side-by-side running for the rest of the day. This meant everyone got plenty of runway time, and I probably ran about 10-11 passes in all including a couple of pairs immediately back-to-back.
The good thing about the naturally aspirated LS7 in the Z is the power is always there and not really affected by heat soak, so I could go and run again and again with no concerns. A lot of the highly turbocharged cars were making a lot more power but had to keep stopping for 30 mins or so to get their intake charge temperatures back under control!
In terms of speed - this is where it gets really interesting....
I had always planned to start with the full downforce configuration and work through gradually removing bits to see what the effect was. So first run of the day was completed with wickerbill in the highest position, Carbon splitter, and my ZL1 1LE front diveplanes.
The result was 154 mph.
And a broken splitter.
So it turns out that at 150mph + 20mph windspeed, giving a total airspeed of 170mph over the front of the car, that my new front downforce package produced so much downforce that it completely closed up the gap to the concrete runway under the splitter and completely ground away the splitter lower surface through friction meaning by the time I got back to the paddock area after Run#1 it was looking pretty sorry for itself.
What is very interesting about this is that I ran the exact same setup at Rockingham back in May, and looking back at the phots from that day, even hard on the brakes from around 100mph with a bit of 'dive' on the front suspension, the splitter is still quite a way off the tarmac - here's a picture from Rockingham that shows what I mean:
So despite now needing to buy a new splitter I was actually quite pleased about this as it shows the new package is producing significant front downforce but not so much drag as the car can't still easily reach 150-160mph, so must be working quite efficiently.
As there are very few (if any) tracks where I'll actually exceed 150mph I'm planning to just replace the splitter as it was, but I will slightly improve the way I had it mounted and try to add a sacrificial rubbing strip of marine ply or similar material on the underside that can be replaced after events that protects the splitter itself from damage. Another possible option would be stiffer front springs.
So back to the event report - for run#2 I removed the diveplanes, removed the wickerbill, taped up the whole headlight and upper grill area and straight away we were upto 160mph.
Then for run#3 onwards I removed what was left of the splitter entirely and taped up the boot [trunk

!] leading edges, removed the passenger windscreen wiper (extends beyond the bonnet [hood

!] cowl)
I tried taping up the carbon vents on the bonnet, but the tape came straight off, showing that significant airflow does exit the engine bay through those vents.
Run#3 was upto about 163mph, and then at that point there was no more I could do with what I had around me to make the car itself any faster, so Runs#4 - #11 were all just trying to optimise the launch and gearchanges as best as possible, but all of these runs were between 163 and 164.5mph and within about 1.2 seconds over the 1.6mile run showing how consistently the engine performs (and how the headwind never let up!)
So all in all a great day, getting a feel for the car at 130+mph in a safe environment, getting some new learning on the aero balance which will help with my trackday setup. And making noise like this:

(turn speakers UP)