So, in the spirit of tracking my my progress while building "Deke II" my 2012 Ashen Gray ZL1 #218, I thought I would start this build thread to document my journey!
Here is Deke II today:
And here is a list of current mods:
Exterior:
Gen5DIY.com H11 50 watt Plasma LED fog lights (5000K)
Gen5DIY.com PSX26W Plasma LED DRL bulbs (4300K)
AAC concept side markers painted AGM with tinted lenses
AAC high-powered reverse LED's (tinted)
AAC Dual grill mounted RGB LED Scanners
G3 Composites full Carbon Fiber spoiler
JDP Motorsports color-shifting halo kit with NightOwl controller (Wi-Fi controlled)
NightOwl RGB LED Grill Strip (Wi-Fi Controlled)
Underhood RGB LED Strip lighting- NightOwl Wi-Fi controlled
Undercarriage RGB LED Strip lighting- NightOwl Wi-Fi controlled
NightOwl ZL1 DRL & Fog Light Harness (Wi-Fi Controlled)
JWMotoring LED license plate bulbs
Technostalgia taillights with rapid fire brake lights and sequential turn signals
Night Shades NS-1 matte black stripes
Window Tint- 30% ceramic by Night Shades
Emblem Pros custom ZL1 badges
TJK_ART Carbon Fiber bowties with flat black border
River City Creations custom painted Victory Red engine cover
River City Creations custom painted Victory Red fuse box cover
River City Creations custom painted Ashen Gray & Victory Red strut tower brace & bolts
River City Creations custom painted Victory Red Radiator Support
River City Creations custom painted Victory Red Engine Bay Caps
RPI Designs custom painted Victory Red brake reservoir cover
RPI Designs custom painted Victory Red engine oil dipstick
RevXtreme powdercoated Victory Red catch can
Customs by Mike (mike@thepowdercoater.com) powdercoated Victory Red brake calipers
Sunset Orange Creations ZL1 Exhaust Commander
Drake Muscle Cars strut tower caps painted Victory Red by River City Creations
Gorilla black locking lugnuts from Apex Motorsports
Matte black taillight bezels
Custom painted Victory Red remote battery terminal cover
Chrome turn signal bulbs
Showstopper ZL1 rock guards
Removed CAMARO badges from fenders
Removed ZL1 badges from hood
Interior:
Red LED footwell lighting
JWMotoring RGB LED light pod in the interior
JWMotoring RGB LED light pod in the trunk
CFD Custom pistol grip shifter- Victory Red with carbon fiber grips and integrated line-lock switch
River City Creations custom painted speedometer bezel
River City Creations custom painted steering wheel bezel
Dual Aeroforce digital gauges with red illumination mounted in an Autometer dual A-pillar pod
ZL1 floor mats from Maureen at Rodgers Chevrolet (everyday use)
ZL1 embroidered console lid
Lloyd's ZL1 floor mats (show only)
Lloyd's ZL1 trunk mat
JL Audio XD700/5 amp installed with ******** FARK harness & mounting panel
JL Audio 12w3v3-2 Sub installed in a ******** Stealth Box
JarheadBobandMax Custom trunk liner
Performance:
Roto-Fab cold air intake powdercoated red with red hose couplers and custom black hose clamps
Roto-Fab W/W reservoir relocation tank
Roto-Fab Big Gulp
10% larger crank pulley
Jannetty Racing custom tune for 75RWHP package
Nitto NT05R drag radials mounted on 18x9.5 Corvette Grandsport replica wheels
My journey with Deke II started on December 16, 2011 when I placed my order with my Chevy dealer for my 2012 AGM ZL1. We previously had a Victory Red 2011 2SS/RS (Deke) that we purchased in August of 2011, but after seeing the ZL1 at the Muscle Car and Corvette Nationals auto show in November, I decided that I had to have one.
Here is Deke I:
Deke II was ordered as an automatic with a sunroof, standard black wheels, and the exposed carbon fiber hood insert.
It was built on February 14, 2012, and it was the perfect Valentine's Day present! After waiting 6 agonizing weeks during the QC hold, Deke II was shipped to the dealer on March 30, 2012. It turned out to be the first ZL1 delivered to St. Louis, and it arrived off the train on April 5. On the morning of April 6 I got the call from my salesman that the car had been delivered to their lot!!
Here are the first pics I received via text from my salesman (pre PDI):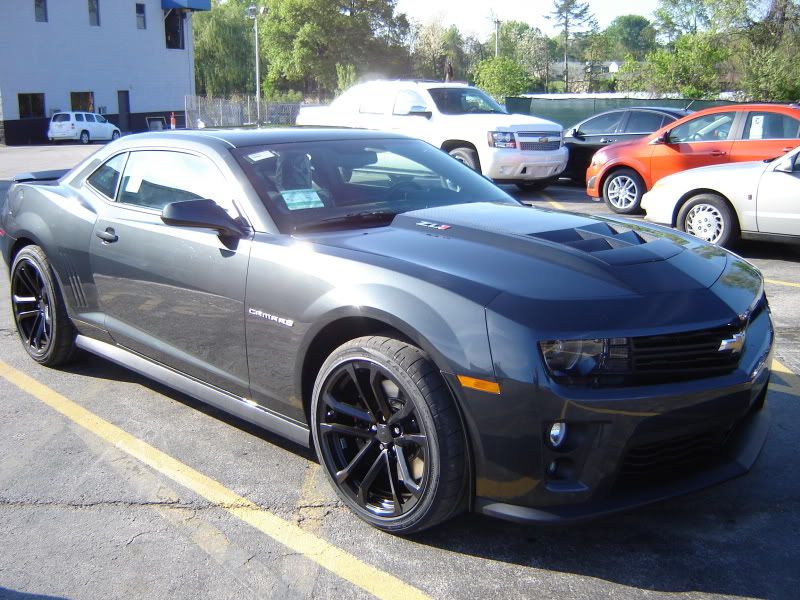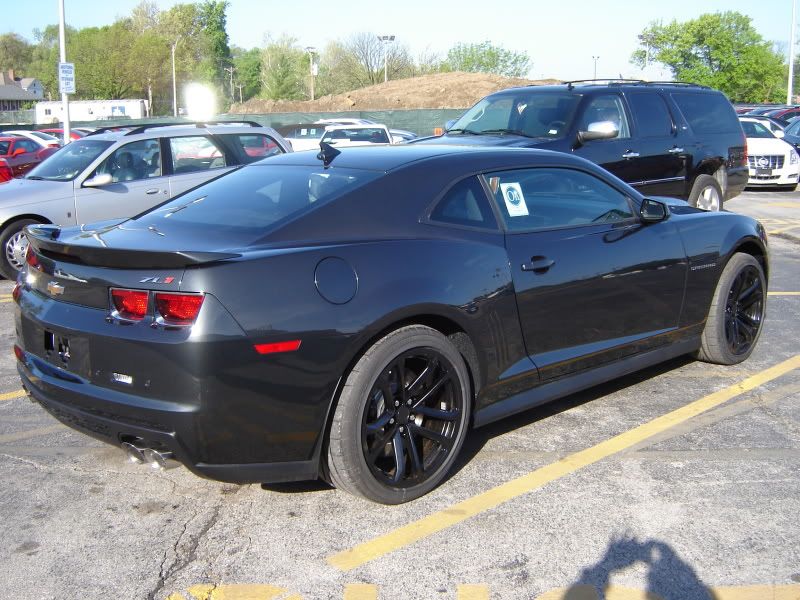 Here is a pic of the first time I saw Deke II: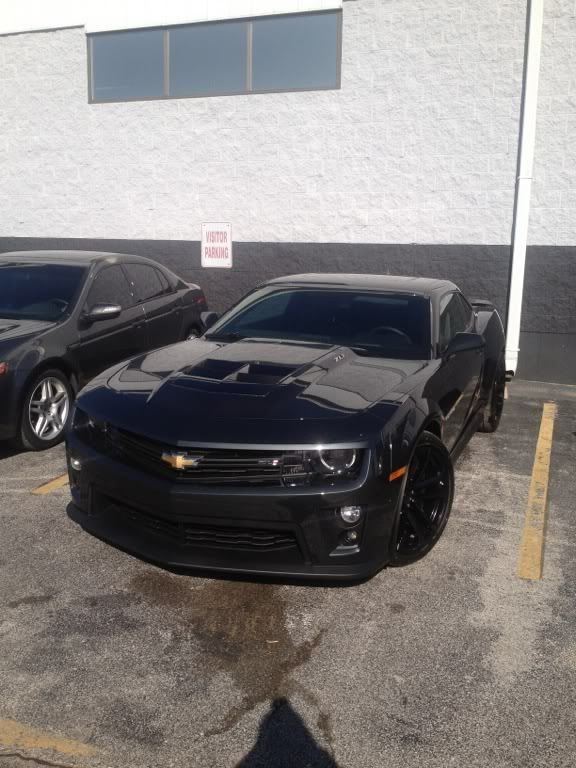 First time in the drivers seat: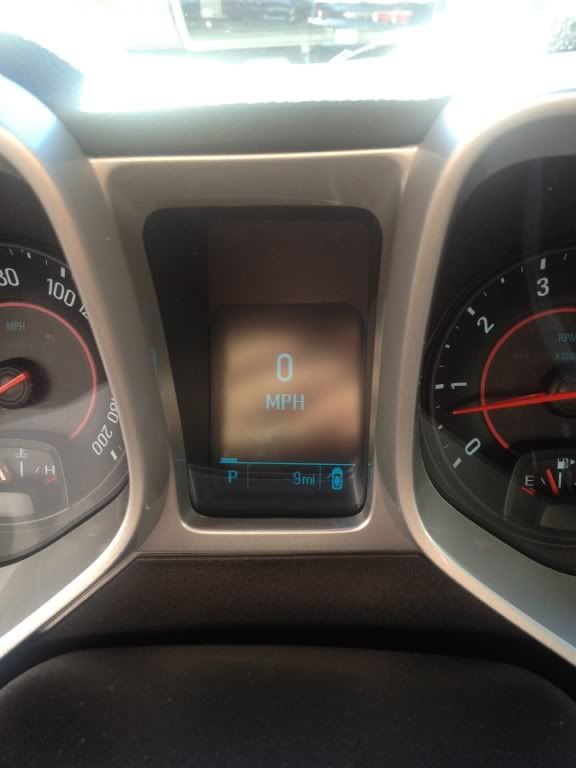 Here I am taking delivery: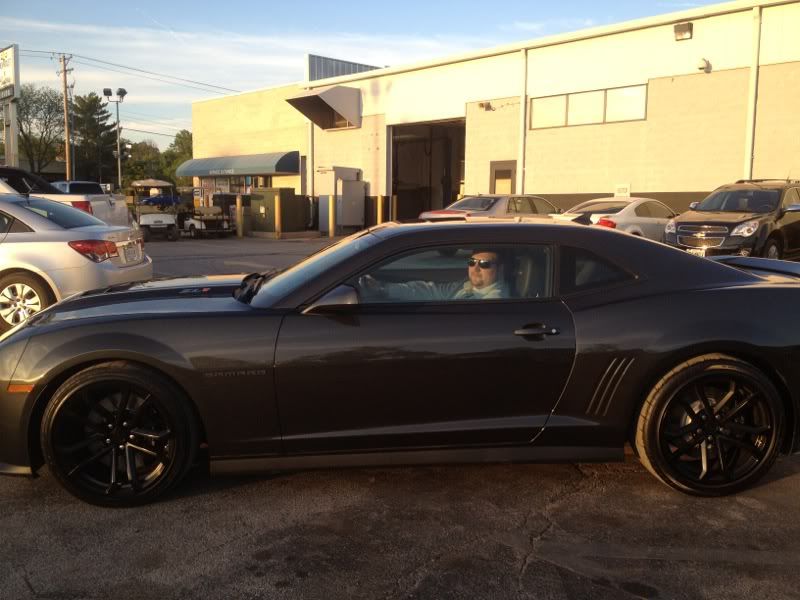 The mods started right away. I switched the DRL's to AAC plasma P13W's the day after pick up.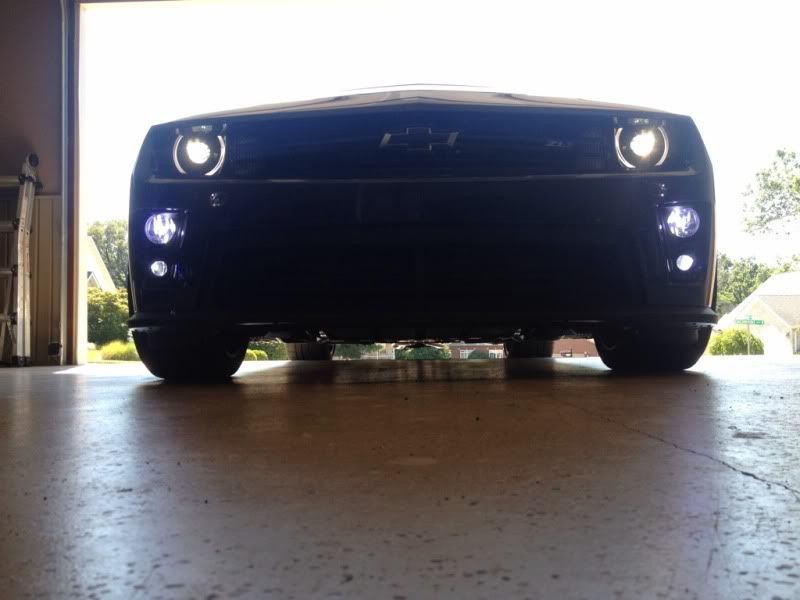 Fast forward a few weeks and I got the windows tinted with 30% ceramic tint all around with a 6" sunstrip on the windshield. I also had NS-1 stripes installed courtesy of Night Shades and SSTG. While they were at it, the blacked out my bowties to match the flat black stripes.
At Night Shades getting tint and stripes: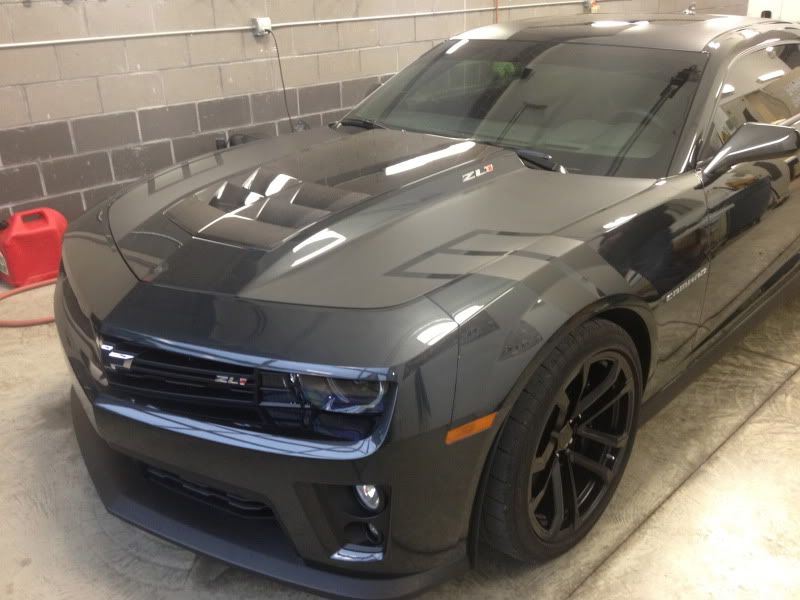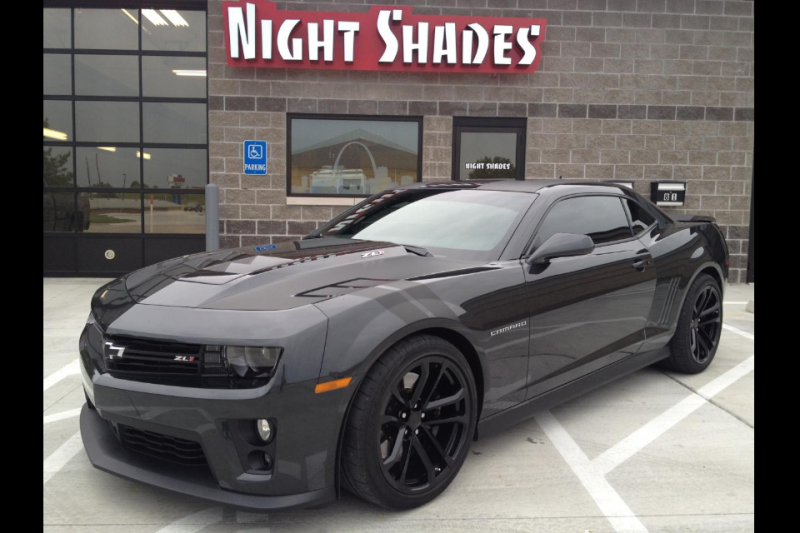 After getting the stripes and tint done, I decided that a full detail with paint protection was in order. Luckily, Seth (SSTG) is an excellent detailer and allowed me to assist and to learn a few pointers while he worked his magic. Here are a few pics of the results: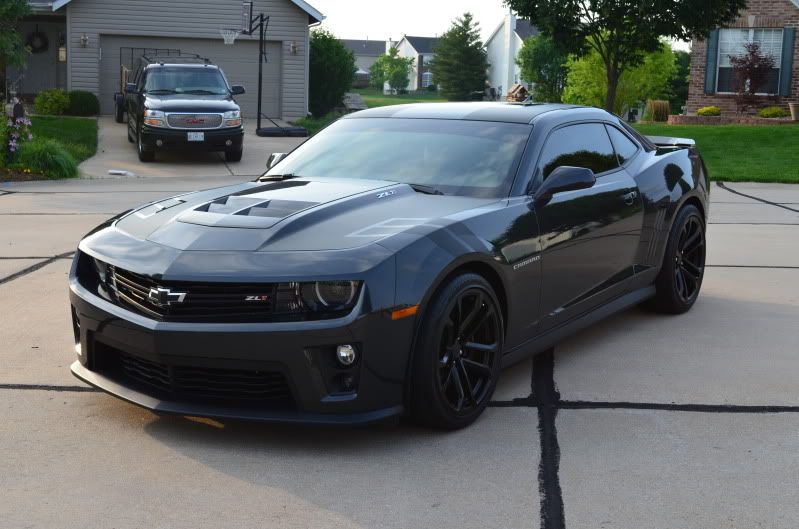 The following day I decided to get out the ladder and take a few pics of Deke freshly detailed in the sun: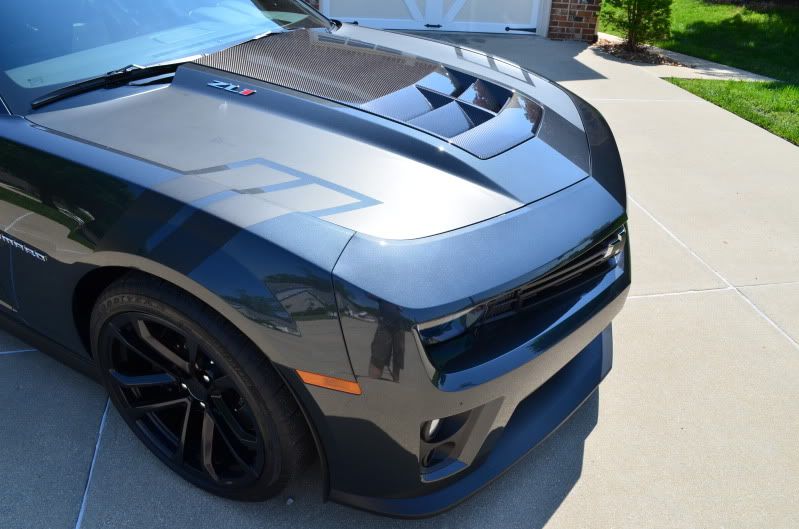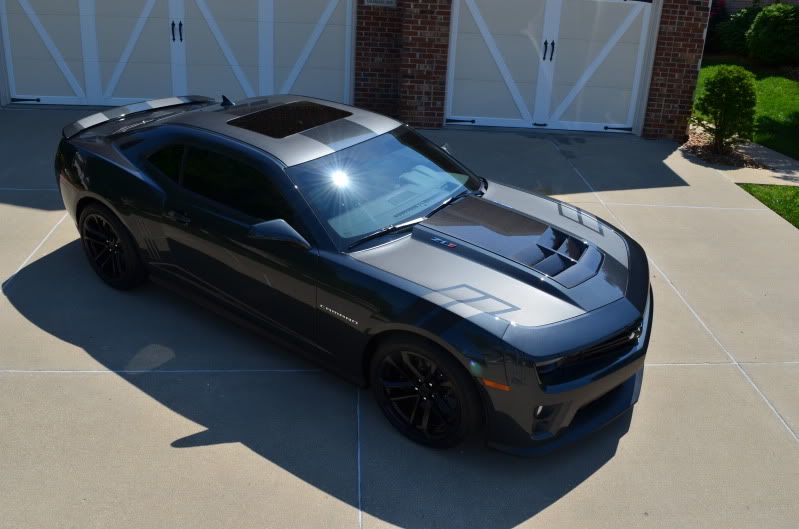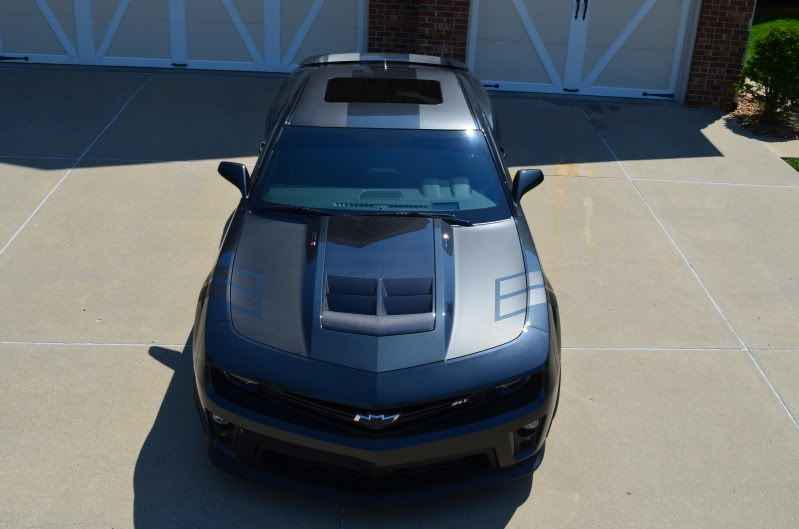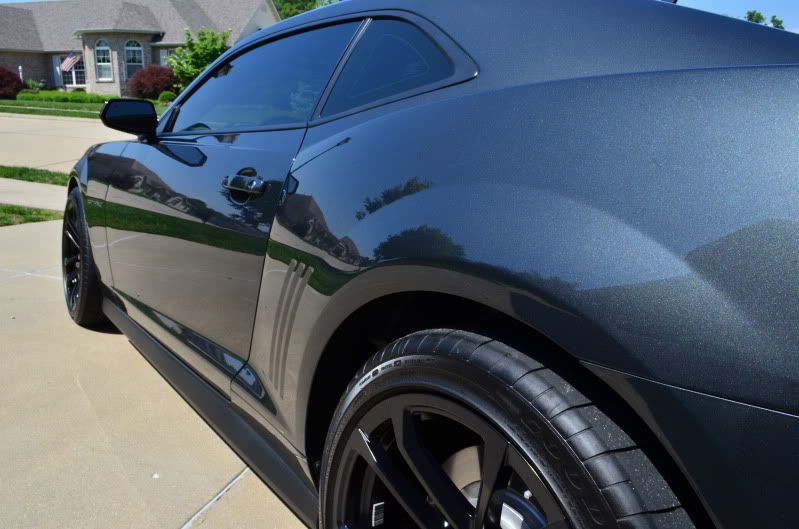 My next mods moved under the hood, where I had Lupe (overhaulengines) custom paint a strut brace and my engine cover. The strut brace is painted Ashen Gray with Victory Red ends with a flat black ZL1 badge mounted in the middle. The engine cover is also Victory Red with a flat black ZL1 badge mounted in the original LSA spot. Here is a before and after:
Eventually I added a painted fuse box cover from Lupe as well. Here is the engine bay today: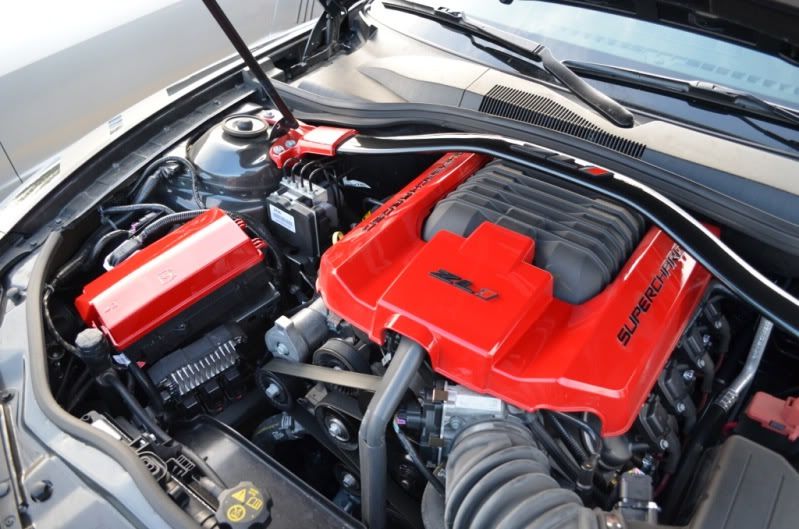 After the engine bay, I moved back outside the car and removed the CAMARO badges from the fenders and added flat black tail light bezels and bowties. I added AAC's painted and tinted concept side markers, which really cleaned up the look of the car:
[IMG]http://i86.photobucket.com/albums/k102/vettevert00/3f97****.jpg[/IMG]
Finally, I added the Technostalgia tail lights (which are awesome) and attempted to add AAC's tinted LED tail lights but had to send them back due to a warranty issue. The bumper removal wasn't as bad as I thought: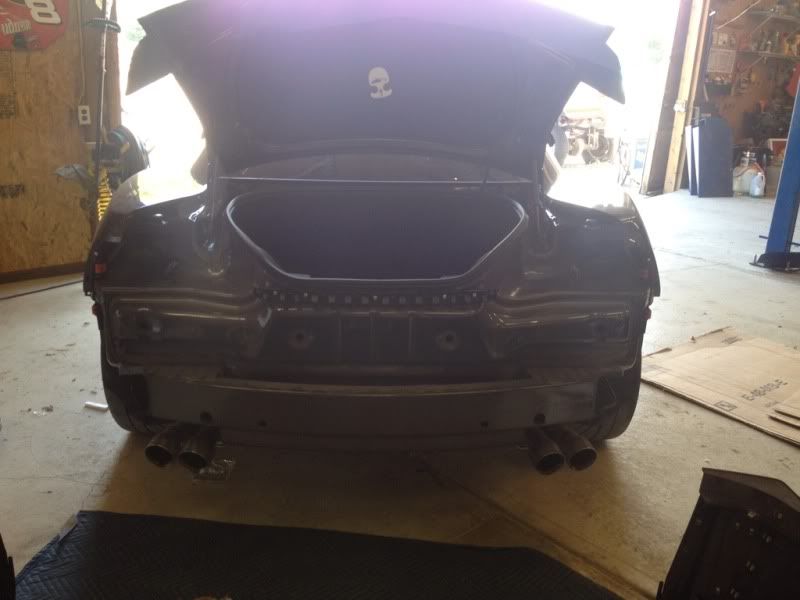 At the same time I switched out the chrome lug nuts to black Gorilla lug nuts from Apex. My goal is to remove all the chrome from the car to give it a mean, blacked out look. So far I have succeeded, with only the ZL1 badges on the hood, trunk, and grill remaining. I will be ordering some custom badges soon.
On the interior, I haven't done a whole lot, but I have done a few things. I added the suede ZL1 shifter from GMpartshouse, ZL1 embroidered floor mats from Maureen at Rodgers Chevrolet, and I have added the color changing map LED pod from JW Motoring to the map light and the trunk.
Here are a few pics I took yesterday after getting Deke all cleaned up after the Fest last weekend.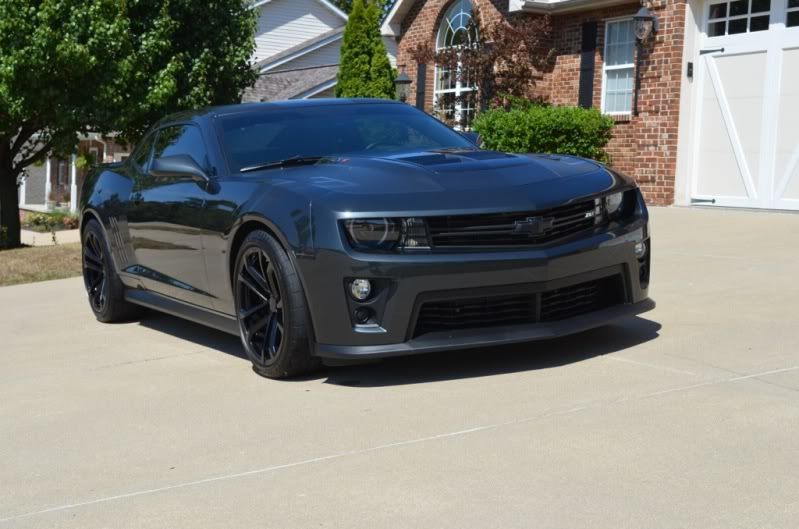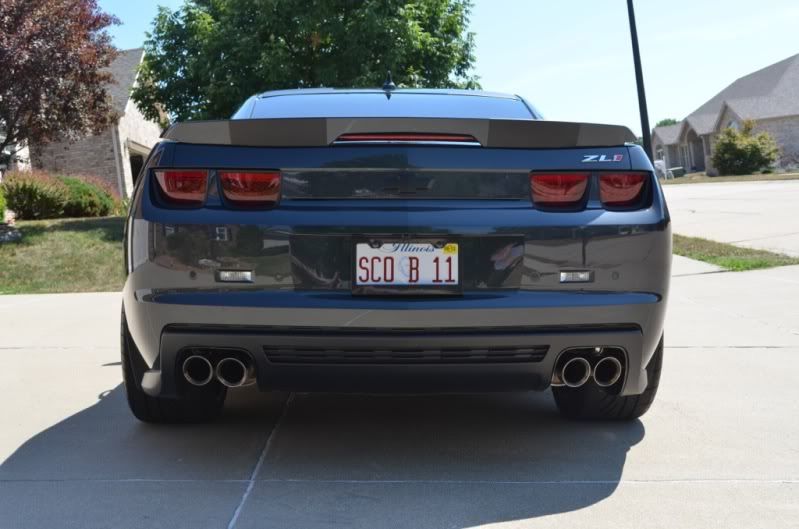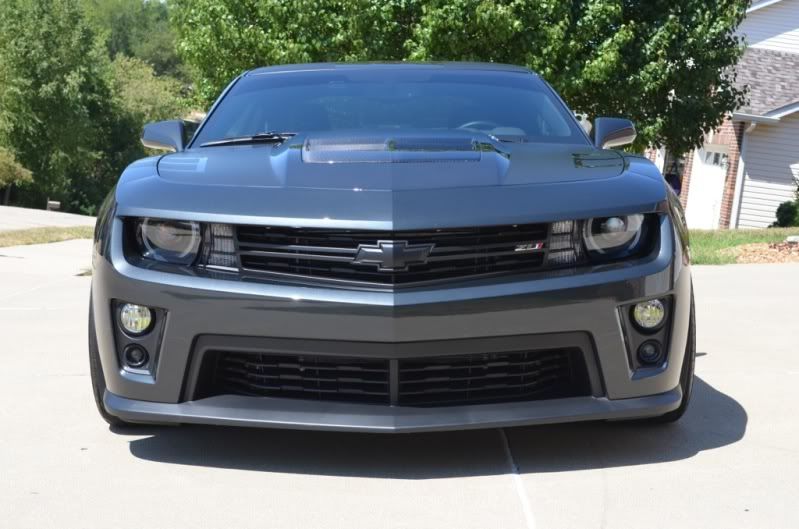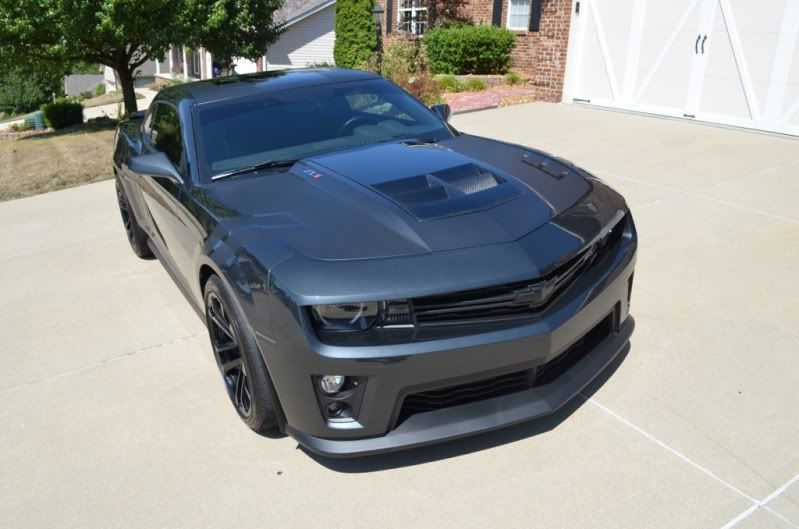 I haven't had any performance modifications done yet, mainly because I want to preserve the warranty. I finally had a chance to see what this car could do at Camaro5Fest last weekend on the AutoX course. Man, all I can say is that I want to do it again, SOON! This car is an absolute blast to drive! I really wanted to get it down the dragstrip too, but I ran out of time. Luckily, our local dragstrip is having a Midnight Madness event in a few weeks and I'll be going with a group of coworkers! I cannot wait!
Thanks for stopping by to check out my thread. I have many more changes in store that I am working on, so feel free to stop by an check them out. I appreciate any feedback you all have.