I was able to chase the gremlins out of the electrical last night for the convertible top! The red w/black stripe (30A) wire got cut on a sharp edge I missed

and the arc flash severed 3 neighboring wires and blew the 30A fuse in the trunk. (The snipped brown and yellow wires were to a rear speaker. Being so close to the amp I chose to run the amplified signal back to the speaker through some thicker wire instead of using the stock wiring. The brown and yellow wire are no longer hooked up/abandoned in place)
If you ever need to splice electrical wires, these heat shrink solder tubes are absolutely amazing!!! I've used them splice in all 12 connections from my head unit harness to the amp and back into the front door speaker wires.
Just strip both ends and slip them into the tube - intermingling the wires in the middle (inside the ring of solder)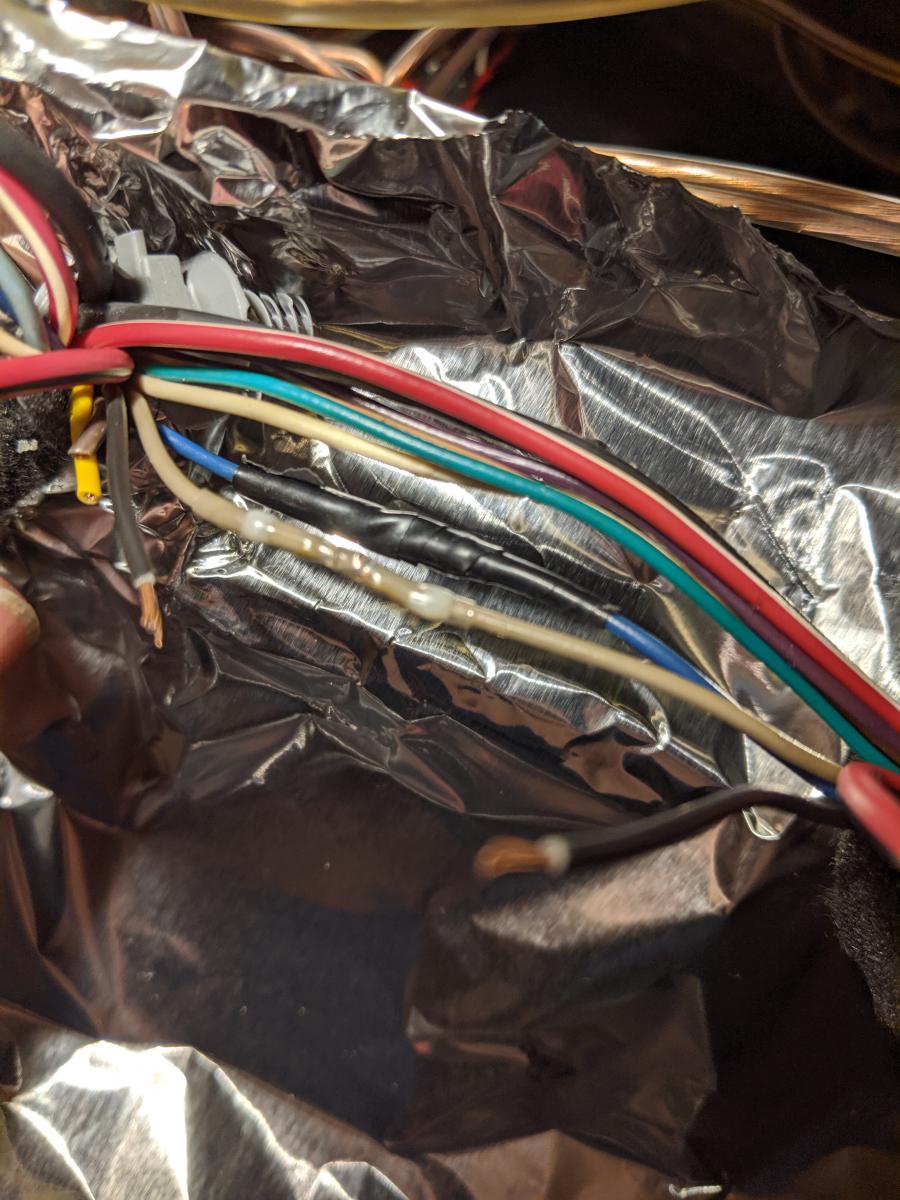 and heat until the solder becomes fluid while holding the wires still and together.
You should use a heat gun, but in a tight space you can use a bbq lighter. I like to give my secured ends a wrap in electrical tape once i'm done - just to be sure.
I'm going for a stealth install - hiding (and securing) the amps in the void between the trunk and the rear seat. After I tune the amp I'll be hanging it vertically inside the cavity (about where the "X" is stamped in to the sheet metal) and the sub-woofer amp will be occupying the cavity the red amp (a 4 channel amp to power the door and rear speakers) is in now. I did have to cut and expand the slot the amp resides in but I was able to avoid modifying the internal supporting beams.
Because trunk space is at such a premium (and because having your easy to access - poorly secured amps & subs stolen sucks) the sub-woofer will be installed into the stock slot behind the back seat.
I'm hoping to seal up the stock sub-woofer location into a semi-proper sealed enclosure (probably using a lot of great stuff expanding foam and MDF (If I can get it into the void) but the sub I picked (infinity Kappa 1000w) is free-air rated to 175w RMS if modifying the enclosure gets the best of me, or if it's not fully sealed. Successfully sealing the top (just beneath the convertible top control box) and sides (at the vertical support braces) of the box should give me a .55 cubic foot sealed enclosure and that sub likes a .6 cubic foot sealed enclosure. (pretty dang close)
I'm crossing my fingers that the sub-woofer will fit depth wise. That void is pretty shallow.
I'm thinking about cutting in a dial access slot on the very top lip (under the plastic trim caps so I can adjust the door speaker amp once it's mounted into the top of the cavity without removing everything... I guess that'd also give me a slot I can drop the plywood through to seal the sub-woofer box if I did have a slot on top... two 8" long x 1" wide slot wouldn't weaken the back too much, right?