So i made an oath to one of my friends long before i even had the car, that i was going to have it twin turbod. no one really thought i was able to do it but i set out on the next chapter of my journey which was just that. So the next year and a half i started saving and saving to allow me to make my dream come true. i was very fortunate enough that one of my close buddies had a set of turbos that he originally purchased for a different project that he no longer needed. So he offered them to me and i jumped all over it. This is what he let me have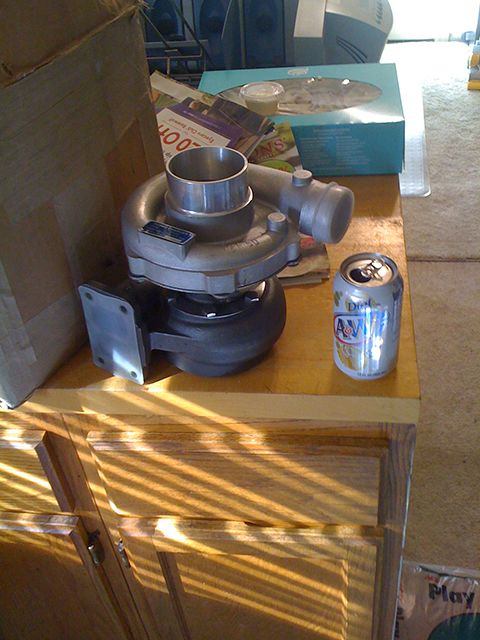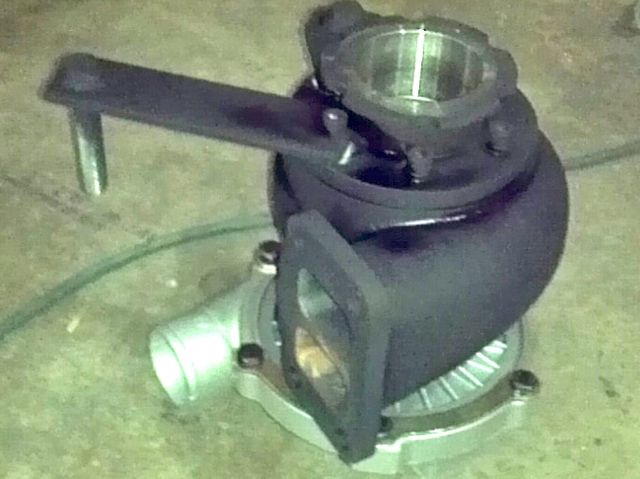 after the long long wait i finally got to talking to my man ChrisMan from www.CMRACINGONLINE.com, and we started tossing ideas around on how we wanted to set it up. I like to be a little different so i was trying to convince him to do a rear mounted setup but he wanted them somewhere else. After playing with possible fitments we agreed on the rear mounted setup.

The new camaros have HUGE mufflers that are just begging to be removed. so it made it very easy to fit a pair of turbos right where those garbage cans came from.

so it is a very simple design actually... all ChrisMan did was Seperate my stock exhaust enough to fit in a 3inch charge pipe. The turbos, being mounted where the mufflers used to be, would run two 2 inch charge pipes that meet right into a 3inch pipe that runs down the center of the car. Then it runs up the drivers side and curves around into the intake. simple right. here are some pictures of the pipes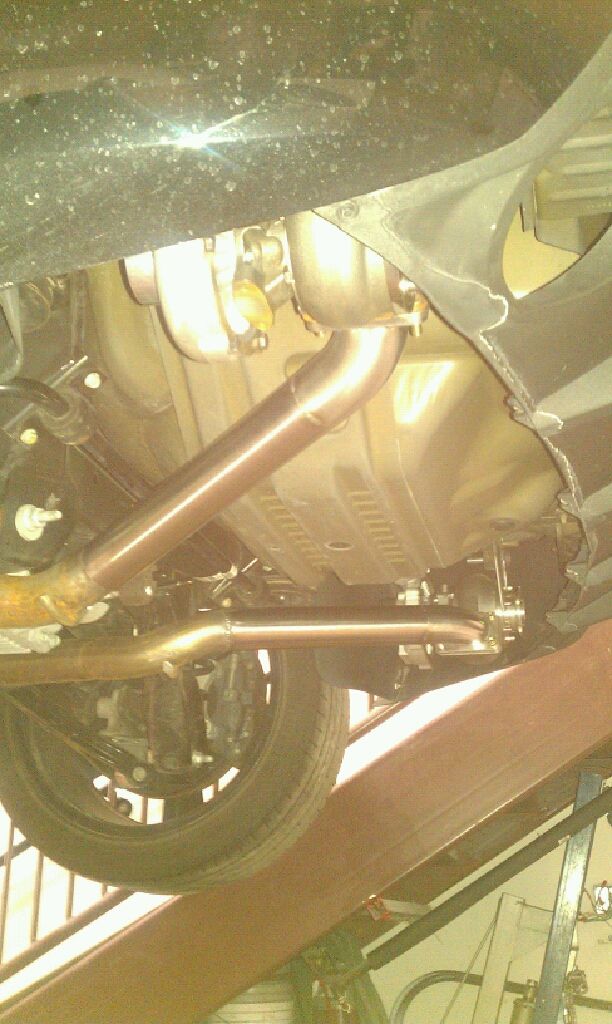 Now this is a very interesting concept that we have thrown into my setup. And a lot of people critique this because it is different.

its obvious that a turbo setup requires some sort of way to regulate boost. The most popular way in a high HP car is external wastegates that get mounted on the exhaust side to allow exhaust gasses to bypass the turbos when desired boost levels are reached. SOOOOOOOOOO what we did was place the wastegate on the charge pipe. It still functions the exact same way... as soon as my desired boost level is reached it opens up and releases the charge pipe pressure. The benefits of this are that when changing gears, the turbos dont slow down as much so there is absolutely NO LAG while shifting. This is a very different setup but essentially works he exact same way. Yes it might shorten the overall life of the turbos from lets say 10 to 3-4 years. But in the end does not hurt anything. So The wastegate on my setup is mounted just next to the trans and is set with a 5-6lb spring
he also created a new Trans brace as well because the previous one was very large. It is extremely sturdy and actually improved the stiffness of the trans as well. A little less play

So this is one of the final drafts before we wrapped the exhaust and finished all the welds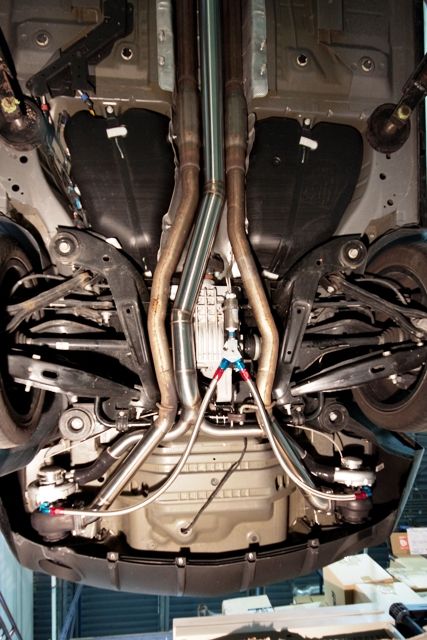 So the kit works very well we just ran into one issue... the oil feed and return of the turbos. Due to the fact that the turbos are found all the way in the back, not only do you have to pump oil to them, but you have to return it to the engine as well. So luckily the stock oil pump has a fitting that allowed us to tap into that which pumped plenty of oil to the turbos. Now we had to pump oil back to the oil pan. In the picture above you can see where the two oil drain lines meet at a "Y" adapter, then go into that little pump. Well that definitely wasn't pushing enough. after running for awhile the turbos began to smoke. Chrisman was able to locate a kick@$$ scavenger pump that has enough flow to get it back to the front so we were able to beat that problem after a little bit of testing.
So now that we got the kit finalized it was that time to tackle the fueling system.

My original goal was between 500-550whp, so for that i would need new injectors and a way to feed those injectors. So i pulled out the stock 42lb injectors and dropped in a set of FAST 65LB injectors which were more than enough juice. After doing this it was time for a trip down to speed inc to get this bad boy tuned. I wanted a very conservative tune because i do daily drive the car. I was pretty happy with the numbers. At the time i took it in there was a 5-6lb spring in the wastegate and i netted 535whp. But Jim over there brought to my attention a few things. 1) he was having trouble reading my MAF so the A/F was very rich, and 2) in the top of 3rd and 4th gear my IAT were very high due to lack of intercooler. But obviously those temps usually get hot on a dyno due to lack of air flow.

So with a little bit of research and some quick thinking on Chrisman's part, it turned out my MAF was bad so we ended up swapping it out. These were the initial results from the first tune.
This was the day before the full tune. I had a base flash tune in and was only boosting about 2-3psi
[video=youtube;8SVGwhyHslE]http://www.youtube.com/watch?v=8SVGwhyHslE[/video]
Sooo also shortly after replacing the MAF, i wanted to make sure that i wouldnt lose any fuel pressure. so i added a Kenne Bell BOOST-A-PUMP. have it set to kick on @ 3psi and have that sucker turned up as high as it goes to make sure i dont melt any pistons. Never want to see her run lean.
Now this is a little video about a month after the tune. this was at about 8.5psi. at this level i made 635whp & 640tq

[video=youtube;ZYE7hCaQfA0]http://www.youtube.com/watch?v=ZYE7hCaQfA0[/video]
SO THIS IS WHEN ONE OF THE SADDEST THINGS HAD TO HAPPEN. TO MAKE A LONG STORY SHORT, THERE WERE SOME FAMILY EMERGENCIES THAT I HAD TO HELP OUT WITH FINANCIALLY. IN NOVEMBER OF 2011, I TRADED IN MY CAMARO FOR A 2011 SUBARU WRX. THE DEALER WORKED WITH ME VERY WELL AND GAVE ME A HELL OF A DEAL ON TRADE IN FOR MY EXTREMELY MODIFIED CAR. IT ALLOWED ME TO HELP THE FAMILY OUT WHICH WAS VERY IMPORTANT SO I HAD TO DO IT
BUT THEN IN MARCH OF 2012 THINGS TURNED AROUND FOR ME. THE FAMILY WAS DOING BETTER AND I WENT BACK TO THE SAME SUBARU DEALER AND REQUESTED TO TRADE IN MY NEW 2011 WRX FOR MY VERY OWN CAMARO. THE DEALER WAS VERY SURPRISED TO SEE ME. BUT THE WERE A LITTLE EXCITED TO GET RID OF THE CAMARO AS IT WAS VERY HARD TO ADVERTISE A HEAVILY MODIFIED CAMARO. SO LUCKY ME GOT A DECENT DEAL AGAIN AND GOT MY BABY BACK
THE ONLY DOWNSIDE WAS THAT THE DEALERSHIP DID A LITTLE WORK ON MY CAR AND SWAPPED OUT THE TURBOS AND DETUNED IT TO MAKE IT MORE "STREETABLE" BECAUSE THEY SAID IT WAS TOO SCARY TO DRIVE... SO I HAD SOME CATCHING UP I NEEDED TO DO NOW....