With the resurrection over, I decided to have the previous thread locked and relaunch the build thread in this thread.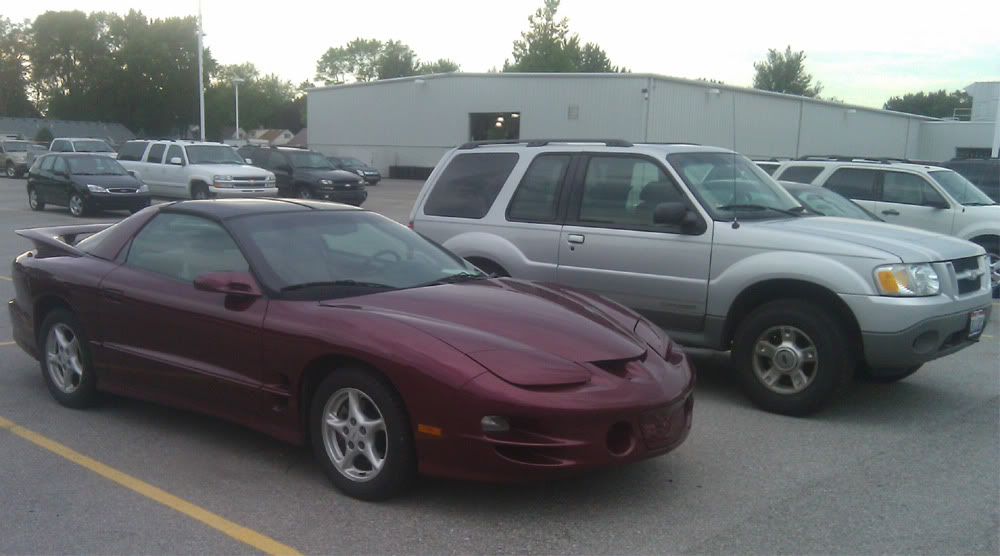 Long short of my ownership:
- Found it wandering lots back in June 2010
- Placed a deposit, and swept it off the lot within 5 days of it's arrival there.
- Said dealership was a Ford stealership
- Needed Brakes and other minor work from sitting (29,718 miles)
- Drove trouble free (and learned to drive stick in the process) THROUGH THE WINTER of 2010/2011
- April 2, 2011 the car was totaled in a drag racing accident (sanctioned IHRA track).
- Secured a loan on the verge of bankrupting myself and rebuilt the car.
- Bill: $10,300; paid $10,395 for the car.
- Replaced door emblems with NOS 1998 Sport Gold Metallic emblems
- Rear bumper cover given the CETA (Collectors Edition Trans Am) blackout treatment
- Replaced the factory rear after discovering that the Torsen was KIA 10/2011
- Installed WS6 short stick, custom made 'Bandit shifter knob' from a 1977 Special Edition Trans Am, and TSB Rumbler Exhaust
- Purchased and installed AP tips, tucked TSP to gain a few inches in clearance
- Dropped the car off at Backstreet Performance in Medina and had the LTs and ORY installed, as well as the EGR pulled. Had them also reset the car for the lack of EGR/Cats/O2s
To do list:
- Weld up Cutout section and pick up/wire up an electric valve
- Purchase/install a Y pipe brace
- Install Prothanes
-
Get a Daily Driver!
-
GET A BETTER PAYING JOB!
- Pick up a set of Speedlines and widen rears to 11" for 315 rears
- Remount old tires on current PA6s for spare/storage use
-
Put it away..
Down the road a few years:
- Strip the whole car
- Reweld the core support ('05 accident)
- Realign/Reweld (4/2/11 accident)
- Build/Swap the rear for road racing
- Build the transmission
- Respray in a custom factory Maple Red/Gold Flake mix
- Overhaul/breakdown and clean engine
And Pictures:
THE EARLY DAYS!
Finally got her home late in the evening..
Butt shot!
Interior when I got her home (not so pretty now.. and the stick shrunk)
Mileage when I got her home.
'00 Spec LS1
First good wide angle shot of the car
303hp at the rears w/ injector cleaner and clogged cats!
4/2/11
4/2/11. DO NOT CLICK IF YOU HAVE AN AVERSION TO AUTOMOTIVE GORE!!
Yeah.. it hit that hard. To this day the wheel still holds pressure. o_o
On the frame puller after welding/sealing
Welcome Home! (yes, that is a welcome home sign, parents made it)
WS6 SHORT STICK!
Stock spongey stick..
WS6 short stick! (6.5" model)
SLP BANNER!
Club banner decal
NEW FILLER PANEL!
Good bye faded filler panel..
Hello refurbished factory unit!
T/A NATIONALS!
Judging line, T/A nats 2011!
BANDIT KNOB!
Bandit knob prior to install
Completed Bandit knob!
EXHAUST!
Soon.. very soon
Out with the old
In with the BOOM!
Bow to my thunderous roar!
Youtube video testing my (at the time) new iPhone and making a proper recording of the exhaust
TIPS!
-AP Stainless Dual Dual 3" Ovals
LONGTUBES & CATTED ORY!!
Pacesetter 1 3/4" and Pacesetter 3" Catted (aftermarket high flows) Y pipe