Im tired of the 2nd gear issue with my M6 so since I work as a technician at a chevy dealer I decided to pull the trans out of my car, rip it down and see what I can find myself. First off its kind of a pain in the ass to rip that thing down lol. It was my first 6 speed manual that I have pulled apart so I was going by the books making sure I do everything the right way.
Theres like 12 special GM tools you need to use, anyways once inside I found what I think is the issue, which is the blockring rings for 2nd gear. In the pictures you can see the wear on the brass ring, when pressed down on second gear its self the ring still spins, it shouldnt. There is about 10,000 miles on this trans and its the second trans in the car due to 2nd gear grind. I was about to order the new updated carbon rings that everyone has been putting in them from aftermarket companies.
I called a few after market companies and found out they wanted like 500-600 JUST for the new rings. I decided to hold off as its going to be covered by warranty anyways. So I get the parts today for second gear and low and behold they are the CARBON UPDATED rings right from chevy

. I talked with the service manager and he gave me the go-ahead to order 1,3,4 rings as they are updated so needless to say that just saved me 500-600 bucks!
I thought id pass this info along with pictures to anyone with second gear issues to print off and that way you can SHOW the service manager at your local dealer that there is infact an updated ring that is supposed to solve some of the 2nd gear issues. Maybe that will persuade them to open the tranny up and replace the rings for you guys! Hope it helps!
Old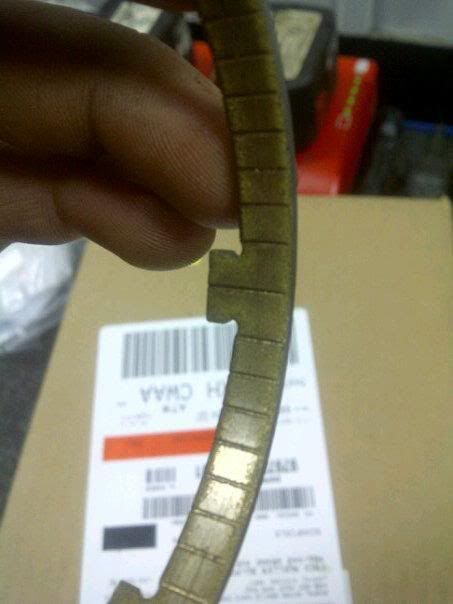 Updated