Quote:
Originally Posted by
bkscott
My advice is go to a dealer and look at them both in person. Both colors need to be seen in both bright sunlight and under cloudy conditions. Then you can make a decision as to what you want.
+1...pics do not do either justice...
The CGM was my 1st pick and IBM wasn't even in the running until I saw them both in person...then it was still pretty close between the 2 lol....you have to see them in person though....
I think if I had to do it over again I'd go with CGM...IBM might as well be black when it comes to keeping it looking clean...
__________________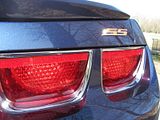 2010 IBM 2SS/RS Camaro (M6)
Previous rides:
2003 Twin Turbo Mustang Cobra(900 RWHP)
2004 KB S/C Mustang Cobra(700 RWHP)
2003 Mustang GT,Heads,Cam, N20 ect..