so i think i can officially go ahead & start my build thread.
so for a little back story for those who don't know yet...

may 27 2009
- the day the music... *cough i mean, my truck died
i'm driving home from nashville & mom's in the passenger seat. she managed to only halfway shut her door, but i didn't notice until we were on the interstate & heard all the wind wooshing by. rather than just open it & slam it shut real quick, she makes me pull over & stop first. *bam* door's shut. i start to pull back onto the highway & see a couple tractor trailers getting close pretty fast, so... i do just what anybody with a loud, good-sounding exhaust does... i gun it
speed-shift to 3rd & keep on runnin to 80
(keep in mind that was only about 4400rpm)
and then it happened...

i let off the skinny pedal & hear something weird
i pushed the pedal back down a little. hmm... no sound
i let off again & it was back :( nothing too obvious... just a little *chicka chicka chicka chicka* but by the time we got back to murfreesboro, it was more like
*chicka chicka chicka chicka*
& all i could think was


-- now let's jump back in time a little more to january 2008 --
cue saved by the bell style wavy screen blur & harp strums
i decided to make the switch - conventional oil to synthetic & i used none other than mobil1. that probably wouldn't've been such a big deal if i didn't already have 135k miles on the truck. now, as we hit the fast-forward, we watch as the odometer hits 138k, 141k, 144k, 147k - each mark being the usual 1 quart low, but rather than completely changing the seemingly still pretty clean oil, i just filled it back up & kept going (after all, it did say you could go 15,000 miles on a cycle
).
-- back to
*chicka chicka chicka chicka*
--
i gracefully roll through town at a slightly faster pace than coasting & when i got home, i let it run & crawled around trying to locate the source of the most heart-shattering sound i've heard in a while
. after talking with my mechanic (and once he heard it after i towed it down there

), we figured out that a rod was broken & by the grace of God hadn't shot through something

remember that synthetic switch? what i failed to realize was the nice buildup of shellac getting ever thicker in the bottom of my oil pan & on the end of my dipstick

turns out, the extra additives in synthetic wear off the shellac deposits that conventional oil leaves on moving parts such as bearings (which actually helps lubricate them) & that gunk (rather than being gradually drained with the oil every 3-5k miles like it should've been) eventually clogged the oil pump & on that particular hard run, starved the engine of oil, causing something to seize up & break the rod.

whoops!! my bad
long story short - i need a new engine.
now i could be the nice easy-breezy person & just find another 4.3 to drop in it & be done...
but where's the fun in that?!?!
in my opinion, (as great as the 4.3 is - congrats GM on making such an awesome engine

) a fullsize 4x4 truck that hauls stuff, pulls trailers, & likes to get on it every now & then deserves a lot more than a 200hp V6.
that's why, after much research on other great forums such as
ls1truck.com
and
performancetrucks.net
, i decided to go ahead with the V8 swap i'd been planning on doing down the road anyway.
you may have seen my thread from earlier this year describing some initial plans i had
http://www.camaro5.com/forums/showthread.php?t=14263
my final decision: keep the stock transmission & swap engines to a 5.3.
but in the mean time, i'll be driving mom's truck if i need to go somewhere & she ain't using it
why does diesel have to be
so
freakin
expensive
?!?!
i'm gonna run out of money just driving to work!
july 20 2009
i finally have money to start working on the truck. i'm in the process of finding an engine & decide to go ahead & start pulling the old stuff out.
i found an engine!
oh, but wait... that deal fell through :(

so here i am... with an utterly lifeless truck... sitting... all alone...
i've got parts everywhere
by the way... a fan shroud
that
big can only mean one thing - this motor's TOO SMALL!!
the brakes obviously ain't been used in 3 months
september 3 2009
just when i'm about at my wit's end, i found another engine!!! it's just arrived at the shop & i go to finally start working on my baby again!!
my new power plant was so graciously donated by a 2001 Tahoe who didn't feel like it needed it anymore
i now have the 5.3 v8 - i just gotta make it go in. first thing: remove the harness so that
Current Performance Wiring
can re-work it to remove the automatic transmission wires and make sure it matches with all the 1999 model pinouts.
the old computer (which only works with the SBC engines) has been sent back to
Wait4Me Performance
to get a new PCM & tune that will fire this LS-based beast!
september 4 2009
i got all my new fluids (and yes... i'm sticking with conventional oil

), belts, clutch, flywheel, and a few other random parts needed for the changeover.
i still need new hoses & a couple other parts, but i should be able to get them soon. harness & computer are in the mail & now i wait...
ps - for anybody in the nashville, lebanon, mt juliet, murfreesboro area, let me take this opportunity to mention the shop. Jimmy Lackey Automotive has been doing all my family's mechanical work (except what i do myself) for more than 20 years. they provide excellent service at a fraction of the cost of what many large shops charge. the fellers out there are some of the best i know!
the shop is located in gladeville, tn - just off 840 exit 70 & right behind the baptist church down mccreary rd. if you know where the race track is (nashville superspeedway), it's at the other end of that road.
september 30 2009
i called Current Performance just to see how everything was coming & finally found out what was taking so long. i already knew they were in the process of moving to a new facility that whole first week or so they had my harness & i didn't hold that against them. what did pinch a nerve was that a little while after one of the guys got to start working on it, the manager walked by to check on him & noticed that the fuse block & some other key sections of the harness were missing
he asked what was going on & it turns out the guy just
assumed
i was doing a standalone and forgot to read the info sheet i sent explaining the work, so he just started cutting away
the good news is that the problem was caught & addressed and they're gonna get me a whole 'nother harness & start over. the bad news is that they gotta start over :( - meaning it'll more than likely be another week & some before i get it back

somehow, i've had a
surprising
deal of patience the past few weeks. (that
must
be a God thing) i know people make mistakes every now & then, so i'm just gonna take a few deep breaths (& hopefully get that nice oxygen buzz

) and see what happens.
october 2 2009
so... that flywheel i've been waiting on for 3 weeks (2 weeks of straight rain & 1 week of the junkyard catching up on orders) finally got pulled out of the truck
it's shot & i have to find another one somewhere else (that was the only one they had) :(
october 12 2009
so... the bad news is that i've been waiting over a month to get my wiring harness back, and in the mean time, the engine's just been sitting under a tarp at the shop with a now-expired warranty.
the good news is that i got a call today from Jared @ Current Performance & he said that since they screwed up my harness and took forever & a day, they were done with it and shipping it back to me absolutely FREE!!
october 16 2009
i ain't never in my life been so happy to see such a discombobulated mess of copper & conduit

so my wiring harness
finally
got here today while i was at work!!!!!!!!!!!!!!!
i'll have time monday to go to the shop to start putting it all back together!!!!!!!!!!!!!!!
since i'm working a show (wedding, actually) in KY tues & wed, it'll more than likely be the end of the week or beginning of next before it's drivable.
i'm so EXCITED!!!!!!!!!!!!!!! can't ya tell?!
october 19 2009
so i got a flier in the mail last week about some promotions at Advance Auto Parts & decided to take advantage of them... i ended up returning the oil, filter, & antifreeze to O'Reilly's and got all that + a couple cabin air filters for a couple dollars more.
and
boy
, did those air filters need to be changed!!!

one of the new ones is beside the alternator for reference. they look like they're probably the ones it had when it came off the line in february of 99!!
i figured a good place to start working today would be with the flywheel i finally found & got a couple weeks ago. i tested the clutch kit with it & it fits like a gem!
putting it together on the motor is a little harder than on my tailgate, but it went quite smoothly. one thing i noticed is that when comparing my new clutch disk to the old one, one is made for a work truck and the other for a work
ing
truck!
next, now that all but the alternator and fan are on the engine, i went to town figuring out how in the world to put the wiring harness back on.

good thing i took Spike's advice & took pictures

i printed some off & used them to get it all back on & where it's supposed to go.
so now that i'm getting things bolted on, plugged in, aligned, greased, etc, i'm feeling pretty awesome!!
the flywheel went on smoothly
the pilot bearing & clutch fit like champions
my a/c will blow clean air
all the connections on the harness were... hold up!!!

somethin don't look right...
really?!?!

two post-cat O2 sensors on the driver's side & 2 pre-cat O2 sensors on the passenger's side?! at first, i didn't know if the tahoe was just weird or somethin, but after running VINs & checking part numbers, both vehicles are supposed to use the same sensors in the same places
the last thing i want is to have to pull the whole harness off again & mail it all the way back to Florida
moving on (so as to not

over a mountain-sized mole hill), i decided to go ahead & see what i could get done on the fuel lines. the V6 trucks and V8 trucks use different lines due to the difference in style of engines & intakes/fuel delivery systems. the 4.3 V6 is
basically
a small block 350 (minus 2 cylinders). the 5.3 is
basically
an iron block LS1 with smaller pistons. the V6 injects fuel into the throttle body while the 5.3 uses a fuel rail with an injector for each cylinder. the fix for this difference is simple, though. all you need are some braided lines and -AN to tubing connectors from
Summit Racing
.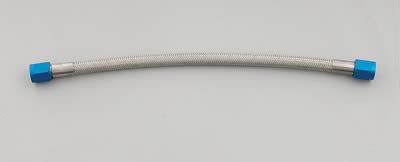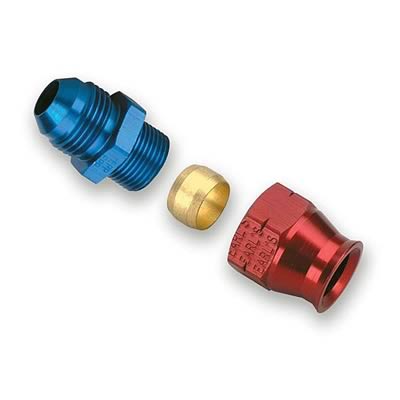 once i got the measurements as close as i could, i said a prayer & went to town with the pipe cutter!
the lines went from this
to this
and with the braided lines installed (along with my new slave cylinder while i was down there)
this is how they connect to the motor - right where the stock V8 lines attach
my fan shroud came in about a week ago (bought from a member on
performancetrucks.net
), and it's considerably smaller than my last one (and cleaner
)
now is it just me, or does removing the grille make it look like it has fangs or somethin?? (at least from a distance)

october 22 2009
i drove my truck today!!!!!!!!!!!!!!!

and we can just pretend it didn't still need a little help :(
since i'm actually close to install time, we moved it to a not-mud-hole.
i got to 'drive' it up over the hill, around the trailer full of old tires, and back down the hill to the side of the shop!! i felt like a little kid at the county fair on the caterpillar roller coaster - nothin really much to it, but, at the time, it was still fun as all get out

it's kinda funny seeing the 4.3 off to the side now. it's like an awkward high school reunion - when you see that used-to-be-really-close-but-you-had-a-falling-out friend across the room and you think 'yeah... that's all as close as you're ever gonna be to me ever again'
so anyway... i gave Jared at Current Performance a call & explained the situation with the oxygen sensor connections

, and after determining that the connectors must've just gotten swapped & accidentally overlooked & that it wasn't really a big deal, i calmed down a bit. :upset: since the wiring was the same, all i had to do was just de-pin the connectors and reinstall them in the correct place.
ta daa!!! after 5 minutes, everything's fine & where it's supposed to be
i just knew that installing recording studio equipment would come in handy... i know how to wire connectors & stuff!
now the motor's just about ready to drop in!!!!
i just need to replace the negative battery ground and a y-pipe bolt (one of the nuts was
stuck
on good & had to be cut off, and in the process, i really jacked up the stud)
nothing a good pair of channel locks & an oxy-acetylene torch can't handle!!
i ended up having to take the a/c compressor back off because i need to physically take it to the parts counter tomorrow to make sure these hoses are gonna fit. i called 3 different dealerships (price shopping) about my hoses & every one of them said my particular compressor (there were a couple different ones, depending on the truck's options/body style) used this particular hose, but when i went in the other day to get it, it definitely wouldn't fit - we even pulled a compressor off the shelf to test it. apparently, the GM parts system don't know its butt from a hole in the ground
after driving around looking at similar trucks until i found one with the same compressor & a/c system, i ran that truck's VIN with the parts guys & they think they've found it

... i'm gonna bring my compressor just to make sure...
so as it stands, i've still got a mess in the back of the truck...
...and in the front, too, for that matter
but soon, i shall feel the rumble of that stout V8 & know that that's what this truck
should've
had from the beginning!! to be able to mash the skinny pedal & feel the fury of the 50% more power (stock) it has over the last engine and know that a TruTrac will be needed in the rear end very shortly
... that's what i look forward to in the coming few days.
...ok. i know that was a
little
over dramatized, but a guy can dream, can't he?


and just because this was too good to pass up, here's a van somebody brought in