Jordan 572, actually the valve should be in the open position, which allows the intake air to be recirculated through the blower, reducing parasitic losses while under light load and cruising. Once the manifold vacuum rises above a certain point (3in/hg for maggies, some are different), the valve closes, and sometimes very fast depending on how fast the vacuum drops off. If you gun it off a light, by the time the car starts to move forward, the valve should be closed. It doesnt actually "vent" off the pressurized air, since the MAF would read this as airflow, and adjust the fuel trim accordingly. It simply recirculates it behind the throttle blades.
This is a good example of how fast the valve should react, and this one is a little slow still. Most guys on the dyno roll on the throttle to not damage anything
Similar to this diagram, except electronic throttle bodies have no idle air circuit.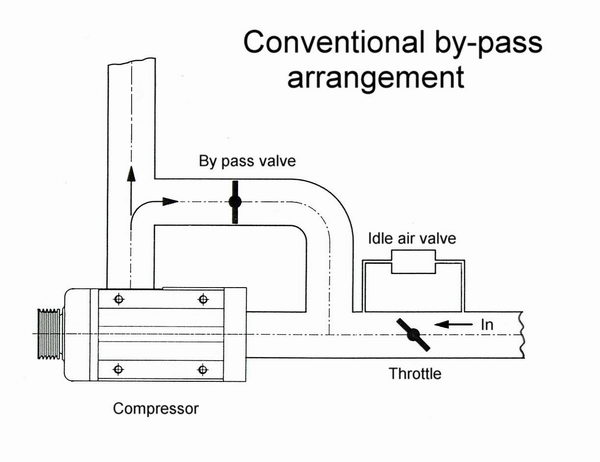 Jon I was gonna chime in and correct about the vacuum canister, but you beat me to it. Kudos!
The "seat of your pants" dyno is never as accurate as an actual dyno. Sometimes where you are in the powerband makes a big difference in the way the car feels. My camaro always felt like it had more power from a standstill at half throttle, only because at WOT it was leaning out and bogging down. Only way to know for sure is have it dyno tested. do a pull at 1/2 throttle or just slightly out of boost, and do a run at WOT. if you are making more power at 0psi vac/boost, you definitely have an issue!! or maybe someone hooked up the bypass valve wrong. should go directly to manifold vacuum AFTER the blower.