For those that have a gaming PC did you buy it or build it?
Feel free to share some specs and pics. Just kinda thought it would be fun to see who else has the same computer interests.
I love building things so i built mine and the one my husband uses as well.
Current gaming rig:
Thermaltake ArmorPlus(Armor+) VH6000BWS Black Aluminum / Steel ATX Full Tower Computer Case (i went a bit overboard with the huge case

)
ASUS Crosshair IV Formula AM3 AMD 890FX SATA 6GB/s USB 3.0 ATX AMD Motherboard
EVGA SuperClocked 012-P3-1572-AR GeForce GTX 570 (Fermi) 1280MB 320-bit GDDR5 PCI Express 2.0 x16 HDCP Ready SLI Support Video Card
KINGWIN Lazer LZ-1000 1000W Modular 80 PLUS BRONZE Certified Active PFC W/ 3-Way LED Switch and Universal Modular Connector Power Supply
AMD Phenom II X6 1055T Thuban 2.8GHz Socket AM3 125W Six-Core Desktop Processor
ADATA XPG Gaming v2.0 Series 8GB (2 x 4GB) 240-Pin DDR3 SDRAM DDR3 2000 Desktop Memory
Western Digital Caviar Black WD1002FAEX 1TB 7200 RPM 64MB Cache SATA 6.0Gb/s 3.5" Internal Hard Drive
LG WH10LS30 10X Blu-ray Burner - LightScribe Support
And one Hello Kitty Diecut Decal!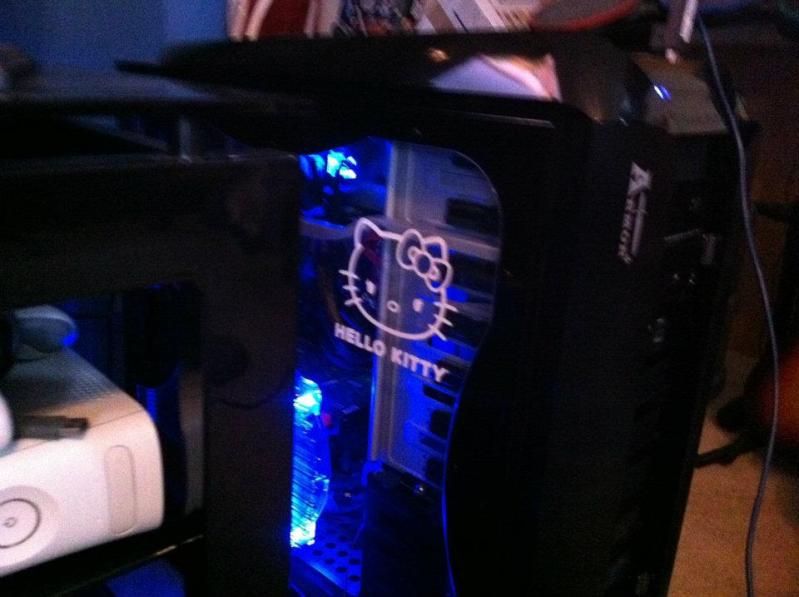 Also since my husband took over my 23" LG monitor I decided to one up him. I think my 52" LG plasma pwns his 23" lol.