FREE CAMARO TASTE FOR SPEED GIFT PACKAGE
Carl's Jr. and Hardee's restaurants - in conjunction with Dr Pepper - are celebrating the highly-touted debut of the 2010 Chevrolet Camaro! To celebrate the debut, they have teamed up with Camaro5.com to raffle off a "Taste for Speed" gift package, valued at nearly $200, which includes:
2010 remote control Camaro
Meguiar's Complete Car Care Kit (includes Car Wash Shampoo & Conditioner, Gold Class Wax, tire protectant and the Quick Interior Detailer kit)
Super absorbent ShamWow (8 count pack including a variety of sizes)
Carl's Jr., Hardee's and Dr Pepper coupons for free food and drinks
Various other swag, including a "More than just a piece of meat" shirt, insulated coffee mugs, antenna toppers and baseball caps
To enter this free raffle, all you need to do is:
1) have a registered account on Camaro5.com forums (register
HERE
if you don't already)
2) create a virtual "Garage" at
http://www.camaro5.com/forums/camarogarage.php
(can be for any vehicle, not just a Camaro, but must include at least 1 working image)
3) respond in THIS THREAD declaring your entry into the raffle.
We will randomly select and announce a winner on Tuesday, July 7, 2009!
FREE 2010 CAMARO CONTEST
Also, for a limited time, customers who purchase a large beverage or large combo meal at Carl's Jr. and Hardee's will receive a "Dr Pepper Camaro" instant win game cup. Each contains a unique game code printed on the cup that may be entered at
http://www.drpeppercamaro.com
to reveal possible prizes, including one of six of the all new 2010 Chevy Camaros!
After guests submit their game code, they have a chance to play a fun car game - Drive-Thru Derby. Although this game won't be widely available to the general public until Wednesday, June 24. here is a sneak peek for Camaro5 visitors:
www.drivethruderby.com/dev/test/GameDemo.html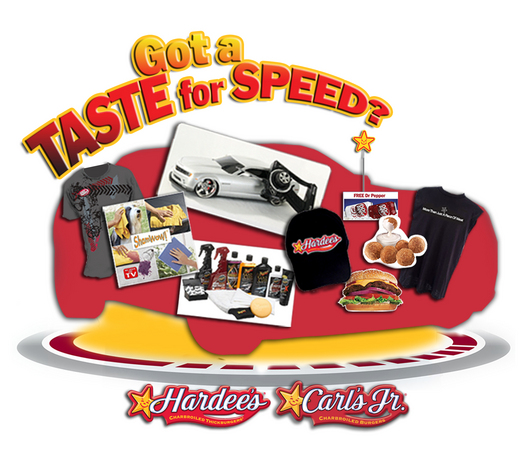 Registered Contestants:
1. Brokinarrow
2. MerlinZero
3. nukemgreg
4. 69 rs/ss
5. rdh6407
6. Lakers171
7. DSworo9
8. rudack
9. irocnroll
10. rolnslo
11. D1BADZ
12. edog
13. Alarick
14. XanthosV6
15. speedster
16. ZIMMYDOUG
17. 9SevenSS
18. GTAHVIT
19. Camaro RS/SS
20. Adabisi
21. BitchinCamaro
22. RB43TD
23. Mynock
24. dstairs
25. Paul SS
26. RC_SS
27. 2010SLVRBULIT
28. Kdway
29. schroomjohn
30. mwoodengr
31. patriotpa
32. moto-camaro
33. brandotron
34. Agent Icebox
35. Oblivion5702
36. mikriman
37. Wolverine
38. Suskam
39. McDee
40. howsweet
41. savage99ss
42. BigRigMike
43. white light
44. linkwpc
45. big mike
46. TooCool5
47. GoldFire
48. RacnJsn95
49. JanH
50. drchevy1
51. Milk 1027
52. ud_lose
53. MP81
54. Beefman
55. CatiaJockey
56. BabyBee2010
57. DevilKnightFalcon
58. 19camaro69
59. Supercop29
60. Primus
61. bobbyk1
62. Zeus95
63. stikSS
64. xdrichx
65. 69 Camaro 09
66. antar8543
67. WMCC Gary
68. jamnutz
69. Ati2ude
70. Matts'SS
71. Ristaze
72. philthy
73. yenko1
74. JJSoCrazy
75. nevrlose
76. blackZbandit
77. SSFreak11
78. ZZIXX
79. Tonka
80. z302
81. 94YellowTAGT
82. Filthy Phil SS/RS
83. Revo1
84. JBsC6
85. DarbyD53
86. RickyTheStorm
87. tbss1
88. 1998 Brickyard
89. Ferrarimk13
90. Davis
91. blakeequalshyphy
92. sheslc4
93. phiz118
94. homerlex
95. monza66mo
96. auteachvet
97. steelmart
98. Hanzo
99. XRADARX
100. sircollin
101. budman1964
102. MustangMaulerSS
103. Q's 91z28
104. tjd24
105. Camaro007
106. mattdancer
107. GM4LIFE
108. discoteka
109. NativeTexan
110. z28camaro2471
111. theholycow
112. BumbleBeeSS2009
113. optical
114. tjbusa
115. Urthman
116. Z/28orSs
117. snsdiver72
118. ElManny
119. SJADEMN340
120. zebra
121. ssmontecarlo3800
122. FrozenCaveman
123. tribone
124. '09-Z28
125. Jesusfreak15
126. big_dog
127. truck21
128. mobilin
129. I8A4RE
130. Supercamaro64
131. diddiyo
132. Gameover
133. mglumske
134. FenwickHockey65
135. Sisyphus
136. baileyrx
137. ljustin293
138. Canadian GP
139. MisterCamaro69
140. Chewy
141. Chocolate Apocalypse
142. 3GPa
143. gotpball44
144. 91CamaroRS
145. Visual_Perfection
146. domano 68
147. Historian
148. Bleueyes3334
149. RocketCutlass
150. CWIweldace
151. td2222
152. Levicub
153. DHNOLE34
154. navyflyer72
155. TripleB
156. rodjonathanss
157. satrianiwannabe
158. marczsport
159. 1stGen
160. cam2fst4u
161. vdevine
162. Dragoneye
163. Watchamacoolitt
164. SS-LS3
165. BLACK
166. b3b0
167. erasedgod
168. Camaro Lives On
169. jasperdog
170. st3althone
171. dsa143
172. efpardo
173. Th3Nigh7Stalk3r
174. camaro_kid09
175. GodsSoldier
176. Superman09
177. Hawks
178. zakevns90
179. tony_c
180. rays
181. viper1cobra
182. pacheco707
183. 2SSONLY
184. Conflict
185. KJS
186. adamq
187. clan0013
188. gaspumpguy
189. RobH
190. Boogie832
191. DDA_Skull
192. Karen Culver
193. Silverado
194. superstockcam
195. bobs79
196. Jferrell88
197. makings06
198. Colt
199. turleylox
200. Gundecker
201. zora2mac8
202. Dallara
203. oachalon
204. LnLSS
205. Trappistbrew
206. MikeySoft
207. Goblue
208. Paperer
209. GJG
210. pikSkip
211. veyron
212. "primma"Donna
213. RandomHB
214. shadowed_Stranger
215. topgun1
216. jm88
217. adk46r
218. Verio
219. jvcaparo
220. mxkx250
221. montecarloss305
222. logan1080
223. Pennybags
224. vippper16
225. Bell040
226. BamaKid
227. thelastz28
228. Tamarahaz
229. piam101
230. Succendo
231. Dezperados
232. SRFnSNO
233. Rogue Leader
234. Goatman
235. Coupe
236. Tbanks
237. Soulryche
238. ralyrat
239. SnoMoDude600
240. gbcruz619
241. BadAssCamaro
242. Amelia98
243. CamaroELF
244. third1
245. 68 Z/28
246. lrc250
247. JCarr29
248. mjwaldschm
249. EZ28
250. Lectra
251. Papabear
252. GTAwheelman
253. scottmoyer
254. camaro6speed
255. tampabaycamaro
256. ramgto
257. nards444
258. Gilby
259. chuckstar
260. vishous
261. Rallysport
262. Camarofan69
263. pinkcamaro10
264. Roastedrocker
265. '70 RS
266. biglou112690
267. RumbleBeeSS
268. Parker
269. BRobes05
270. Crowley
271. josh1147
272. xridgelinex
273. deft
274. Dans Juice
275. vm1971
276. Scrapppy666
277. slick rick
278. camaro_corvette
279. camaropete
280. muddmanws6
281. babyjulie83
282. dirishboy
283. joshmule
284. ChevyRick
285. lucerovski
286. firstmate
287. formulahawk
288. rallysport2010
289. manchimp
290. Jeff_ChevyFan
291. Vash
292. WillMill
293. Riderover40
294. springerpete
295. Redvet1
296. TC
297. black_camaro_ss
298. trustno1
299. colin911
300. abaci
301. Caesar56
302. mauso1
303. transporter
304. mike4z28
305. blaSSt
306. BlackSunsine
307. Fighiter14
308. Yaz
309. hoz55
310. Alaska Camaro nut
311. CAMARO_MOW
312. 35th02ss
313. bilydean
314. Mark A Collier Sr
315. Trans4mer
316. TFord
317. Li0nel1234
318. Camaro68
319. ringb1
320. bluecamaroguy
321. PieNsky
322. iamnew
323. Buckbo
324. Scarrzz
325. xxalexmxx8926
326. 1976Bee
327. FRKNlo
328. Predator/2SS
329. pag1164
330. yotaman96
331. KK2010SS
332. Rikarus
333. matt
334. cybercoaster
335. 2Scoops
336. B33-0tch
337. chevyss