My buddy Matt ('70 TT Chevelle) and I went to the shop where he works at part-time on a Sunday when they were closed and got to use the lift and all the tools to get the install done.
Disclaimer
: I was dumb and forgot the nice camera at home so we had to use our scratched up cell phones, sorry
Pfadt Suspension
- Trailing Arms, Rear Tie Rods, Diff Mounts, Solid Subframe Mounts, and Engine Mounts
Matt and the rear end, he was excited lol
Some newer (better) pics: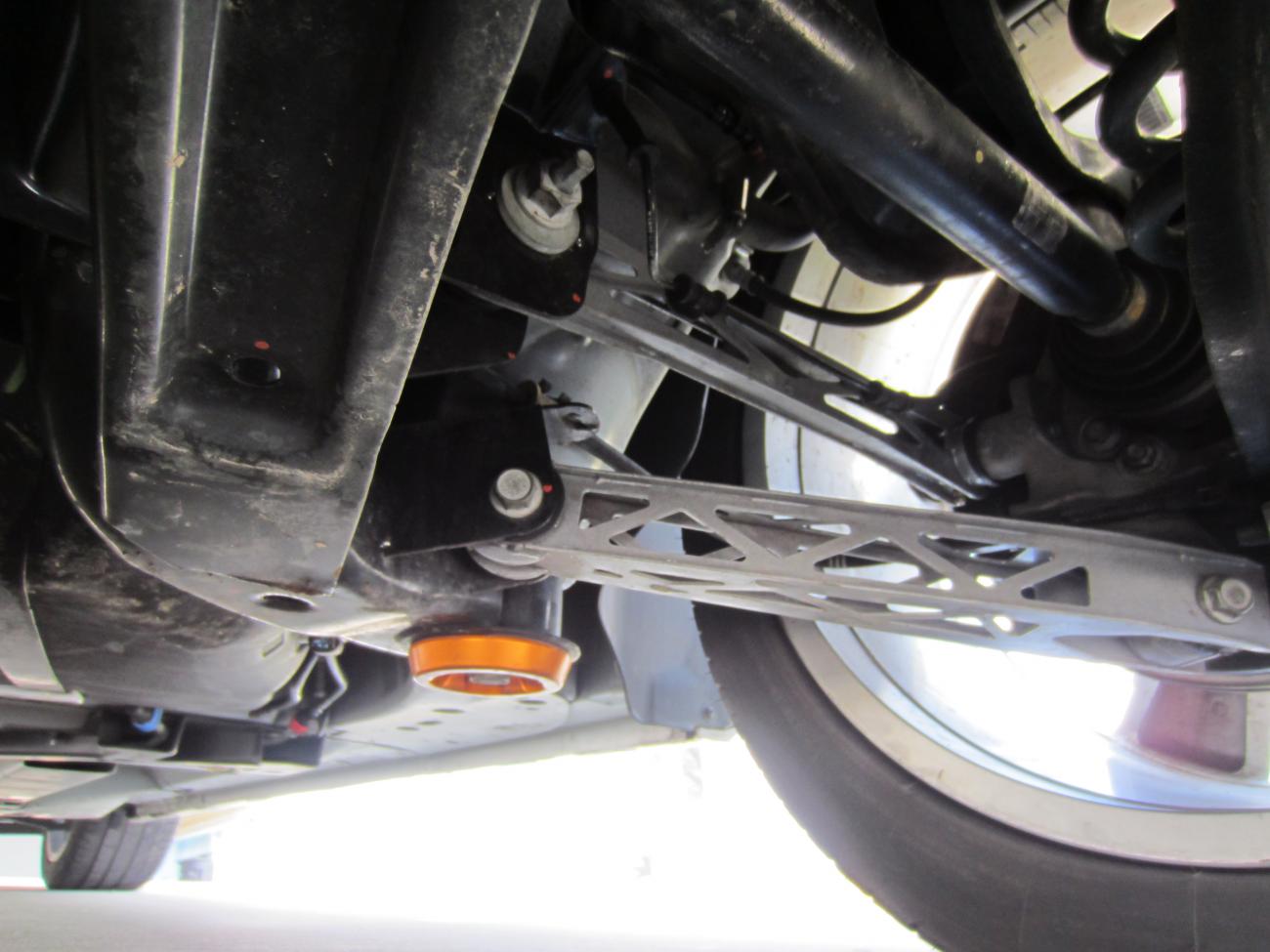 Stainless Works 1 7/8" Long Tube Headers w/ Off-Road Pipes
All in all it was a GREAT Sunday morning/afternoon. My buddy and I did the Pfadt Diff mounts, solid subframe mounts, trailing arms, rear tie rods, engine mounts, SW headers, and the skip shift eliminator in 8.5 hours with a couple 5-10 min breaks for some beverages
I learned a lot about the car still being somewhat new to all this and it's a great feeling knowing that you did the work yourself and you take a little extra pride in it as well. Of course, the money savings of doing it yourself are great, cannot imagine what this would have cost at a shop
So the drive home was a little rough obviously. The car shook a decent amount due to the engine mounts and the diff mounts but since then, about 2 weeks, it has really died down and feels great. I still get some vibration when starting from a stop in first thru the engine mounts and differential but it keeps going down by the day. If anyone is nervous about making the engine and diff more solid, there is nothing to worry about - Chase at Apex is completely right that it goes away with some time while it "settles in." I couldn't be more happy with the outcome and do not regret it at all going more solid for the engine and diff mounts, would do it again in a heartbeat. Should def help plant that power to the road better without all that movement from the OEM mounts.
I really haven't had a chance to get on it hard since I didn't have a tune done right away to see how the rear end did on hard launches regarding wheel hop etc... but I can tell you it is an amazing feeling having that rear end solid like mine. FEELS GREAT! I CANNOT SAY THAT ENOUGH! There is no more play and rocking when it comes to movement back there and so far it is the best mod out of that day, those solid subframe mounts are DEFINITELY worth the price and you won't be disappointed!
Even without a tune yet, the new Stainless Works Headers 1 7/8" w/ Off Road pipes sounded great with the stock exhaust and had a nice growl to it when cruising.
The only downside I had after all this was being stupid and not realizing we had to drain the differential to change the bushings so we had to reuse the fluid we drained (don't worry, put it in a clean container) but I have a little gear whine now but I have since bought some Royal Purple 75W-90 Diff fluid that will take care of it. Read many posts about how changing the fluid definitely helps with that. Also, when we drained the diff, it was NASTY!!! Silver sledge everywhere like you read if you search diff fluid, so if you haven't changed it out back to some new OEM fluids or RP or something, CONSIDER IT. I still need to put my RP in, but will get to it eventually
Hope you enjoyed the pics, again sorry for the quality