This year CFest was amazing. Better organized (still room to improve but, the vols did an excellent job), FRIDAY NIGHT was amazing! Loved how everything flowed and was setup. The DJ, bar, buffet was a great addition -- that is a keeper for sure. The 'REVY' @ 10 pm Friday was so awesome -- I have a video -- as I'm sure many have already posted.
Here is 'REVY':
With that, I'm going to go over these items:
NCM
Car's Performance
What's Next

NCM
NCM is just an amazing place to race. This year they still needed to get the 'registration' going -- that is on HOD -- not NCM -- it just takes too long to get your band and number. There was also confusion about the 'groups'. Initally it was A/B (Novice), then C (Intermediate), then D (Advanced). Well HOD in CA now has it A/A1 (Total Beginner/Novice), B (intermediate), C (Advanced) -- so that confused folk as it was a last minute change -- they'll need to knock that down.
Next, long pants on a hot day -- I get it, really -- but this was a first time in all the events I've run there and I'm glad I found out the day before (I got to BG @ 1 AM Wednesday).
We had 6 sessions that day and due to the 'delay' in the AM, some sessions were cut short or not 'on time' -- it was not a super big deal except when we went to grid and hot pits, I had to leave a couple of times back to the garage as they were running 20 minutes behind -- this was only in the AM -- after lunch, they got it on track.
For me, 6 sessions was ALOT -- I had to skip 2 just so 'I' could recover -- I have to say getting old sucks and now I need to 'train' to get in shape to run that much -- wow, I was DEAD TIRED and sore on Friday. Drank a ton of water.
Met some wonderful folks from my neighbor state of Louisiana -- these guys were just awesome -- thanks for the Wendys!
Here is a pic of us just lounging out: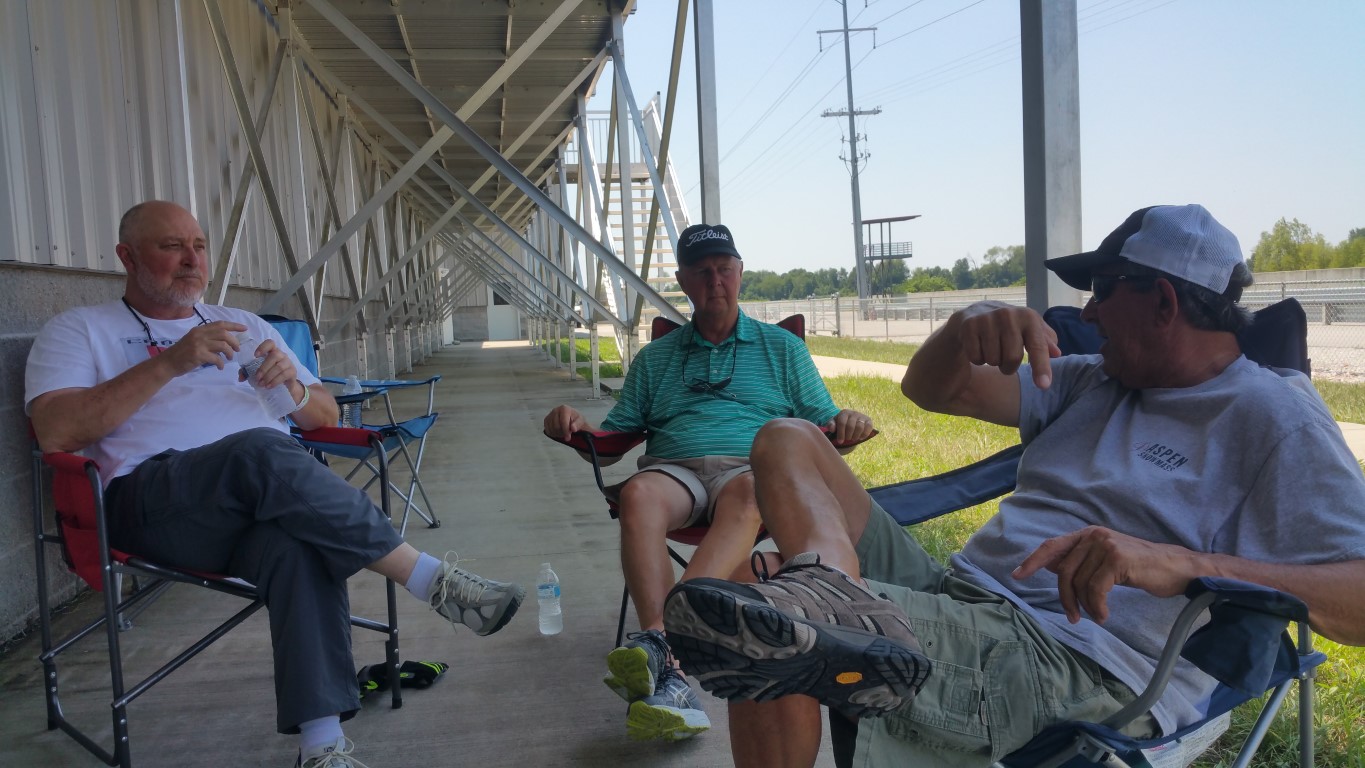 You'll never meet a nicer/kinder/down to earth group...
The garages at NCM are just fantastic and have electric! I sure hope we keep fest here - the venue is just amazing...
Car's Performance
The car did great -- I had 3 issues:
Coolant temps -- even though I purged the heck out of it before leaving and tested, it still had an air pocket. On the way up to BG, I stopped in Memphis to take Mark (ABADZL1) and Sarah (SAPPHIRE) to dinner to thank them for all there help -- without their help (yes, Sarah LET Mark help me so there), I would not have been able to get to CFest.
Anyway, after stopping there, I had time to purge most of the air out.
Once I got to BG, the next morning I purged the rest out -- temps did great after that.
The AC -- the belt keeps coming off when road racing -- that SUCKS after racing hard and NO AC -- and these stretch to fit belts are a PAIN -- I'm going to see if I can goto a tensioner. Because of that, the wife and I decided to just leave Saturday night and drive home -- it was cool and the AC was not needed so that worked great -- I'm tired but glad to have gotten home early.
AEM Wideband -- this totally rips -- I hit a big pot-hole in Memphis on the way back and it literally knocked out the Wideband/gauge -- I mean it was a MEAN pot hole -- scared the hell out of us -- at night -- in the dark part of the interstate -- never saw it coming -- looked like a filled in pot hole -- wasn't. So, I tested that today and sure enough -- power to the unit, no Wideband -- gotta call AEM.
Performance at NCM
Scalded DOG! I was really amazed at how much was on tap and how well it did. There is way more in the car than I could handle -- between that, the # of sessions, and the heat, I need to do better.
The temps were as follows:
Oil 285° Max
Coolant 221° MAX
Trans 180° Max
IATs 169° MAX
Got a chance to see Ryan and found out other's who ran NCM experience similar Oil temps and felt that is was not bad -- it was HOT and I was running her harder this time.
I DID get black-flagged for too loud exhaust on the final session, next to last lap -- I pushed the RPMs that time -- will remember to shift earlier -- still, I have one of the quietest exhaust systems out there -- same system I've run there in the last 4 years -- no kidding!
BTW, did go to Beech Bend both days to visit folks I know (that drag). Met-up with GPI crew, saw a deal on a LSA Conversion kit GPI had -- hope the new owner is happy! (kit had a TON of extras), watched the autox and drags -- also met up with family so, that took precedence ;o). Went to the museum again (love that place). Just a great time.
What's Next
Meth kit install -- ordered the Meth controller from RDP (AEM unit)
Fix the Wideband
AC tensioner setup -- I think I have this one figured out and will detail that when it all gets here
Aux water pump -- have all the items and that will probably be the next item to start.
Overall, A GREAT fest...
-Don