Strange Engineering has asked us to help them test out the new Strange S-60 Camaro IRS rear.
The center section arrived today and we will start the install tomorrow.
The S-60 is a bolt in rear center section that is comparable to the 9" in strength and will be a great option for the Camaro crowd.
There are 4 gear ratio options available, 3.54, 3.73, 4.10 and 4.56
Posi options are the Strange S-Trac, Eaton Trutrac and a Detroit Locker. We recommend the S-Trac.
Strange has decided to sell just the center section and let us provide the axles and driveshaft plus any other parts that might be needed for a complete bolt in kit.
The kit will come with Gforce Level 5 Severe duty 31 spline axles.
We will be installing the S-60 in a customers car from Kansas City. I'm sure he will chime in.
The car is a blower car that put down over 1,000 to the tires.
This S-60 has the 3.54 gears and the Strange S-Trac.
I'll post up more photo's tomorrow once we get the install going.
Thanks
Chris @ Gforce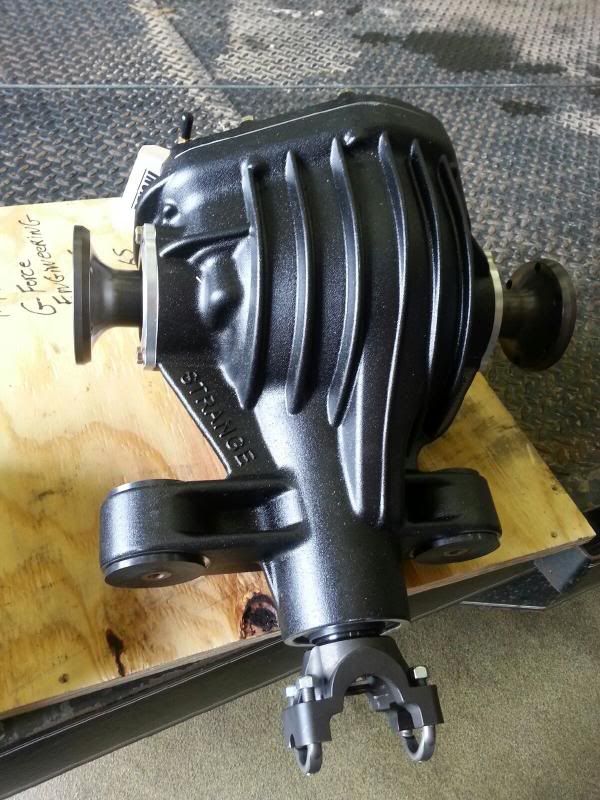 Here is the S-60 next to the OEM Camaro rear.
On our scales the S-60 weighed in at 106.7 lbs with no fluid and with stubs installed, stubs weight around 15 lbs.
The stock rear without stubs and fluid weighed 74.1
Our 9" weighed 131.4 with stubs installed, without stubs it weighs 116 lbs