The History behind a "1BADLS3".
Besides the typical first words my parents expected me to say as a baby ("mama", "papa") I also said "Carro..rrrun..rrrun" which stands for car and a imitating revving engine sound after that. The Camaro love and passion started with my dad that had a 1971 Camaro SS, which he happened to sell a couple of months after I was born (He thinks it was a wise decision
). Ever since I can remember my dad would tell me stories of him racing, working on the car himself, teaching me all he knew about cars, and also instances of him breaking axles, car accidents etc. And just simply like that, I fell in love with the Camaros to the point that I always told myself "one day I am going to have my own Camaro".
Once the fifth gen Camaro concept started to hit auto shows in 2006, I immediately set my mind that if GM went to production with it I would get one. Well, the expectations grew more and more as two years later (2008) I graduated from Florida Atlantic University and got a job offer from General Motors Milford Proving Grounds in Michigan as an algorithm and software engineer. For those of you who do not know, in the Milford Proving Grounds, you get to see cars that are still in development before they officially get released in the market and production details are announced. In August 2008, is when I had my first (right next to) encounter with a fifth gen Camaro. The anxiety of getting one grew exponentially for over three years until I got my 2011 Orange Inferno Camaro 2SS/RS in August 23rd of 2010 (2 days after the Woodward Dream Cruise, I know

).
Current Upgrades List
-GM Heritage Front Grill
-GM Side Vents Inserts
- IVS "Havoc" Rear Diffuser
- 3M Di-NOC Film Accents(Front bowtie, hood stripes, roof and rear panel)
- CAMARO black license plate frame.
- 1 set of CAMARO letters
- PFADT adjustable coilovers
- PFADT Camber Plate Kit
- Roto-fab Cold Air Intake
-ARH Headers- 1 7/8" Primaries with 3" Collectors
- Borla Cat-back system Aggressive "ATAK"
-AAC AQUA colored ABL Interior/trunk LED Kit
-AAC P13W Plasma LED DRL Bulbs
-AAC Camaro License Plate LEDs
- Forgeline DE3S Wheels – Performance Series (Step Lip) 20x9.5 – Front and 20x11 – Rear
- Pirelli Pzero tires 275/45-ZR20 – Front and 305/35-ZR20 – Rear.
LET THE MODS BEGIN……..
Roto-fab Cold Air Intake
Removed the front bumper to replace the grill with the GM Heritage grill and install the Advanced Automotive Concept P13W Plasma LED DRL Bulbs and facilitate removal of stock headers and installation of ARH Headers
Rear bumper was also removed to install the Havoc Rear Diffuser with Carbon Fiber graphic and facilitate the removal of the stock cat-back and installation of the Borla ATAK Cat-back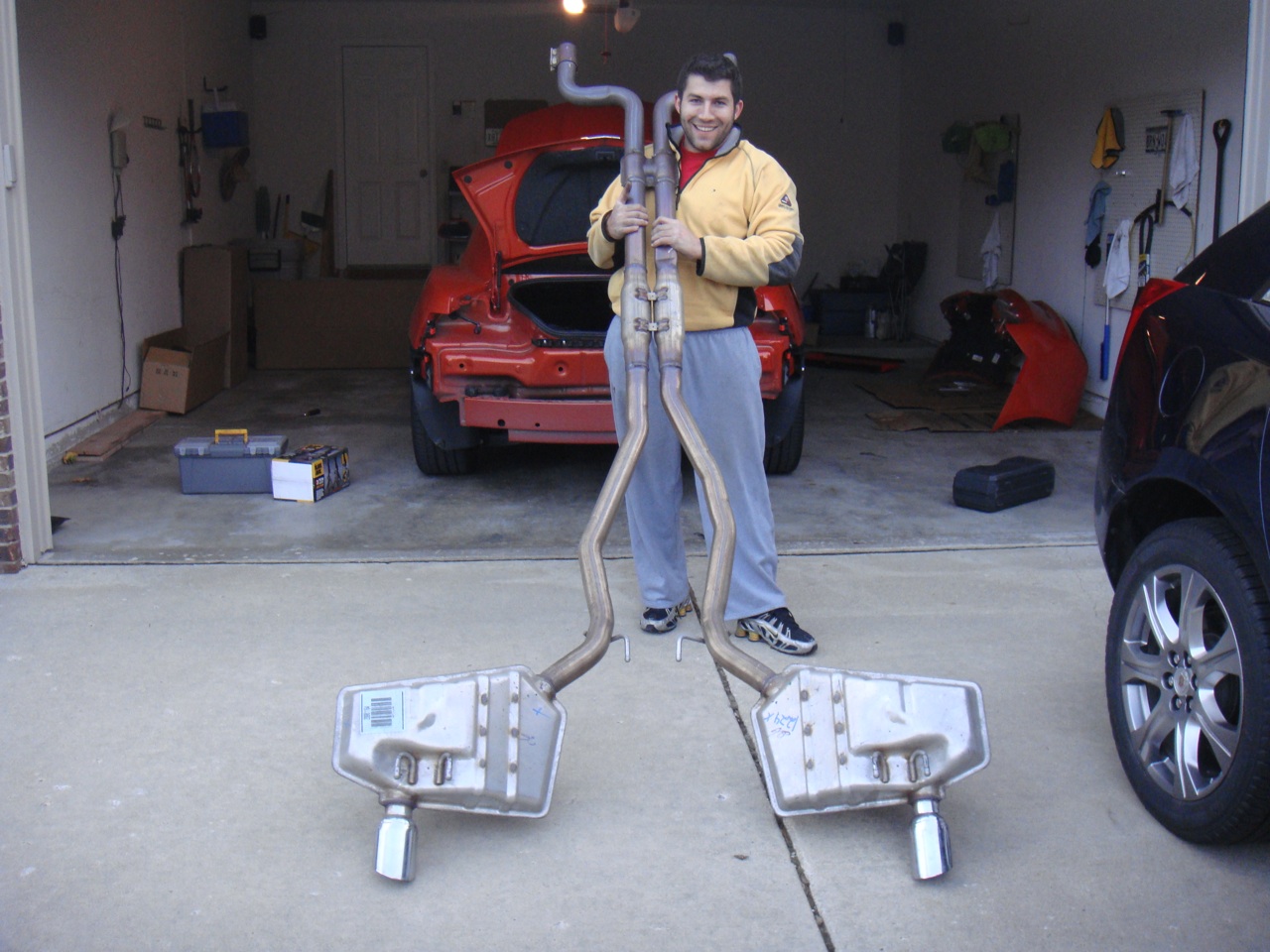 Removed Rear Chevy badge
Cut a piece of Di-NOC Carbon Fiber Film and place it over the rear panel where I also placed the CAMARO letters that are placed in the fenders. Below, you can also see the CAMARO blacked out License Plate Frame.
GM Side Vents Inserts and the car with Tinted Windows.
The following pictures show the PFADT suspension upgrade (Camaro Adjustable Coilovers, Camber Plate Kit)
Front PFADT coilovers assembly and camber plate weight is 16 lbs each whereas the front OEM strut assembly weight is 21.6lbs
Rear PFADT coilovers assembly with mounting flange weight is 10.2lbs each whereas the stock rear OEM strut assembly weight is 15.6lbs
Alignment and Installation of Forgeline DE3S Wheels – Performance Series (Step Lip)
Forgeline Front 20x9.5 weight 25.6 lbs each whereas the stock front 20x8 weight 30.3lbs
Forgeline Rear 20x11 weight 27.6 lbs each where as the stock front 20x9 weight 32lbs
Below its her with the 3M Di-NOC Carbon Fiber hood stripes with the LS3 Cutout and the 3M Di-NOC Carbon Fiber wrapped the roof. (Installed by Keith at Ice Nine Group –
www.iceninecustoms.com
)
Painted gauges to match the inferno orange interior and wrapped the center console in Di-NOC Carbon Fiber film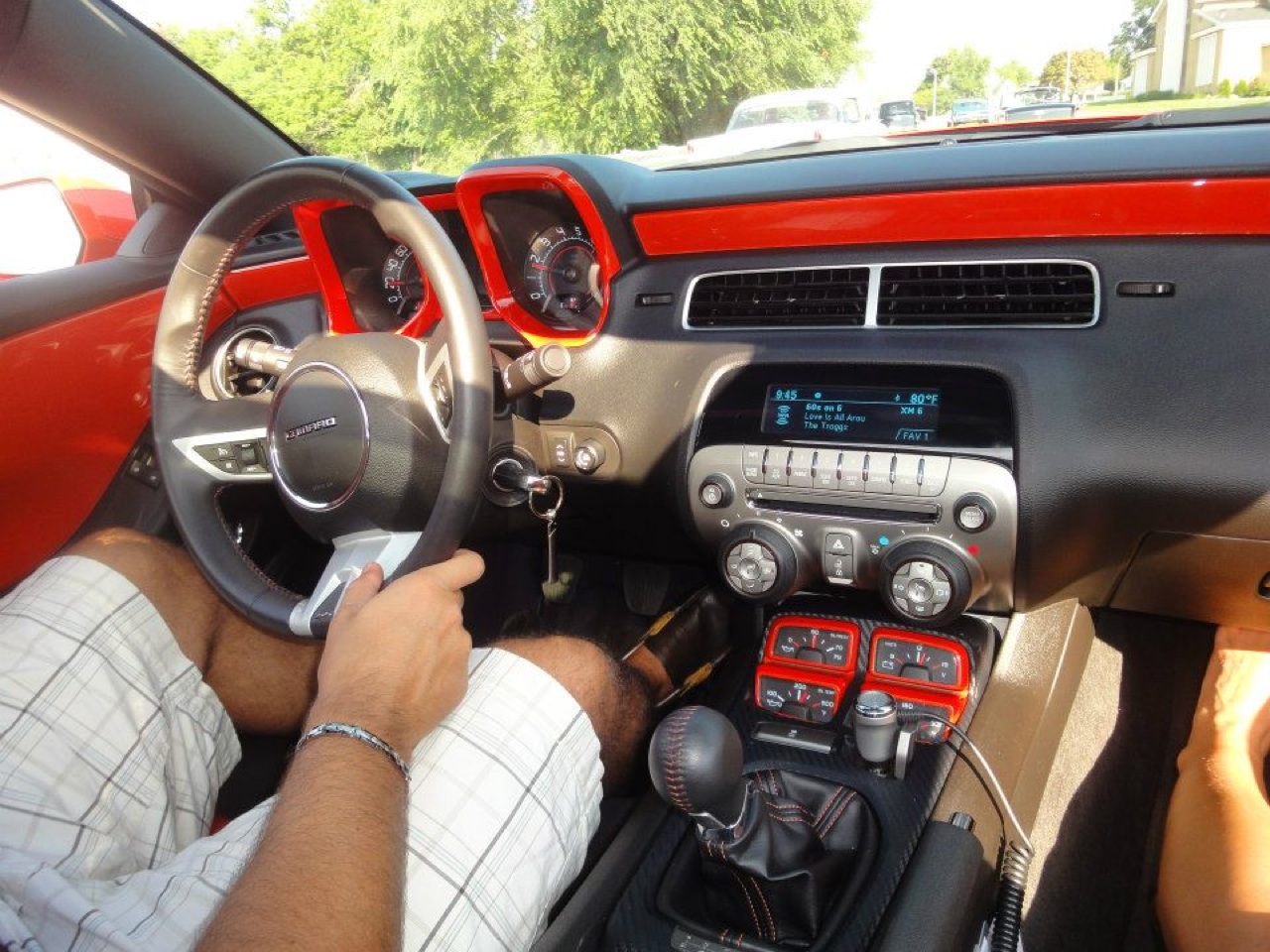 AAC AQUA colored ABL Interior/trunk LED Kit
GM Design team carshow, Chevy Parade, Chevy Dealers Parade, 2011 Dream Cruise, GM Employee Car show, and other events.
Finally my license plate arrived (1BADLS3) after I got a couple of previous denied requests.
Detroit Photo Shoot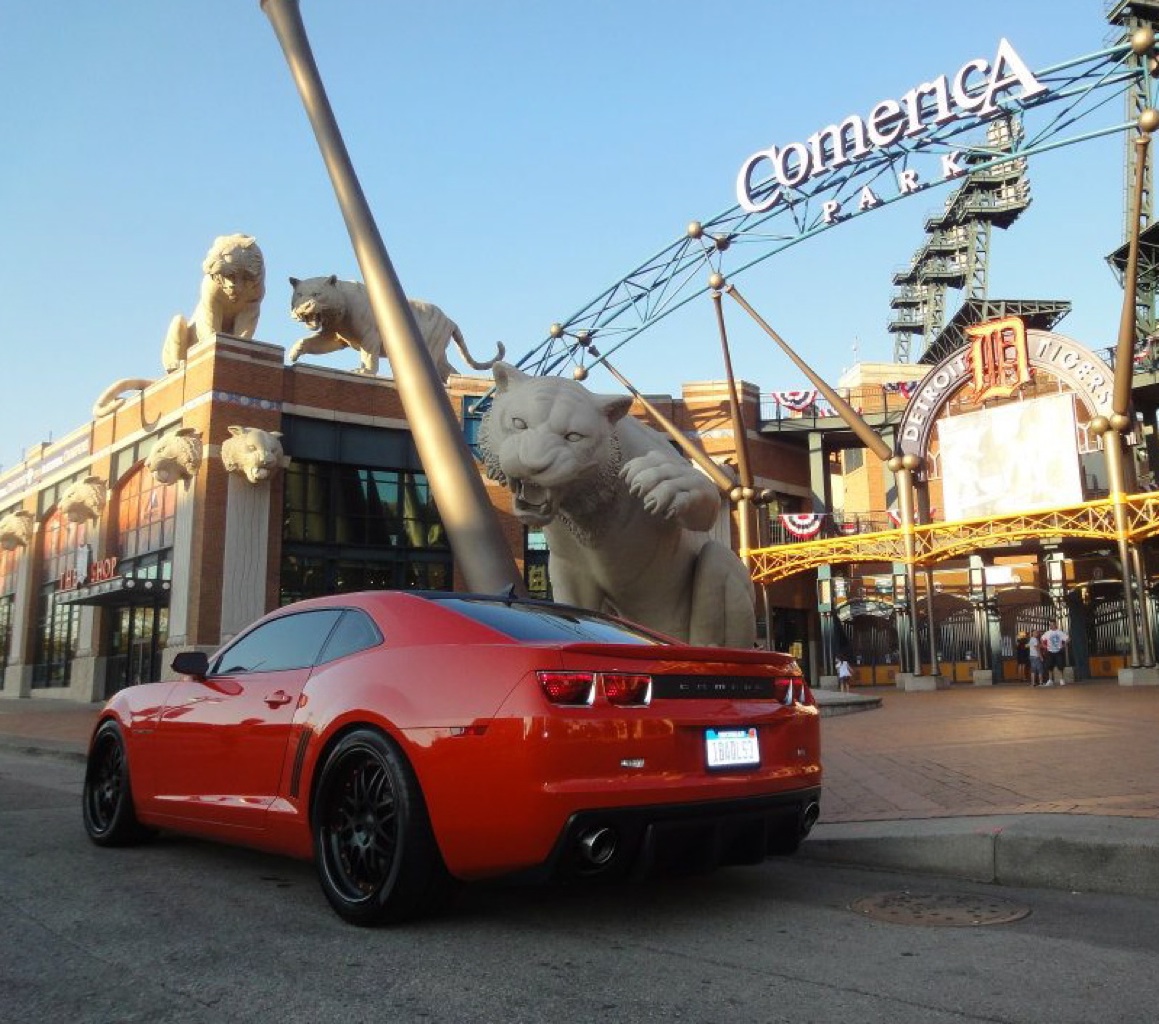 Future Upgrade List.
- Camaro Carbon Fiber Radiator Cover – Just got it as a present for my Birthday.
-PFADT Solid Subframe Bushing.
- Harness Bar
- Fesler Carbon Fiber side skirts
- Carbon Fiber spoiler
- Front Carbon Fiber Lip.
- HP Tuners (VCM Suite 2.22)
-TV2300 Supercharger