Hey guys,
I am trying to see if we really will run out of steam at around 360rwhp & 380rwtq on the L99 w/ only Headers (ok if it has a axleback as those are really only for sound), Cold Air Intake, and a Tune. Must be on a Dynojet SAE corrected so we can compare apples to apples. The Data I have so far suggests this.
1. GMRULZ: 362rwhp 381rwtq. ARH 1 7/8 headers high flow cats, stock mufflers, ADM race intake, CarolinaAutomasters tune. Dynojet SAE .
2.Tanner 363rwhp 379rwtq. ARH headers w/ cats, borla axleback, Rotofab CAI, tune. Dynojet SAE
3.Number_9 365rwhp 382rwtq ARH 1 7/8 headers, ADM/Magnafloz z-pipe, ADM Race CAI, ADM tune. Dynojet SAE
4.Ted Jannety 370rwhp 387rwtq Kooks 1 3/4 headers, Kooks full exhaust, JRE tune, Cold Air inductions CAI(**NOTE Ted`s is on a Superflow Dyno some may not wish to include it for apples to apples but I want to leave it for reference**)
5. IPS Brandon 361rwhp 376rwtq Stainless works 1 7/8 headers, LMR CAI, IPS tune, stock axleback.
6. SGOS252382 350rwhp, 360rwtq Kooks 1 7/8 headers w/ cats, LMR CAI, Magnaflow exhaust, Formato tune
7. melson 375rwhp 381rwtq ARH 1 7/8, magnaflow 3 inch catback, ADM CAI, ADM Protune
So far on the dynojets sae corrected horsepower is all w/in 4rwhp and torque w/in 6rwtq.
Here is my graph to start: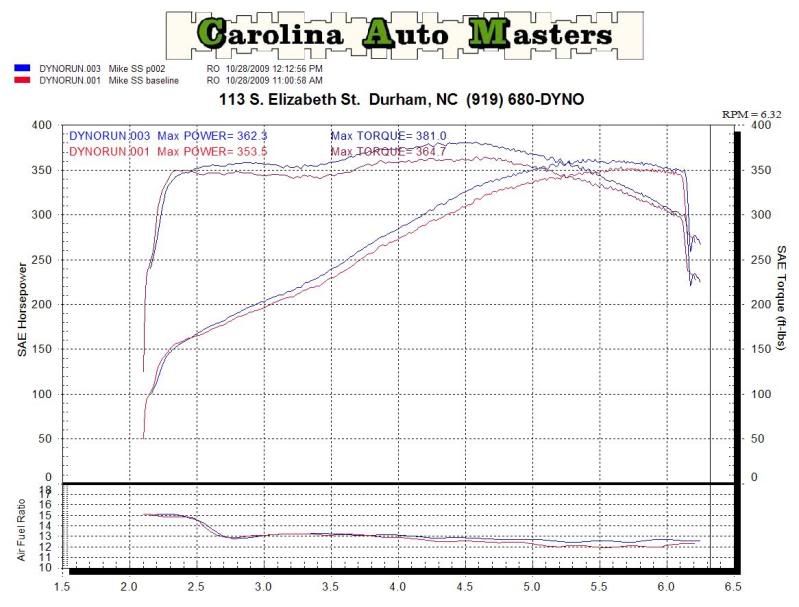 __________________
2010 SS L99, 536rwhp 10.843@126.72. Whipple Supercharger stock pulley, ARH 1 7/8 longtubes w/ catted xpipe, magnaflow 3" mufflers, ADM Race CAI, 3:70 gears, lightweight wheels and nitto drag radials. Stock internal L99, stock converter.

Bolt on best before blower 12.22@113.29 w/ nothing but ARH headers, catted x-pipe, ADM CAI and a tune on stock Pzero`s!

Other car 2008 C6 Ls3, z51, A6, Npp Exhaust, best bonestock pass 11.80@118.82, Number 2 on the Corvette Forums Bonestock fastest list..