Gilmour's DET-MSL CGM 427 LSX 2SS/RS/PC
708rwhp 687rwtq @ 6500 with 13.5lbs boost
Hey everyone...
Guess I finally should make my own journal seeing how I have just about wrapped up everything I can do to the car… minus a few surprises.
Pre-Camaro - Meeting Scott Settlemire
Quick history lesson of my car... DET-MSL (Detroit Muscle)
I ordered my car in November 2008, because the Austin salesmen were not on the top of their game, I was "forced" to order from Classic Chevy up in Grapevine Texas. August 5th 2009 I flew up to Dallas and was picked up by Toby and chauffeured back to base to pick up my new baby.
I decided that I am going to leave my car cosmetically stock for the most part. It is gonna be a sleeper!
Although I have not been able to stick to the plan, I feel I have I really mastered the low key detail points that really make the car pop!
Installed 15% Ceramic Tint
Painted calipers red
427 LSX stainless emblems
My license plate! (DET-MSL) I am pretty proud of it. I have so much love for my home state of Michigan.
I knew I was not going to leave the car stock for long. I was debating between a Turbo setup and a Procharger, but when my turbo guy got backed up with work, the choice came clear. 3000 miles and about 6 months later (I only get to drive on the weekends) I felt she was broke in enough to send her to the speed shop. After a couple weeks of searching and exchanging emails with numerous shops I decided that Xtreme Horsepower out of the DFW area was the way to go. Turns out I was wrong, but more on that to come.
Working with Cody and Arvil from XtremeHP was all done virtually. My car was over 200 miles away from Austin, in DFW and I was usually 1400 miles away from both. I was working in Virginia at the time. Cody helped me make all of the decisions through email and over the phone. He was always there when I had questions of concerns.
I knew I wanted to go with a Procharger, it is a favorite of some of my friends up in MI, so I thought I would continue the tradition. First order of business was choosing my parts. Do I get the P1SC Procharger or the bigger D1SC? Well, I did what any logical gearhead would do and got the big one... $200 upgrade.. why the hell not. So first purchase, D1SC Procharger. Next purchase, exhaust... how will it breath? I was first told about Kooks exhaust by Bob over at EPP, so I brought that up to Cody and he agreed that this set up would definitely push some air. We went with the 1 7/8 inch Kooks long tube headers, Kooks highflow cats, Kooks mufflers, Kooks tips and 3 inch pipe all the way and it looks amazing.
I dropped my car off February 7th 2010 and told Arvil to go to town and that I would be back in two weeks to pick her up. Cody kept me up to date throughout the build by sending a few teaser pics here and there. Just a day or two into the second week all the parts were on the car and they were getting ready to strap it to the dyno. I was excited over the weekend, couldn't wait to hear some decent video and see the dyno numbers, but luckily I was in Vegas and was able to keep myself distracted
When Cody emailed me and said to check the build thread I pulled Camaro5 up on my phone and checked...
DET-MSL and the D1SC with the Kooks put down 607 rear wheel horsepower at 6000rpm. Arvil said he was not expecting numbers like that. I even purchased the smaller 4.25in pulley so we could make some more boost, come to find out though, they didn't even use it. The stock pulley made 9psi, which was enough for the stock LS3.
The next few weeks went pretty well, I was really been enjoying the car. The sound of that procharger winding up was amazing... unfortunately when it does start spinning fast the fuel gauge moves almost as fast as the speedometer does.
Headed to CamaroFest! Great time... great people... new shopping list. haha
MTI Racing Shifter (installed at the fest, fest discount)
BMR Sway bars, Trailing Arms, 1 inch lowering springs (fest discount!)
Scott Settlemire signature on the driver side strut
Brother and Sister's cars
MORE CAMARO FEST
EPIC Fest Videos for your viewing pleasure
AFTER THE FEST :(
Coming back from the C5Fest I started hearing a knock, we trailered it back to Dallas… 3 hrs away. When they found the time they pulled the heads off and found, this! Ugly huh.
Most of you know my story from here on out, so I will just put a brief paragraph summing it up.

So less than 3 months after dropping $,$$$ for this setup I have a junked motor. The pistons were "scarred" "burnt" however you want to describe damage from being very lean. I attribute this to a bad tune and the fact that we were making 607 and Arvil didn't think that we needed to touch the fuel system.
I am not much for confrontation, so I was like ok ok, whatever. XHP did not take any blame what so ever (even after some employees sided with me). Stupidly I decided to have them work on my next motor. Mostly because the car was already there and I lived 3hrs away.
$$,$$$ later... I have a ...
Procharged 427 LSX
Monster Stage 5 single disc cluctch
Upgraded fuel system with Livernois Dual fuel pump assembly
KB BAP
Lots of BMR
and some misc trinkets
aaaand that didnt even make 650rwhp. XHP blamed it on the air temp/humidity. OOOOK.
Now I need to call out a special friend here... I met Keith (Camaro21) only one time, at Camaro Fest, and we spoke on the boards here and there. He followed another thread of mine and saw that I was stuck in Austin and had to go all the way to Dallas. Well this S.O.B. drove all the way to Austin (leaving Dallas at 4am, I was still at the bars) to pick me up, only to turn around and drive all the back to drop me off at the shop.
Then the shop "forgot" to align my wheels after the suspension upgrade so Keith took me over to one of the Mechanic shops he runs and had them do it for free.... I am forever in debt and a friend to this guy.... Thanks buddy!
I cant find a pic of us together, so here is one of him, and one of the snack bag his lovely wife made me for my trip home.
SOOOO... I left the shop and 400 miles from the shop my car dies dead on the side of the road. It took me 5hrs to find the 1 fuse they had on the WHOLE dual pump setup. I was not happy. Within 24 hrs after leaving the shop I had a rear main seal leak and found that they forgot to fully bolt together the trailing arm on the passenger side.
I do not live in Dallas so I was not able to take it back right away to get the oil leak taken care of. When I did get back to the shop, in addition to the oil leak and the potential deadly trailing arm mistake, I learned they forgot to put in all of the BMR parts I had purchased even though they charged me for install.
Strike 3 or was it 7... Either way the last straw was when Arvil personally told me that they would charge me $350 to drop the tranny to replace the rear main seal (That they put it backwards).
[update: Driveshaft was actually missing a bolt as well]
GOODBYE XTREME, thanks for emptying my bank account. double

Cody... still a good guy, thanks bud
ALRIGHT, for the next 7 months I drive my car, I love it. Minus the weak HP numbers for a 427 LSX and the oil leak. I was able to help a few friends out with their photography portfolios and get some really badass pics in the process.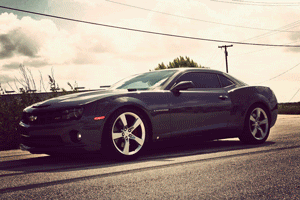 After going to Camaro Nationals with my Houston Crew (Da Hose, Camaro21, DangerruSS, SSE 4 2SS, and MANY more) this fall I was introduced to Owen Priest from A.R.D. I was impressed with his car, customer cars, his presence in the Houston Camaro community, and the way he took the time to talk to me about doing some work and getting my car back in shape.
In the next few weeks I had Owen install the Hendrix 1400hp halfshafts and look the car over to see what he will need to fix after the other shop had it. Over the next month or two I have taken my car to ARD three times to start working the kinks out of the car.
First trip – Hendrix 1400hp axels
Second trip – Fix Procharger belt alignment, Drop to smallest Procharger Pulley size, retune, install 50mm Tial blowoff valve. We also realized that the build was put together with too small of injectors and were running lean over 5500rpm.
(insert pics of pulley, Tial)
Third trip – Fix rear main seal leak, install FAST 85lb injectors, Install ADM Boost/AF Gauge
April 1, 2011 -
New tires... finally something a bit more stout. Nitto 315/35/20s
Photoshoot and interview with
www.unreal360.com
on 4/11/11. More pics on the way.
Added the Striker Cold Shot Meth/Water Injection Kit
Had the BMR Full Rear Bushing Kit installed along with Toe Rods, Sub Frame connectors, and tunnel brace to go along with the BMR Sway Bars, Trailing Arms and Suspension drop
Future Plans (updated 3/10/2011)
Upgrade to F1 Procharger
Some sort of tire and wheel (need help deciding!)
Then… good grief, will I be done?
So there you have it… the long… drawn out process that is DET-MSL