So you've decided you want to drag race your fifth generation Camaro, but you've never done it before. You've probably watched drag racing on the web or on TV, and perhaps you've even spectated at a drag strip. While it looks fun (
and it is
), many first time racers get nervous. The following is a brief guide to drag racing your fifth generation Camaro. While most of the information is universal to both automatic and manual transmission equipped versions, there are some differences that we'll note.
There are around a hundred drag racing facilities located in the United States and Canada. Most are members of the NHRA or IHRA which are the two big sanctioning organizations. Most tracks are usually set up to run quarter mile (1320 feet) or eighth mile (660 feet). It usually costs between $20 and $35 to race. Some tracks are open all week, and some are only open on the weekends. If you plan to run on a weekend, make sure to check their website in case they are running an event that day, as they may limit other racing. Our favorite local tracks also have Facebook pages, which we've subscribed to for updates.
Before you head out to your local drag strip, check to see whether its IHRA or NHRA, and try to become familiar with the rules that apply to your car. Most of the time NHRA and IHRA rules and regulations overlap when it comes to the basics. One universal rule is that all tracks require racers wear long pants, no exceptions.
Make sure when you get to the drag strip, to spend some time familiarizing yourself with its layout and the starting line. No two tracks have the exact same configuration, for example some have the return road on the left side, and some on the right. Spend some time up near the starting line to get a feel for the routine, the location of the beams to activate the tree, and the the location of the
END
of the track.
PREPPING YOUR CAR
Okay so now you are standing there in the garage, staring at your car, wondering how you should get it ready for your first drag strip excursion. Well the good news is that it's pretty easy
Rule #1
Always check your oil, fluid, and brake fluid levels. It's a bad idea to make passes with low fluids, as you can damage your powertrain. If you haven't torqued your wheels lately, or just swapped on some drag radials, torque 'em! Torque specs differ by year for fifth gens.
Rule #2
Always to remove any unnecessary items from the car. Weight slows you down. So if you've been driving around with 100 lbs of free weights that you got from Craigslist, you should take those out. If you have a quick disconnect for that speaker box, pull it out you can always impress the ladies with your bumps later. 100 lbs of weight removed is worth a solid tenth in ET. And be sure to remove or secure any items you will be leaving in the car while you are making passes. If you're like us, sometimes we head out to the strip on a weeknight with a laptop in the trunk. Make sure it won't move around, otherwise it becomes a projectile and will cause damage.
Rule #3
Folks routinely ask how much gas they should leave in their car when making runs. We'll go with an "it depends" response. If you are naturally aspirated, we generally like to run half a tank or less of fuel to keep weight down. A gallon of gas weighs approximately 6 pounds, and our cars hold 18.8 gallons. Now our friends running much quicker, and who are typically running power adder setups, reccomend running 3/4's of a tank or
more
. They've shared stories of running slower due to the fuel pump getting not getting fuel from the gas all sloshing to the back of the fuel tank, uncovering the fuel pump.
If you plan to run drag tires, some folks elect to cover up their rear quarters (the area between the back tires and the bumper) with tape to minimize chipping the paint. Also, some folks will coat their rear quarters with Pam or other spray-on coatings which makes it easier to remove the rubber from the paint. We also typically bring a pen, note pad, tire gauge, a helmet, and sometimes a chain and lock if we plan to secure any items we are taking out of the car.
V8 Camaros can run 12.8 to 13.9 stock, and most tracks will require you to wear a helmet if you are that fast. Some tracks will rent helmets, but that can be hit or miss if they have any available or in your size. So if you get hooked, plan to buy a helmet. Helmets cannot be used forever, so at some point their safety rating will expire, so buyer beware if you are looking at used ones.
Tape on the quarters:
TECH INSPECTION
Once you are at the track, you have to pay to race and sign a waiver. The folks at the gate will then give you a tech card which will have an assigned entry number. Go ahead and fill that out and get into the tech line since your car will be too hot to run right off the highway. The tech inspector will take your tech card and check over your car. As our cars are newer, they'll tend to focus on obvious safety equipment. Now our cars can run 13's stock so the inspector may ask to see your helmet. There are other safety rules and regulations that we won't get into right now like running with metal valve stems, a safety loop and things like that. Once you've completed the tech inspection, you'll be given an wrist band and your entry numbers will be written on your car windows so that the track crew can see it from the front, side and rear.
PIT AREA
As said before, your car will be hot from driving it. In fact, one of your display options with 2010 – 2014 Camaros is coolant temperature. If you select that you'll see that your car is probably over 200F. So, after tech, find a good spot to pit, and immediately pop your hood. This will allow heat to dissipate more quickly. If your car is stock it might take a while for it to cool down. As a first timer, you might have the itch to run right away but you should let your car cool off. Now for folks who've raced these model Camaros for a while, they know that the cars will perform better if you can run when the engine temperatures are not exceeding 195F. The car's operating system, the ECM, will start to reduce timing advance as the car gets hotter. But it's not easy to always manage coolant temperatures if there are long lines. So if there are lot of cars ahead of you, pull into the lane but immediately shut it off so that it does not heat up. When our 2010 Camaro SS was bone stock, we would usually make one pass and then cool it off. On occasion we'd hot lap it (go right back in line
especially if there was hardly any cars in line
) and make a second pass. But if you watch coolant temps, they will get pretty high. We never make three back to back passes. Now tuned, we will frequently make two runs back to back but our coolant temps are usually down to 194F by the time we get back in line.
TIRE PRESSURE
Now is the time to lower tire pressure for the rear tires if you'd like. Dropping them down to 25 – 30 psi might help you get traction, but for the first timer you might want to leave the tire pressures stock. If you do lower tire pressure, you will get a Low Tire Pressure light in the dashboard display. When you air the tires back up to over 30 PSI the light will eventually go off after a few miles of driving.
STAGING LANES
Remember, you will need to:
• Put on your helmet before you make a pass. We'll typically keep it on if there is no line, but if there are long lines, we'll take it off and put it back on once our lane starts to make passes.
• Don't run your A/C as you go up to and get in the lanes. Do not run A/C while making passes. You'll get condensation and this moisture will drip onto the track.
• For an automatic, you have the option turn off the Traction Control and/ or Stabilitrak. For your very first runs you elect to leave those traction aids enabled. Eventually to run as quick as you can you'll turn off at least traction control otherwise your car will pull power if it detects a spin situation. If you start running with these aids disabled (popularly referred to as the "nannies"), please note that you have to turn them off every time you start the car, as they will revert to being on.
• For a manual transmission equipped car, you can turn off traction control once you are comfortable. LS3 manual transmission equipped cars also come equipped with Launch Control. If you do some research on the web, you'll find that most folks will generally not use this as leaving this hard has resulted in broken differentials and axles. For the newb, don't mess with it, do some reading.
• You have to wear your seatbelt while making a pass.
• You have to have your windows fully rolled up when making a pass.
• Remember to fully latch and close your hood if you've had it open to cool off the car.
WATER BOX
Okay, so what is the water box. The water box is a rear section of the two racing lanes that is kept damp, and is there for folks who are heating up their tires. It's most commonly used by folks running drag radials and slicks. They need the water to help them break the tires loose for their burnouts. If you are on stock style tires, you should
always
drive around the water box. This is very important, as it's dangerous for you and the folks racing after you if your car drips water up to the starting line. You won't hook and the person after you won't either. Depending on how much room there is you might be able to pull around it and then line the car up. At some tracks you might need to back up a bit to allow yourself enough room to line your car up in the groove.
Driving around the water box:
Water box from the rear:
BURNOUT
For the new guy, you generally don't want to do a burnout with stock tires. However, not all racers will agree on this. If you do decide to do a burnout on your stock Pirellis, we suggest that you go around the water box, and back up in to the very front edge of the water box, where it's just damp but no standing water. Doing the burnout here as opposed to a drier section of the track is easier on your differential. Some folks elect to line up and just do a dry rolling burnout and then stage – You can do that too.
GROOVE
You'll notice that all the racers are lining up in the groove, which are the two spots on the track with the greatest build-up of rubber. Generally the grooves are darker so they are relatively easy to spot. It goes without saying that you want the car to be as straight as possible. If you line up crooked the starter might wave you back and tell you. If you launch crooked your car will go towards to the right or left as well as out of the groove so you will most likely spin.
STAGING
You've probably seen some folks by now stage their car when they are making a run. Now there is a routine for staging your car. The are 7 rows of lights on the Tree. The top-most set are the Pre-Stage Lights. As you roll your car forward, you will eventually trip the beams for the Pre-Stage Light. Those lights warn you that you have a foot before you engage the Staging Lights. For what it's worth, most racers will do what's courtesy staging, which is lighting the first bulb and waiting for you to light your top bulb before lighting their staging bulb. Now, let's get back to staging your car. You've activated the Pre-Stage Light, and you are rolling forward to engage the Staging Light. Now a foot sounds like a lot of real estate but it's really not when you are in a car. In fact you might get at most a half tire revolution before you trip the staging lights. Once you've tripped the beam for those, the starter will start the tree or it will have autostart. There two types of light sequences, Sportsman and Pro. Sportsman is typical for regular racing like this. The big amber lights below the staging lights will light up, starting from the top, in half second intervals. Once all three are lit the Green light will come on. If you leave before all of the Amber Lights and Green Light have been activated, you will see a Red Light. The person in the other lane automatically gets the win light. There are two types of Pro Trees, and generally speaking all three Amber Lights will light up at once. These lighting routines are used for heads up class racing.
Check out this video of the Tree:
Leaving on the Green:
MAKING A RUN
During your pass you should always look forward and not look to either side of the car for obvious safety reasons. Your car might move around during your run and you will be actively steering it. When you were observing other folks racing, you should have noticed where the end of the quarter or eight mile was. At many tracks there will be a light that will come on that is on the wall next to your lane, though some tracks will augment that visually with a cone or two. The display boards are typically near the end of the quarter mile but not necessarily after it, so don't go by them.
If during your run your car spins and get out of shape, you should probably slow down and just drive down the track. If your car has gotten out of the groove you might not be able to regain traction. Additionally, and this is very much the case for quicker cars, you might get into a situation where one tire is in the groove and one is not. You can spin your car out in situations like this and crash.
If you your car breaks during a run, etiquette is for the racer to pull their car off to the side once you have reached a safe speed to do so. There are many reasons for doing this, but mainly you minimize downtime for the track when it comes to cleaning up spilled fluids and broken parts.
Good video of someone doing a burnout, staging and then running their car:
Picture of the end of the track, note the light and cones marking the end of the quarter mile:
RETURN ROAD
You noticed that after the cars run they turn off the track and drive back to the pits. Etiquette is that the car in the lane with the exit to the return road goes first. The only exception to this is if that car is broke on the track and otherwise so far back that you'd be waiting a few minutes for them to reach the end of the track. The return road will have a posted speed limit, which is typically 20MPH or slower. For the new guy, observe that speed limit. Turning first or driving fast on the return road can result in a warning and repeat infractions will get you kicked out.
The return road at Atco:
TICKET BOOTH
At the end of the road there is a small booth where you pick up your time slip. You'll get one of these: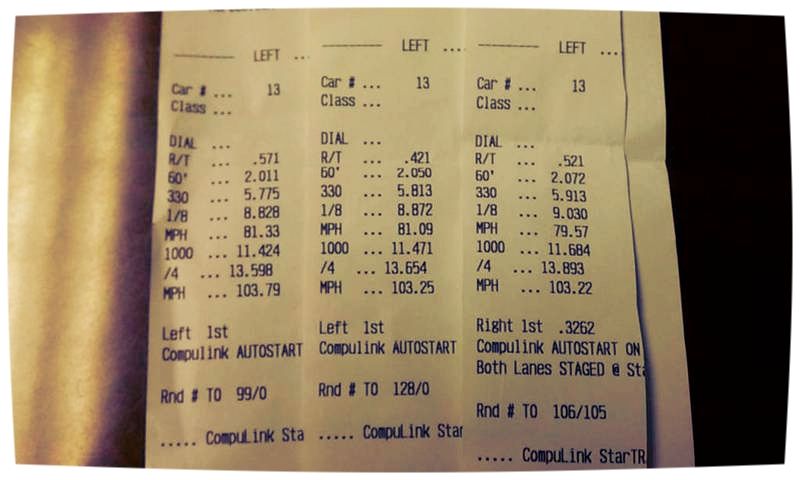 RETURNING TO PIT AREA
Be careful as you return to your parking spot or go back to the staging lanes, there are frequently other cars driving around as well as people walking through the parking area.
REPEAT!
Compiled with input from a bunch of the racers here on Camaro5