Quote:
Originally Posted by
kickasswelch69
J, Your car has become the face of my browser! I dont know when it will be up on google for a theme, but i submitted it! Heres an idea, make Kronix a car modification business!! And then keep em both! Now, just get me some night pics of your whip, and it should make history!
Bro, you rock! Modding cars has always been a passion of mine, you did see the pic of my 1989 Vette on the first post right, back then no one went crazy with new cars.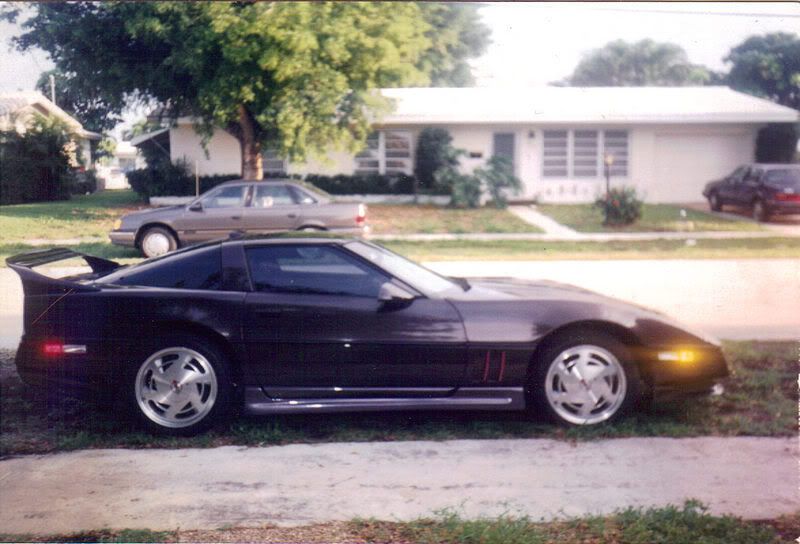 But not me, that baby had a one of a kind body kit, the Calloway package,and much more & if it wasn't such a shitty pic (no digital cameras or phones back then, LOL), it had a custom chameleon paint job that was different at different angles. Not to mention a kick ass sound system that won about 20 trophies in IASCA contests, that's where they measure fidelity, not BOOM. That was my first ever sponsored car by Beacon Car Audio in Northfield, NJ, they said we'll put the system in free of charge but you have to rep us at these shows, and that was kick ass fun! Not bad for a 21 year old, I was already Executive Sous Chef of the #1 NEW Restaurant in America voted by Esquire Mag, down in Boca Raton, Florida. So really my love affair with Vettes goes back quite a bit, but also had 2 Camaros, an 84 Z28, then the 5.7L IROC (Italian Retards Out Cruisin), that's what the haters used to call them. You know I've always appreciated your kind words & support from Day 1, Thank you
Quote:
Originally Posted by
kobSS
Damn...

Just read through your entire build and I am impressed. You've done a killer job with both power and looks. I'm hoping to be able to visit Ryne @ CMS some day. Glad everything is working out for you!

I'm sure when you get the car back you'll get to really enjoy everything as a whole new car (It practically is). Hopefully i'll check it out at a meet or something sometime
Thanks kobSS, glad you enjoyed it and if you can get the chance to take your whip to Ryne, DO IT!!! I'm waiting to hear back from him, so that's probably not good news. Not with my car, but he was having issues with the Dyno and he's getting ready to maybe grab a new one. He won't give a car back until it's 100% and I'm at 99.99% and I respect that and that's why I drove 85 miles, so he's the only one that'll touch it, and Bro, he's a LS Engine GURU!! We're having a meet at Antidote Performance (one of my sponsors) shop this Saturday, you're welcomed to take the cruise up. Especially if you're looking for some products, my boys Jake & Scott will hook you up! Plus Wheel Warehouse is right there too, in case you wanted to check out rims or tires......Plus plenty of food!! I'll definitely checkout your build thread since I see some tasty mods in your sig, you're welcomed to join us bro!
Hear that Paul(SummoneR), get your ass down here!!!
Quote:
Originally Posted by
pierre777
The vette is out of the question for me my boys just love Sunday rides in my bullet and I can't fit a wife and 2 children in a vette. J if you really dig the vette I say sell the Tahoe and keep the maro buddy ,you have a one of a kind car why just give it away with 2000 miles on it and let someone else enjoy your ride .
I hear ya bro, but there's no way I'd lose the Hoe, I'm on my 3rd one, and my 3rd Camaro LOL....I can't haul surfboards on my whip

I'd be looking like KOOK man!! Wait till you see the bumpers I got for the Tahoe, it's going to be one mean looking SOB. I was one of the first to put a 6" lift on the new body style Tahoes back in NJ, it really is the perfect SUV. I've had mine Dyno tuned, Banks headers, K & N CIA, Magnaflow exhaust, 4 black leather captains chairs, a banging system and to top it off it's the 5.2 LS block that I have tuned to 440 RWHP. If a SUV could be a Head Turner this one sure is. There's nothing like rolling high above everyone else, with a fat stance, just feels like a fast tank! The only thing I would need is a bigger garage, for the ZLX & the Stingray. It's not a question of having to sell either or to get it, I've always been a Vette guy, as noted above, when I bought my SS it was either that or a Z06, but I knew that the C7s would be out in 2 years, so that's why I chose the SS and just planned my build....Trust me, I LOVE the old school looks of the Maro, I hated when they made the F Bodies, but when I saw the 5th Gen, well the rest is history. I just wanted to make sure I could get an allocation when the C7s come out. My buddy's family back in South Jersey owns a big Chevy dealership, that who I got all my Tahoes from, so at least I have the option, but they won't be out till close to the end of the year, so that's a long way off and a lot of time with SSYNSTR
Quote:
Originally Posted by
aquablueL99
John,
I can't get my arms around all the thoughts that are running wild in your mind. Man, take just one step at a time...and enjoy the
"Best of the Best"
Gen5 Camaro.
I saw the Stingray video...it sure is awesome!---by the same token, so is your ride...get that bad boy back from
CMS
....with what you are doing to her now, should just about "round her out".....
I would hate to see you make a move too soon and end up regretting something....

Kurt ABL99
...

Says
THE MAN
with
2 BADASS Camaros
in his garage!!! Trust me brother K, it won't be a rush decision, and like I told Pierre, it simply may mean I need a bigger garage, the Tahoe's a brut & too big for a garage any way, plus it's a beast, so I don't baby it. So there's a long way to go before the C7 is made available, so that gives me plenty of time to house shop. Building my car has been a dream, doing everything my way has been an awesome experience and the platform is so good, that with my upgrades and mods, in a pure numbers standpoint, it's more RWHP & Torque than a ZL1 & a ZR1, and the latter starts at $125K. Granted I just upgraded insurance companies just for the Maro because when I found out my current insurance company would only give 40 cents on the dollar for what I have into, God forbid something were to happen, I'd be out a bit of money. This is one thing many should consider, I went with Hartford, they specialize in classics and let me insure for replacement costs and last week as I was adding up my receipts for mods & sticker price, the figure almost floored me

And again Kurt, I owe you a lot, you've made me a better person and helped me through some rough times, with the passing of my best friend. You've helped me establish my relationship with Jesus, and I know I'm a better person due to you, so I'll never be able to thank you enough!
Quote:
Originally Posted by
darkrhett
The build looks amazing! I would like to do a single jl 12w6 in mine but I wanna do a stealth style box off to one side. like this http://i.ebayimg.com/t/Camaro-Sub-woofer-carpeted-box-12-twelve-inch-stealth-fiberglass-2010-to-2013-/00/s/OTAxWDE2MDA=/$(KGrHqRHJEUFD)2I)6LRBQ9B2HZse!~~60_57.JPG.
Darkrhett, thank you for the compliment, it's much appreciated. That's a pretty cool box, I like the fact that it's fiberglass & not wood. The carpet matches well, keep in mind on thing if I can make a suggestion, you definitely want to add some sound deadening material for the trunk, it's very easy to do, as the carpet comes right up. Since we upgraded all speakers in the car to Morels, I deadened the whole car, seats out & carpet up, pain in the ass, yes, but when you want to do it right you have to do it from the start. There's a good Camaro site, called Rick's Camaros,
http://www.rickscamaros.com
, if I recall they have the precut sheets needed. It just cuts down on that tinny sound from outside the car and really improves interior sound quality. Let me know how you make out,
if you were in SoCal, I'd send you Antidote Performance and they'd do the job right!
Quote:
Originally Posted by
Eric-MPD1.com
Guys, the new C7 not feeling it yet. It looks cool but at the same time I feel like I have seen it before ,like Lotus Evora, Ferrari California, a camaro ass all mixed up with some japanesa sprinkled in. Im sure it will grow on me as have some other GM designs. Still love the C6 I sure would not trade a tricked out Camaro like yours Knonix just to get the new Vett
Damn Eric, I'm honored that you popped in
to my humble thread. I think you've single handedly transformed many a Camaro to another level. I get so many compliments on all my MPD1 parts, hood, spoiler & smooth rear exhaust panel, which I believe is how the car should've came with! You are a true craftsman and I love my Ram Air functional Z-Force hood. You're a true asset to this forum and your products are second to none, and you're always available to talk to.....Thank you Sir I'm a MPD1 fan for life and wouldn't change a thing you've done on my car
Thank you Tim, I know you have a fine eye for the candy, so glad I could oblige, now if I could just get some bikini laden models in those pics we'd be a la JJ Walker, "Dyno-Mite!!!

ZR1 Corvette
, forget the ZL1, that's breakfast
I had a beat O2 sensor into my header, so that's being addressed and should done early next week, unless I'm surprised by a phone call tomorrow.
Thanks P, The wait is killing me but it'll be well worth it in the end. I know the speaker rings you mentioned, and the only shine on the inside, is my brushed kickplates with Carbon Fiber SS. Antidote Performance is making me some special covers to replace the Boston Acoustic badge on the speakers, since they're all Morel Supremos. I really don't want too much chrome or stainless inside and I know they make Black Billet rings, so i'll wait to get my custom Morel tabs first.
I did receive a box today of something I had custom made for both vehicles actually, so I'll open it up tomorrow and take some pics...They're unique & cool, so stay tuned..