NJ/SoCal HT5 COTW 3/25/12
Drives: 2015 Z06/14 C7/08 Z06/07 Tahoe Z71
Join Date: Nov 2011
Location: South Jersey & SoCal
Posts: 1,966
Soon enough brotha we'll be pulling some meets & cruises!

Thanks SSE, (I'm knocking wood as I write this) That BEAST has given me 6 years of pleasure, dependability, a canvas to make it what it is today, and it's done that virtually trouble free! My buddy, a Philly cop, bought my first Tahoe, a 1997 and missed out when I sold my 2002 for this one, is begging me for this Hoe! He knows how I take care of & mod my cars, but this one I can see keeping for a long time! She's special
Thanks Tim, ya gotta maintain right! I emailed Centree today about getting the dash plaques
Brother, I spent 42 years on the right coast, so the 2 years in Cali didn't jade me, I used to fly back for Eagles games too. But , at least I'm going back in the spring
I will miss the beautiful weather 99% of the time, some of the people I've met, and surfing almost everyday, but like Arnold said, "I'll be back".
Thanks P, got a few more mods planned for it too

Should have a pic up tomorrow. The movers come next Friday for the house goods & the other cars. We're driving the Hoe back with the dogs.
Thanks Paul, that's my baby!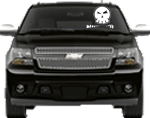 I'm now graced with the presence of the current Car Of The Week owner, (there's a lot of COTW's in this crowd
) Kurt, my brother, let me congratulate you again for FINALLY getting the recognition of owning one of the best Camaros in the country! But we already knew that, if this was Owners Of The Week, you would've been #1 in line, it's been my pleasure calling the Kellers friends.

That Beast of Hoe can trailer the ZLX, but I'm leaving that in the hands of professionals. I wish I could just sit in her on the way back & sleep in that enclosed trailer! But with the dogs we're driving the Tahoe back, I wish it was more of a sightseeing trek or even drive the ZLX back since it just broke 3000 miles (and had 3 oil changes, so far
) We're fortunate to have kept our properties back there in South Jersey, so it was basically a 2 year hiatus and learning experience. I only have one regret, that one person won't be there when I get back, the person that mattered the most. But thanks to you, and another brother, I'm getting better with it, so hopefully it's a relatively smooth transition. I actually think Timmy gave me a couple signs today. My main concern are the dogs, my oldest is 12, a Weimaraner, so I want the trip as stress free as possible for him.



As you know the ZLX is at Cunningham MotorSports getting worked for the final time. The last piece of the puzzle right now for the engine is an 8 rib pulley conversion, so we're going the Innovators West kit.


The 6 rib at my power level is marginal at best. I'm making everything else as bullet-proof as possible, there's no point in not completing this, or I'll be shredding & popping belts more times than I care too.
I talked with Ryne about this and even though he has a great relationship with another shop back there, and we thought maybe let them do it, I couldn't, this is a CMS built car & I'm damn proud to point that out! From the beginning I told Ryne I want this to be his car and never gave him a deadline, I don't rush people that are masters of their trade, and he's never let me down. But this one has to be done by next Thursday at the latest, then I still have to pick up 80 miles away, because the car carrier is showing up the 26th. Ryne knew exactly where I was coming from, and that is why I consider him good people, and a good friend. I want to rep Cunningham MotorSports of SoCal proudly back on the east coast in shows, meets, races & mags, and he's going to make it happen.
I can't thank him enough!!!