Went to the Drag Strip yesterday to try out the new line-lock and drag radials. The first couple times I got some not so good burnouts. Too much going on and I didn't have any routine down. After a couple runs though I start getting my mind/routine down and got some better burnouts. I still need some more seat time and probably should start out in 2nd gear for the burnouts next time.

I'm also trying to find the sweet spot for launching now. I got up to around 4200 RPM launches but might go up to 4500 next time since I didn't have any bogging or much spinning.

All in all I picked up a consistent .3 tenths in the 1/8th though. I've had an 8.24 run before on street tires but that was a one time deal. Typically I would run 8.4 time frame on a normal basis. With drag radials I was consistently running 8.1 time frame with a best of 8.14. Based on some calculations I found that should be about a 12.70 in the 1/4 mile.

I think with more time with the drag radials and better burnout/launches I should be able to get into the 8.0 area. I also need to learn to work the line-lock on the line a little so I can get away from the red lights. This was my only red light of the night though.
__________________
-2010 Camaro
2SS | M6 | VR w/White Stripes | 1 3/4" KOOKS - 3" Magnaflow | LPE 3.91 gears | ADM tuned | Halltech w/ADM Scoop | Spohn/BMR Trailing Arm/Toe Rod | BC Coilovers| Pedders FE4 ZL1 swaybars | Cradle/Diff/Radius Rod bushings | VMax TB | Morimoto Projectors | MGW shifter | Red Calipers
Build Journal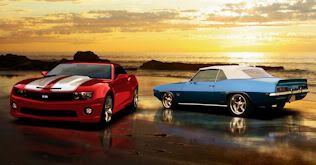 ---
Last edited by caverman; 06-20-2014 at

10:38 PM

.