Thanks to Moose for posting this up!
With my recent addition of stripes there was no way I could tell how they would look without some amazing photoshop skills or trying to picture it in my head. This thread is going to be dedicated to CLEAR images so that people can see what type of stripes are available and be able to 'shop them onto their car and see if that's what they want to go with.
Everyone is asked to help. If you have a good, "square-on" picture of any type of stripe please post it and we can edit this OP. If your picture has 'gill' stripes no worries. I'm sure we can get someone proficient in photoshop or some editor and once we get quite a few different types of them we can size them smaller so they're easier to see/browse.
Post the picture with any information you have on it: Colors, painted/vinyl, finish type, etc.
Factory Rally Stripes
- matte black
- Hopefully we can get some without the glare :\
- Matte Black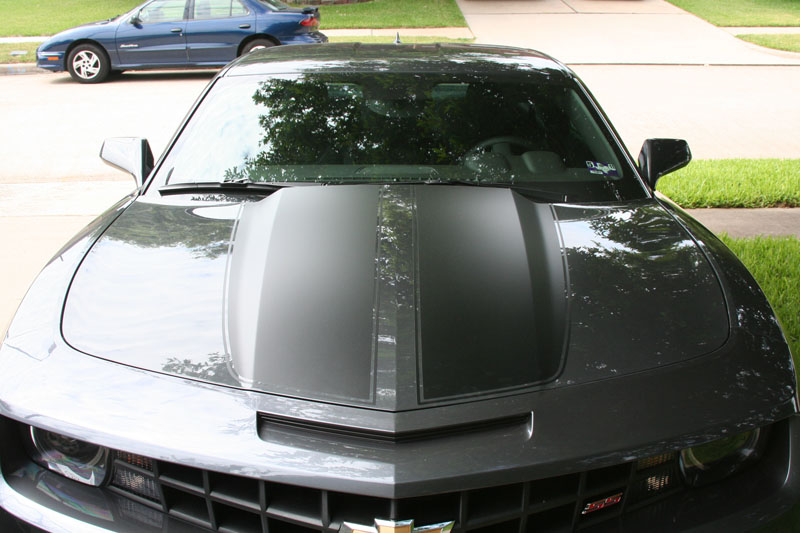 Rally Stripes + Roof Stripes

Rally Stripes + Extended Spoiler Stripes
Rally Stripes + Hood Spears
Transformers Rally Stripe
Rally Stripe w/ any other type of 'extension'

Rally Stripes without pinstriping

-
Matte Black
Front Facia Rally Stripes
Factory Single Stripe
- matte black
- seems to be painted on
Single Stripe + Roof Stripe

Single Stripe + Hood Spear
Single Stripe + Hockey Stripe


Factory Hockey Stripe
- good hockey shot, car has hood stripe as well
Hockey Stripe Extended
Hockey Stripe + Hood Spear
Hood Spear Only

"Tommy Sticks"

aka Upside-Down Hockey Stripe
http://www.camaro5.com/forums/attach...1&d=1266088210
- Concept
- Actual
- Matte Black
- 'gill' inserts that are pointed at the tips and not just flat
Yenko Stripe

-
can be found here:
http://www.ridergraphix.com/


Old RSSS Nose Stripe


Other Stripe


- can be found here:
http://www.ridergraphix.com/
- again glare :\