Here are pictures of all the 2010, 2011, 2012 V6, SS, and ZL1 Camaro-specific New Products Showcase at the 2011 SEMA Show at the Las Vegas Convention Center from November 2nd - 5th, 2011:
You may want to subscribe to this thread;
I will be updating this first post often with detailed information about these new products, like release dates, specs, and info from the manufacturers while at the show, as well as followup info & updates, and answering any questions you may have about any of the products. Just let us know and we will try to provide as much info as possible about these new killer aftermarket accessories for our Camaros!

Link to entire picture thread (400+ pics) of 2011 SEMA Show event coverage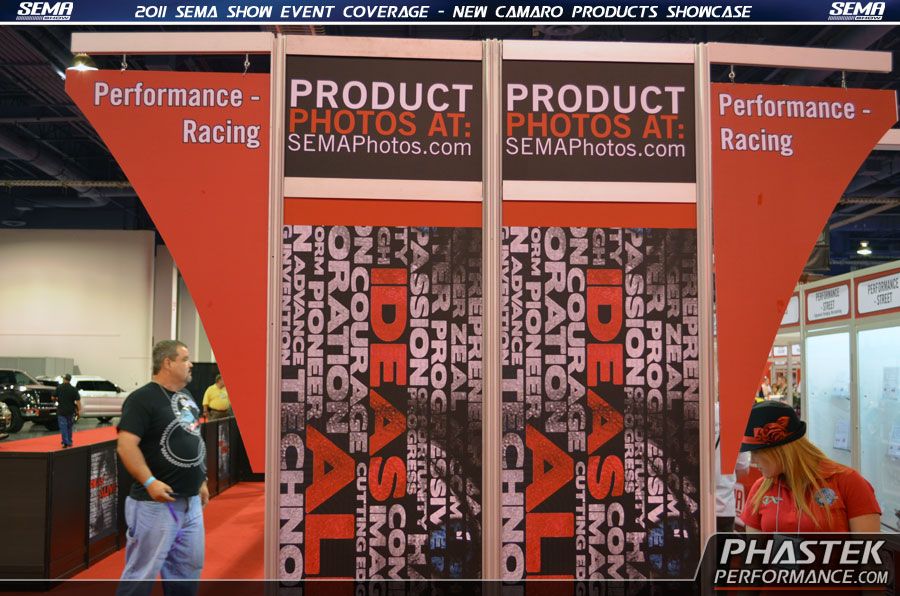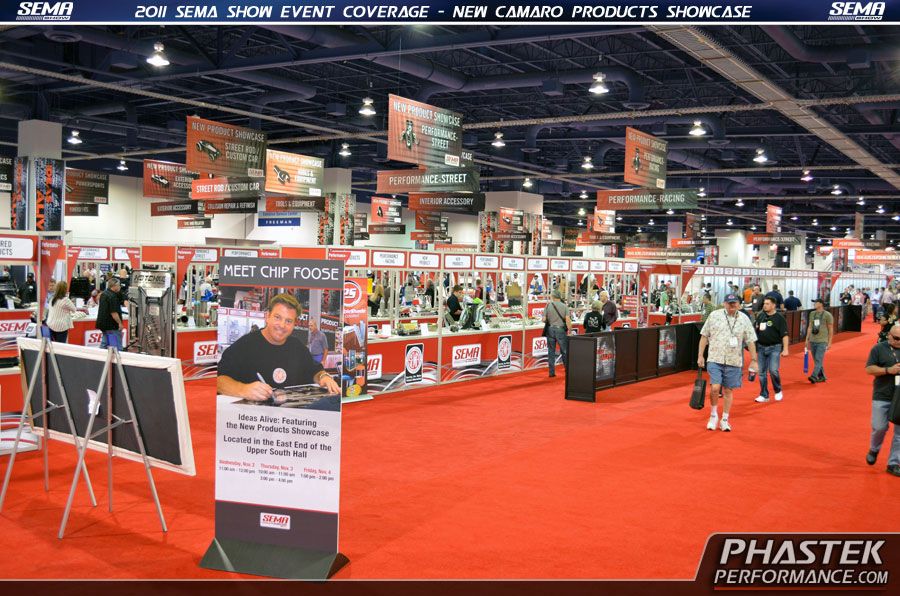 Pin Hsiu EVO-R Carbon Fiber Mirror Covers
New carbon fiber mirror covers for 10 and up Chevy Camaro. These are made with plain weave carbon fiber with a UV protected GEL coat. Perfect fit and easy to install.
Part Number C5-01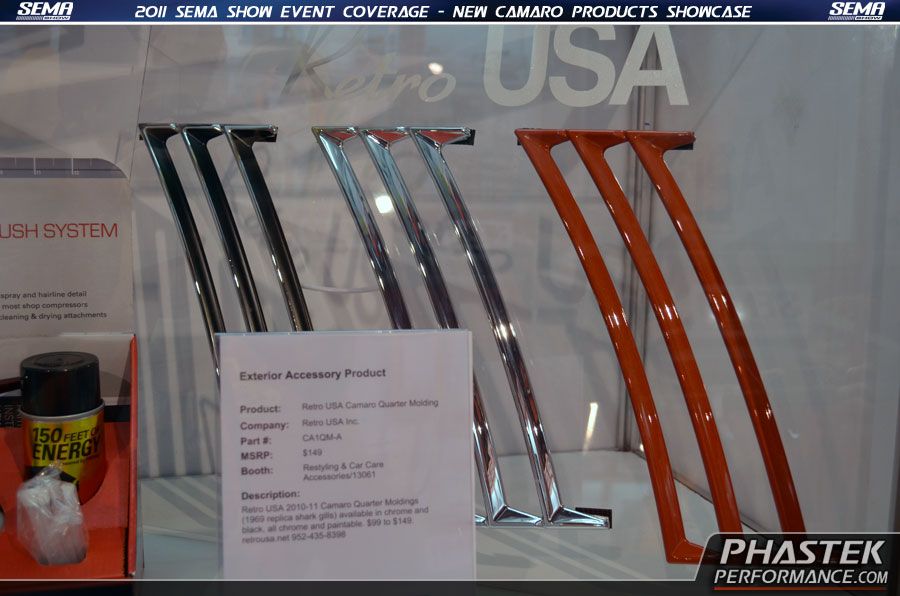 Retro USA Camaro Quarter Moldings
Retro USA 2010-2011 Camaro Quarter Moldings (1969 replica shark gills) available in chrome and black, all chrome, or paintable.
Part Number CA1QM-A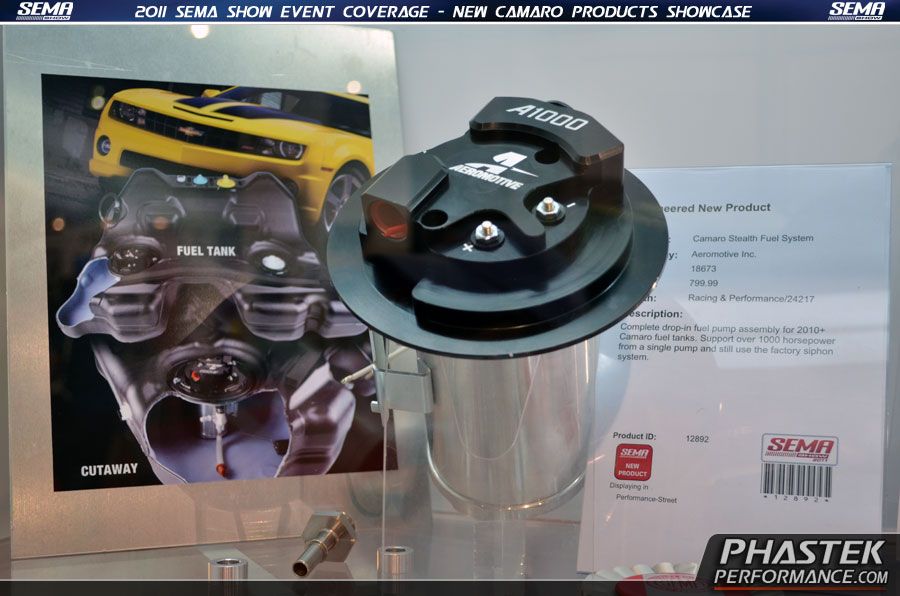 Aeromotive Camaro Stealth fuel System
Complete drop-in fuel pump assembly for 2010+ Camaro fuel tanks. Support over 1,000 horsepower from a single pump and still use the factory siphon system.
Part Number 18673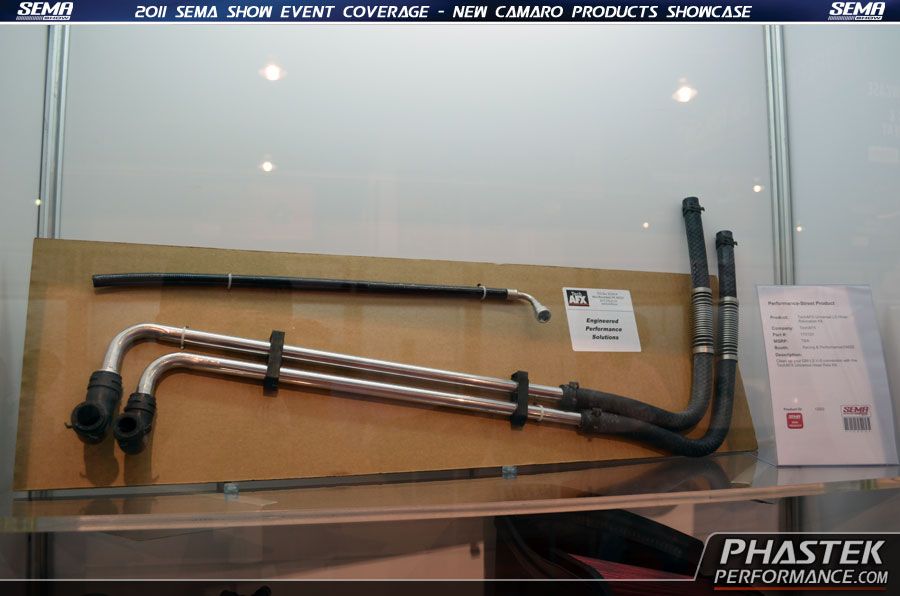 TechAFX Hose Relocation Kit
Clean up your GM LS3/L99 V8 with the TechAFX Hose Relocation Kit.
Part Number 110120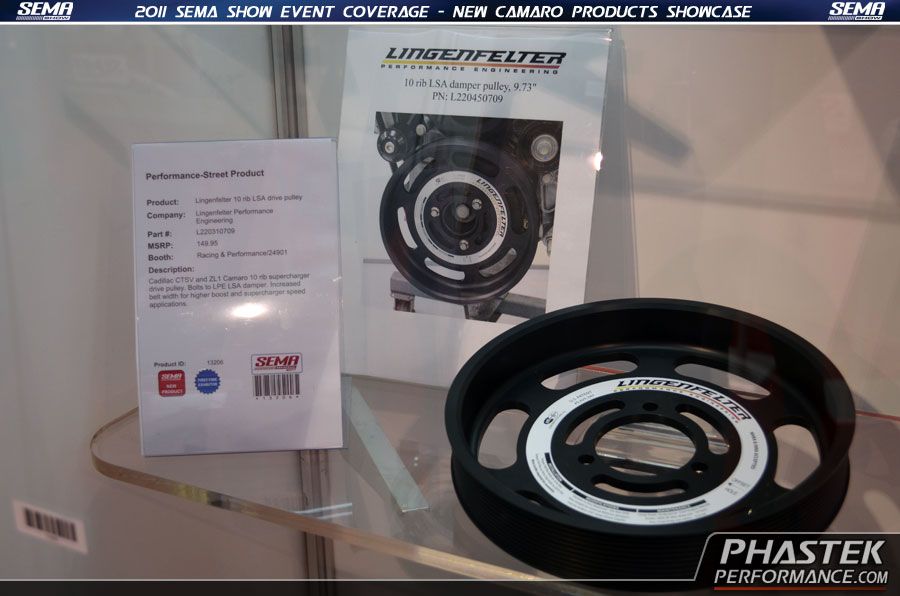 Lingenfelter 10 Rib LSA Drive Pulley
Cadillac CTSV and ZL1 Camaro 10 rib supercharger drive pulley. Bolts to LPE LSA damper. Increased belt width for higher boost and supercharger speed applications.
Part Number L220310709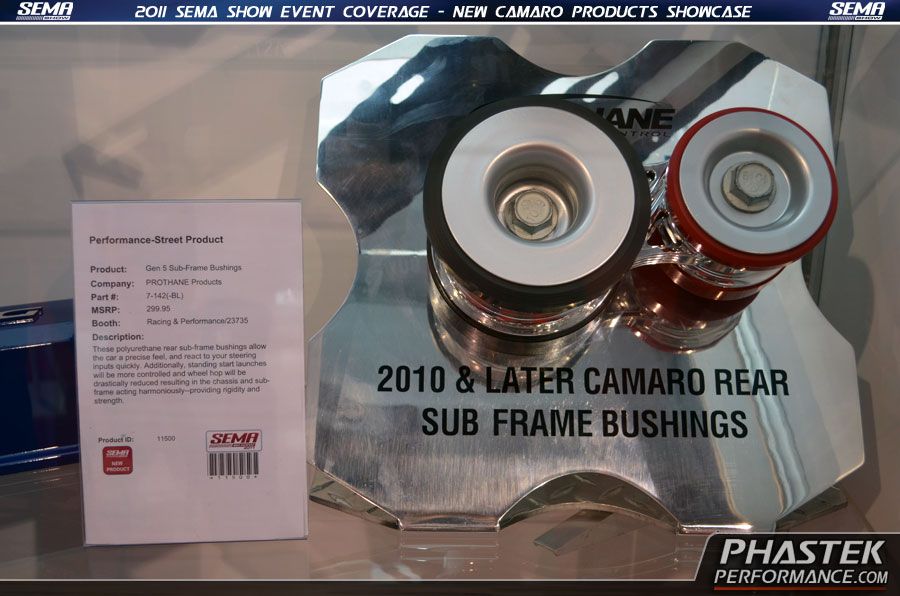 PROTHANE Gen 5 Camaro Sub-Frame Bushings
These polyurethane rear sub-frame bushings allow the car a precise feel, and react to your steering inputs quickly. Additionally, standing start launches will be more controlled and wheel hop will be drastically reduced resulting in the chassis and sub-frame acting harmoniously - providing rigidity and strength.
Part Number 7-142(-BL)
The Brake Man "Storm" Front Brake System for 2010+ Camaro SS
The Storm system uses patented F5 TornadoTM zero-drag calipers and ProCast two-piece rotors for maximum brake torque output and weight reduction.
Part Number 001-1180
SLP 2010-12 Camaro Supercharger Engine Covers
SLP offers a pair of OEM-Quality Injection Molded Two-Piece Engine Covers which fit the TVS 2300 Supercharger Packages. Available painted and unpainted.
Part Number 21200 - 21201
Lingenfelter Camaro SS Clutch Pedal Return Kit
Clutch pedal return kit for the 2010-2012 Camaro. Solves the problem of the clutch pedal not always returning under hard use and fast shifts.
Part Number L360091410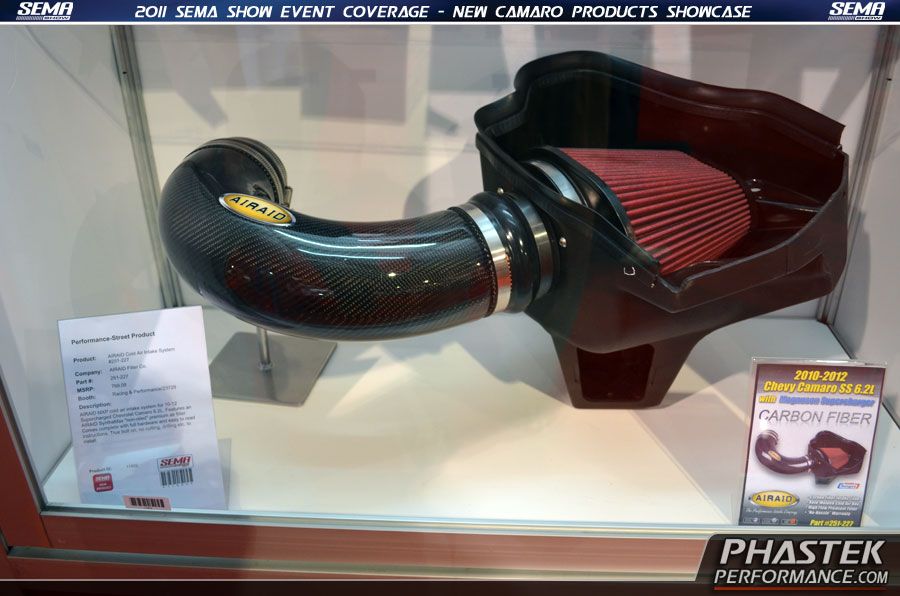 AIRAID Cold Air Intake System for Supercharged 2010+ Camaros
AIRAID MXP cold air intake system for 10-12 Supercharged Chevrolet Camaro 6.2L. Features an AIRAID SynthaMax "non-oiled" premium air filter. Comes complete with full hardware and easy to read instructions. True bolt on, no cutting, drilling, etc to install.
Part Number 251-227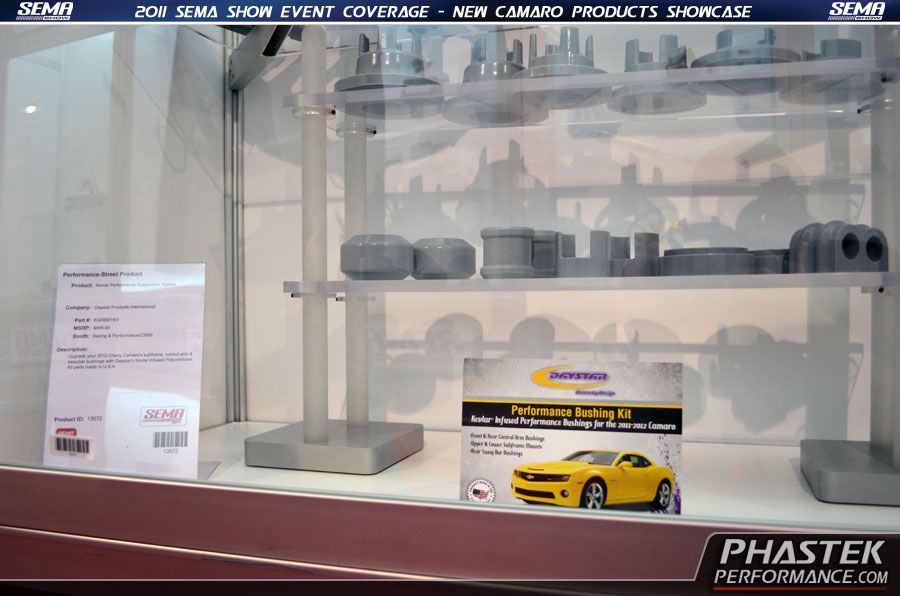 Daystar Kevlar Performance Suspension System
Upgrade your 2012 Chevy Camaro's subframe, control arm, and swaybar bushings with Daystar's Kevlar infused Polyurethane. All parts made in U.S.A.
Part Number KG09001KV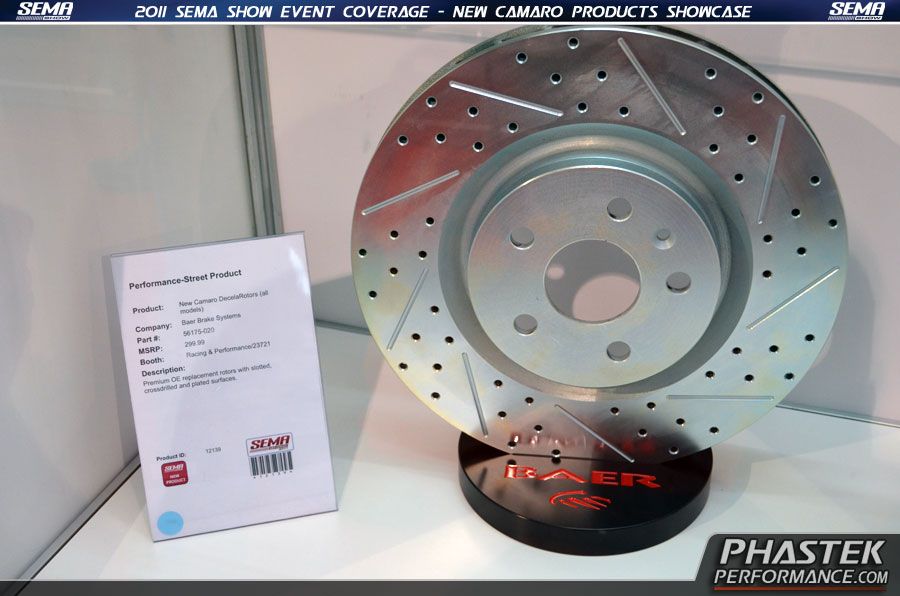 Baer Brake Systems New Camaro DeclaRotors
Premium OE replacement rotors with slotted, crossdrilled and plated surfaces.
Part Number 55175-020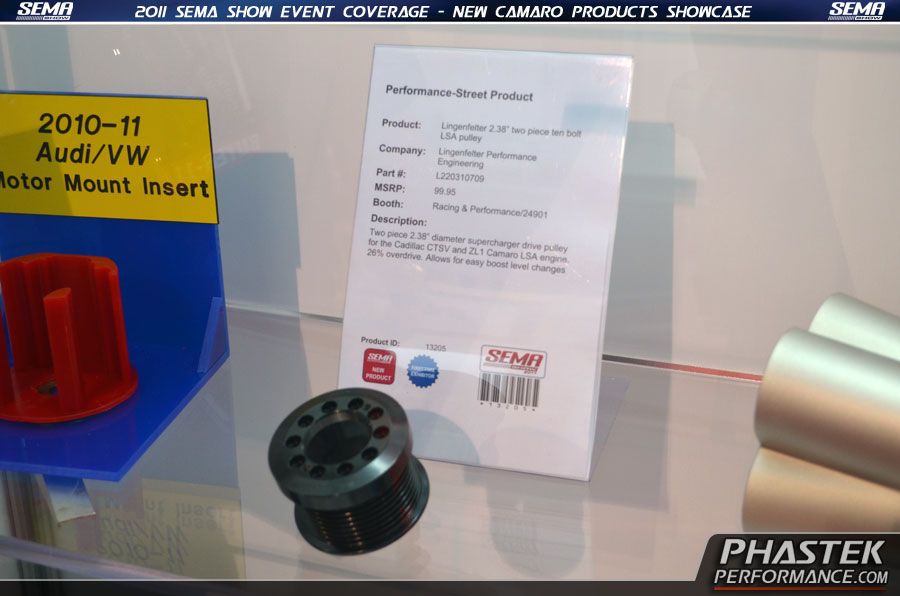 Lingenfelter 2.38" two piece ten bolt LSA pulley
Two piece 2.38" diameter supercharger drive pulley for the ZL1 Camaro and Cadillac CTSV LSA engine. 26% overdrive. Allows for easy boost level changes.
Part Number L220310709
Bilstein 2010+ Camaro B16 PSS10 Adjustable Coilovers for Front & Rear
PSS10 ride-height damping-adjustable kits are designed to lower vehicles 30mm-50mm (1-1/4" to 2") and feature 10-stage precise compression and reboud settings to achieve a superior level of performance.
Part Number TBD
COMP/ZEX LS Perimeter Plate Nitrous System for the 2010+ Camaro V8
Advanced ZEX LS perimeter plate technology has been adapted to give optimum spray efficiency and safer nitrous boosts in the 2012 Camaro.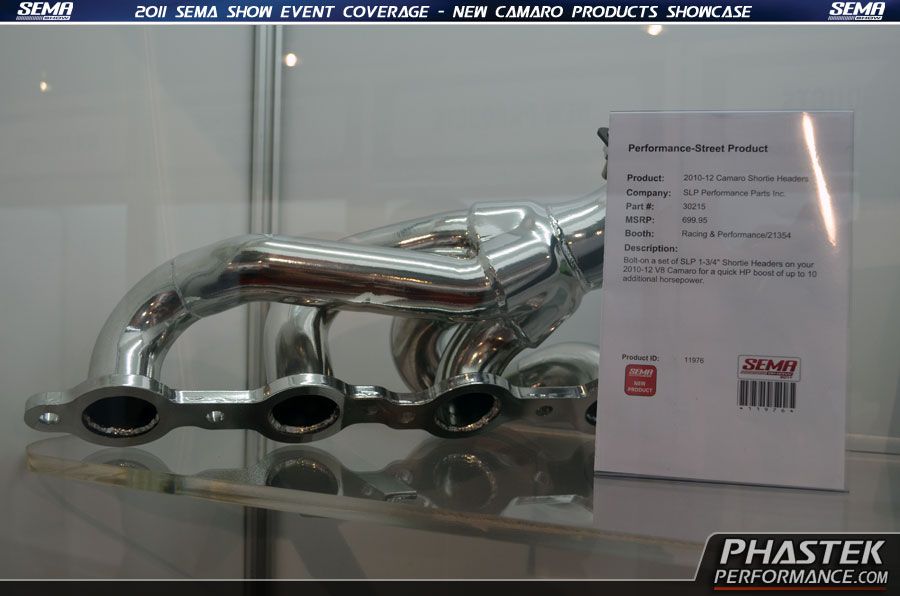 SLP Performance 2010+ Camaro Shortie Headers
Bolt-on a set of SLP 1-3/4" Shortie Headers on your 2010-12 V8 Camaro for q quick HP boost of up to 10 additional horsepower.
Part Number 30215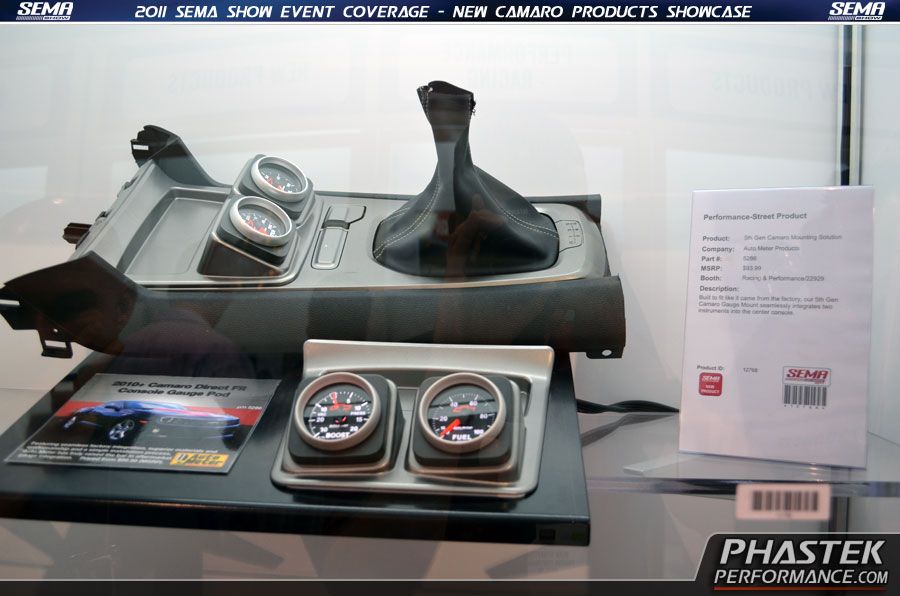 Auto Meter 5th Gen Camaro Mounting Solution
Part Number 5286
Built to fit like it ame from the factory, AutoMeter's 5th Gen Camaro Guage Mount seamlessly integrates two instrument gauges into the center console.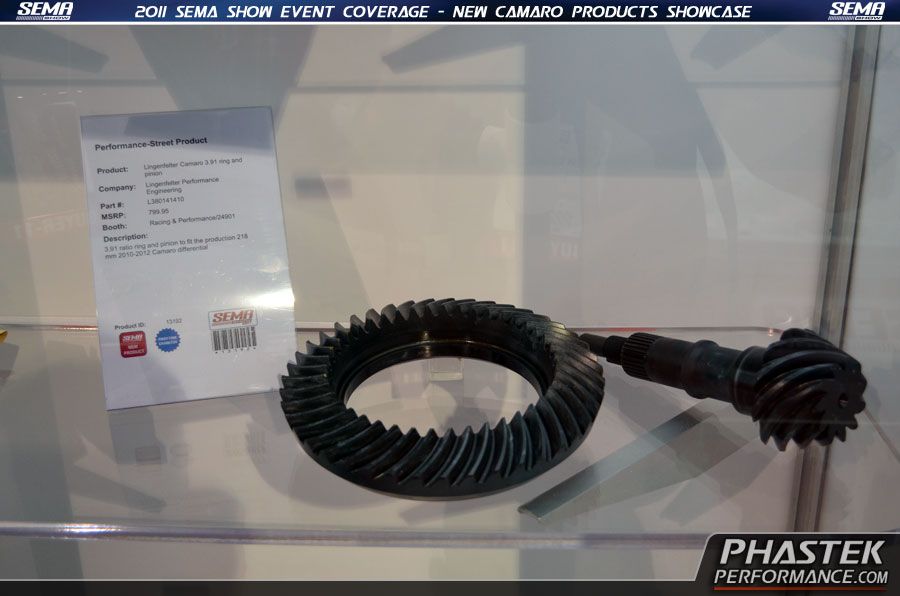 Lingenfelter Camaro 3.91 ring & pinion
3.91 ration ring and pinion to fit the production 218mm 2010-2012 Camaro differential.
Part Number L380141410
JET Powr-Flo TBI Spacer for Camaro V6
Throttle body spacer designed to increase the velocity of the air flow into the intake manifold. 2010-2011 Camaro V6.
Part Number 62165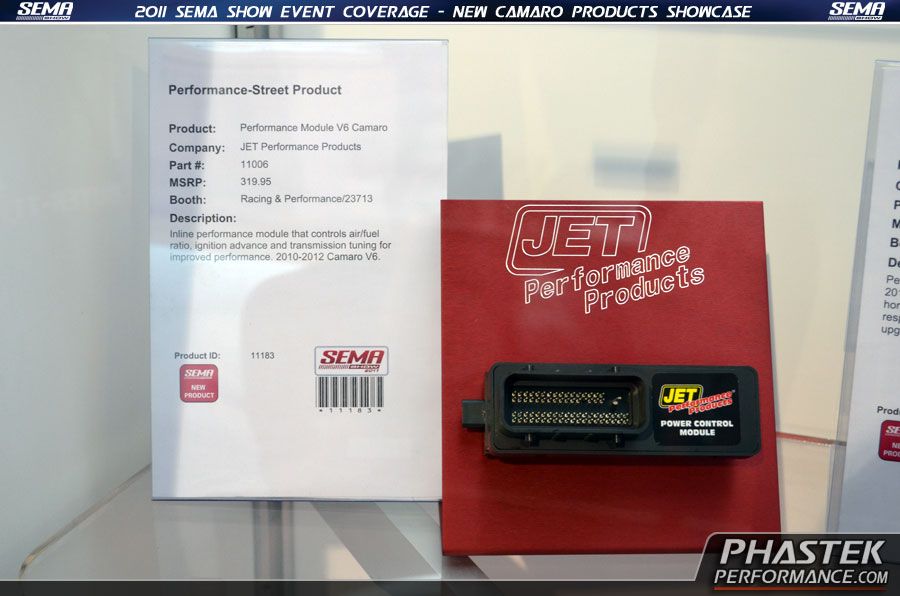 JET Performance Module for Camaro V6
Inline performance module that controls air/fuel ratio, ignition advance and transmission tuning for improved performance. 2010-2012 Camaro V6.
Part Number 11006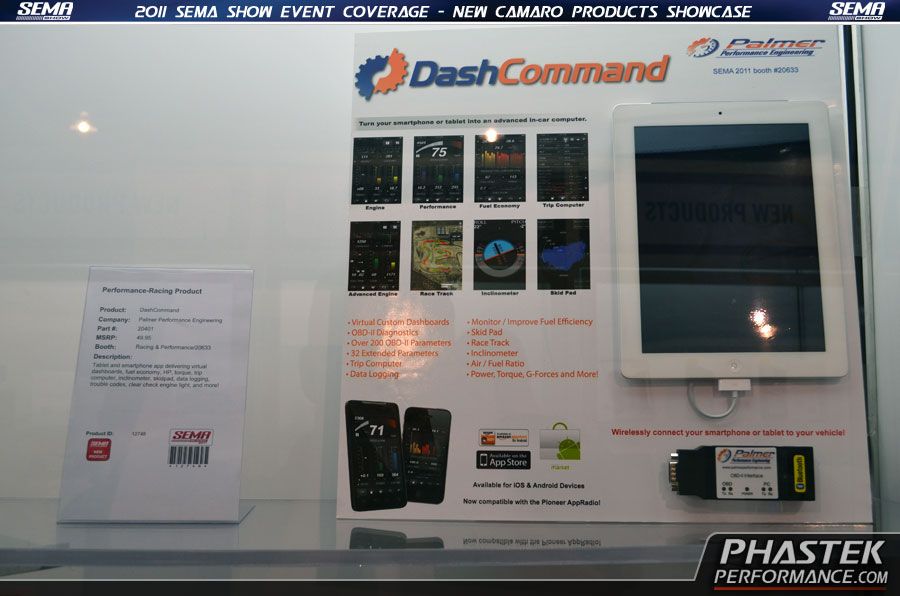 Palmer Performance DashCommand
Tablet and Smartphone app delivering virtual dashboards, fuel economy, horsepower, torque, trip computer, inclinometer, skidpad, data logging, trouble codes, clear check engine light, and more!
Part Number 20401
Lingenfelter LNC-2000 Launch Control Module Adjustable RPM Limited & Timing Retard Controller
Adjustable RPM limiter with timing retard function for GM LS V8 engines. Trigger activated retard for nitrous. MAP sensor retard for boosted engines.
Part Number L460145297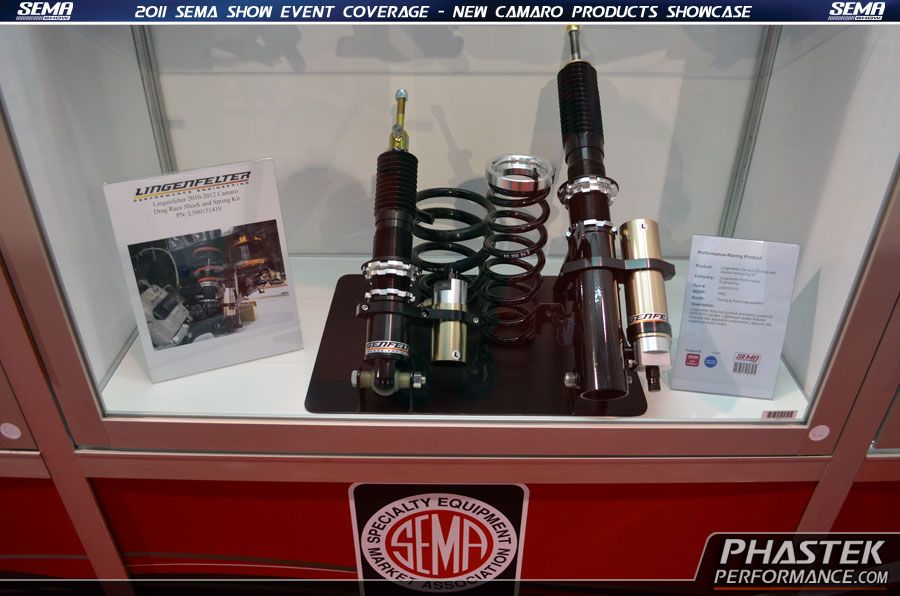 Lingenfelter Camaro SS Drag Race Damper and Spring Kit
Lingenfelter drag racing shock and spring system for 2010-2012 Camaro. Lightweight design features front and rear adjustable compression, rebound, ride height and shock length.
Part Number L500151410
Holley LS3 Fuel Rails
Holley's LS fuel rail kit complements the performance of any LS1/LS2/LS3/LS6 application and offers large fuel passages and easy installation with included plumbing.
Part Number 534-210
Fidanza Engineering Short-Throw Shifter for 2010+ Camaro SS
Stainless Steel Short-throw Shifter, Sealed Cartridge Bearings for performance and durability, and Silicone Damper to reduce vibration and noise.
Part Number 898040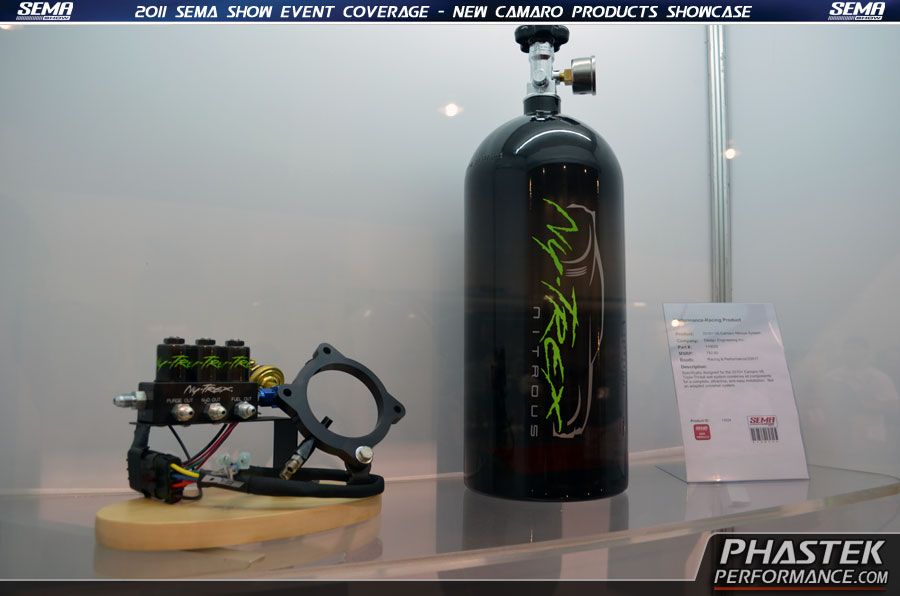 Design Engineering 2010+ V6 Camaro Nitrous System
Specifically designed for the 2010+ Camaro V6. Triple-Threat wet system combines all components for a complete, attractive, and easy installation. Not an adapted universal system.
Part Number 110028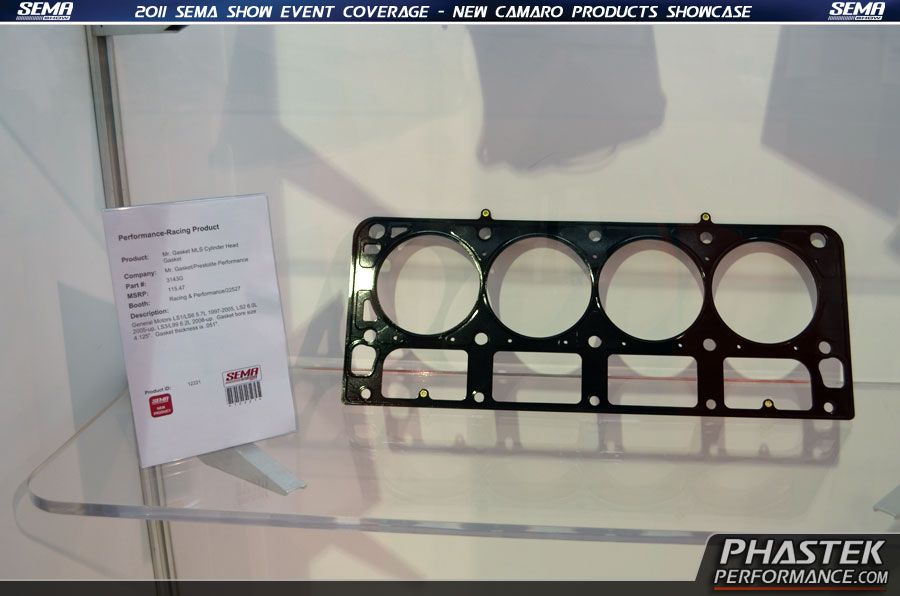 Mr. Gasket MLS Cylinder Head Gaskets
Fits GM LS3/L99 2010+ Camaro, LS1/LS6 5.7L 97-05, LS2 6.0L 05+ engines. Gasket bore size 4.125". Gasket thickness .051".
Part Number 3143G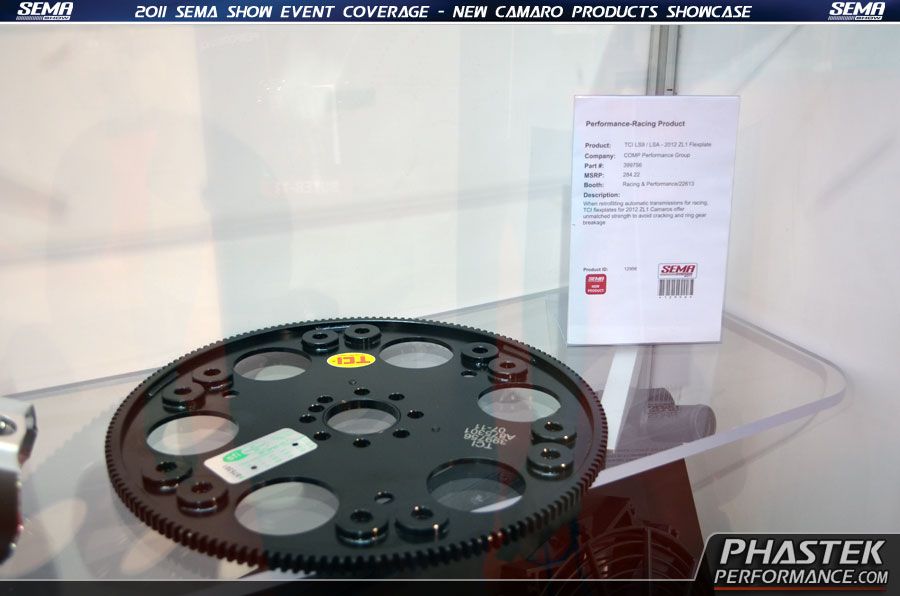 COMP/TCI LS9/LSA 2012 ZL1 Flexplate
When retrofitting automatic transmissions for racing, TCI flexplates for 2012 ZL1 Camaros offer unmatched strength to avoid cracking and ring gear breakage.
Part Number 399756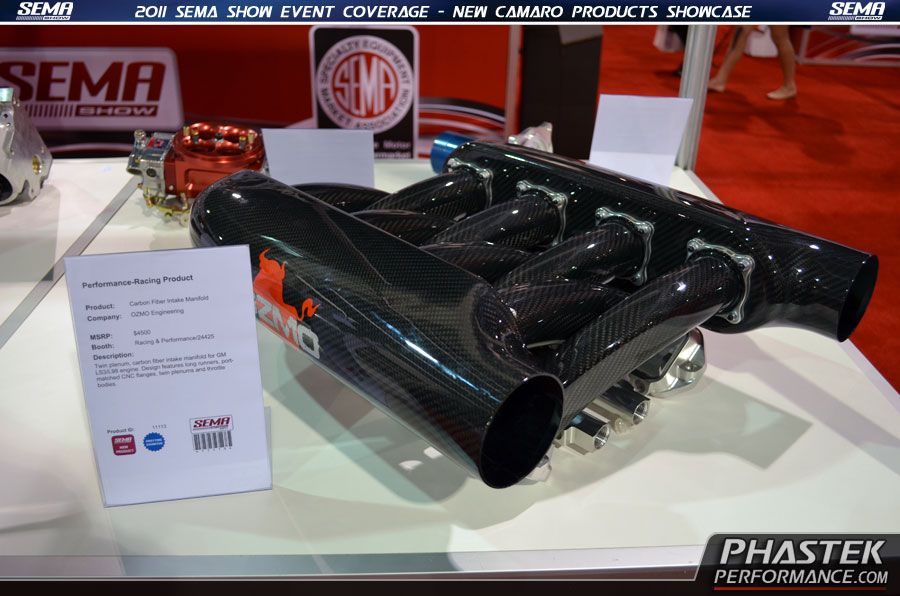 OZMO Carbon Fiber LS3 Intake Manifold
Twin plenum, carbon fiber intake manifold for GM LS3/L98/L99 engines. Design features long runners, port-matched CNC flanges, twin plenums and throttle bodies.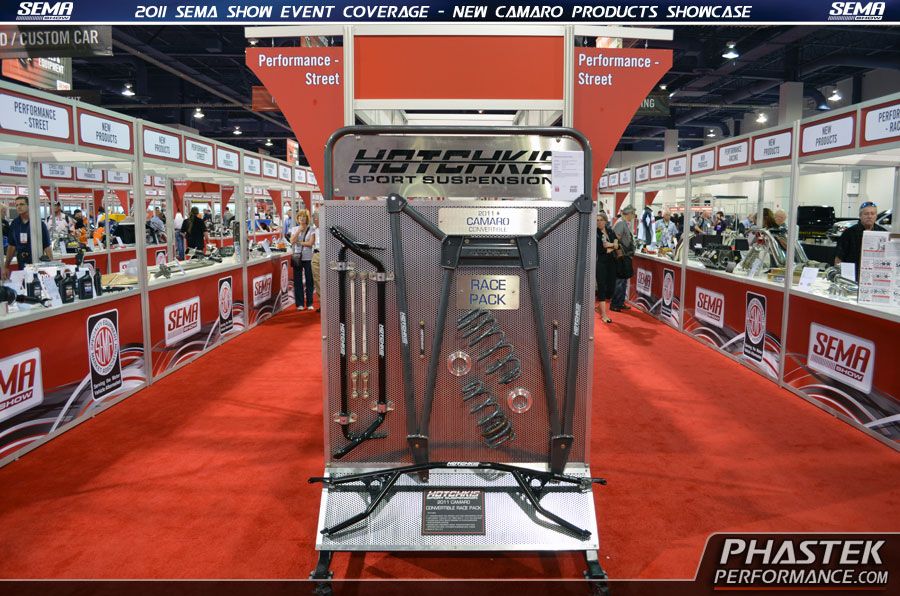 Hotchkis Sport Suspension
2011+ Camaro Convertible Race Pack features 1" lowered sport coil springs with high performance rates, lightweight tubular 1.25" front sway bar and 1 3/8" Adjustable rear sway bar, Chassis Max Strut Brace designed to clear Magnuson Supercharger systems, Chassis Max Underbody Brace, manufactured from Hotchkis exclusive extruded aluminum oval tubing. Made in the USA.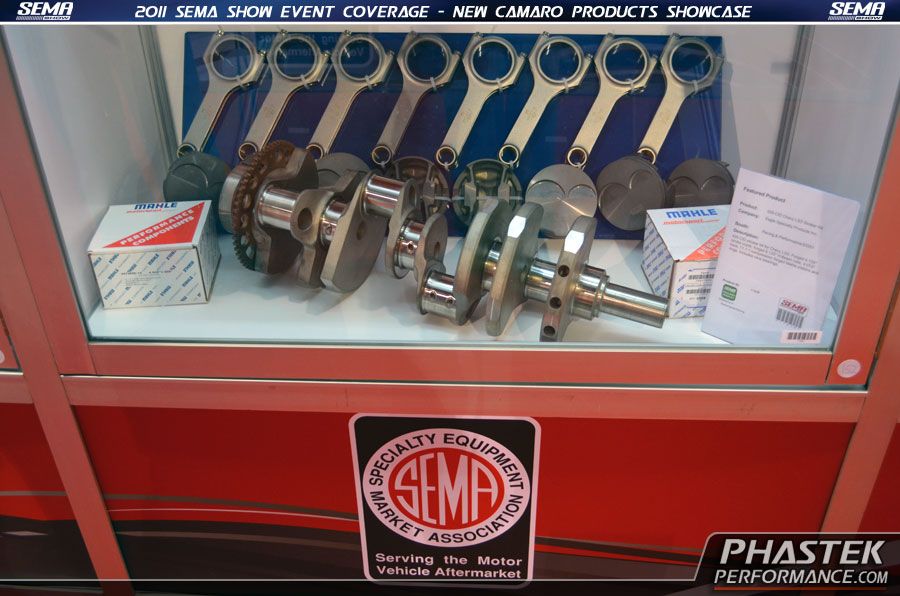 Eagle 429 CID LS3 Stroker Kit for 2010+ Camaro
429 CID stroker kit for Chevy LS3 engines. Forged 4.125" stroke crank, forged 6.125" H-Beam rods, 4.070" bore, 11.1:1 compression forged Mahle pistons and rings. Includes race bearings.
Flex-a-lite Flex-a-fit 2010-11 Camaro Radiator/Fan Combination
Flex-a-lite introduces its new Flex-a-fit radiator and electric fan combination for 2010-2011 Camaro V-8 Camaro. This radiator offers three times more cooling surface and twice the core thickness compared to the stock radiator for significantly better cooling.
Part Number 56488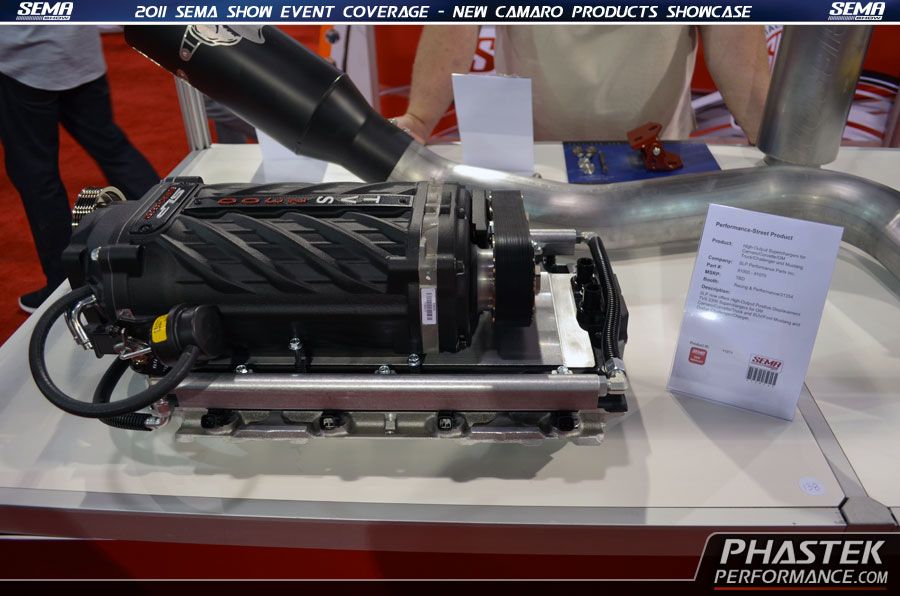 SLP High-Output Supercharger TVS 2300
SLP now offers High-Output Positive Displacement TVS 2300 Superchargers for GM Camaro/Corvette/Truck.
Part Number 9100 - 91070
Rockland Tranzilla SFI Adapter Plate for 2010+ Camaro
This kit makes it possible to bolt the Tremec TR6060 and Magnum 6-speed transmission to an SFI-rated steel bellhousing, for the 2010 and up Camaro. The kit is supplied with a Qwik Time SFI bellhousing.
Part Number 10150SFI
DiabloSport Trinity Clamshell Package
All New Trinity Clamshell Packaging showcasing all the Trinity's features and allowing customer to experience a true DEMO mode.
Part Number T1000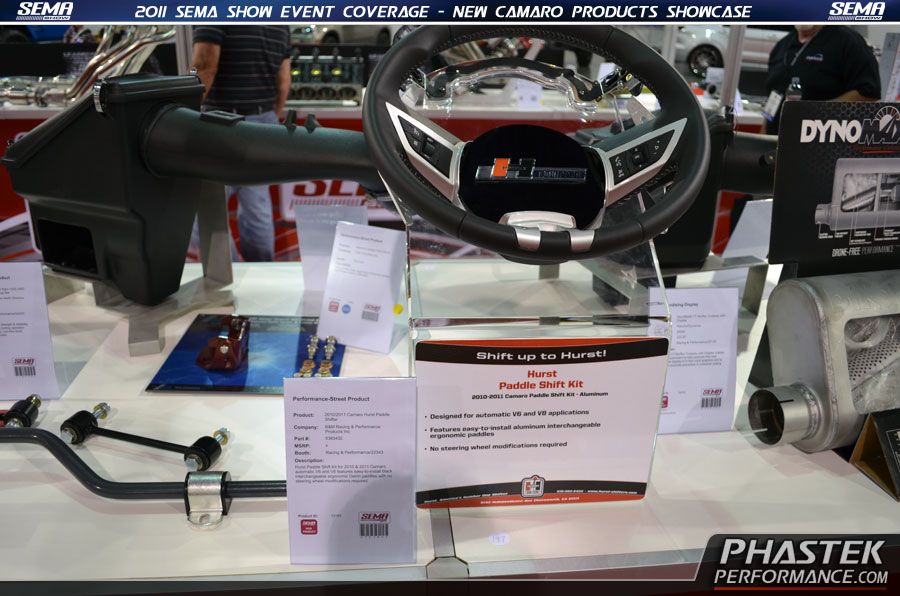 B&M/Hurst 2010/2011/2012 Camaro Paddle Shifter
Hurst Paddle Shift Kit for 2010, 2011 & 2012 Camaro Automatic V6 and V8 features easy-to-install black interchangeable ergonomic Delrin paddles with no steering wheel modifications required.
Part Number 5385430
Hurst 2010, 2011, 2012 Camaro Paddle Shifter Now Available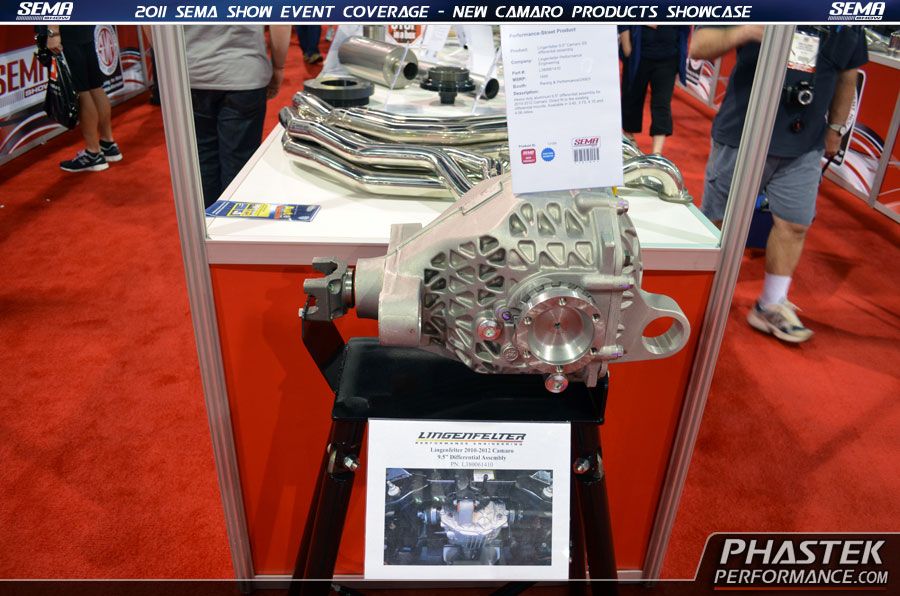 Lingenfelter 9.5" Camaro SS Differential Assembly
Heavy duty aluminum 9.5" differential assembly for 2010-2012 Camaro. Direct fit to the existing differential mounts. Available in 3.42, 3.73, 4.10 and 4.56 ratios.
Part Number L380061410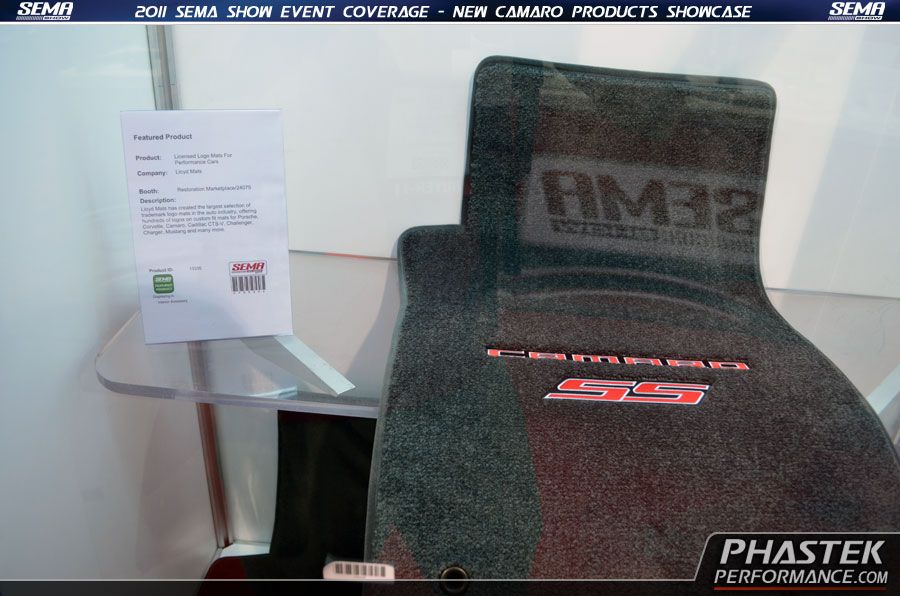 Lloyd Mats Licensed Logo Mats
Lloyd Mats has created the largest selection of trademark logo mats in the auto industry, offering hundreds of logos on custom fit mats for 2010+ Camaros.
B&M/Flowmaster Camaro SS 6.2L Outlaw System Axle-Back Exhaust DOR (Dual Out Rear)
This is the most aggressive system they have ever built for the new 5th Generation Convertible and Hard Top Camaros. A true bolt-on Axle-Back system for the 2010-2011 Camaro SS with 6.2L V8.
Part Number 817504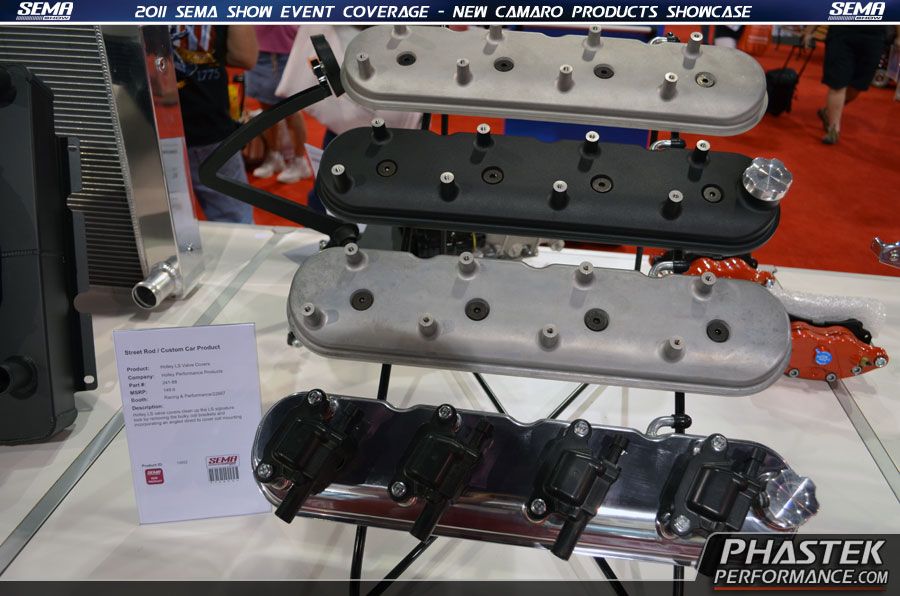 Holley LS Valve Covers
Holley LS valve covers clean up the LS signature by removing the bulky coil brackets and incorporating an angled direct to cover coil mounting.
Part Number 241-88
Retro USA 2010-11 Camaro Hood Vents
1969 Camaro Replica Hood Vents for 2010-11 Camaro. Chrome-plated ABS with wire mesh and painted flat black accents. Installed with adhesive tape.
Drake Automotive Chevy Camaro Bowtie Delete
Drake Muscle Cars Bow Tie Delete easily snaps into hole left by removing the grille emblem for a clean classic look. Black textured ABS for perfect match.
Part Number CA-190005-BTD
Lingenfelter Signature Series Camaro Rear Deck Spoiler
Rear deck spoiler for 2010 to 2012 Chevrolet Camaro. Part of the line of Lingenfelter Signature Series Camaro body kit components.
Part Number L850151410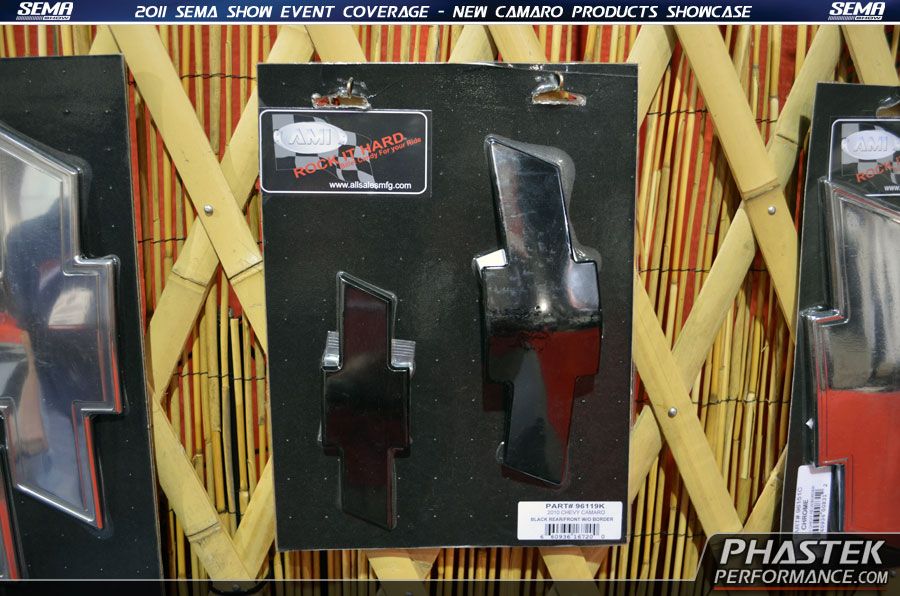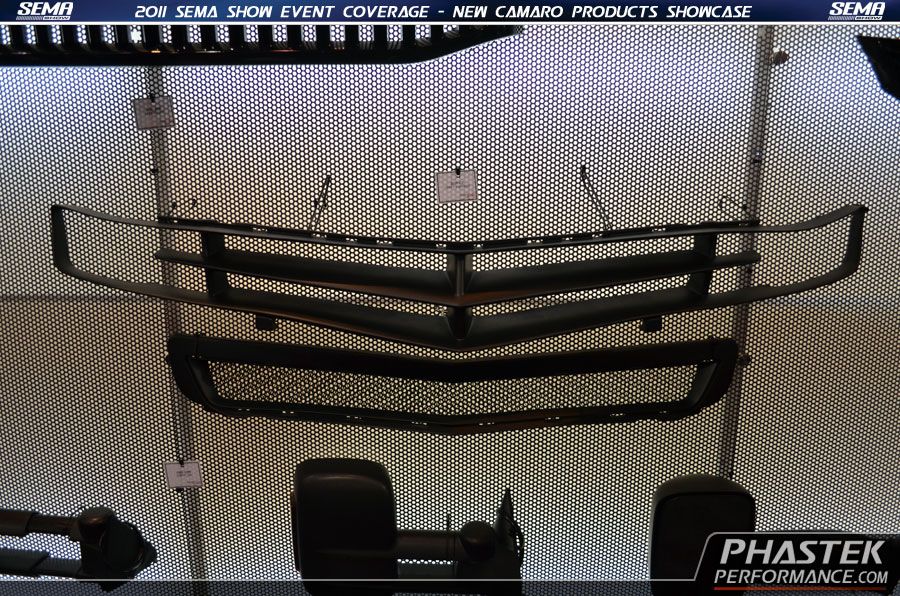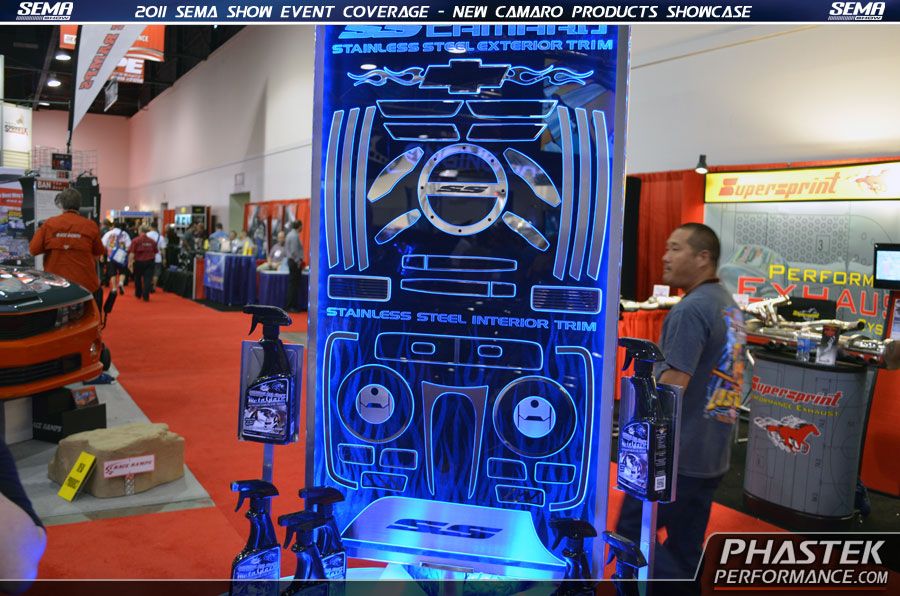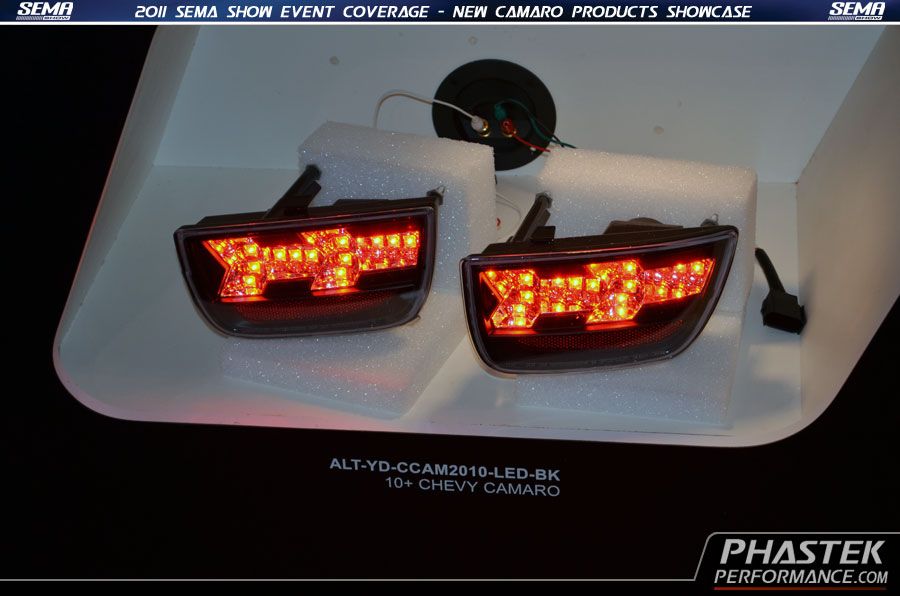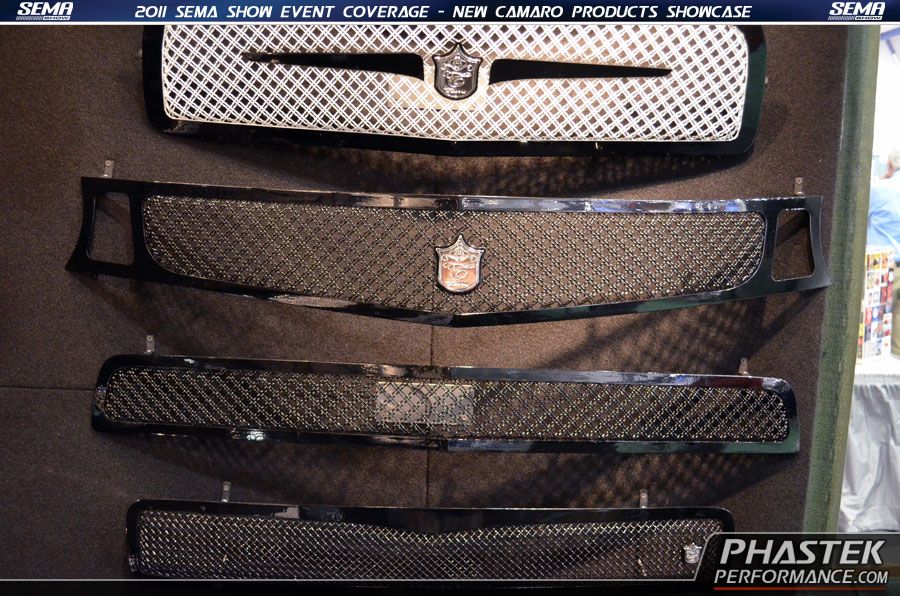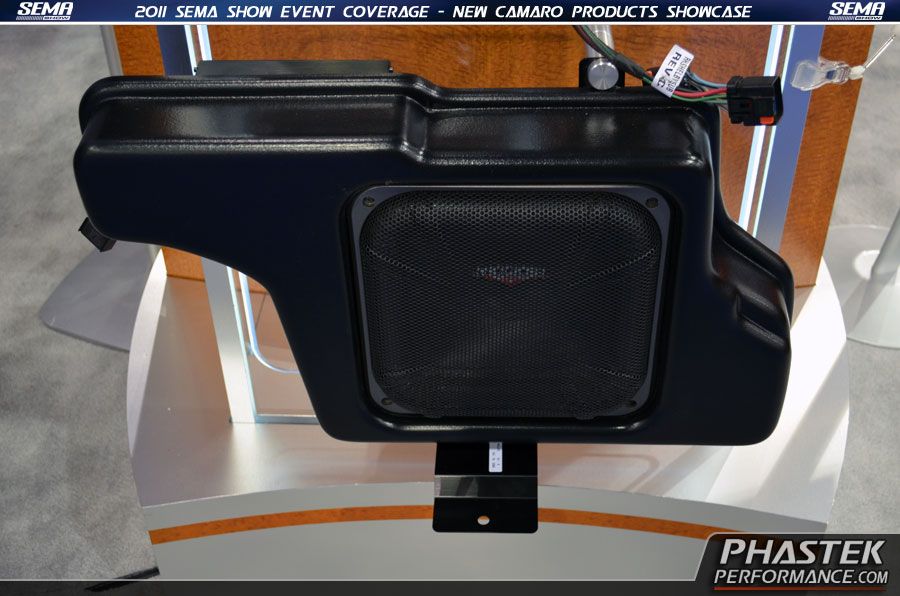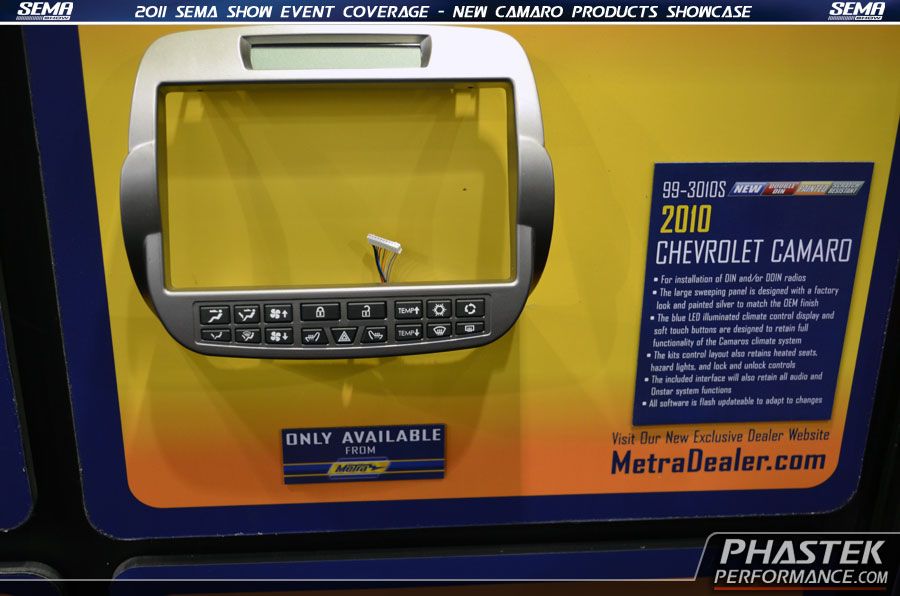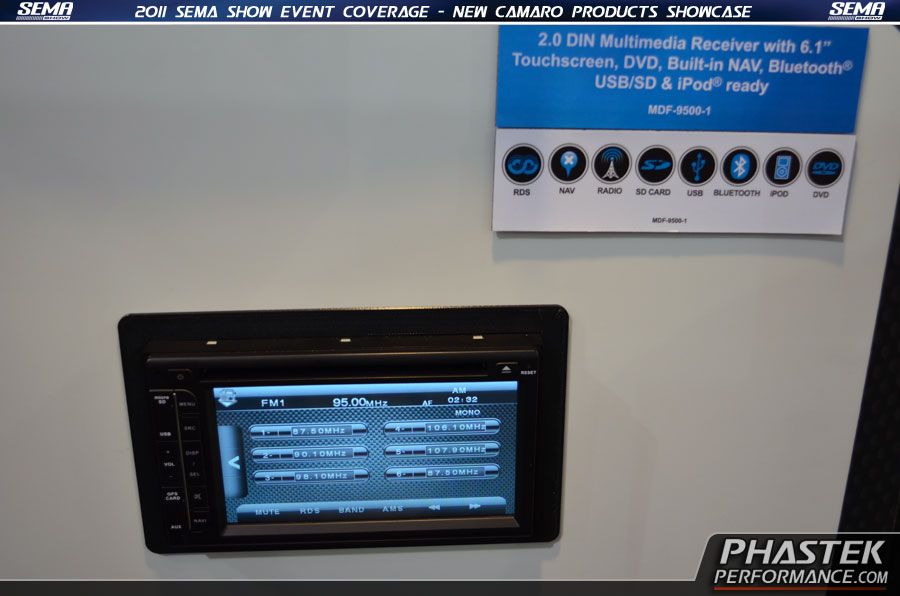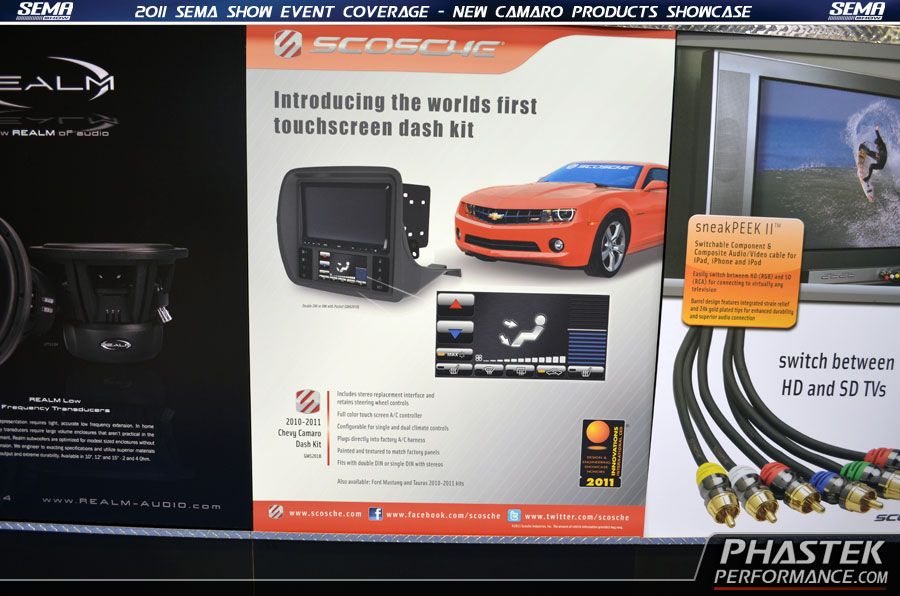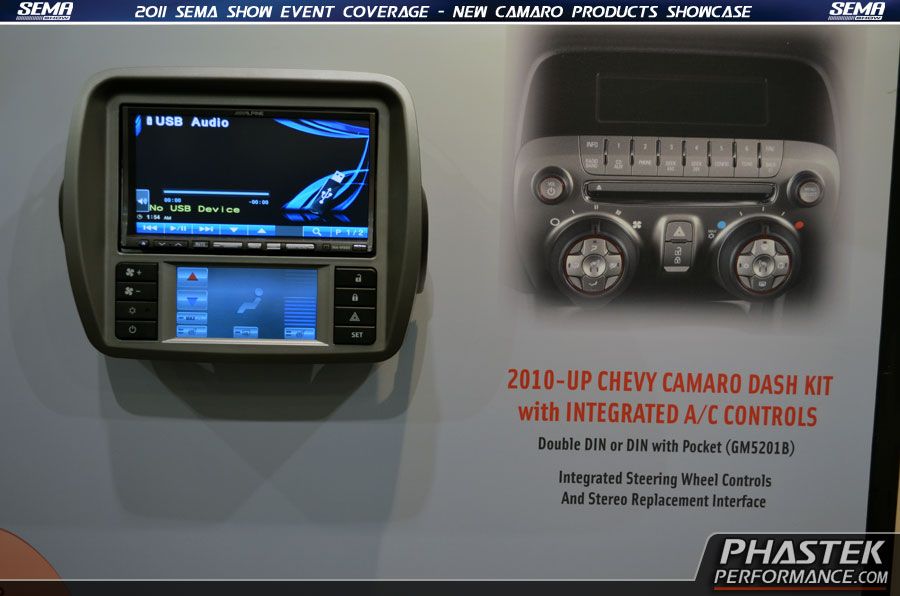 SCOSCHE Double DIN Touchscreen Dash Kit for 2010-2012 Camaro
Includes stereo replacement interface and retains steering wheel controls. Full color touch screen A/C controller. Configurable for single and dual climate controls. Plugs directly into factory A/C harness. Painted and textured to match factory panels. Fits with double DIN or single DIN with stereos.
Part Number GM5201B
SCOSCHE Touchscreen Dash Kit for 2010-2012 Camaro available December 2011