LLT motors are notorious for CONSUMING oil! This is why the timing chains fail.
I run through .5 quarts a week, but I run 1100 miles a week. IF you do not have
any visible oil leaks, your are consuming it. You would smell it if you were actively
burning it due to a head gasket oil to chamber leak. I also found just recently, the
oil pressure sensor was leaking oil out the plug end. That is common in a lot of
cars that use plastic oil sending units, and also with Dodge and GM because they
use the same manufacturer for their oil pressure sensors.
So, no oil, or not a lot of oil comes out the drain plug hole?
Simple test, open the drain plug, and let out what comes out.
Then, pour new oil in, and see if it comes right back out. If it
does, you do not have a return valley issue, at least not on
the clean side.
The PCV system is the main exit for oil. The valve cover IS NOT baffled under the
PCV, and it splashes right out. The updated gasket ads a baffle.
UPDATE your PCV valve! Pull it out, and drill the bottom holes out to 5/64" and
drill the top hole out to 7/64" to 9/64" at most.
https://youtu.be/wCV1KMrX4uI
That video applies to the 10-11 Camaro LLT engine as well, and 2012 LFX.
Not sure when in 2012 the part was updated.
If you have oil in the intake before the TB, then you have too much pressure in the
crank case, which is why the update to the PCV is needed, and GM updated the
part in 2012 with the bigger holes. The bottom holes clog up because they are
too small. One of mine was completely clogged up. After drilling the new holes,
I stopped leaking oil out the valve cover corners and VVT solenoid seals. THere
is also a TSB on using a dab of sealant on those front corners when changing
the valve cover gaskets.
Common oil leaks are:
VVT Solenoid Seals
Oil Pressure Sensor
Valve covers, front corners
Oil filer housing gasket
High miles; valve stem seals
https://youtu.be/7YaZLY91HD0
That video ALSO applies to the Camaro LLT engine.
Install a catch can on the PCV side, and you will see how much oil passes
through there. I also installed a breather catch in place of the oil cap, and
I have NO more oil in the clean side hoses or in the intake tube to the TB
unit. I did before, I do not now!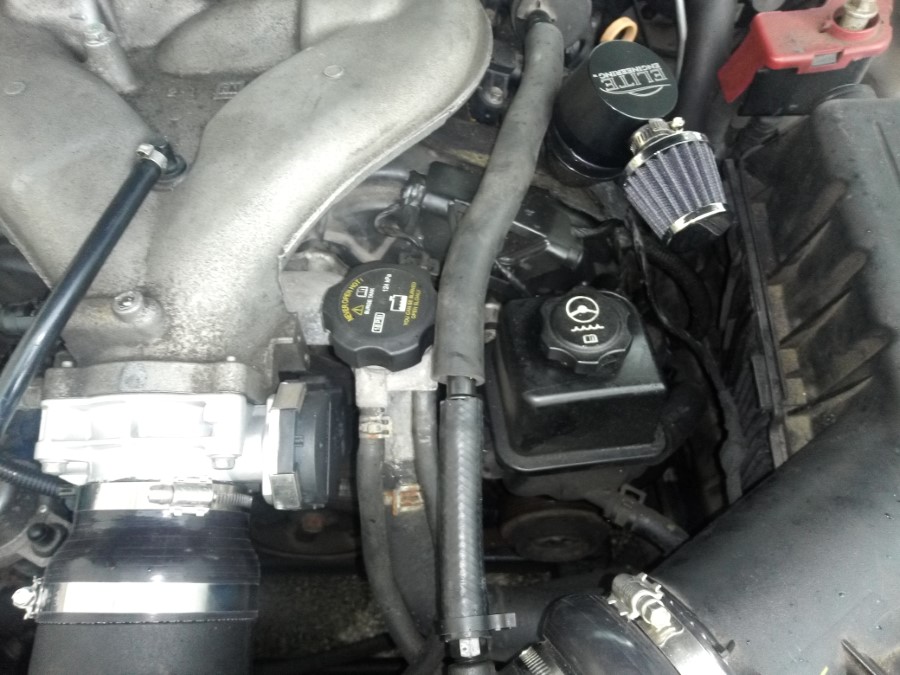 That small filter NEVER has oil in the medium. All bone dry now.