*Please read top to bottom
Sorry that it is so long *
Seems this is a hot topic lately, for those who have purchased, did purchase, or wanted to purchase, here is my latest experience. Beginning to end.
I spotted these on 5/27/13:
http://www.camaro5.com/forums/showth...=1le+separator
I figured it did more or less the same thing as my breather but basically seals the PCV system back into the intake. This supposedly will complete the PCV circuit on the clean side as the factory intended but with no oil ingestion. My factory clean side line did in fact direct oil back into my intake. So why not, I'll try most things once. I ordered one for my car and one for my co workers car.
So, the order of events
:
May 28th 2013
: First email about these 1LE separators
June 2nd 2013
: Payment sent via PayPal with matching email to his email address from mine.
*Payment was claimed between June 2nd and June 5th.
*No reply concerning order confirmation, etc. Left hanging
I'm a pretty patient fellow, and this 1LE Separator not getting here overnight wasn't going to kill me. Worst case I would just let PayPal handle a dispute.
June 25th 2013
: Email sent concerning the estimated ETA. Noted that I am not worried about waiting, I'm concerned about the lack of communication.
*No response until:
July 2nd 2013
: I receive a picture of my separators and a USPS tracking number.
July 5th 2013
: Two 1LE Separators arrive.
Now, here is the unboxing!
A box. Seems alright enough so far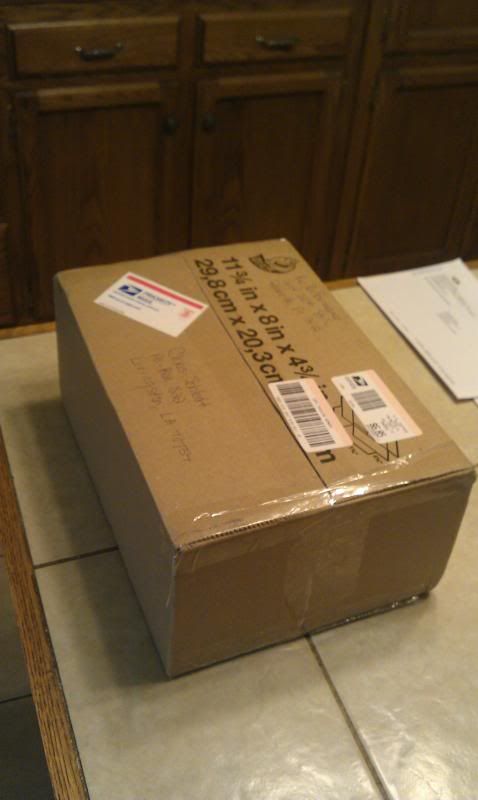 Bubble wrap!
Stuff! What the hell is up with the aquarium hose? Sorry, I'm not rocking clear hose out in the wide open. I will change this out with 5/8 rubber hose. Not the end of the world, but rubber hose would be preferred here. However, I guess once could use the clear hose to see for sure that no oil is in fact passing through (and maybe this was the intention?). I will actually install mine with this clear hose and run it for a week and see if any oil makes it all the way into this contraption. Oh, you get a vacuum cap, too.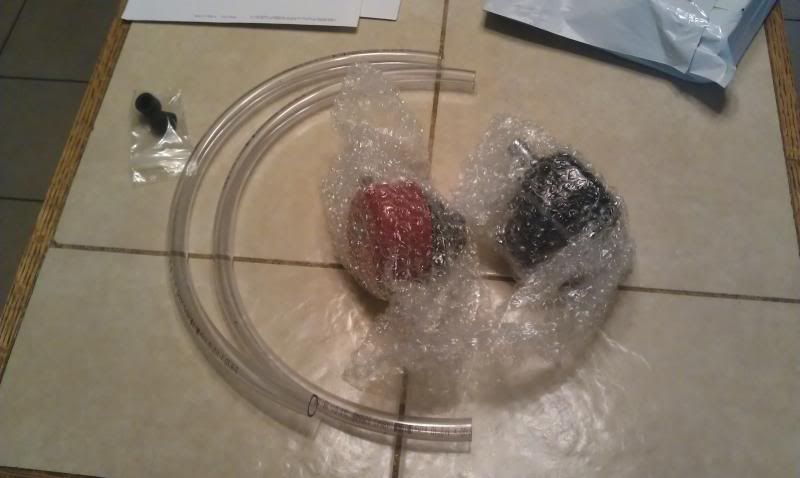 Up close. Looks like they may have been wrapped too soon and the bubble wrap left imperfections in the paint (only on the top). I will try a few different solutions around the house and see if the spots come off. To me, not an enormous deal, but once again, could have been avoided. You have to have a lot of light to notice the marks (like six 60 watt bulbs over a kitchen counter). Overall though, acceptable paint for something going under the hood. Again, my opinion. My car is a daily driver with rock chips and a scratch or two.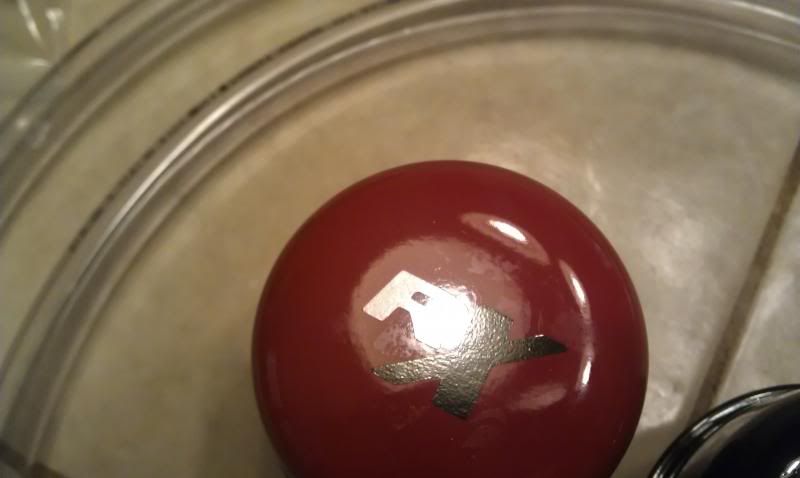 Together: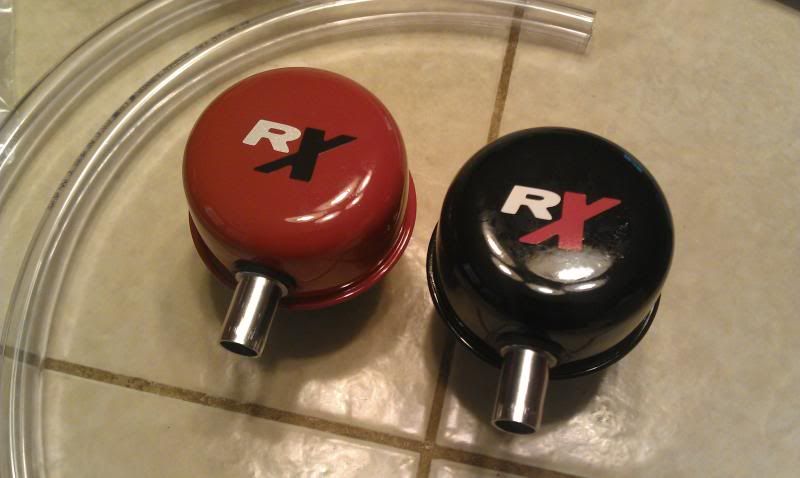 The bottom. The breathers seem to be well attached to the oil cap and sealant applied around the breathers vents to seal the device. Overall it feels pretty sturdy and I don't see any particular issue to pick at.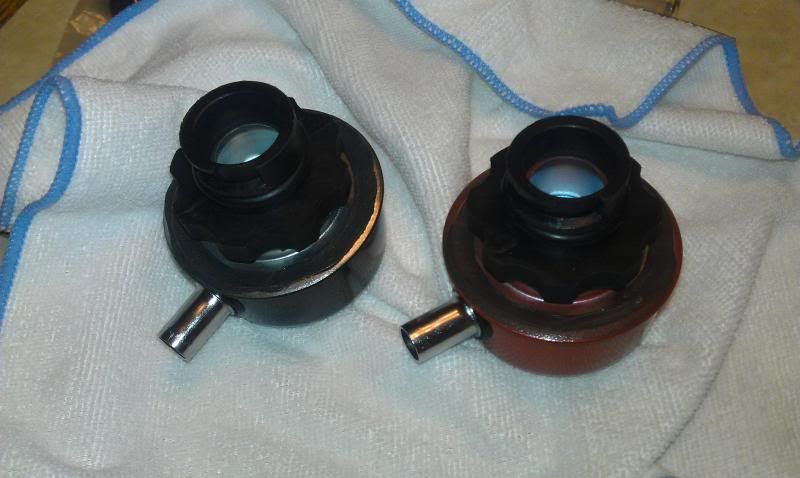 LETS GO BACK IN TIME....SUMMER 2012 (NOT PRESENT DAY)


I ordered an RX Catch Can and breather in the early summer of 2012 from JDP Motorsports. It arrived two weeks after sending the payment. Lets compare that experience to todays experience.
Packaged pretty much the same. Snug in a box.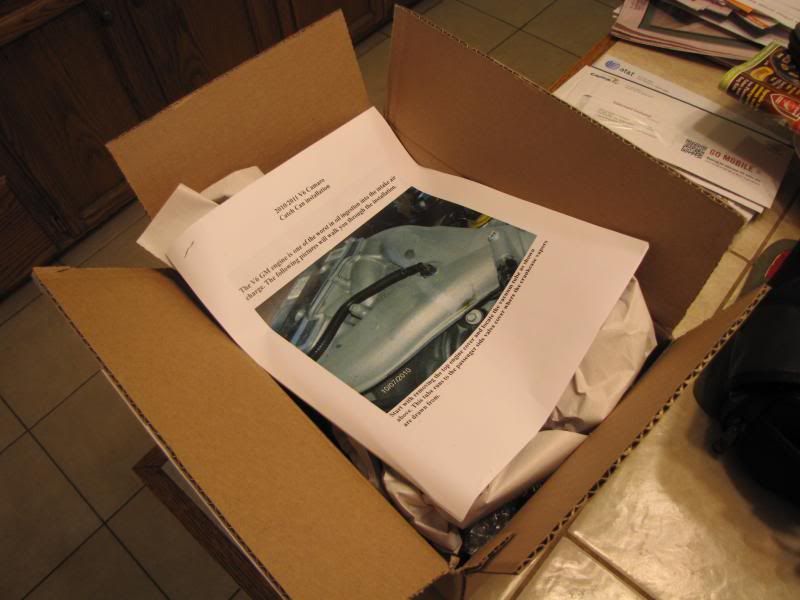 All the parts present. Paint looked fine on everything. If I recall the paint inside the threads on the catch can made putting it together on the bracket a little difficult, but this is very minor. Nothing a thread chaser didn't take care of. The included hardware to mount can to bracket was a little lacking as well. Short bolts with no locking hardware. Again, minor. All I can really think of.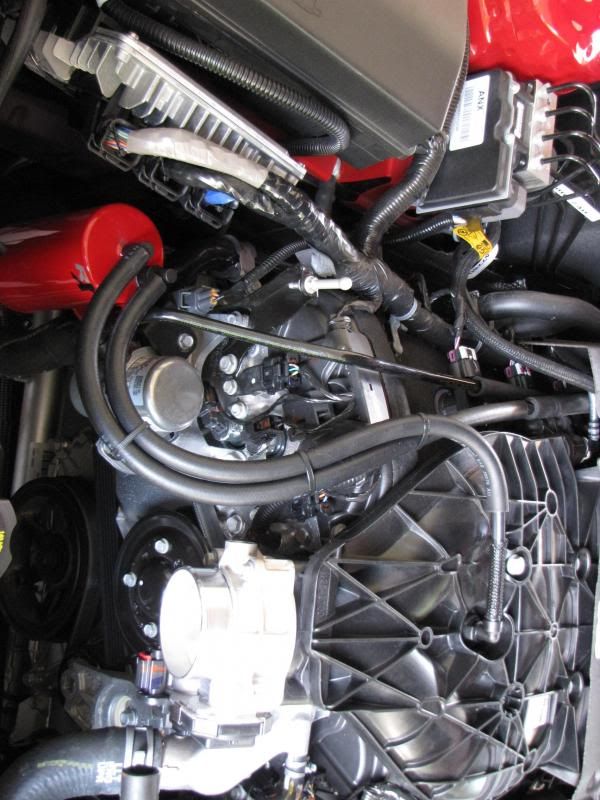 14,000 miles later I have had zero problems with the can and it is catching oil as advertised. I was under the impression (from Tracy, no less) that the amount caught would depend on how well your car broke in and the amount of blow by in the system (and therefore oil flying around). The amount I have caught in the can fills 1/5 to 1/4 of a 32 ounce Powerade (this is total, since initial installation).
IN SUMMARY OF ALL THIS


I personally haven't had a problem with a product from RX so far. They have worked as I was told they would and haven't caused any problems, come loose, fell off, or otherwise did anything other than function. To what degree his products work, the effectiveness, etc is up for you to decide. I am not here to debate that fact other than I'm fine with what I've seen thus far.
That being said, I'm not sure that I can recommend RX in good faith at this time, at least until the supposed back order is caught up and business is flowing smooth, assuming that was the problem and that it is ever alleviated. I will continue to run my RX Products that I have currently, and I suggest that those of you who wanted to purchase make an educated choice for yourself. The communication is a bit lacking, and the back order is a little odd considering people have been waiting for cans for two plus months and I received this in five weeks. Perhaps cans and separators are handled by two different people and the separator man is faster than the can man
Who knows.
But that's my nickles worth.