Hey all! As you may or may not know, I finally took the plunge and bought my first new car-- the car I've always wanted, a new Camaro!-- about a month ago. Since finding this forum I've been coming up with all sorts of things to modify on her, so I figured I'd throw pictures up so everyone could see how she has been coming along.
I'll start out with the photos of her at the dealer and the first day I bought her so you can see the progress: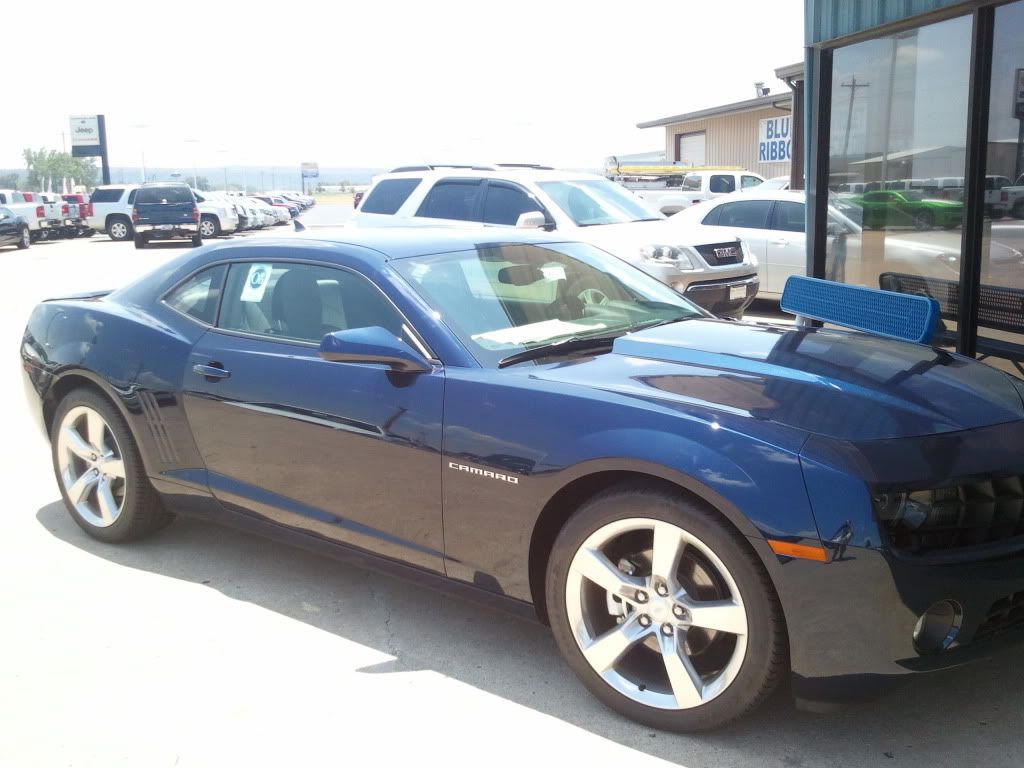 EDITED 10/2/12:
I thought I'd put a list of all the mods I have up to this point here.
OK! An updated list of mods (I also put this on the front page of this build thread):
EXTERIOR MODS:
IBM Heritage Grille
20% Window Tint
5% Brow Tint
Silver Gill Accents
"OBJECTS IN MIRROR ARE LOSING" mirror decal
Aqua blue bowties
Imperial Blue Wheel Bowties
RS Fender Badging
RPI designs "stealth" splash guards
"L8RBOYS" Vanity License Plate
Sidemarker Blackouts
Aqua Blue Hash Marks
P13W plasma DRL bulbs
GM GFX Rear Diffuser with Square Exhaust
UNDER THE HOOD:
Hand-painted custom engine cover and fuse box (ABM)
Custom engine cover lettering ("CAMARO" fender lettering on engine cover, custom decals)
BBK Cold Air Intake
MRT V2.0 Exhaust
Ported Throttle Body
V-MAX Black ICE-Olator
GM Aluminum Strut Tower Brace
INTERIOR MODS:
Aqua blue dome and trunk lighting
Aqua blue footwell LED lighting strips
Leather-wrapped steering wheel w/controls upgrade
Custom dash lettering
GM "CHEVROLET" factory-style door sill protectors
Radio Face Ghost Armor
Custom-Painted Aqua Blue Interior Door & Dash Panels
GM Factory black SS leather
Seat Warmers
PDIM (iPod Reader; my car didn't come with the USB)
Remote Start
Custom "Camaro" Floor Mats
ZL1 Accelerator and Brake Pedal
SUSPENSION:
SS Springs
SS Sway Bars
SS Struts/Shocks
Brembo SS Brake setup (calipers, pads, rotors, lines, etc)