I'm a newb to Camaros and this forum, but not to wrenching and bulletin boards in general. My friend Nick and I are currently building a 3rd gen Camaro street stock, I thought I would see what you guys think about it...
Late last Fall, my buddy Nick came by and informed me that he wanted me to go with him to look at a Camaro he saw on craigslist. He said it didn't have an engine or tranny, but it was only $100 and had a "clean title". We drove out to the address on the listing and checked it out. Instead of being a car minus an engine and tranny, it turned out to be a shell. It had no interior except for an unbolted driver seat, no engine, no tranny, no wheels and tires, resting on a tree stump and some cinder blocks in an overgrown barnyard, beat up hood laying in the weeds, etc, etc. I tried to talk him out of buying it and I thought that I had succeeded, because he was convinced that it needed more work than he wanted to do to become streetable. Since we didn't bring a trailer anyway, we left and he spent the night thinking it over. The next day he informed me that he was going to buy it and build a street stock, so we grabbed his trailer, swung by the junkyard to get some wheels tires,and lugnuts, then went and retrieved one slightly used 1984 Camaro.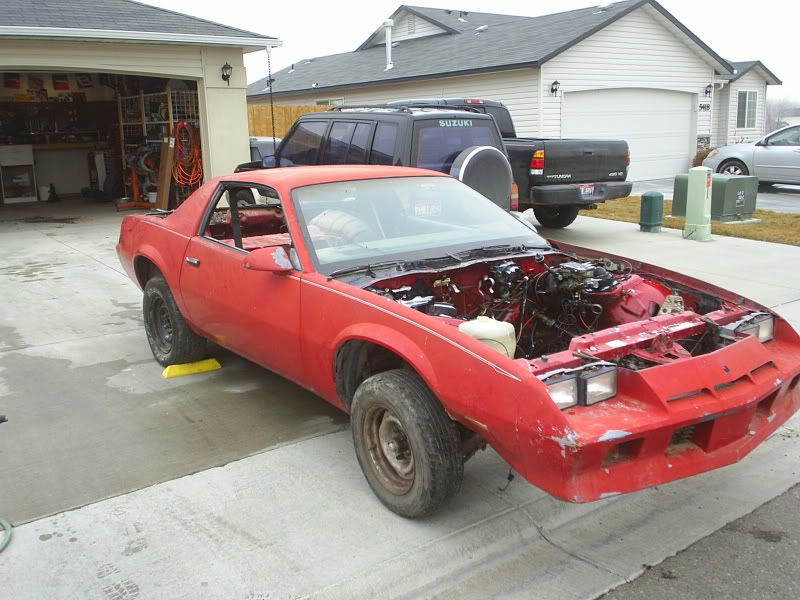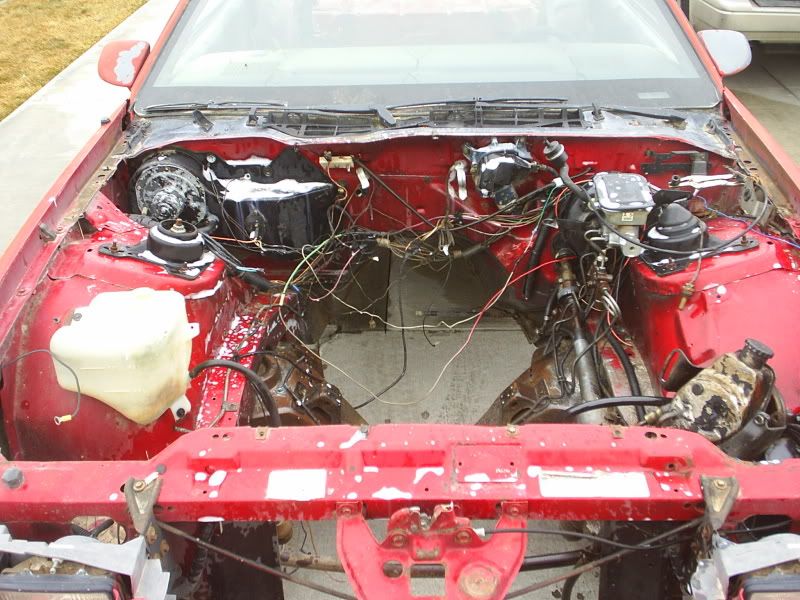 First off, let me tell you something about us. Nick owns the car and will be driving it. My name is Zane. I am donating labor to help him get racing. I am a mechanic, not a "race car guy", but I can fabricate. Nick has been around racing much more than me, and actually has pretty good contacts around town. He has crewed (donated labor) on some pretty high dollar (locally speaking) race teams and done a lot of travelling to races here in the west. He has never driven though, so this will be a first for him. We will be racing locally, at Meridian Speedway. It is a ¼ mile flat paved oval. We will be racing in the "Street Stock" class. Street stock is the basic "run what you brung" kind of class with a lot of restrictions in place to keep it affordably competitive. For instance, you must run stock type cast iron intakes, and cast iron exhaust manifolds. The class carburetor is a Holley 4412, 2 bbl, 500 cfm. Suspension must remain in stock configuration (leaf spring cars must remain leaf spring cars, etc.), but you can buy racing shocks and springs. A lot of the cars are full frame cars, but several guys are running 2nd gen Camaros. I believe we will be the first here locally to run a 3rd gen Camaro, because the rules just changed this year allowing cars with 101" wheelbase to compete.
The car originally had the four cylinder engine with a 5 speed, but later had been being run with a SBC and an THM tranny according to the seller. There wasn't an engine and tranny in it anyway, so the only thing that mattered to us was the fact that it still had the clutch pedal, since Nick wants to run a manual tranny. Nick already had a good 350 four bolt main engine from an earlier project, so we have the power plant covered, it just needed to be freshened up with new rings and bearings.
Upon getting it home, we knew we would have to work fast to make racing season, so we very promptly parked it in his garage and closed the door. Then we forgot about it for a couple of months and did absolutely nothing to it. Nick was finishing up welding classes at the local university, and didn't have much time for anything else, including a job, which meant that he had no money to buy materials for the car. After seasoning the car well in the garage for weeks on end, we finally decided to get to work on it. Nick was able to get us a couple of sponsors. One of the sponsors is a fabrication shop owned by Nick's buddy Mark and the other being a junk yard up the street from his house. We would build the roll cage and do other fab work in Mark's shop, and a lot of the stuff we needed to get the car going would be free from the junkyard.
So the game plan is to build the car to the following basic specs:
350 four bolt main (I'll update with the particulars later)
3 speed Sagina tranny with dual stick shifter mated to a metric bellhousing
Stock rear diff w/ 3.73 gear ratio and a "Lincoln locker"
1 ¾" x .120" HREW tubing roll cage
8 gallon fuel cell
2" schedule 40 black pipe front bumper / 2"x3"x ¼" rectangular tube rear bumper
Quick release steering wheel hub w/ 15" steering wheel running P/S
Kirkey Racing seat
Simpson 5 point harness
Hoosier 970 series racing tires
5/8" extra long quick start wheel studs
Suspension is still up in the air, we will go as far as our limited budget will allow
We started by stripping all the crap that was still in the car out of it. Having no interior saved us a lot of trouble, but we did remove all of the glass, the dash, the heater assembly and all the duct work. We removed the doors and took the torch to them until they were reduced to just the exterior panels. We removed the headlights, taillights, and all of the other plastic crap. We removed all of the wiring, ecu and related useless crap. Nick got a job so he bought enough tubing to start the roll cage. We took the car over to Mark's shop and started on the cage. Nick bought a few sticks of 1 ¾" .120 wall HREW and got busy on the cage. First we installed the main hoop and halo. Then we bent up some A pillars and welded them in. Then we made the rear support tubes for the main hoop and welded them in.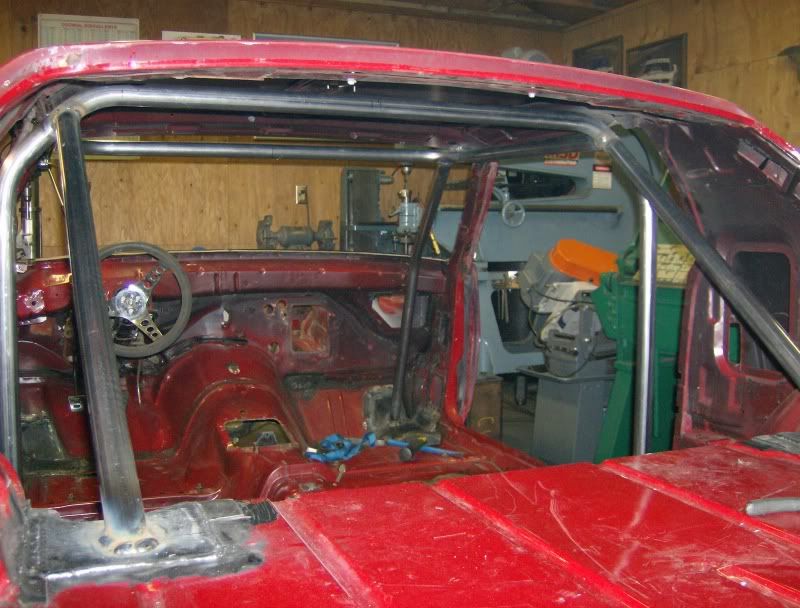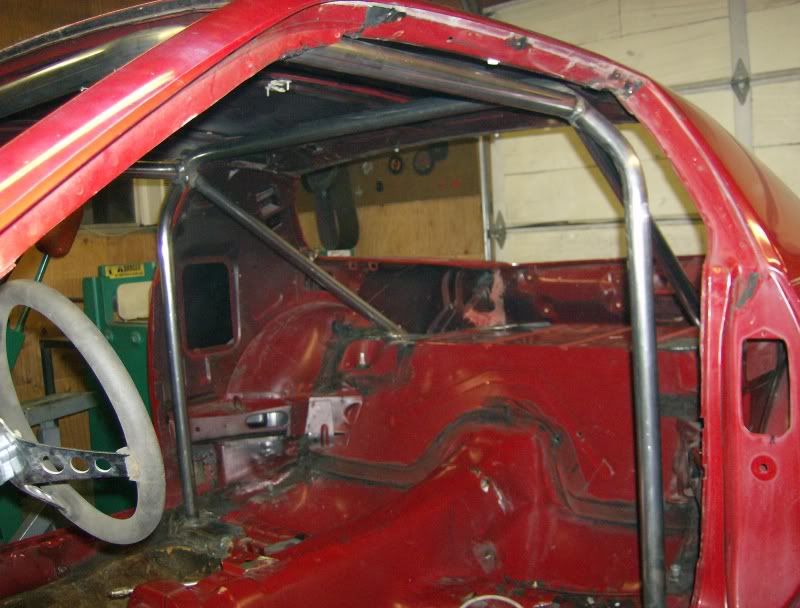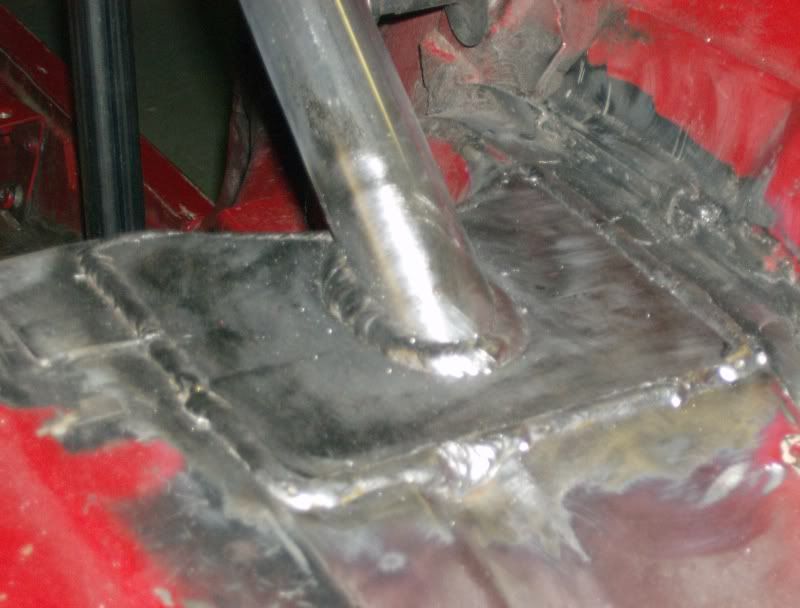 The cage is being tied into the floor pan using 1/8" plates.
We tried to tie it in on top of or as close to the box portions of the front & rear sub frame as possible.