Bought Bumblebee Rally Stripes #83 Medium Silver Metallic from Mopro Auto last week and installed them on Saturday. I do have experience installing vinyl, but not stripes on a car. Also, I don't have a garage. Performing the install outside on a hot humid day made the install take at least an hour or 2 longer then I would consider normal for my experience level. Wind, debris, some rain, bugs in my face and 6 hours later I was finished
The kit comes with 2 front options, with or without mailslot. The "with mailslot" option is precut and lies about 2 inches under the mailslot, leaving that area under the mailslot free of vinyl. The "with mailslot" option just looks ugly to me, so I used the "without mailslot" option and cut it myself, so that it lies flush around the mailslot. This required a hair dryer to help stretch the vinyl into place.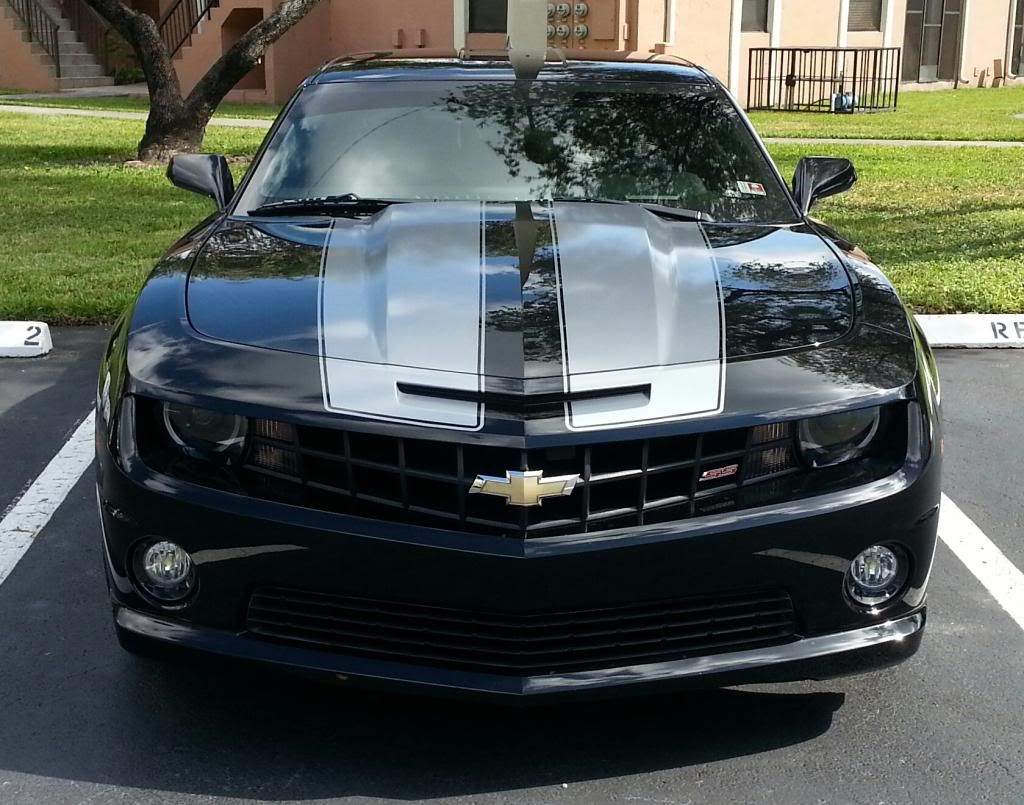 The Mopro kit technically comes with 3 rear options. No spoiler, top of spoiler, or wrap around spoiler. The trunk stripes are long so that they can be used as the non spoiler option, so I needed to trim them about 2-3 inches contoured to fit under the spoiler. I went with the "top of spoiler" option because I felt it looked cleaner or a better design imo. Again, I used a hair dryer to stretch the vinyl around and underneath the front of the spoiler.
Aside from nature's attempts at intervening my work's integrity, this was really easy and I think that anyone can save themselves $200-$300 by installing it themselves. Just don't do it outside if at all possible. Do all of your measurements, keep the vinyl and target area wet with soap and water during placement, squeegee the vinyl from the center of flat areas and work bubbles outward, dry the vinyl and application tape with a hair dryer before removing it, use a small needle to remove any bubbles left behind. Also, when using a hair dryer to stretch vinyl, be careful not to stretch the vinyl too much and possibly break. If anyone has any questions on their own upcoming install I'd be glad to give more insight
P.S. I spoke with the guys at Mopro and they said that their vinyl has no issues with clear coat, so I am strongly considering doing this. Does anyone have theirs clear coated? How does the clear coat hold up on 3m vinyl over time?
__________________
2011 2SS/RS M6 BLACK - VARARAM NO TUNE INTAKE, MODDED AND PORTED TB, PORTED INTAKE MANIFOLD, VITESSE THROTTLE CONTROLLER, DOUG THORLEY LT'S, CATLESS, X-PIPE, 25" STAINLESS WORKS RETRO CHAMBERED MUFFLERS, CUSTOM 2.5" MANDREL BENT EXHAUST, RICHMOND 4.10 GEARS, CUSTOM CAM (231/242 @ 114LSA), MUSTANG DYNO TUNED BY TORQ, 20% CERAMIC TINTS, EIBACH PROKIT SPRINGS 1" DROP, HAWK PERFORMANCE CERAMIC BRAKES, NITTO INVO TIRES, HYDROCARBON TAIL LIGHT AND FOG LIGHT BEZELS BY EMBLEMPROS, METRA DASH KIT, JVC KW-AV71BT, PHOENIX GOLD iAMP GM1, PASSPORT QI45 - 450 RWHP 415 RWTQ