Chapter I - 2012 SLP ZL600 (BOT)
Welcome to
Chapter I
(BOT) - Throughout the next 8 pages you will see how the car went from stock to the picture below. I was originally inspired by the T3 Transformers Edition vehicle. Although I wanted to make it unique with a few tweaks here and there. I tried to add as much detail as possible for those that may be interested in some of the same mods. If you have any questions please reach out.
Thanks.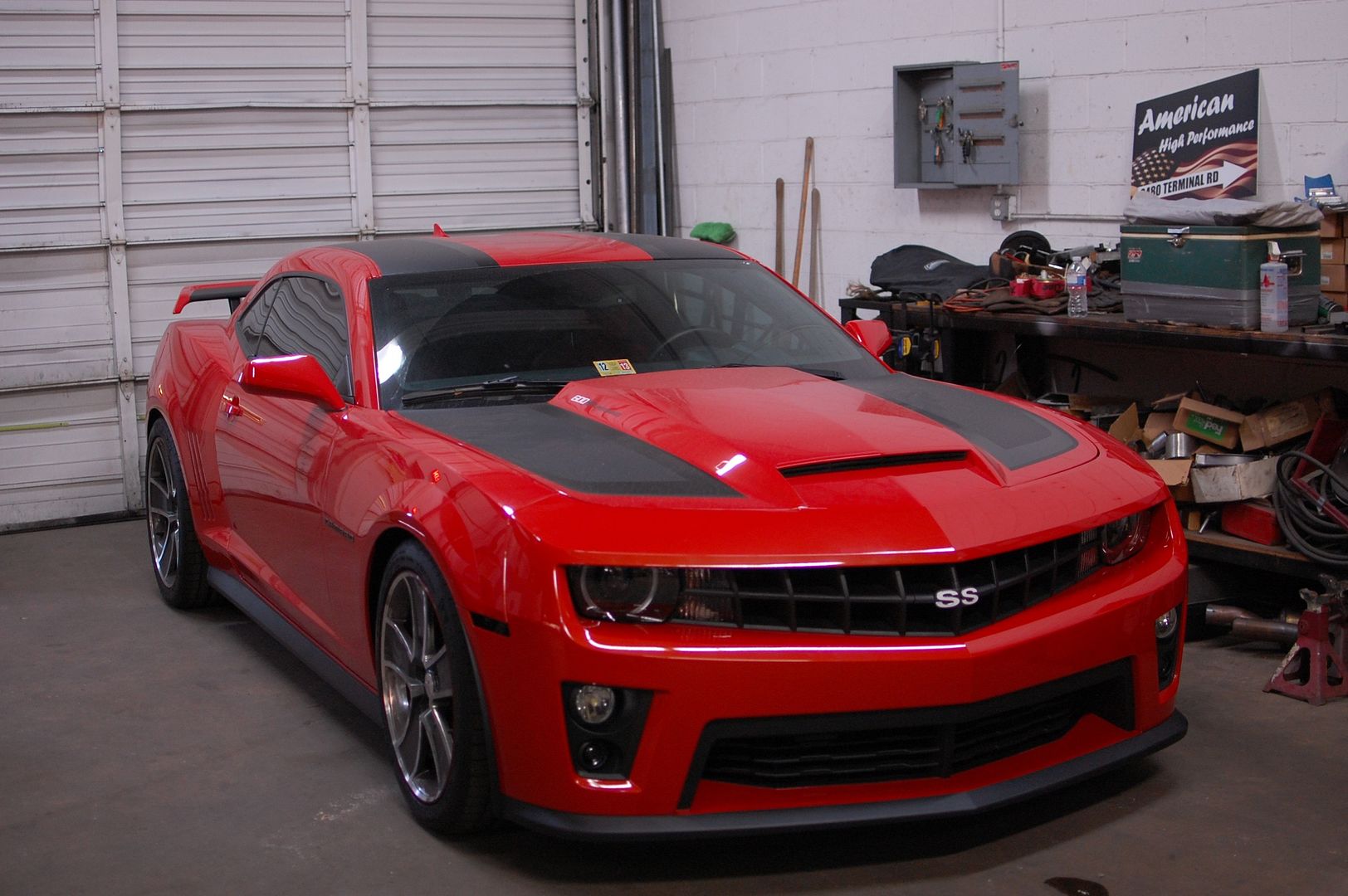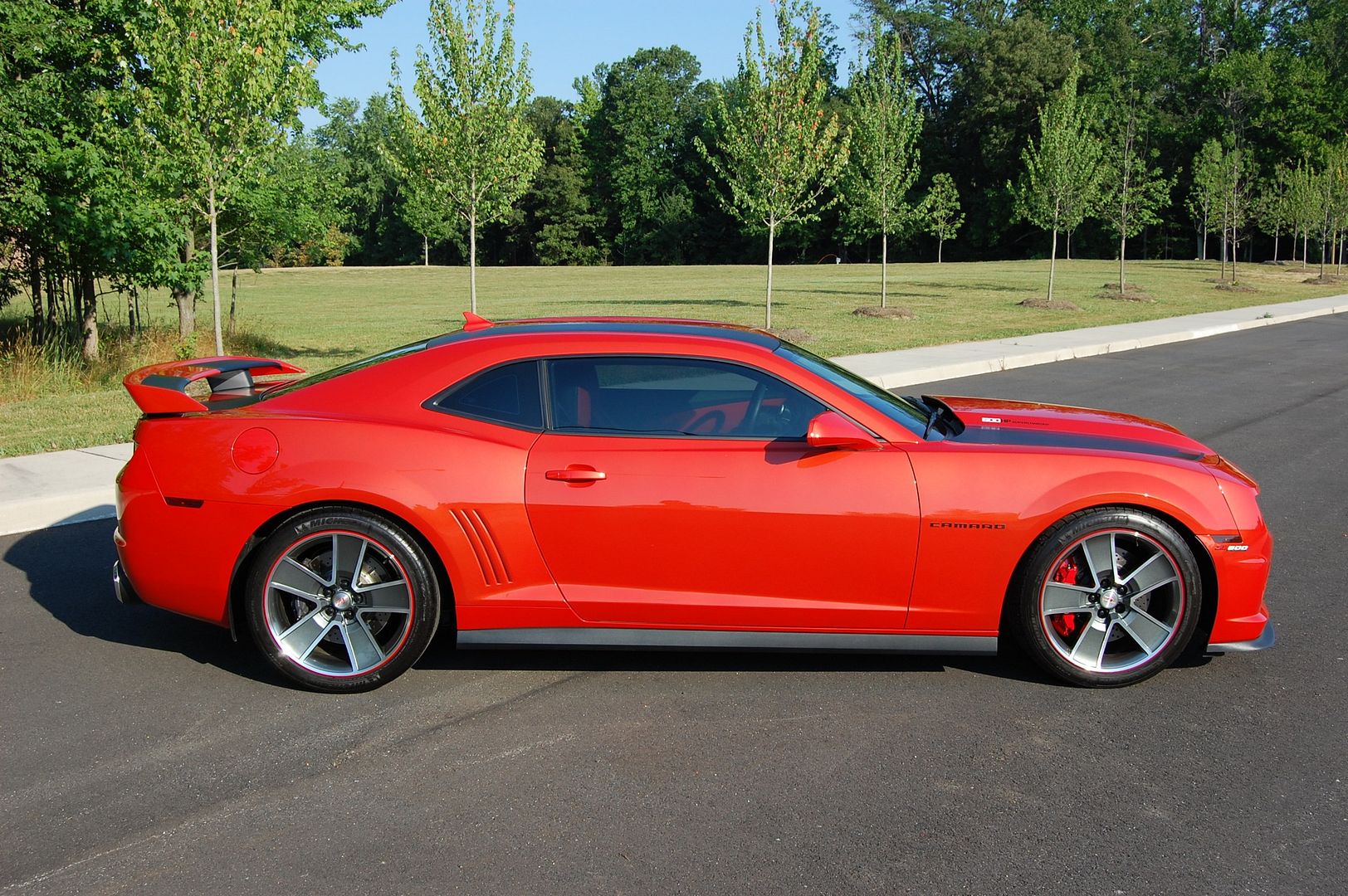 -------
Exterior Mods
OEM T3 Full stripe package (GMpartshouse)
ZL1 Side Skirts (GMpartshouse)
SLP Front Splitter (SLP)
Rear Quarter Panel Faded Gill Insert (SLP)
SLP front license plate removable bracket (SLP)
SLP SS mail slot cover (SLP)
SLP SS Landing pad and SS Heritage Badges (SLP)
ZL 600 Badging (SLP)
SLP Rear Facia Diffuser (SLP)
Painted rear blackout (SLP)
Painted rear bezels Matte Black (SLP)
Painted High Wing Struts Matte Black (SLP)
ZL1 rear splash guards (GMpartshouse)
ZL1 front splash guards (GMpartshouse)
SLP ZL Gray Redline Wheels 20x9 Front 20x10 Rear w/ Micheline PS2 Tires (SLP)
ZL Wheel Center Caps (SLP)
SLP RTM Hood with Functional Heat Extractor Scoop (SLP)
600HP Supercharged Hood Cowl Graphics, White/Black (SLP)
Front and Rear Laser Shifters (Escort)
Doorshox Ding Protectors (DoorShox)
Interior Mods
SS kick plate guard (RPI)
ZL600 Embroidered Front Headrests (SLP)
ZL600 Embroidered Floor mats (SLP)
Lloyd Rear floor mats (RPI)
SLP Branded Autometer Boost Gauge (SLP)
9500ci Control Interface installed in the center storage compartment (Escort)
ZL Supercharged Specialty Vehicle Sequentially Numbered Dash Plaque #17 (SLP)
ZL Supercharged Specialty Vehicle Sequentially Numbered Key Fob #17 (SLP)
Leather Bound Portfolio, Supplemental Owners Manual, Birth Certificate, Certificate of Origin (SLP)
Under the Hood Appearance Mods
Premium Fuse box Cover (Showstoppers)
Premium ABS Cover (Showstoppers)
Premium Master Cylinder Cover (Showstoppers)
Intake Box Cover (RPI)
Power Sterring Cap (Billet Custom)
SS Radiator Cap (Billet Custom)
Battery Cap Cover (Billet Custom)
Dipstick Cover (Billet Custom)
Oil Cap Cover (Billet Custom)
Master Cylinder Cap (Billet Custom) Signed by Ed and Dave Hamburger Owners of SLP
600HP Supercharged Engine Cover (SLP)
IOM Painted Strut Brace (RPI)
Performance Mods
SLP TVS 2300 High-Output Supercharger Assembly (SLP)
SLP Loudmouth I Axle-back Exhaust System (SLP)
Roto Fab Coldd Air Intake
SLP ZL600 PowerPac 1:85 Aluminum Rocker Arms, High Lift Spring & Titanium Retainer (SLP)
SLP Performance Tune (SLP)
Skip Shift Eliminator (SLP)
1:1 Cog Drive Pulley
Suspension/Chassis Mods
Eibach Coil Over Spring/ Shock Package (SLP)
SLP Adjustable Sway Bar Package (SLP)
OEM Front Strut Brace (RPI)
Brake Mods
Brembo GT Front Brake Package, 6-piston front caliper, Two-Piece 15" Drilled Rotors (SLP)
Brembo Rear Two-Piece Drilled Rotors (SLP)
Other Items
Compustar RF-2W9000-SS Car Alarm and Manual Autostart (Ziebart)
Escort 9500ci Radar/Laser Detector (Hurley's Auto Audio)
SLP ZL600 Specialty Vehicle Cover (SLP)
---------
Vendor Reviews:


Review of Sterling Chevrolet

When I was on the hunt for my Camaro, I pretty much went to every dealership in Northern Va, some good, some bad, some in between. I was thinking I was out of luck and was about to try to order through Becky. Then I had a lucky crossing with Sterling Chevy. For some reason I didn't even find Sterling Chevrolet on my searches online. In fact I happened to stumble upon it on a drive out their way. I was surprised that they had the exact car build I was looking for and wouldn't have to wait for a build and shipping. (BTW. I spoke with Becky@Rodgers and she was really great and upholds to her reputation) however, I got lucky to come across Sterling.
My first impression was that it was a small dealership. It's a very small lot and small building compared to most Chevy dealers. However, the dealership had a nice family vibe to it. I was impressed by the SLP cars they had on the lot and how mod friendly they seemed to be. My salesman was new to the game and young, but very nice. Not to discredit him but it was the comfort I had in the sales manager and the GM that made me feel like completing the deal there. They were knowledgable and did not put me through the normal dragged out sales routines.
However, I was a bit put off by the sternness of their finance manager, very typical finance manger tactics. They had a new finance person in training there that I was dealing with that was very nice, calm and just normal seeming (more of that family feel). So I liked him, she however would state how he needs to hurry up and not take that long. Just not a professional thing to do in front of a customer. I felt bad for the guy. He and I quickly worked out fair numbers and he took note of what I didn't want as an addon, but she had to push the extended warranties and such. It gets a bit irritating, but is the nature of the game I suppose. I found out recently that her and another manager that didn't seemed to favored by others was let go. It feels that the GM wants to focus on that family customer service and will do what it takes to keep that. I can't vouch for all of the sales staff there, but overall I was pleased with my experience.
The biggest pro I can give to this dealer is its understanding of and the acceptance of mods. They not only sell SLP Camaros and have a couple on the lot, they also will perform a la cart slp parts and others. The GM is a huge power junkie like us and gets it. I recommend local folks give them a try. If you meet Stan (GM) and talk shop with him, you'll see what I mean.


Review of SLP

My first interaction with SLP was with the regional field rep, Roger. I was thoroughly impressed with the ZL cars I saw at Sterling Chevrolet and wanted to learn more of what SLP was offering these days. I remember hearing of SLP back in the Fbody days and their SS specialty builds. Roger is a very knowledgable camaro enthusiast and of course knows the SLP offering and was able to answer all of my many questions. The best part I liked about him was there was no element of salesmanship. He was there to educate me and let me know what they had. In fact he was trying to talk me into not overdoing it and eliminating items I wouldn't need.
My first intention was just to do a Stage 1 or Stage 2 supercharger kit upgrade. As I learned more about the ZL specialty vehicle and after many lengthy searches of reviews, track test results, videos, and asking other owners their thoughts, I knew this was the right way to go. I was impressed by performance numbers. The ZL585 pulls down 1/4 mile in 11.5 seconds and 0-60 in 3.6 seconds. Phew. I asked a good handful of other C5'ers that are ZL owners and had the same question I think most of us have about SLP... Is it worth the price?? Everyone answered "yes". They all said that the quality of products, the quality build, and the uniqueness of it made it well worth it. I must admit, having one of 250 for each model year is quite cool. But I didn't want to pay a premium price just for its "limited" or "special edition" aspects. It needed to be well worth it to me in every aspect. Money doesn't grow off of trees here. Again everyone agreed it was well worth it and the most common pro was that it retains factory warranty. I will agree that is very attractive to have. But I needed to make sure folks have indeed used their warranty and that it was as easy and still in effect as SLP states it will be? The answers I got were "yes". Now, I haven't had to make any claims just yet as its so new, but will post when and if I do (knock on wood).
So I was very much convinced this was the way to go for me. Why didn't I wait and get the ZL1? This was something that I went back and forth on over and over in my head. I very much admire and have nothing but nice things to say about the ZL1. I'm happy they are starting to roll out now so we can get some in depth reviews. I'm sure it's going to be all that we expect. So back to the question, why did I still chose SLP? I felt that I could pick and choose certain options that would allow my car to be customized the way I had envisioned both performance wise and cosmetically, a highly modded beast that pushes 600HP and retains the warranty. Getting a signed limited edition specialty car that is truly one of a kind was very appealing to me. A part of me wishes I had both. Who wouldn't? I don't see these vehicles as competitors, they are part of the same family that is Camaro.
So, after my decision to go SLP, Roger went over the options and I told him what my initial wants were and he drafted up an invoice and build order. Now, I became very picky and indecisive about which options to chose. We probably went through 22 revisions to the invoice and build order. That is on top of several special requests I had asked for. I was very happy with the fact that they didn't make me feel as though I was burdensome. It was tough to pick and chose some items and my mind kept changing until I finally figured out the exact build. So off the order went and shipment was scheduled. They came and picked the car up in a covered trailer (pictures of this are in another post below). The SLP team was very communicative and kept me notified throughout the process.
The overall time took about 3 months. A decent portion of this lengthiness was due to my special requests. A few things were changed and altered by request and the team was very willing to accommodate. Of course I was getting antsy and couldn't wait to see the final product. Upon delivery I had a tough time keeping my jaw off the ground and the permagrin from causing face cramps. The car looks great, the car sounds awesome, and it drives like a champ. I was expecting the ride to be pretty harsh, however the way it's dialed in, I get the responsiveness I need without the smooth ride compromise. Now it's no luxury car, and rides stiff, but not like other setups I've had in the past on other vehicles. And now I can dial it in tighter when I want to hit the tracks for more spirited drives. The sound is deep, aggressive and music to my ears. The power is at my fingertips, well, foot tips I should say. The power band is smooth and the torque is sitting there ready to unleash down low as the power smoothly takes over up high. The sound this car makes when opened up gives chills. This thing is ready to eat up what's on the road. Even though this isn't my daily driver, it very easily could be. Still a very comfortable ride.
The car is still freshly back to me and I'm still getting reacquainted and will have updates in future posts on this thread once I open it up some more. But as far as SLP goes, I highly recommend them, quality team, quality product, quality build. I look forward to seeing what future specialty editions they have up their sleeves.


Review of GMpartshouse

I have ordered quite a handful of parts from these guys and have dealt with both Gene and Patrick. Both guys are very knowledgable and have taken very good care of me. Their products are quality and are delivered swiftly should my order be in stock. I did have an issue where a set of stripes I ordered were creased, I gave them a call and they had a new set on the way and had arranged for UPS to pickup the damaged stripes. It's tough to control the product, sometimes lemons get through, thats understandable. It's how the company handles it that can retain or lose a customer. These guys handled it the way it should be handled. If I need a part I first see if gmpartshouse carries it. Great service, great prices, definitely recommended.


Review of RPI

I have ordered a handful of items from RPI and have been happy with the quality of product and shipping time. Their team is communicative and responsive to questions. I did have an issue where a packaged was not shipped to me and a rep from RPI was helping me get to the bottom of it. I never felt that they dished the problem on UPS or me. It turns out UPS did deliver to the wrong address and luckily the person was nice enough to come find me and drop it off. RPI was with me the whole way. Highly recommended.


Review of Showstoppers

I haven't had an extensive experience with Showstoppers, the order proccess was easy and the product is definitely high quality. The ship times were a bit long, but it I think they paint to order and it takes some time. Great product though. I periodically check their site to see if they have anything new to add to my engine bay.


Review of Billet Custom

Much like Showstoppers, I have limited experience with them, but order process was easy and the product is quality. The shipping time was good. I recommend their products.
Review of Zeibart

Just when you were thinking I only had positive reviews... Phew, what an experience I've had with zeibart and unfortunately it's not quite over. I went to them to buy and install a compustar alarm and manual auto starter. I have had compustar products in the past and love their range and features. The old installer I used back in the day was too far and zeibart seemed to be a good shop to go to for this. Pretty much the opposite. The first day I go there, it seems just fine, I knew the product I wanted, I called ahead to make sure it was stocked and to setup an appointment. I go to do the drop off, they tell me that it would be about 4-6 hours for the install. I call them back later that day and they tell me it's going to take a bit longer. I asked why? They said the installer has done many of these and even on Camaros but the 2012 is different and they don't have the schematics. I think "ruh roh"!! I say why didn't you tell me this before hand? They insist that I do not worry and that the installer is a pro and can figure it out. They just need another day.
The next day I call and they tell me it will be done shortly. A couple of hours later they tell me it's done. I'm very happy to hear that. I get dropped off at their shop and much to my surprise all they did was configure it for the auto start. I said why would I buy an expensive alarm and auto starter just to use the auto start capability?? They replied, oh yeah, that doesn't make much sense. Sorry we messed that up. But you need to leave it another day to get the alarm done. Ugh, what a headache. So another day goes by and they tell me it's ready. I said are you sure? Getting a ride and taking time off can be tough and this is getting to be a pain. Well, they felt pretty confidant that it was done. I get dropped off and at first look it seems to be working. I take the car home and the alarm starts going off for no reason and keeps going off. And then I realize simple features like trunk pop and a few aux features aren't working either. I call them and say I will bring the car back when I can and plan to stay until its done right. I bring it back, meet the installer, and share the issues. He said ok we can get it right. He said what features do you want enabled. I said all of them, duh. I can chose to use or not use it but want it enabled. He did some other changes and it kept dragging on. He kept leaving and going to this other room. So I decided to find where he was one of the times and he was in this small room reading through instructions and feature descriptions. I said ok, I need to go. Let's wrap this up and be done. For the most part it works, but has some quirks about it, quirks that i cant and shouldnt live with. However, I had to get the car off to slp. What a pain. So basically zeibart beware. Definitely the zeibart of Fairfax, va beware for alarm installs.


Review of Hurly's Auto Audio

I wanted to purchase the Escort 9500ci radar/laser detector system. I read many great reviews and needed to find a good installer. I searched and the top reviews and they said Hurleys Auto Audio. I was very pleased with the group there. I met the owner and he told me the install would take some time, he arranged for a rental car for me for the day/night on his dime. I thought that was very cool. The escort 9500ci is an expensive product and we all know these things have a high markup so it was nice that he was accommodating. The install team and owner let me do a few things with the camaro while they were working the install. I just wanted to debadge the car before I left. They were cool about that as well. The install was clean, they went over where everything was and how to use the control panel. I was thoroughly pleased. I would highly recommend them.


Review of DoorShox

I wanted to add in a quick review of Doorshox. What are door shox? They are a product that protects your car against door dings. For those tough parking situations where you don't want to risk it. I have put up a picture below, but you can also go to their site. A neighbor of mine has these on his car and I always thought it looked interesting. I wish I had come up with the idea. It's very easy to take on and off and seemed silly at first, but I have witnessed it protecting my car already and saved me from a few potential dings. They are only about 99 bucks for the set. It's good quality, doesn't look bad, and do help.