I recently installed a Mishimoto 169*F (part# MMTS-VET-05) on my 2011 Camaro (mods in signature). It's important to note that my fan tuning is such that my low speed fans come on when the engine is started. If my coolant temperature exceeds 195*F, the high speed fans will come on (and stay on regardless of temps dropping back down). This was the previous owners tuner's setup. I would prefer to not run the fans all the time - more on that later.
I previous had been running a 160*F thermostat that the previous owner had installed in the car. I was pretty satisfied with the 160 stat, it would run right around 174-176 highway cruising, which was borderline too cool, but acceptable in my mind. The car would never exceed 185, even under prolonged idling in the heat. This was great at the drag-strip, I had very consistent performance even in high heat and long waits in the staging lanes.
When I changed the car to a 4.10 rear gear, my cruising RPMs rose from 1600rpm to 2000rpm at 75mph. This change as enough to bring my average running temperature at 75mph down to a steady 171. On a long downhill fuel-cut type of coasting I could see coolant temps dip down to 163. That's way too cool, in my opinion. The car was borderline on temps before, but with the increased rpm vs. vehicle speed, I was overcooling.
So, I went looking for a middle ground option on the T-stat between the 186 stock stat, and the 160 that I had in the car. I found the Lingenfelter 174 stat, but knowing that running temps are usually ~10-15 above t-stat ratings I felt that would have me running at 190+. Then, I stumbled on to the Mishimoto 169 T-stat. Thinking it should run right around 180-185 I picked it up.
I've had it in the car for about a week now, and at least 650 miles of mixed driving. At a constant 75mph cruise speed it runs right at 180-181 - perfect! Under real light driving, lots of coasting, I can still get the temps down to 176, which is what I consider the lower limit of acceptable. Under aggressive hill climbing (ie. low speed 1st and 2nd gear switch-backs - I ripped up Greylock Mountain Saturday) it stayed around 185 +/-2. Prolonged idling in 80+ ambient it'll creep up to 192-194, just below what it takes to kick my high speed fan on.
I do think I'm going to amend my tune to keep all fans off until 195, then run the high speed fan, then back to low speed at 192 with it staying on constantly in low (unless it goes back up to 195+) from there. Unfortunately, with the stock fan tables, that's about the best you can do. That way in daily driving it won't be running those fans at all, but if I do have a prolonged idle I will have aggressive cooling, and it'll bring it right back down nicely. I could have it come on low at 195 and high at 199, then back off at 192, but that's not aggressive enough to really take advantage of the stat. I really need to go to the custom HPTuners OS and get the better fan tables.
Overall, I think this is a heck of a find. It is pricey - I paid $48 on Amazon. But, it's the perfect middle ground between the 160 "little too cool" and 186 "stocks too hot". Obviously, the fan tuning helps keep things cool as well, a T-stat without fan tuning is not going to do a lot of good when you need it the most - controlling temps at slow speeds.
Some will say there is no proof that running too cool (to a point) has negative effects. Some will same that anything less than stock is trouble. The best I've ever seen this visually laid out is this: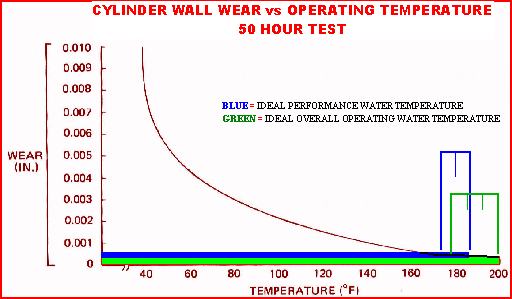 Having the car a little cooler keeps me further away from the timing reduction tables for engine coolant and intake air temp. It makes for consistent performance at the drag-strip, staying cool in the lanes even with prolonged idle time. The intention is not to start a T-stat running temperature debate here - I'm just providing my opinion and what I found. I think this middle ground could be a solid choice for the guys that find a 160 runs just a little too cool for their liking.